Are you looking for some inspiration for wedding thank you cards? Well, you've come to the right place.
In this article, we'll show you some examples of wedding thank you card wording samples, along with their etiquette rules, to help ensure that your cards are smooth, polite and professional.
A wedding thank you card is a very important part of the wedding day.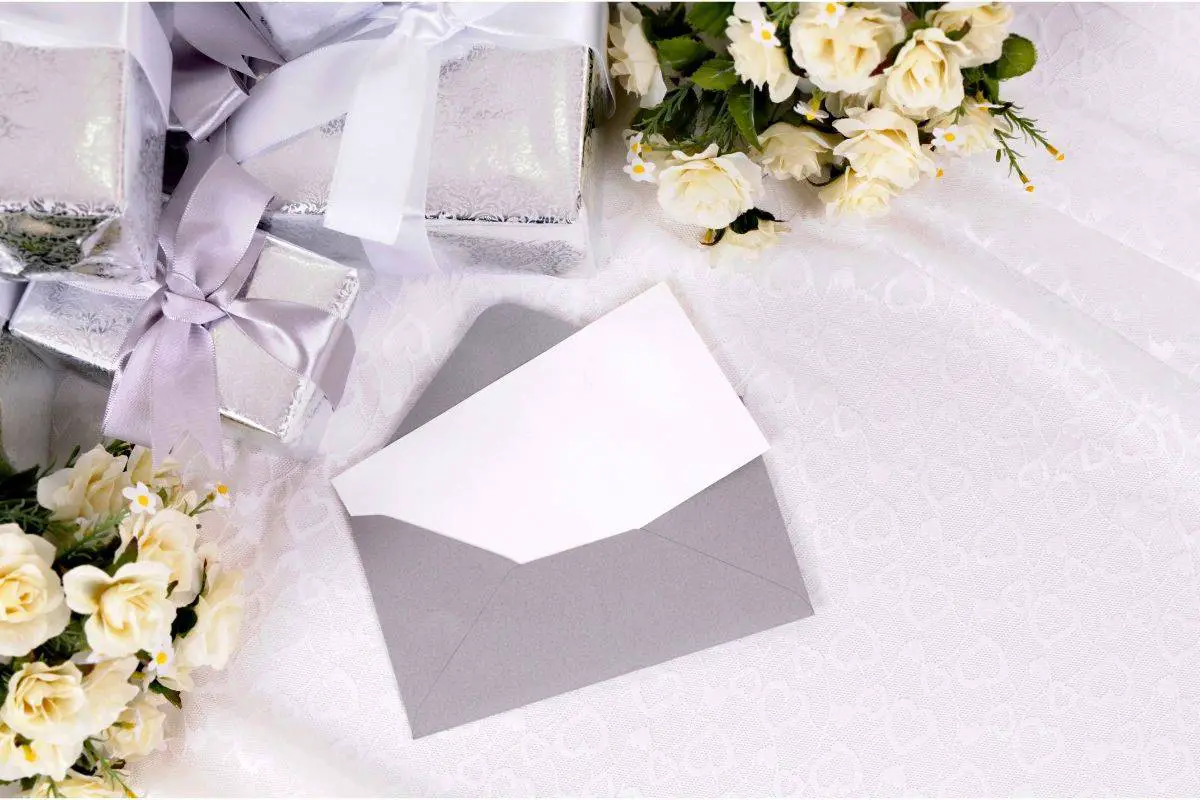 They are usually sent out after the ceremony or reception to express gratitude to the guests who attended the event.
The wedding thank you card is also known as the wedding thank you note.
You can use these wedding thank you card wording examples to create your own unique wedding thank you card.
Just remember to follow the appropriate etiquette rules when writing it.
Wedding Thank You Notes: General Etiquette Tips
Thank you notes are an integral part of wedding planning.
They are a wonderful way to say "thank you" to all those who played a role in making your wedding day perfect.
However, it's also important to remember some basic etiquette tips when sending wedding thank you cards.
If you want to make sure that your "Thank You" cards get read and responded to, then here are some tips to keep in mind:
Keep It Short & Sweet
You're writing these cards because you want to let people know how grateful you are for attending your wedding.
Therefore, try to keep your messages short and sweet. Avoid using flowery language, unless you really mean it.
Also, avoid using big words, as they tend to come across as pretentious.
Make It Personal
Personalized thank you notes are far more likely to be opened and read than generic ones.
However, it's not necessary to write a personal message on every single card.
Instead, you could simply add a personalized greeting to the front of your cards, such as "Dear Friends", "Sincerely" or "Best wishes".
Include Details About The Event
It's important to include details about the event in order to ensure that the recipient knows exactly what you're thanking him or her for.
For example, if your wedding planner arranged the flowers, make sure you mention that.
If you hosted an outdoor wedding, then include details about the weather, location, etc.
If you held a formal dinner, then mention which courses were served and how much everything cost.
Include information about the venue, flowers, and cake, and even the music played at the reception.
If you have a particular memory with that guest, adding details of this is always a nice touch – everyone likes to feel that they have been remembered and that their presence was noted, valued, and appreciated.
Be Specific
If you know that certain guests would appreciate being thanked individually, then you should definitely take the time to do so.
For example, if one of the bridesmaids made your dress, then she might enjoy knowing how much you appreciate her help.
Use Appropriate Language
If you're writing a formal letter, use appropriate language.
Avoid slang terms such as "cool," "sick" or "awesome." Instead, stick to words like "thanks," "appreciate," and "wonderful."
Thank you cards are a great way to express your gratitude for the wedding guests who attended your big day.
They can be sent out in advance or on the actual day of the event, but it is important that they are well-thought-out and carefully considered.
Why Do Wedding Thank You Notes Matter?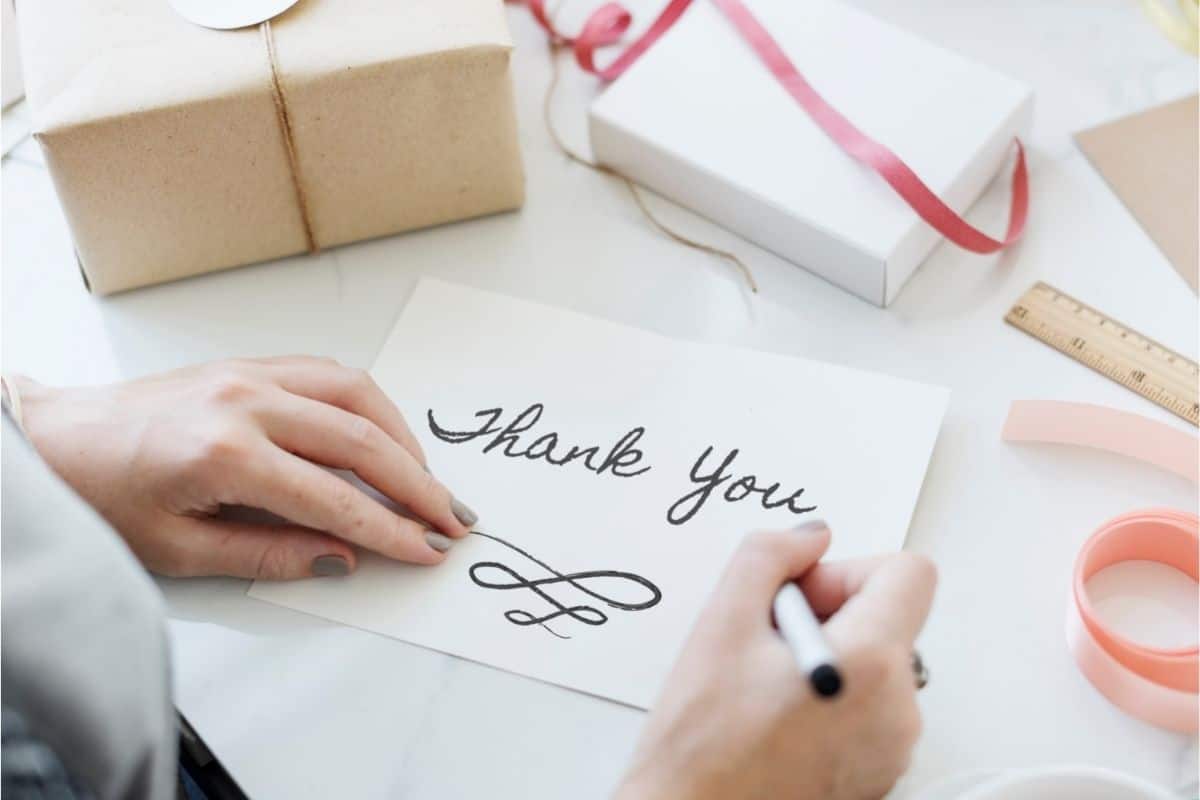 Wedding thank you notes are an important part of the overall wedding process, and they serve several purposes:
They Give Thanks To The People Who Attended Your Wedding
Sending wedding thank you notes shows your guests that you appreciated them taking the time to come and celebrate your special day with you.
For guests, attending weddings can incur considerable stress and expense, including transportation, accommodation, booking time off work, buying a gift and a new outfit, arranging childcare and pet sitters, and so on.
By sending them a "Thank You" note, you are showing that you recognize and appreciate these stresses and sacrifices and that you appreciate your guests taking the time and effort to attend and celebrate with you, and this can mean a lot to attendees.
They Show Appreciation To The Vendors Who Helped You Plan And Execute Your Wedding
Planning and executing a wedding can be a mammoth task, and a number of people will have worked very hard to deliver your perfect day.
This includes florists, caterers, hotel or venue staff, dressmakers, hair and makeup artists, and so on.
It is only good manners to let these people know how much you appreciate their services.
You also need to tell them what kind of services they provided, and how well they performed.
They Remind You Of The Importance Of Marriage
When you're planning your wedding, you'll probably think about many things, such as food, music, decorations, location, etc.
But one thing you won't think about is whether or not you should get married – this is usually simply taken as a given, and little thought is given to it.
However, getting married is a big deal, and having a wedding ceremony is a way of saying "I'm committed to this relationship" and "I want to spend the rest of my life with this person."
If you don't send a thank-you note then it could seem like you don't care about marriage, which isn't true.
Sending thank you notes after your wedding is a great way to remind yourself of why you got married in the first place and to celebrate those who made your union special.
They Are Classier Than Emails
In a world of technology, where email reigns supreme, it can be tempting to fire off a quick text message, social media post, or email to thank people for coming to your wedding.
While this is an option, it is also an activity that requires very little time, thought, care, or effort – in just a few clicks, the chore is done.
Sending personal thank you notes, on the other hand, shows that you have taken the time and effort to thank the guest for attending.
These notes are more thoughtful, classy, and memorable, and they make a real statement about you as a couple.
They Are More Likely To Be Read
If you send out mass thank you notes, it's unlikely anyone will ever see them.
However, when you send personalized thank you notes, they're far more likely to be read and responded to.
Who Needs To Receive A Thank You Card After The Wedding?
There are a number of people who need to receive a "Thank You" card following your wedding, and these include:
Your Parents
Your parents are often heavily involved in planning your wedding and often provide financial support and assistance.
As a result, they deserve thanks for all the work and effort they put into making sure everything went smoothly.
When you send a thank you note to your parents, you are acknowledging their efforts, and showing them how much you appreciate them.
Your Bridesmaids
Your bridesmaids were there at every step of the process, from helping you choose your dress to being by your side throughout the entire ceremony.
So, if you'd like to show your appreciation, sending a thank you note to each of your bridesmaids is a great idea.
Your Groomsmen
Your groomsmen may have been involved in the planning process too, but they weren't always around to help out.
For example, some groomsmen may have helped decorate your reception hall, while others may have helped plan the entertainment.
In any case, your groomsmen deserve your thanks, and so do the guys who helped them along the way.
Your Officiant
Your officiant was responsible for performing the ceremony and signing the paperwork, so they deserve a "Thank You" note for all their hard work – without them, the wedding would never have taken place!
Your Guests
It goes without saying that everyone who attended your wedding should get a "Thank You" note.
This will show that you value the friendship and relationship you share with them and that you appreciate them taking the time and effort to attend your wedding and celebrate with you.
Thank You Notes For Gifts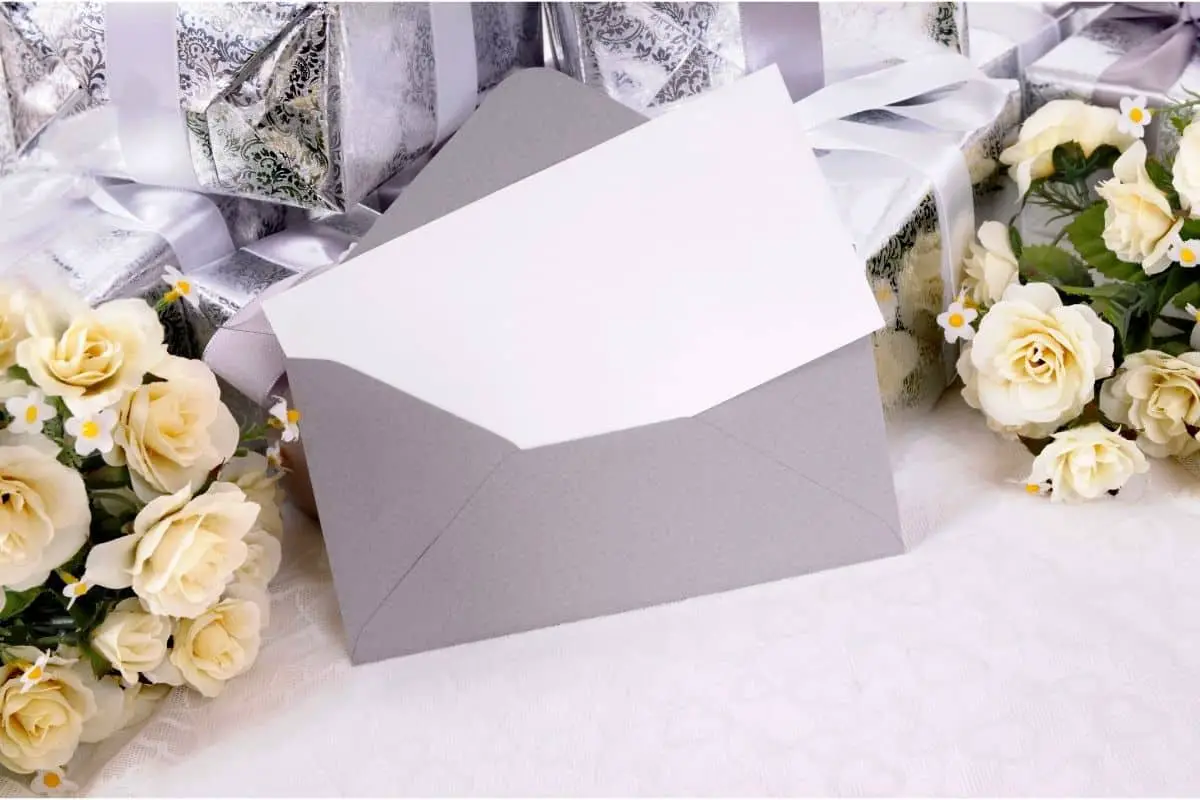 In some cases, you may need to write a thank you note for a gift, even if the sender was unable to attend the actual wedding.
There are a few situations that you may encounter here:
Wedding Thank You Note For A Group Gift
In some cases, you may have received a group gift, and knowing the right approach for a "Thank You" note for this can be tricky.
When writing a thank you note for a group gift, you should include all the members of the group.
This means adding their names to the beginning of the note and making sure to thank them personally.
Wedding Thank You Note For A Gift From Someone You Don't Know Well
You may find yourself receiving wedding gifts from someone you do not know that well, and writing them a "Thank You" card can be more of a challenge than for a close friend or family member.
The key here is to be polite and grateful and make sure that you include the name or names of the gift giver.
Make sure to mention what the gift is, what you like about it, and how you intend to make use of it – this will show that you really appreciate their efforts, and are grateful to them for thinking of you.
Wedding Thank You Note For A Gift Off Your Registry
If you receive a gift off your registry, you should make sure that you write the sender a "Thank You" letter.
Simply follow the same guidelines as above, and make sure that your "Thank You" letter includes the reasons you are thankful for the item, the ways you intend to use it, and expresses your gratitude to the sender.
When Is The Best Time To Send A "Thank You" Note Following Your Wedding?
The best time to send a "Thank You" card after your wedding depends on what kind of wedding you had.
If you had a small intimate wedding, then you'll probably want to wait until a week or two after the event has passed.
At this point, most guests will have returned home, and won't be expecting anything else from you.
However, if you had a large wedding, where many guests traveled long distances to attend, then you might consider sending a thank you note sooner.
While you don't want to overwhelm your guests with too many cards, you can still send one or two thank you notes during this period.
How To Get Started Writing Your "Thank You" Cards
Depending on the size and scale of your wedding, getting started writing thank you cards can feel like an overwhelming task.
By breaking this down, however, you can get the task done and the cards sent in next to no time.
Here are some of our top tips to help you navigate the task:
Get Organized
This one starts as soon as you send out invites – as you write each invite, add the name and address of the guest to a spreadsheet.
You can then use this spreadsheet to track replies and RSVPs, making it easier to keep track of the guest list, as well as tracking gifts that you receive – make a note of who sent what.
This spreadsheet will then help you to keep track of your "Thank You" cards, and make sure that nobody is missed out.
Start Right Away
Once you've received all of your gifts and the wedding is over, start writing your "Thank You" cards right away.
Even though there may be lots of other things going on around the house, it's important to get them written before you forget.
If you do find yourself struggling to think of something to say, just ask your parents, siblings, friends, or anyone else who attended the wedding for some ideas.
They'll probably be happy to give you some suggestions!
Have A System
Think about how many guests you invited, and plan accordingly.
If you're sending out invitations to 150 people, then you should expect to write and send 150 thank you cards.
Make sure that you have enough envelopes and stamps ready to go.
If you don't, you might end up spending hours trying to figure out where to buy supplies or having to borrow from someone else.
Having a system will also ensure that you don't miss anybody out by forgetting to send a card.
Work In Batches
Tackling your entire guest list at once can feel overwhelming, so break the task down into more manageable batches.
Set aside an hour or so each day, and write as many as you can in the allocated time.
This way, the task gets done without dominating your whole life.
Don't be tempted to take on all the work yourself – remember to outsource some thank you cards to your partner to complete; after all, it was their wedding too!
Twice the workforce means the job is done in half the time, and you can reward yourselves with a romantic night in celebration.
Keep Stationary On Theme
When writing your "Thank You" notes, try and use the stationary that you used for your other correspondence, including invitations and wedding day stationery.
It adds a personal touch that makes your letters stand out from the rest.
Thank You Wedding Cards Examples
Here are some sample wedding thank you cards – you can choose your favorite depending on the nature of your wedding, the relationship with your guests, and the role that they played.
Don't forget that you can also adapt and adjust these templates to make them more personal and significant to the recipient.
We want to extend our thanks to each one of you for making our wedding so special! We hope to see you again soon.
We would like to take this opportunity to thank you for being there for us on our big day. It was truly an honor having you as our guest at our wedding.
Thanks for coming to my wedding. I really enjoyed meeting everyone and spending time with them.
Thanks for coming to our wedding last weekend. It was such a great experience, and we are so glad you could be part of it.
I'd like to send my best wishes to you and your family on this joyous occasion, and offer my thanks for your attendance at our wedding. May God bless you always.
It has been a pleasure getting to know you and working together on the wedding(see also: How To Plan Your Wedding – Everything You Need To Know). Thanks for everything.
Thanks for coming to our wedding. It was a wonderful evening, and so lovely to share it with you.
Thank you for attending our wedding. Your presence made it even more memorable.
Thank you for being there for me on my wedding day. I will never forget how much you helped make it special.
Thanks for coming to our wedding! We had a blast celebrating with all of you.
Thank you so much for being a part of our wedding. We appreciate all that you did to help make it a success.
We would like you to know that we were very grateful for your hospitality during our wedding celebration, and thank you so much for your attendance.
Thank you for coming to our wedding and sharing in our happiness. We wish you many blessings in life.
Thank you for helping us celebrate our love by being present at our wedding. We are so happy to have had you.
We would like to thank both of you for being there for our wedding. It was truly a blessing to have you as our guests.
Thank you for joining us on our special day. We are honored that you chose to attend our wedding. We look forward to seeing you again soon.
Thank you for choosing to be a part of our wedding celebration. We are delighted that you shared in our joy.
Thank you for participating in our wedding. We are thrilled that you were able to join us.
Thank you for helping to make our special day even more meaningful. We are honored that we could count on you to be there for us.
Thank you so very much for being there for us when we got married. It meant so much to us.
Thank you so very much for coming to our wedding today. We are so pleased that you could join us.
Thank you so much for being there for me at my wedding. I am so lucky to have you in my life, and it was an honor to have you as part of my special day.
Thank you so much for being there for my wedding. I can't believe it is over already and want to thank you for all your help and hard work to create a perfect day.
Thank you for honoring us with your presence at our wedding. We appreciate your love and support.
Thank you for the beautiful flowers you sent to us, and for being part of our special day. The flowers brightened our home, and you brightened our hearts.
Thank you for making our wedding day extra special. We are so thankful to have had you as our guest.
Thank you for taking the time to come to our wedding. We greatly appreciated your presence.
Thank you for your kindness in supporting us on our wedding day. Our lives have changed forever because of you.
Thank you for being a part of our wedding! We hope that you enjoyed the day, and we look forward to seeing you again soon.
Writing Wedding Thank You Notes: Dos And Don'ts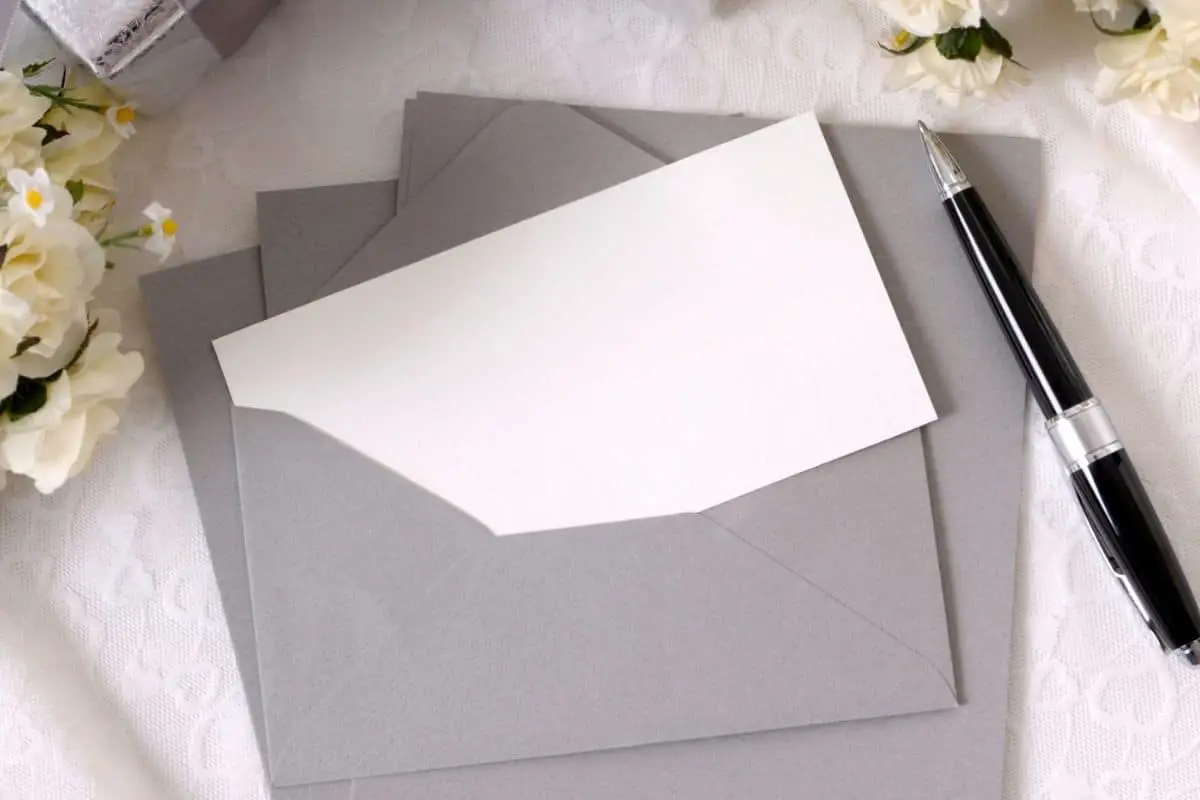 Here are some of our top advice on how to write wedding thank you notes:
Do Include Your Name And Address
It's polite to include your name and address when thanking someone for attending your wedding – this is just good letter-writing etiquette.
Do Keep To One Page
It's easy to get carried away with a long letter, but try not to let it become longer than two pages.
Try to stick to one page per person, unless you know they'd prefer otherwise, or if you are particularly close to them.
Do Be Specific
A generic "Thank You" note will only serve to make your recipient feel unimportant.
Instead, consider writing a personalized letter that includes details such as what they did to help you on your big day, or how much fun they had dancing with you.
If you want to thank someone for coming to your wedding, it's best to be specific about why they were there.
For example, if you had a bridesmaid, you could mention that she helped you pick out your dress, or made sure you didn't eat any cake during the reception.
Do Consider Sending A Gift
A thoughtful gift can really add extra meaning to your thank you note, especially if you bought it specifically for the occasion.
Consider buying a small token of appreciation like a bottle of wine, or something special like a candle or chocolates.
It can be nice to do this for the immediate wedding party and is a small way to show your love and appreciation.
Do Handwrite Your Notes
Handwriting is a lovely thing, and it shows that you care about the recipient.
Writing your "Thank You" notes by hand will also give you the chance to express your gratitude in your own unique style.
Do Invest In A Great Pen!
The pen you choose should match the paper you're using.
If you're handwriting your notes, you'll want to invest in a great pen – not only will this look better, but it will also be more comfortable to write with!
Do Write The Correct Name
Make sure you spell names correctly, including titles and middle initials. This isn't just good manners, it's also essential to avoid confusion.
Do Thank For Gifts
Gifts are always appreciated, so don't forget to thank the people who gave you gifts. It's a simple gesture, but it goes a long way.
Don't Forget To Add Your Signature
Your signature at the bottom of your note is a sign of respect, and shows that you have taken the time to write and send the note yourself – this is much more thoughtful.
Don't Overwhelm People With Too Many Thanks
While it's important to thank everyone who attended your wedding, don't overdo it.
Make sure you keep your "Thank You" notes short and sweet, and don't go overboard with the thanks.
Don't Send Multiple Thank You Cards
You may think sending multiple thank you cards is the right thing to do, but it's actually bad etiquette.
If you've got a lot of guests, then it would be better to send a single card thanking each guest individually.
Don't Wait Until The Last Minute
You never know what kind of last-minute changes may occur on the day of your wedding, so make sure you get everything done early.
What Not To Write In Your Wedding Thank You Card
There are a few elements that should never make their way into your wedding thank you card, and these include:
Don't Mention The Cost Of Gifts
It's okay to say how much you appreciate the gift, but don't insult anyone by saying things like "you shouldn't have," or "it was too expensive."
Don't Use Exclamation Marks
Exclamation marks are used to emphasize a point, but they aren't appropriate when writing a "Thank You" note.
They can also make your letter seem sloppy and unprofessional.
Don't Mention Anything That Went Wrong
Weddings are celebratory affairs, but things can and do go wrong.
Never embarrass a guest in a "Thank You" note by bringing up any issues or trouble that occurred at the wedding.
Whether their partner had a little too much to drink, or there was a heated debate, this should all be left in the past, and never brought up in a "Thank You" note.
Instead, keep things short, sweet, and to the point.
Be polite and respectful at all times, even if you're upset about something.
It's not rude to express your feelings, just be careful not to come across as rude.
Don't Criticize The Gift
If someone sends you a gift, it means they took the time to buy something for you.
Even if you don't like the gift, it's still nice to show appreciation for them – simply be graceful, and thank them for taking the time to purchase a gift for you.
Don't Ask For More Stuff
If you ask for more stuff in a "Thank You" note, it makes you sound greedy.
And while we're on the subject, don't ever ask for money – this is a major etiquette no-no.
Don't Say "Thanks"
The word "thanks" has become somewhat of a generic term, and doesn't really mean anything anymore.
Saying "thank you" instead will make your message more meaningful.
Don't Forget To Sign
Don't forget to add your name to the bottom of each note, just in case your guests get confused!
Don't Be Too Polite
While it's always good manners to be polite, it's best to avoid being overly formal.
Keep your tone light and casual, and try to be funny if you feel like it – these were your wedding guests after all!
Final Thoughts
Wedding thank you notes are an important part of the wedding experience, and they're often overlooked.
However, they're one of the most important parts of the entire process.
Make sure you write thoughtful, heartfelt, and sincere thank you notes to everyone who attended your wedding, and you'll find yourself feeling happier and more relaxed than ever before, as well as leaving your guests feeling appreciated.

Latest posts by Lisa Plaitt
(see all)