Since the start of the 2020s getting married has been quite difficult. Prices for everything have gone up, so getting married is now even more expensive than it was before.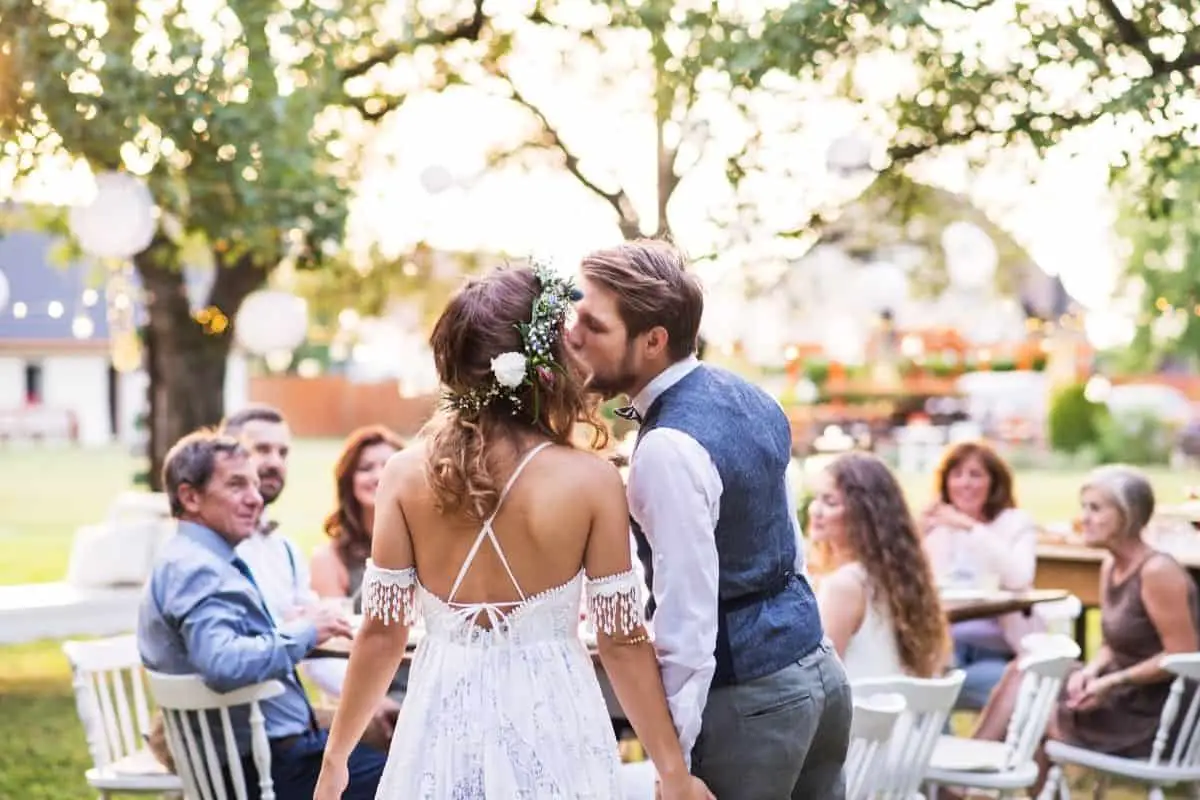 Let's not forget, a whole pandemic happened as well, and for many this meant postponing weddings for waiting even longer than they would've wanted to.
Long waiting lists, rental items being unavailable, and issues around transmission.
While many places have now recovered from the pandemic, some places do still have restrictions in place, and some people are still cautious about the spread of the virus, and potentially any other viruses and diseases.
The whole of the first few years of the 2020s made us much more aware of health, and how we act and communicate.
So, some people may have originally opted for big indoor weddings, but are now considering perhaps that is not ideal.
This is why outdoor weddings are growing in popularity, and if you have the space for it and the mind to plan it yourself, a cozy backyard wedding with those closest to you can be so much better.
If another virus hits, it is easier to enforce social distancing outside, if you use your own backyard you can get creative and personal.
Let's not forget you totally avoid the costs of hiring out an insanely expensive venue as well!
Let's also remember, if there are a few people you just do not want to come to your wedding, a cozy backyard wedding is the perfect excuse not to invite them. 'I'm sorry, but we just don't have the space for everyone'.
It's perfect!
Keeping Things Spread Out
As we said, if you were very worried about the spread of Covid-19 at the beginning of the 2020s you may be extra vigilant now, still worried about the virus, or any others that may creep along in the future and halt our world again.
Outdoor weddings are ideal, fresh air, so those indoor restrictions we experienced are void and there is better circulation, and it is easier to keep the number of guests to only the ones you WANT, and of course, social distancing is easier.
Of course, you need a sizable backyard to be able to do this just right, but for many a backyard wedding is totally plausible, and it gives so much opportunity to just have the best wedding you could hope for.
Some people are still practicing social distancing, even though restrictions and rules to do so disappeared long ago.
That period of our lives taught us a lot, the importance of our mental health, setting boundaries, and how to weave our way around difficult situations.
So, if you want a little more 'space' at your wedding you could label chairs for the guests, not only is this a great way to keep vulnerable people away from those who might be less than cautious, but it is also a way to avoid conflict between guests as well.
If you want to enforce a form of social distancing or just keep certain people apart, you can designate seating, so they are far away from each other, and reserve tables to certain individuals.
Social distancing techniques are not only ideal for pandemic situations but also for avoiding awkward social situations as well!
Space Vs Guests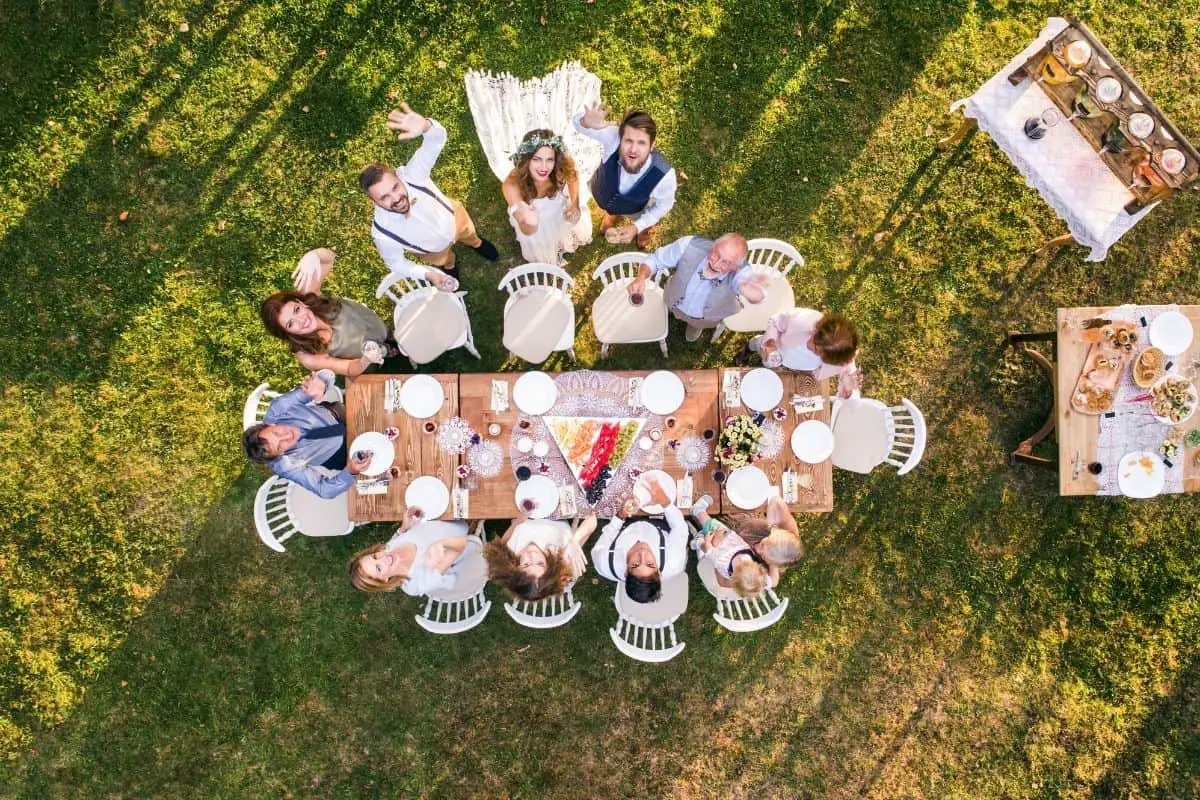 Of course, there is no saying that you will want to or need to do this, but one thing you absolutely HAVE to think about is space.
Remember earlier we said that for a full-blown backyard wedding you'd need a sizable yard?
You really do.
So, looking at your backyard, what can you do? How many can you fit?
Generally a banquet hall that uses 6ft tables, will fit around 100 guests into around 1200 square feet (~110 square meters). So, if your yard is around 40ft by 30ft you can only have 100 guests without things being too tight. 
But you will need space for your ceremony and dance floor.
So, how to overcome this issue? Well, you don't need to be an architect or landscape artist to be able to sketch up some basic blueprints. Craft an idea of your floor plan.
Start out by measuring the space you have, and note it down and draw it on a piece of paper, add in things you cannot move, plots of flowers, a shed, a pool and so on.
Once you know the space you have, fit in your wedding elements, draw in a ceremony space, chairs, aisle. Then, figure out the reception area, a dance floor, tables, dining areas, and so on.
Doing this will help you to figure out how many people you can fit into your wedding, how many guests, and what you actually have space for.
You may only be able to fit in your closest friends and family, but perhaps that is for the best, it leaves little room for conflict, and remember, each guest is an extra cost, so maybe having a yard on the smaller side of things will actually save you some money!
So, get yourself some rough blueprints drawn up, and then define them, know what you are putting where, and how many people you can fit into this space.
Do be wary though, really think about the space, even if you are not planning on still enforcing a form of social distancing, you do not want the space to be overcrowded. If it is overcrowded it will get unpleasant and people will get frustrated.
Planning For The Weather
Weather, the bane of our lives, its changeable tendencies are so frustrating and oftentimes weather reports can be wrong. One minute it is looking to be wonderful, but the day comes, and it rains.
However, rain is not the only weather you should be wary of. There are plenty of weather forms that can put a dampener on your big day.
A heat wave, a cold front, a storm, snow, or extreme weather can shake things up.
How many people have seen the online video of a beautiful backyard wedding taken by surprise by an approaching tornado.
This is very unlikely to happen, but if you plan for everything, then nothing will take you by surprise or ruin your day.
You may want to rent a tent for rainy conditions, they can be expensive, so you could look at a large gazebo instead.
If you do have to move things inside, will your home be able to accommodate all your guests? What about a barn? Or even a large garage?
Then, consider other forms of weather. Get a fan or air con unit encase things get very hot – especially in the summer, and do not forget portable heaters or even an area you can have a fire pit if things get especially chilly.
If you can get these things, remember extension cords!
Then, consider extreme weather possibilities, especially during the stormy season.
Since you are the host of this event, you want to make sure that there are safety procedures in place in the event of any extreme weather.
While it is unlikely that you'll be caught off guard by a tornado or hurricane, earthquake or otherwise, it is always good to plan ahead if your location is susceptible to this kind of activity.
Make sure you are prepared for any weather conditions, and you will never be surprised. That way, whatever happens on your big day, you are ready for it.
Shopping List For Rentals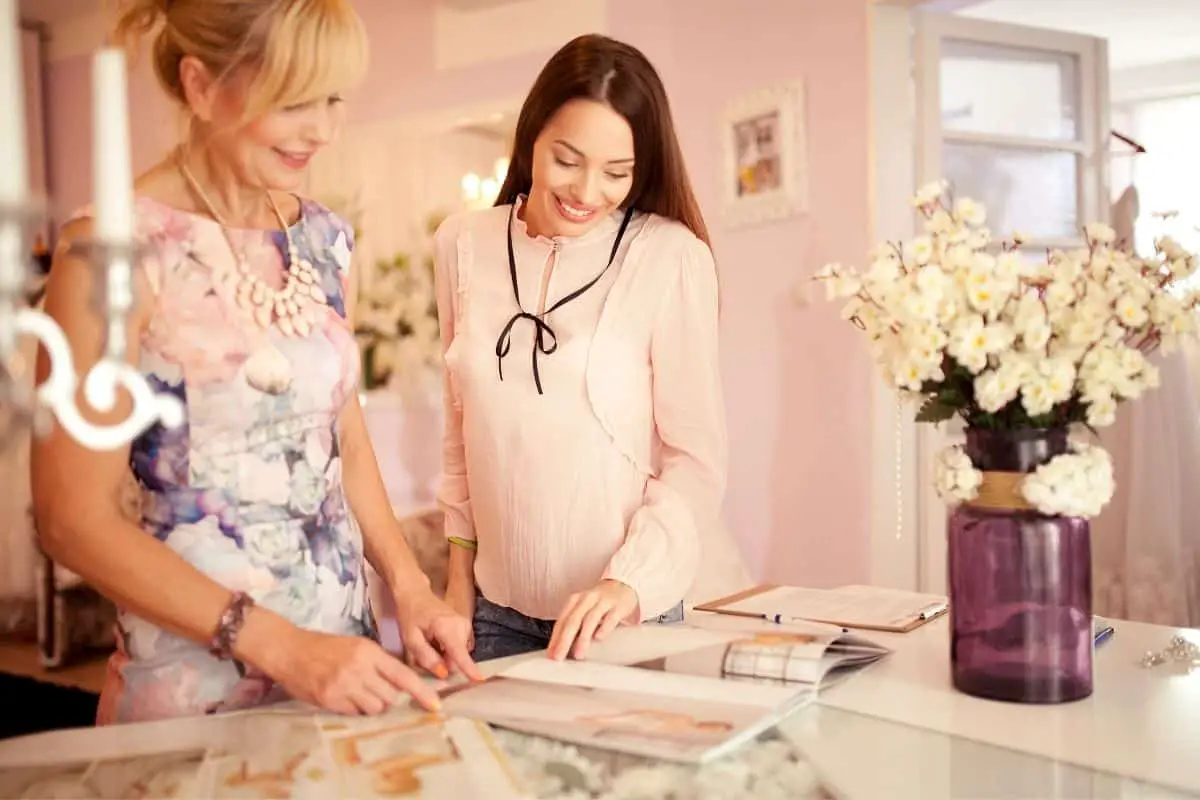 Now, it is time to think about money, sadly. You might want to get some matching tables and chairs, and other equipment for the ceremony and the reception.
If this is the case then you will need to get some things from a rental company.
This is especially important if you want all the typical wedding trimmings, such as a head table, or a dance floor. Ideally, you want to get everything from the same rental company.
However, before you get your heart set on any rental company in particular, you want to ensure that they have what you need, and that they are trustworthy. You should also check to see if they have any minimums.
This is when a rental company will not allow you to borrow unless you order a particular amount.
Luckily some companies have been more willing to waive on minimums since 2020, so you may find some that will allow you to make a smaller order.
Yet, expect delivery fees. It is wise to shop around, ask if any places offer small packages, and what their delivery costs are and prices. Know your options, then make your choices.
So, what are the things you should be considering renting for your backyard wedding?
Well, we have split them into two sections for you; ceremony and reception.
Shopping List For Ceremony Rentals
Here is a list of things you should be considering getting for your ceremony.
Guest seating/ chairs.
Aisle decor (flowers, red carpet, etc.).
Table for signing.
A canopy or arch.
Speakers and microphone.
Shopping List For Reception Rentals
While we would often think that the ceremony will be the most expensive part, it isn't, the reception will cost you more, and you will need much more for it. So, you need a good shopping list for this. Here are some things to think about.
Food tables/ buffet area.
A gift table/area.
Head table and matching chairs as well as decor.
Dining chairs and tables for guests.
A canopy or tent.
Table for your wedding cake.
Linens/ decor.
Dinnerware, including cutlery, dishes, china, glassware, etc.
A dance floor area.
DJ/ Music.
Chafing dishes and serving dishes.
Appropriate lighting.
Bar.
Electrical fans, portable heaters and extension cables.
Trash cans (we recommend 3-4).
Ideas For A Backyard DIY Wedding!
If you decide you want to have a backyard wedding, chances are that there will be a lot of DIY involved in this.
A backyard wedding is a great idea for those who love doing DIY, you have no worry about venue timelines, any hefty rental fees or clean up costs for the venue.
You go by your own schedule, and you can start on the planning and decorating whenever you are ready to do so.
There are more bonuses than just scheduling and fees though, you can enjoy the DIY factor and what is left long after your wedding.
You could build your own arch or gazebo that will be a permanent memory of your special day for years to come.
You can plan out your garden, and plant relevant flowers that will be symbolic of the magic in your relationship.
You could have a deck or patio area that will serve as a reminder. Not only are these things great for the day, but they are wonderful reminders always with you.
DIY Ideas On Improving The Space
So, what are some things that you could DIY into your garden that will work well for your wedding and also for the years to come? We have a few ideas that you might like, but feel free to get as creative as you want to!
Build your own archway/ gazebo.
If you have a deck, give it a refresh with a power cleaner.
With a shed, give it a good clean, or maybe style it up with some paint or accessories.
Give your doors and windows a new lease on life with a dash of fresh paint.
Add new and glamorous lighting, string lights and Victorian style lanterns are a great addition.
Cover up any ugly areas for plants, fences, lattices, or maybe a water feature!
For naked areas, add plant pots, flowers, water features, or other static garden features.
Give your yard a bit of landscape gardening, spruce it up, make it magical.
DIY Backyard Reception Ideas
If you love being hyper-organized, having a DIY wedding in your backyard is ideal, you won't have the venue, so hey presto, now you're the coordinator and planner!
You can do it, and if you love organization and planning, you will love it! However, do not make it all too complicated, keep it simple, and get people in to help you. If you're the bride, your bridesmaids can be useful here.
Talk to your help over time, and get a good, solid commitment from them to make sure that everything goes smoothly before you start finalizing any plans.
However, if you do not have any willing helpers, choose something easy and not too stressful.
With willing people assisting you, you can get more complex, but know your limits, this shouldn't be something too stressful!
Here are some ideas on how to make your wedding a little more stress-free to plan.
Instead of a big dinner, serve brunch, or even lunch.
The reception could be a cake and punch reception, it doesn't need to be fancy.
You could have a buffet, or food stations.
Consider cocktails and easy appetizers.
Casual dining can be much easier; pizza, barbecue, or even a hog roast.
Consider a typical dinner and a dance style reception.
DIY Doing Dinner
We won't sugarcoat it, the dinner will be one of the more expensive parts of any wedding, food is crazy expensive.
With a smaller wedding it is easier and if it's extra simple, you can even plan your wedding like a big dinner party.
You could always order from a restaurant, deli, or even a store.
Get creative, it doesn't have to be all posh and fancy, run with it, go by YOUR budget and what you can afford to do. It doesn't have to be a three-course meal!
What's The Cost Of A DIY Backyard Wedding?
When we look at the cost of weddings, they can easily shoot up into 5 figure sums, a venue wedding could even scrape at $50,000 or $100,000 for some people.
But for a traditional backyard wedding could cost anywhere from $2,000 to $10,000. 
Having 75-100 guests can be quite the challenge, but less than these can prove to allow you a fairly small budget.
If you want to limit the number of people at your wedding, you will want to avoid vendors.
A great thing to do is to look at if a friend or family member can be ordained in your state through an online form and perform your ceremony for you.
Check if your State allows this.
With a small wedding, you could also skip on caterers, which are usually one of the most expensive parts of the wedding, arrange prepackaged meals, or picnic boxes, and such.
You could get delivery, or just make use of what you have yourself.
Backyard weddings allow you to be creative and take advantage of the freedom to do what you want for a cheaper cost, without any obligation to vendors and venues.
You can save a lot of money this way.
Budgeting For 10 Guests At A Basic Backyard Wedding
So, what if you want to make something super cheap? Well, a cake and punch reception following a ceremony is probably the best way to do things on the cheap.
You can avoid a lot of fuss, and only invite the closest people to you.
So, based on 10 guests, what are the costs you could expect?
The Ceremony
Marriage License but Officiant – $300 average.
The Rings – $300 average
Total– $600
What Needs To Be Rented
Chairs for the ceremony at $5 each – $50
Cocktail tables at $20 each – $100
Small cake table – $20
Table decor – $70
Delivery Fees – $125 average.
Total – $365
Catering
Prosecco x3 – $60 average.
Punch (no-alcohol) – $20 average
Wedding cake – $150 average
Disposable cups and plates – $30 average.
Total – $260
Additional
Attire – $500 average.
Invitations – $50 (or less if done online).
Decor – $50 average.
Boutonniere and Bouquet – $50 average.
Total
The total for this wedding would be $1,875, however, this is subjective to your own situation and choices. It could be less or more.
Budgeting For 10 Guests At A Full Scale Backyard Wedding.
If you wanted to go all out, and have the full experience, there would be more costs though. Still sticking with the idea of only having 10 guests, this is what we would average the costs at.
Do remember, that it is subject to your own choices and preferences.
Ceremony
Marriage License and Officiant – $300.
The Rings– $300.
Total– $600
What Needs To Be Rented
Chairs for the ceremony at $5 each – $50.
Tableware – $70
Dining seating at $5 each – $60
Tables for dining at $20 each – $120.
Food table (buffet style)– $20.
Music table – $20.
Speakers– $125 average.
Lighting – $150 average.
Dance floor – $250 average.
Total– $865
Catering
Meals (pre ordered) at $50 each – $600.
Wine (1 of each per table at $13 each) – $156.
Beer – $50 average.
Cake – $175 average.
Total– $981.
Additional
Table decor – $60
Invitations (cheaper if done online) – $75
Attire – $2000
Boutonniere and Bouquet – $275.
Favors – $40.
Total
The total for this wedding would be $2,450, although it could be higher and lower depending on your preferences.
Don't Forget The Dress!
The dress you choose will usually dictate a big part of the cost, dresses can be pricey, however, it depends on the type of wedding you want as well.
For a small wedding you might want to be less dressed up. However, if you want a big expensive dress go for it.
You shouldn't let anything dictate your dress, it is your special day, sure it might be weird wearing it in your backyard, but it's your wedding, do what you want!
Sending Out Stylish Invitations
You do not need to get fancy with invitations, you could easily just do it by email, Facebook, or a text.
However, a card invitation can be great. You do not need to spend a lot of money on these, and you could even design it yourself using Microsoft Office and print them yourself.
Really, it is entirely up to you how you do this!
What About Favors?
With favors, it is all up to you, if your wedding has a theme, just run with it, you could go with candy and stickers, flowers, anything really. Once you have your theme, just run with it.
Time To Plan The Wedding Of Your Dreams!
Backyard weddings are a great way to cut down on the costs of getting married.
Most of what you need you can order online, and you can keep it entirely as you want it, when you want it and have total control over your big day.
You can invite everyone, or just a few people. It is totally up to you, it gives you freedom to have the perfect wedding, without anyone else taking the reigns.

Latest posts by Lisa Plaitt
(see all)