You've made the commitment of a lifetime, and now you're ready to start taking wedding photos.
But what will you caption them? Sure, you could always go with "Just married! #loveyoudearly," but why not get creative and truly capture the spirit of your special day?
If that sounds like something up your alley then look no further. We have 150+ creative Instagram captions for you to try out on all those gorgeous wedding snaps. So grab your bouquet, slip on that meringue dress and let's dive in – it's time for some fun!
For more creative caption ideas, check out
Engagement Captions, Wedding Captions for Guests, Funny Bridesmaid Captions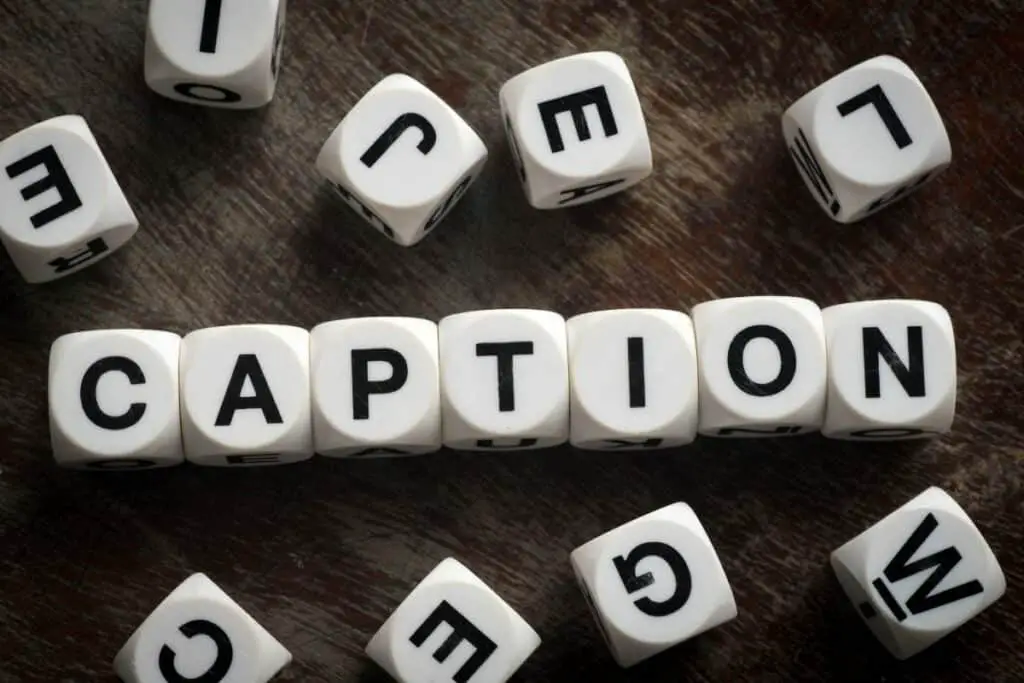 Romantic Wedding Photo Captions
If love is a drug, I'm addicted to you. 🌟
Two hearts, one home. 🏠❤️
"This couple must have cast a love spell on us because we can't stop staring at their gorgeous photos! 😍🧙‍♀️ #WeddingWizardry"
"These newlyweds didn't just tie the knot, they tied our hearts in a knot too! 💕🔗 #MarriedBliss"
"These two are so in sync, they probably finish each other's sentences…and wedding cake. 🍰🍴 #Soulmates"
Just two lovebirds tying the knot 🐦🎀
"This wedding had us feeling all the feels! Happy tears, belly laughs, and a serious case of FOMO. 😭😂😍 #WeddingVibes"
"I didn't choose the wedding life, the wedding life chose me. 💍👰🤵 #HitchedHappilyEverAfter"
"This couple is the definition of 'match made in heaven'…or at least on Tinder. 😂👫 #SwipeRight"
"The flowers were beautiful, but my husband stole the show 🌺😍🤵 #WeddingFlowers #GroomLove"
We got married in a fever, hotter than a pepper sprout! 🌶️
"Our love story is like a fairytale, but with a lot more dance breaks. 💃🕺👑 #HappilyEverDancing"
"When your love is as strong as Superman and Wonder Woman combined 💪🦸‍♂️🦸‍♀️ #SuperCouple #WeddingGoals"
"Tying the knot never felt so good! 💍😜 #WeddingPuns #PunnyLove"
A toast to love, laughter, and happily ever after…and lots and lots of wine. 🍷
"I always knew I wanted a romantic wedding, but I didn't expect to fall in love with the wedding cake. 🎂❤️ #SweetsForMySweet"
Who says love can't be cheesy? 🧀
"If love is a battlefield, then marriage is a dance floor. And let's just say, we're ready to boogie. 💃🕺🔥 #WeddingWarriors"
It took me a while to find my Prince Charming…but he was worth the wait! 👑
"My heart skipped a beat when he got down on one knee…but then he almost dropped the ring 😅💍 #WeddingStories #CloseCall"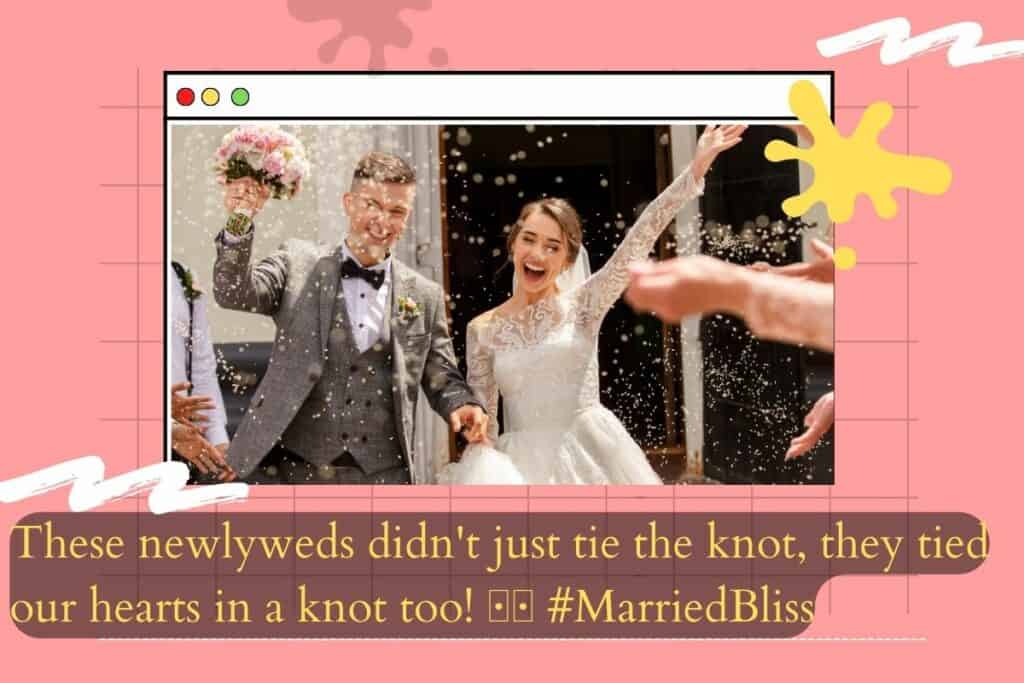 Funny Wedding Photo Captions
"We couldn't decide which photo to post, so here's a carousel of the bride's reaction to every pun the groom made in his vows. 🙄😂 #DadJokeCentral"
"Who needs a fairy godmother when you've got a killer wedding planner? 👰🏼‍♀️🤵🏻‍♂️ #WeddingGoals"
"When the dance floor is hotter than the wedding cake, you know it's a party! 🔥🕺 #DanceParty"
Love is in the air, and so is confetti! 🎉
"They say the best things in life are free… but they clearly haven't seen our wedding cake 🍰💸 #WorthEveryPenny #WeddingIndulgence"
"Forget the bouquet toss, this bride tossed her bouquet and her groom like a boss! 💐🤵🏻‍♂️ #WeddingGoalsAchieved"
When he said "I do," he didn't know he was saying "I do everything you say." 😂
"Love is in the air, and so is the scent of my wedding cake! 🍰👰🤵 #MarriageIsLit"
"We didn't know love could be this sweet until we saw this couple smash their faces into their wedding cake. 🍰😘 #LoveIsMessy"
I never believed in soulmates…until I met my lobster.
"My heart is as full as my plate at the wedding buffet. 😍🍴 #FeastingAndFesting"
I'm pretty sure I just found my happily ever after…unless he eats the last slice of pizza. 🍕
"We may have taken the plunge, but at least we didn't belly flop. 😂💦 #WeddingDive"
"Roses are red, violets are blue, we may be cheesy but we're crazy about you! 🌹💜 #LoveBirds #WeddingRomance"
"The happiest day of our lives…until the cake ran out 😂🍰 #WeddingFail #NoMoreCake"
"Here's to forever and always…or at least until we run out of toilet paper. 🚽"
"You complete me." More like "You complete my Netflix binge-watching sessions." 😜
"I don't always say 'I do', but when I do, I do it with style. 💃🕺 #WeddingGoals"
"I used to think that wedding planning was a piece of cake, until I realized that the cake was the hardest part. 🤦‍♀️🎂 #WeddingPlanningWoes"
"I don't always cry at weddings, but when I do, it's because I know I'll have to dance soon. 😭💃🕺 #TearfulToes"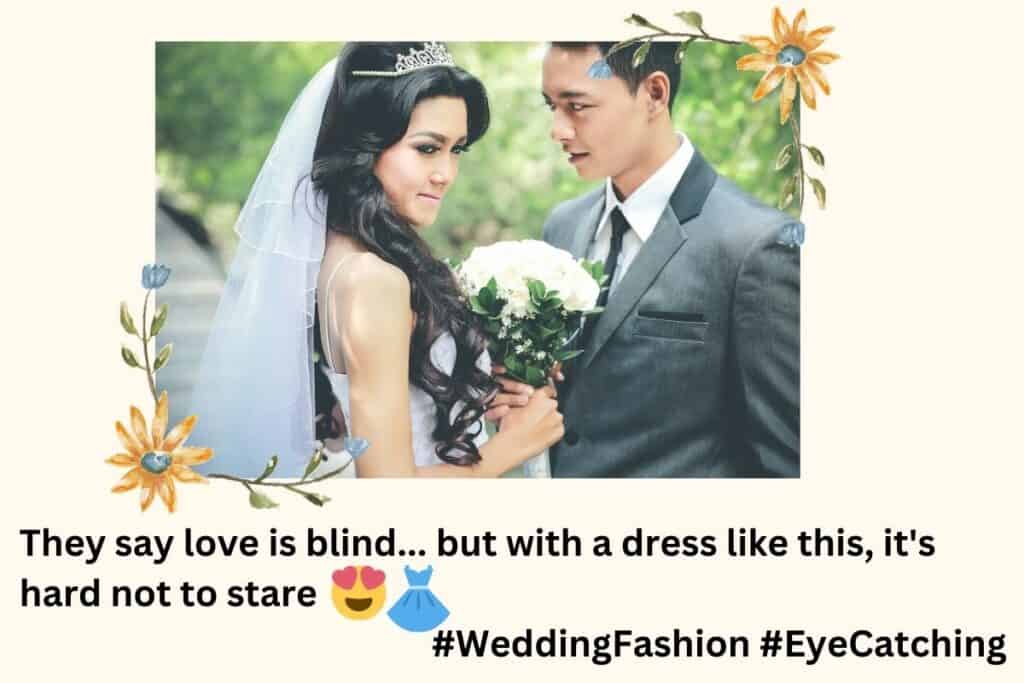 Photo Captions for Wedding Goals
"I said 'yes' to the dress and 'I do' to the man 😍👗💍 #WeddingGoals #BrideLife"
"We're officially partners in crime for life 👰🤵🔒 #WeddingBells #ForeverYours"
"From this day forward, my soulmate and my snackmate 🍟❤️ #WeddingHumor #FoodieLove"
She stole my heart, so I'm going to let her have my last name. 💍
He's my happily ever after…until the end of the football season. 🏈
They say marriage is a journey…I just hope the snacks are good. 🍪
"My heart is full and my feet are sore from dancing all night 💃❤️ #WeddingParty #HappyFeet"
Always the bridesmaid, never the bride…until now! 👰🏻
Two hearts, one soul…and way too many Netflix shows to watch. 📺
From this day forward, we'll be each other's emergency contact. 😂
"Life is a journey, and I'm glad I found my co-pilot ❤️👰🤵 #WeddingVibes #LoveInTheAir"
It's official…he's stuck with me! 😜
"And they lived happily ever after." The end…or is it? 😉
"When life gives you lemons, make lemonade… and when life gives you a wedding, make it one for the books! 🍋👰🤵 #SourToSweet #WeddingBliss"
"Love is in the air… and apparently, so is confetti! 🎉💕 #WeddingParty #ConfettiCraze"
He put a ring on it, and I put him on a leash. 🐶
"They say a picture is worth a thousand words… but this one just says 'happily ever after' 📸💍 #FairyTaleFeels #WeddingVibes"
And so the adventure begins…🌍✈️
"Some couples are made for each other… and some are just made to dance 💃🕺 #TwoLeftFeet #WeddingShenanigans"
I finally found someone to take all my corny jokes. 🌽😂
"Life is a journey… and marriage is the rollercoaster ride that never ends 🎢😅 #BuckleUp #WeddingAdventure"
Happily ever after starts now! 👰🏻🤵🏻
"They say love is blind… but with a dress like this, it's hard not to stare 👀👗 #WeddingFashion #EyeCatching"
He put a ring on it, and I put him in charge of killing spiders. 🕷️
Photo Captions for the Newlyweds
Two hearts, one soul ❤️
Life's a journey, let's wander together
Lucky in love, blessed in marriage
Finally got to kiss the person I've been crushing on for years. #WorthTheWait
Forever my always 💍
He's my better half, but I'm his better kisser. 😘
Two hearts became one…and now we share a closet. 👗👔
I've been waiting for this moment my whole life
You're the cheese to my macaroni, the milk to my cookies, and the bacon to my everything. 🧀🍪🥓
My favorite love story? Ours, of course! 💕
"I want to be your favorite hello and your hardest goodbye." Challenge accepted! 👋
We did the damn thing. #HappilyEverAfter
Just married and loving it. 😍
Cheers to forever, and all the adventures it will bring. 🥂
Officially each other's better half. 😂
Nothing beats the feeling of being married to your best friend. ❤️
Married life looks good on us. 😜
The only thing better than the wedding was the honeymoon. 😏
The world is our oyster, and we're excited to explore it together. 🌍
I'm officially a Mrs. and couldn't be happier. Thank you to everyone who made our day so special. ❤️
Captions for Getting Ready Shots
I said yes to the dress 👗
Groomed to perfection 💇‍♂️
I woke up like this (well, almost) 😜
It takes a village to get ready for a wedding 👰🏻
Mr. and Mrs. [Last Name], reporting for duty. 💪🏼
Countdown to 'I do' begins now
Ready or knot, here we come 💍
Love is in the air, hairspray too
The pre-wedding jitters are real
We did it! Married AF. 💍👰🏼‍♀️🤵🏻‍♂️
The only time it's okay to be a little extra. #Bridezilla #NoRegrets
My heart is full, my feet are sore, and my smile is permanent. #WorthIt
The day we got hitched, and my life was officially complete. ❤️
Captions for Bride and Groom Poses
"This is how we roll into married life! 🛴💑 #JustMarried #FunWeddingPhotos"
Who says you can't have fun at your wedding? 😜
When bae tries to be romantic but ends up looking like a giraffe trying to do yoga! 😂
The look you give when your spouse-to-be says "I do" but you know they really mean "I'll try" 😅
The moment when you realize you forgot the wedding rings at home and have to improvise with onion rings 😂🍔
When your partner thinks they're the next Beyonce but really they're more like Kermit the Frog 😂🐸
That feeling when you finally found your soulmate and you're like, "I won the lottery, baby!" 🤑💕
When your significant other tries to be suave but ends up looking like a penguin on roller skates 😂🐧⛸️
That moment when you realize your spouse-to-be is actually a superhero in disguise 👊🦸‍♀️🦸‍♂️
When your partner is being a little extra on the dance floor but you still love them anyway 💃🕺😍
That time when your spouse-to-be accidentally proposed with a chicken nugget instead of a ring 😂🍗💍
When your significant other tries to recreate the Titanic pose but it ends up looking more like a capsized boat 🛳️😂
"This is what true love looks like… a little bit weird, a little bit wild, but always beautiful. 🤪🦓 #ZebraLove #WeddingPoses"
"If at first, you don't succeed, try, try again… until you get the perfect wedding shot! 📸💍 #BrideAndGroomOuttakes #WeddingBloopers"
"When your love is strong enough to hold up the weight of the world… or at least a few balloons. 🎈🌎
"Falling in love was easy… figuring out the perfect wedding pose, not so much. 😂🤔 #BrideAndGroomStruggles #WeddingPhotoFails"
Bridal Party Photo Captions
My girls have my back 👯‍♀️
The best thing about getting married? My squad 💕
We clean up nice 😉
We're not getting drunk, we're getting married 🥂
Bride tribe for life 👰🏻‍♀️
Groom squad for life 🤵🏻
We'll be friends forever because you know too much 😂
All dressed up and ready to party 🎉
Life is too short to have boring bridesmaids 👗
My bride tribe is better than yours. #SquadGoals 💁🏼‍♀️💁🏻‍♀️💁🏽‍♀️💁🏾‍♀️
Who needs sisters when you have bridesmaids this amazing? Love you all! ❤️
My girls had my back all day, even when my dress didn't. #BridesmaidsForTheWin
I couldn't have asked for a better group of people to stand by my side. Thank you, guys! 🙌🏼
To my bridesmaids: thanks for being my emotional support, personal stylists, and drinking buddies. Love you all! 😘
The best kind of friends are the ones who wear matching dresses and dance awkwardly with you. #BFFs
I may be the bride, but my squad stole the show. 😂
When you're surrounded by so much love and support, it's impossible not to feel like a queen. 👑
My bridal party was the real MVP of the day. Y'all deserve all the credit. ❤️
Wedding Reception Photo Captions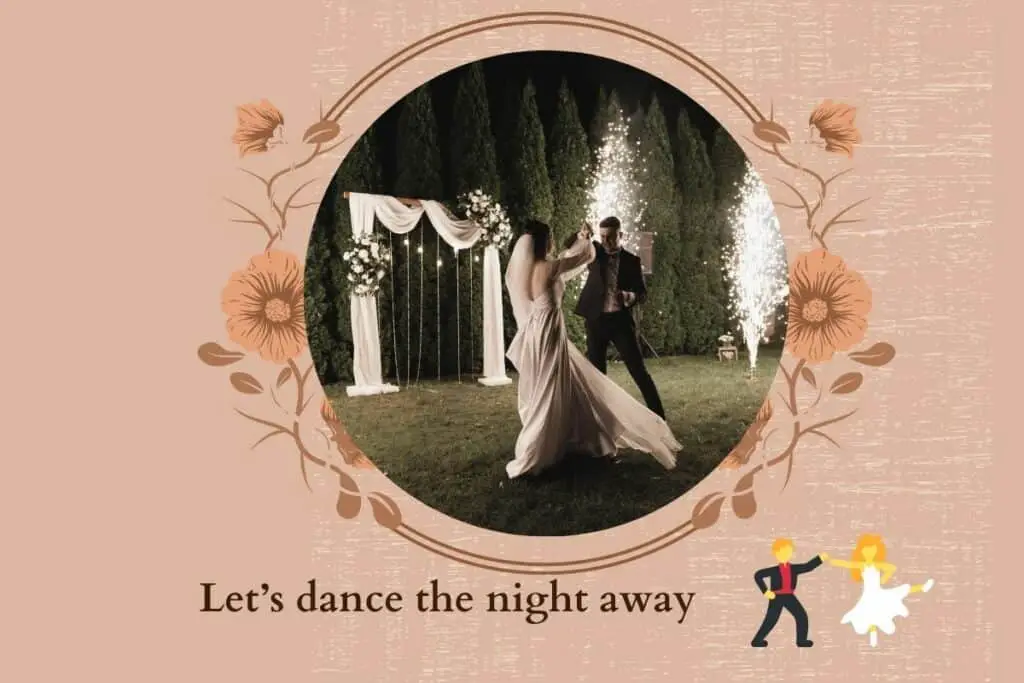 Let's dance the night away 💃🏻🕺🏻
Eat, drink, and be married 🍷
Love is sweet, just like the cake 🍰
The party doesn't start until we walk in 👰🏻🤵🏻
Cheers to love and laughter 🥂
The dance floor is calling our names 🎶
The happiest of hours 🍹
We're not leaving until the DJ plays our song 🎧
Celebrating love and happily ever after
"Who needs a dance floor when you can dance on the tables? 😜🕺 #WeddingReceptionGoals #PartyLikeItsYourWedding"
"When the DJ drops your jam and you forget you're at a wedding reception! 🎉🕺 #WeddingDanceParty #LetsGetWild"
"When the bouquet toss turns into a full-blown wrestling match… 🤼‍♀️🤼‍♂️ #WeddingBouquetBattle #ReceptionShenanigans"
"When you and your squad are too lit to quit… and the party keeps going all night long. 🔥🎉 #WeddingReceptionGoals #SquadGoals"
"When the dance floor turns into a karaoke stage… and everyone's a superstar! 🎤🌟 #WeddingReceptionFun #SingItOut"
"When your reception becomes a full-blown carnival… with games, prizes, and cotton candy galore. 🎡🍭 #WeddingCarnival #ReceptionFun"
"When the lovebirds have their first dance… and everyone else is just trying to keep up. 💃🕺 #WeddingReceptionRomance #DanceFloorAntics"
"You know you've found the one when they're willing to share their cake with you. 🍰💕 #WeddingCakeLove #BrideAndGroomGoals"
"When your wedding reception turns into a karaoke night… but nobody's complaining. 🎤🎶 #SingYourHeartOut #WeddingFun"
"When the DJ drops your favorite song and you can't help but bust a move. 🕺💃 #WeddingReceptionDance #GetDownTonight"
"There's no better feeling than being surrounded by love on your wedding day. ❤️ #WeddingReceptionMemories #ForeverAndAlways"
"When your wedding reception is so lit, even grandma is getting down. 🎉👵 #WeddingPartyGoals #AgeIsJustANumber"
"When your wedding reception turns into a food fight… but it's totally worth it. 🍽️😂 #WeddingFun #MakingMemories"
"They say a picture is worth a thousand words… but we think this one just says 'PARTY!' 🎉📸 #WeddingReceptionPoses #FunTimes"
"When the bride and groom can't stop stealing kisses… and the guests can't stop taking photos. 💋📸 #WeddingReceptionRomance #LoveIsInTheAir"
Conclusion
Now that you've got your perfect wedding photos captured and ready to share, it's time to add the perfect caption!
We've provided you with more than 150 Instagram captions for wedding photos that range from funny and lighthearted to romantic and emotional. With our collection of captions in tow, you are sure to find the perfect accompaniment for each of your wedding day memories.
May every photo bring a smile on your face as you reflect upon this wonderful time in your life together! Congratulations on your special day, now let the double-tapping begin!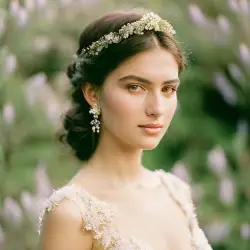 Latest posts by Rosie Liliy
(see all)