Are you ready to create the perfect romantic ambience for your upcoming wedding? Then it's time to choose some interlude music!
An integral part of any wedding celebration, interlude music is designed for setting a romantic mood and providing an air of sophistication that will make your special day truly unforgettable.
Think choir-like love songs with soothing tempos or soft instrumental pieces – these soundscapes can be powerfully evocative when chosen thoughtfully.
To help you find the best soundtrack for your nuptials, we've gathered 64 of our favorite examples here in one convenient list – so prepare to get lost in musical bliss as you determine what awesomeness should grace the scene on your perfect day!
Classical/Instrumental Wedding Interlude Music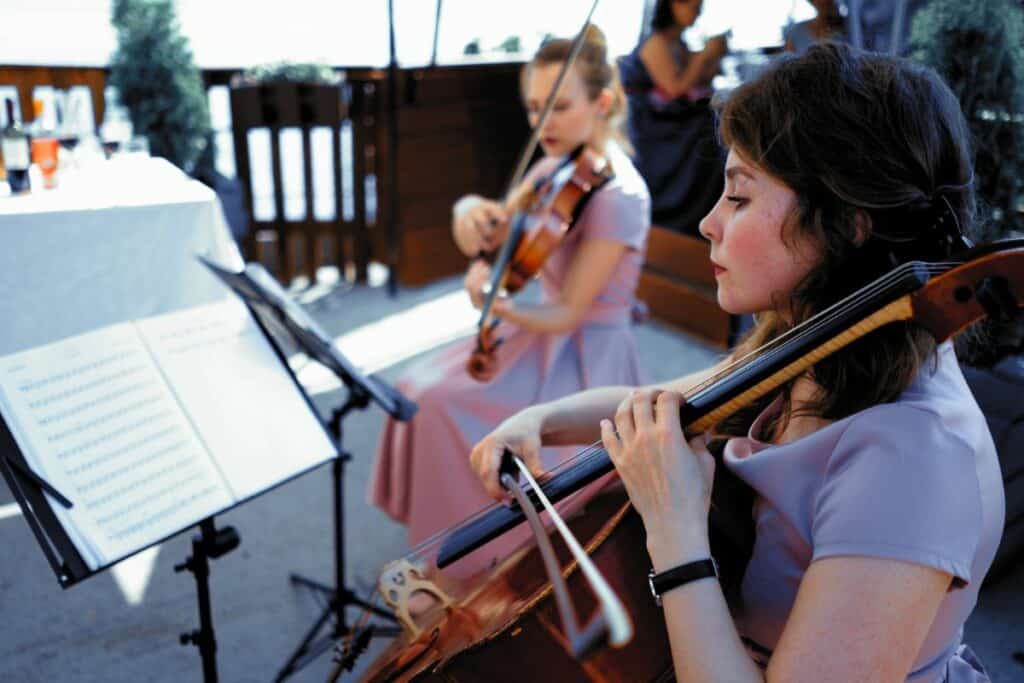 Don't settle for a cheesy love song that everyone has heard a million times before. Make your wedding interlude music as special as your love story itself.
Let classical and instrumental music be the perfect backdrop to your magical moment. With so many choices out there, from classic Bach to contemporary film scores, it's time to rock your wedding like never before! So put on those dancing shoes and enjoy the harmonious journey to forever.
The solemn and tranquil melody of Ave Maria is perfect for the wedding interlude music. It is a classic piece that will evoke feelings of love and devotion.
Primavera is an ethereal piece that will impart a vibrant ambiance and fill the air with glee. Its effervescent notes make it perfect for wedding ceremonies outdoors, particularly during springtime!
The timeless Canon in D is one of the most popular pieces for weddings. Its simple and elegant melody will set the romantic mood for your special day.
The Swan is a charming and graceful piece that will create a serene atmosphere. Its romantic and soothing melody makes it an ideal choice for an interlude music during the ceremony.
A wedding is all about love and intimacy, so why not let the mesmerizing notes of Air On the G String set that tone? Its gentle cadences of peacefulness create a romantic ambience ideal for traditional nuptials. Let its melodic serenity capture your heart as you exchange vows!
The joyful and lively melody of Minuet in G Major will create a cheerful and festive atmosphere. This classic piece is perfect for a wedding interlude music during the reception or cocktail hour.
The enchanting and dreamy melody of First Arabesque will add a touch of magic to your wedding day. Its whimsical notes make it an ideal choice for a fairytale or bohemian-themed wedding.
Let Ode to Joy set the tone for a memorable wedding day with its vibrant and elated melody. Its majestic sounds create an atmosphere of grandeur, making it perfect for bridal entrances or recessional celebrations.
The Hallelujah Chorus' majestic and triumphant melody creates an unforgettable experience for couples tying the knot, as well as their guests. This iconic piece of music is perfect for any grand wedding ceremony, its glory sure to linger in the minds of all who attend!
The tender notes of Sarabande create a romantic, intimate ambiance ideal for your traditional wedding ceremony. Its graceful tempo and elegant melodies offer the perfect soundtrack to celebrate love on your special day.
Let the soothing and passionate sound of Clair de Lune by Claude Debussy carry your romantic gathering to another realm. Its solo piano melody takes listeners on an emotional journey that will leave a lasting impression, no matter what the occasion is – be it dinner party or wedding interludes. Enjoy this beautiful piece with all who join you; its magical effect creates unforgettable memories!
The Flower Duet is a breathtaking, romantic piece that immediately elicits an atmosphere of joy and festivity. With its uplifting, cheerful notes it's the perfect accompaniment for any spring or summer wedding ceremony.
A serene and contemplative piece that is perfect for creating a sense of calm and tranquility. Its slow and melodic melody, played on a solo violin, creates a sense of peace and serenity that is sure to soothe the souls of all in attendance.
A heartwarming piano piece that is perfect for wedding interludes. With its soaring melody and gentle harmonies, it evokes a sense of hope and promise for the future, making it an ideal choice for couples starting a new life together.
Mio Babbino Caro by Giacomo Puccini is a classic operatic piece that has been used in weddings for generations. The beautiful, lilting melody and emotive vocals are sure to bring tears to the eyes of even the most hardened guests.
"Salut D'Amour" is a romantic and uplifting piece that would be a great addition to any wedding ceremony. The sweeping strings and gentle melody make it a perfect choice for a bridal entrance or exit.
A classic piece that's perfect for a wedding interlude. The lilting rhythm and graceful melody of this duet make it a great choice for a moment of reflection or contemplation during the ceremony.
For a serene and tranquil interlude, consider Gabriel Faure's "Pavane." The gentle, sweeping melody of this piece is perfect for creating a sense of calm and tranquility during the ceremony.
Ave Maria, a composition by Johann S. Bach and Charles Gounod, is a timeless classic that's been used in countless weddings. It is different from Schubert's "Ave Maria" in terms of its mood, with Bach/Gounod's version being more serene and contemplative.
For an interlude that's both dramatic and moving, consider the "Tennessee Theme" by Hans Zimmer. This piece is a powerful expression of love and devotion, with a soaring melody that builds to a powerful climax.
"Secrets of the Sun" by Bradley Joseph is a mesmerizing and enchanting piece that would be perfect for a wedding interlude. The soft, romantic melody is infused with a sense of wonder and magic, making it a great choice for a moment of reflection during the ceremony.
Pop & Rock Wedding Interlude Music
If you're looking for something that will get your guests tapping their toes and grooving in their seats, pop and rock tunes are the way to go.
And let's be honest, who doesn't love a good ol' cheesy '80s ballad to set the mood? Imagine swaying with your partner to "Love Me Tender" by Elvis Presley or belting out the chorus to "Livin' on a Prayer" by Bon Jovi with your best pals.
Not a fan of the classics? No problem. With countless pop hits from artists like Beyoncé and Colbie Caillat, you're sure to find something that fits your style. So let's crank up the volume and get ready to rock the night away!
Religious Wedding Interlude Music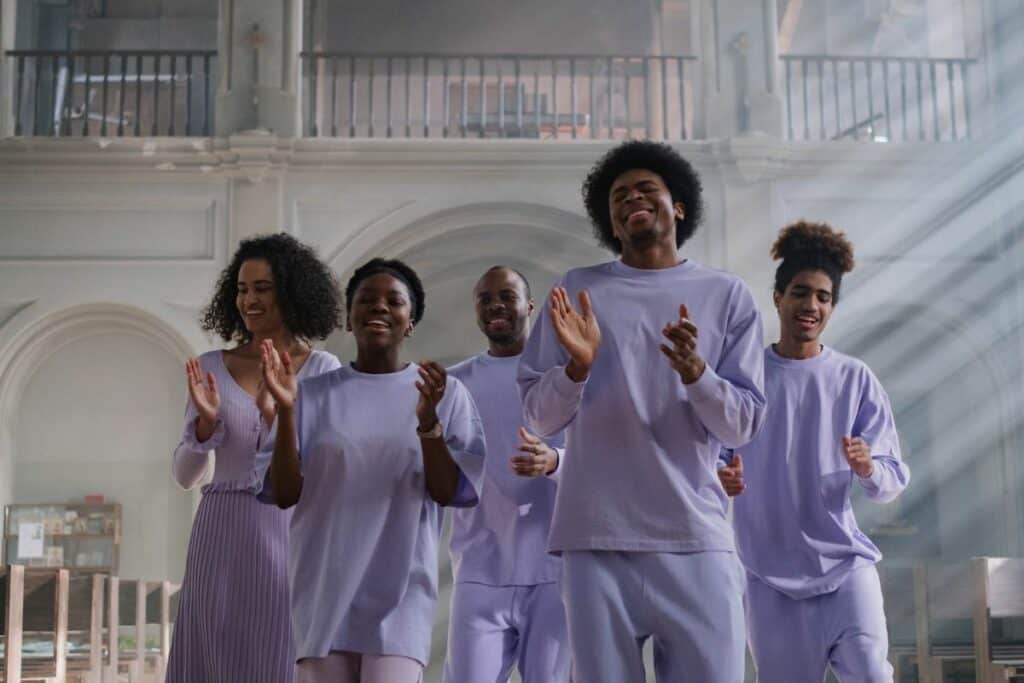 See more: 140+ Beautiful Wedding Hymns
Ah, religious wedding interlude music. Nothing sets the tone for a holy union quite like the perfect melody. But let's be real, not everyone wants to walk down the aisle to "Here comes the Bride" for the millionth time.
That's where our choices come in. We've scoured the musical world to bring you interlude music that's both traditional and, dare we say it, fun. Trust us, your guests will be humming these tunes long after the reception is over.
Frequently Asked Questions
1. What is an interlude song at a wedding?
An interlude song at a wedding is a special piece of music played at key moments throughout the ceremony. This might be during the signing of the register, as the newlyweds exit, or even as a sweet and romantic break in the formal proceedings.
2. What type of music can be considered for the interlude?
Most couples opt for love songs that hold special meaning for them. But really, any genre or style of music can be considered for the interlude, as long as it reflects you as a couple and suits the tone of your wedding.
3. Do our interlude songs have to be traditional wedding songs?
Absolutely not! This is your special day, so the choice of music should represent you and your partner. While traditional wedding songs are beautiful and timeless, feel free to think outside the box – jazz classics, indie anthems, or even movie soundtracks can work wonderfully.
4. Is there a recommended duration for interlude music?
Generally, interlude songs should be at least 2-5 minutes long. This should be enough time to cover key moments in your ceremony without songs ending too abruptly or dragging out too long.
5. Can we use instrumental versions of popular songs for interlude music?
Definitely! Instrumental versions of popular songs can create a unique approach towards setting a romantic ambiance. They're familiar yet subtly different, which can create a beautiful backdrop for your ceremony.
Conclusion
Who doesn't want to look back on their wedding day as the most romantic, beautiful and magical day of their life? With the perfect interlude music, you can set the tone for your special day.
Let your creativity and imagination go wild – whatever speaks to you personally will make for an atmosphere that is both unique and intimate – something that will stay with you in all the years to come. So pour yourself a glass of bubbly, relax, and let these 64 romantic wedding interlude songs provide inspiration as your big day comes ever closer. Here's to true love's blissful union!

Latest posts by Jodie Messines
(see all)