Are you an outgoing bride-to-be looking to turn your bridal shower into a real party? Or perhaps you're the maid of honor in charge of organizing an unforgettable bride and groom celebration?
No need to fret – with this ultimate bridal shower soundtrack, featuring 378 songs for your special day, we promise that no one will be checking their watch! In minutes, you'll have turned your gathering from mundane to marvelous, setting the mood for a memorable get-together.
So break out the champagne (or mocktails) and crank up these tunes – it's time to make some lasting memories together!
Disco and Dance Bridal Shower Songs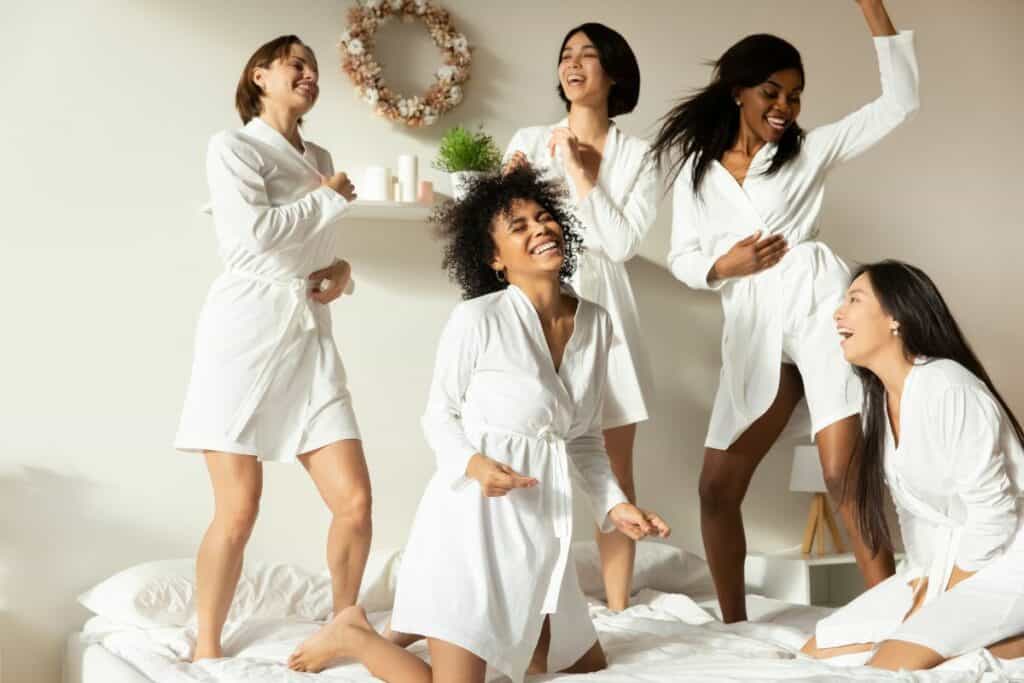 Let's start our playlist by getting ready to boogie, bridal shower style! Whether you're a fan of the funky beats of disco or the infectious energy of dance music, we've got you covered with our top picks for the ultimate bridal shower playlist.
It's time to break out those bell-bottoms and platform shoes, and get ready to groove to the rhythm of the night. We've curated a mix of classic hits and modern jams that will have you and your gal pals tearing up the dance floor in no time.
R&B Bridal Shower Songs
Looking for some smooth beats to set the perfect R&B mood at your bridal shower? Look no further! We've got the ultimate playlist of soulful tracks that will have all of your guests swaying and grooving in no time.
From the classic slow jams to the latest chart-toppers, our selections are sure to keep everyone on their feet and singing along. Whether you're celebrating with your closest girlfriends or your entire family, these R&B hits are the perfect addition to make your bridal shower a night to remember.
Hip Hop and Rap Bridal Shower Songs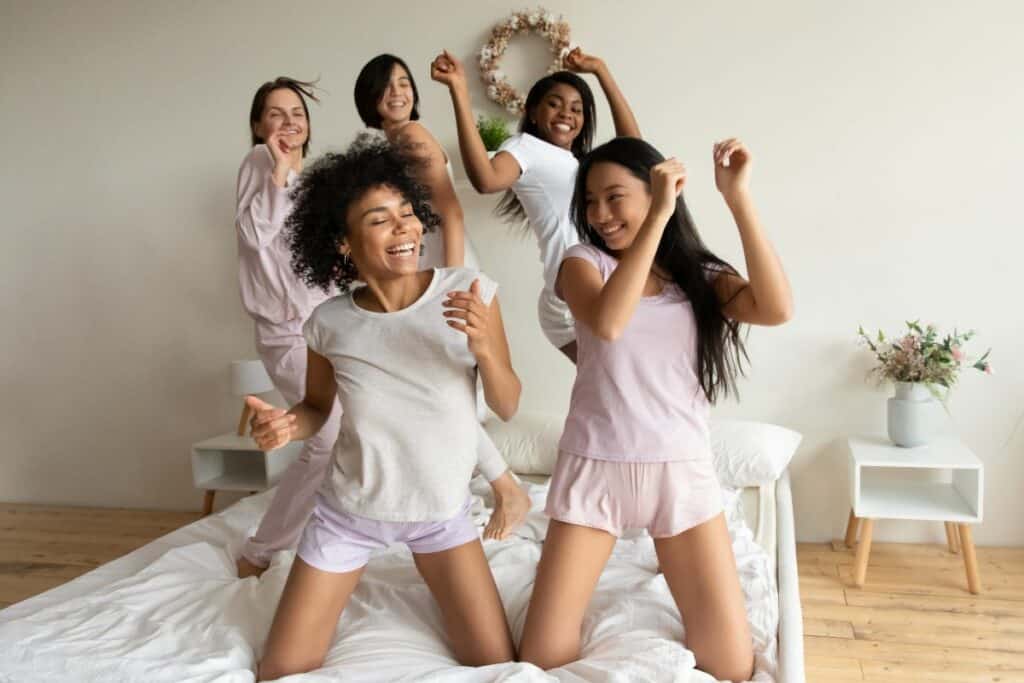 Get ready to turn up the beat and drop it like it's hot because we've got the ultimate Hip Hop and Rap playlist for your bridal shower! This isn't your typical shower music, we've got the latest and greatest hits from artists like Cardi B, Drake, and Kendrick Lamar that are sure to get your guests grooving.
From throwbacks to current chart-toppers, these songs will have everyone on their feet and rapping along. So grab your bridal squad and get ready to party like it's 2001 – but with a stylish and modern twist. Let's do this!
Soul and Jazz Bridal Shower Songs
When it comes to the perfect playlist for a bridal shower, you can't go wrong with Soul and Jazz. And let's face it, nothing gets a party going like some smooth tunes that make you want to tap your toes and sing out loud.
Whether you're planning a laid-back brunch with the girls or a wild dance party to celebrate the bride-to-be, our Soul and Jazz playlist has got you covered. It's time to dim the lights, pour some bubbly, and let the good times roll with our top picks for your ultimate bridal shower playlist. Trust us, your guests will be grooving all night long.
Rock Bridal Shower Songs
Who says the bridal shower has to be all sappy love songs and heart-wrenching ballads? Cue the guitar riffs and drum solos – we're bringing the rock to the party!
We've curated the perfect playlist of headbanging, air-guitar inducing, fist-pumping rock anthems that are sure to get the ladies pumped up and ready to party. And hey, if your grandma happens to get down to some AC/DC, all the better!
So grab your leather jacket and get ready to rock out, because this bridal shower is about to get a whole lot rowdier.
Country Bridal Shower Songs
Looking for a playlist that'll have everyone hooting and hollering at the bridal shower? Look no further than our selection of country songs that are sure to get the party started. After all, is there anything better than belting out some twangy lyrics with your besties over a few glasses of wine?
From classics like "That Don't Impress Me Much" by Shania Twain to newer hits like "GOOD TIME" by Niko Moon, our lineup has got all the country crooners covered. So grab your cowboy boots and get ready to two-step your way to a good time!
Pop Bridal Shower Songs
Pop songs are the perfect addition to any bridal shower playlist. Not only do they get the party started, but they also provide a great excuse to dance around with your favorite people.
From Beyoncé's iconic "Crazy in Love" to Ariana Grande's catchy "34 + 35", there's a pop song out there for every bride. So put on your dancing shoes, grab a drink, and get ready to sing along with our top picks for pop songs at your next bridal shower.
Just be warned, these tunes may cause uncontrollable shimmies and impromptu sing-alongs.
Nostalgia Bridal Shower Songs
Get ready to turn up the volume and bring out those memories, because we've got a killer playlist full of nostalgic tunes for your bridal shower. This isn't your average party playlist – we're bringing out the throwbacks and the sing-alongs so that your guests can dance and reminisce all at the same time.
And who knows, maybe you'll even shed a tear or two when that one song comes on that reminds you of that special someone.
Unique Bridal Shower Song Ideas
If you're tired of hearing the same old generic love songs, then it's high time to switch things up for your bridal shower! Ditch the expected ballads and instead opt for something offbeat and unique. From silly novelty songs to obscure indie tracks, the options are endless.
Why not kick things off with a lively polka or a funky jazz fusion? Or, if you really want to shake things up, go for a heavy metal love ballad (yes, those exist!). Whatever your taste in music may be, there's a quirky and unexpected genre out there that's perfect for your bridal shower. So, let's get weird and embrace the unconventional!
Conclusion
From classic hits that get the party started to upbeat tunes that keep spirits high, this ultimate bridal shower soundtrack provides 378 songs of fun for an unforgettable day. Get the girls together, crank up the music and celebrate in style as you create memories that will last a lifetime.
Whether it's rock, pop or running streams of laughter, this collection of bridal shower songs will be a success. Don't forget to make sure that your bride-to-be has a memento of her day; something like a picture collage with snapshots from the event and lyrics from your favorite song is always a nice touch.
And while you are celebrating, don't forget why you are all gathered: to show your love and best wishes for her upcoming wedding! Enjoy the amazing sounds of this unique bridal shower playlist and have an amazing time!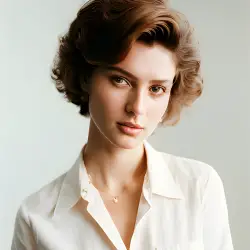 Latest posts by Carol Chatham
(see all)