There are many things to think about and plan in the run-up to your wedding.
Not only is there the wedding itself, but a bunch of other important events like the honeymoon, the reception, and the bridal shower.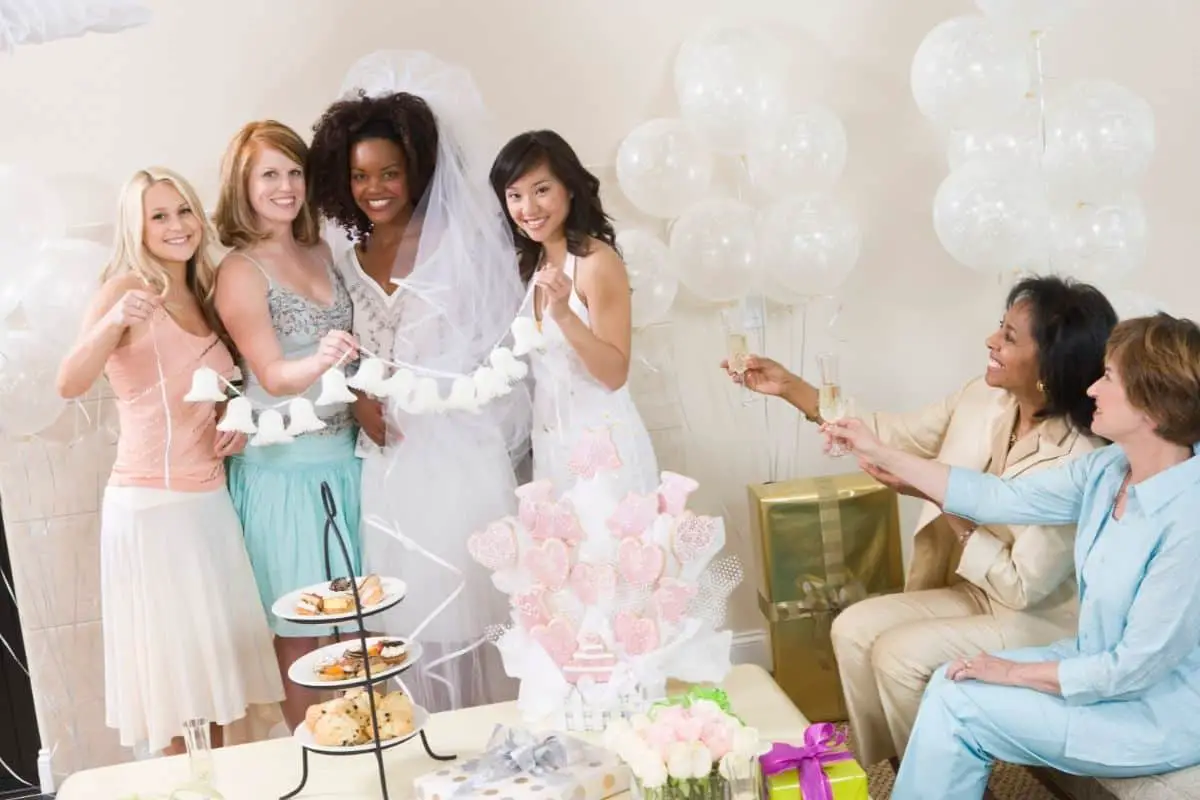 The thing is that not a lot of brides actually know what a bridal shower is and what they should do to plan one.
Is it the same as a bachelorette party, or are the two events completely different?
Is it the bride's job to plan it? Who pays for it?
If you have a bunch of questions surrounding bridal showers including what they are and how you can plan one, then this is the place for you.
We are going to be covering all of the above questions and jump into some of the mistakes most brides make when planning a bridal shower.
So, let's get into it!
What Is A Bridal Shower?
A bridal shower is an event where friends and family help the bride celebrate her upcoming nuptials.
It takes place before the wedding and during the day, although some bridal showers can take place in the evening and night.
A lot of things can happen during a bridal shower, like speeches and playing games, but one of the most integrated and traditional parts is the giving of gifts to the bride.
Basically, it's a party to celebrate the bride and help prepare her for her wedding and future marital life.
This tradition of a bridal shower is deeply rooted in the past, when women often had dowries (in the form of money, land or goods) that were given to their husbands upon their marriage.
However, not all fathers agreed to hand over their daughter's dowries if they disapproved of the match.
As a result, the brides' family and friends would hold a party and give gifts to compensate for her lack of a dowry so she could still get married.
And thus, bridal showers were born!
The bridal shower tradition is said to have originated in Belgium in the late 1800s, but there are other sources that claim bridal showers originated in 16th century Netherlands or medieval England.
Overall, we are not sure where bridal showers originated but they are still celebrated today, even though they have changed a lot over the decades.
Different cultures and social groups celebrate bridal showers in various ways but the root theme (see also: Ideas For A Tea Party Themed Bridal Shower)stays the same – the upcoming bride receives gifts and favors to help her prepare for the future.
In the past, bridal showers were more closely related to traditional gender roles.
Because women were expected to stay home and raise children, gifts would often revolve around housework and children.
So, a bride in the past would have expected gifts like cooking utensils, appliances, baby clothes and toys.
However, today gifts can range in theme, size and price. Not all places have bridal showers.
In fact, bridal showers are most commonly celebrated in the United States and Canada, and very little elsewhere.
In the United Kingdom, bridal showers are very rare.
Instead, the gifts usually given to the bride in a bridal shower are given to the couple on their wedding day.
In India, brides and their wedding party enjoy a pre-wedding event called Mehndi when the bride's henna tattoos are made and traditional gifts like pastries, silks and coins are given.
So, although bridal showers are not celebrated much elsewhere outside of North America, there are still ways to give gifts and celebrate the bride before her big day.
Bridal Showers Vs Bachelorette Parties
Contrary to popular belief, bridal showers and bachelorette parties are not the same thing even though it's easy to see why so many people often confuse the two.
They are two different events with different purposes – so let's take a look at some key differences between a bridal shower and a bachelorette party.
Bridal showers, as we said earlier, are held to help prepare the bride for her upcoming wedding and married life.
They are usually held during the day and at private venues including restaurants, hotels, country clubs or at the bride's home.
One of the most important traditions include giving the bride gifts, favors and advice that will all help her in the future.
Other traditions of a bridal shower include playing tame games and perhaps even a meal.
They tend to be more sophisticated, formal events – while bachelorette parties are completely different.
Bachelorette parties are a chance for the bride to kick back and let loose before the big day.
They are a way for the bride to go out and have fun before she gets married.
They are usually more varied when it comes to time and place as it all depends on what the bride wants to do.
Some brides would rather relax in a spa, while others will want to go out clubbing.
Some brides will celebrate and party for a night, others will enjoy a whole weekend away.
Either way, the goal is the same – it's time for the bride to shed some of the stress that comes with planning a wedding, and have the chance to relax and have fun.
There are also a few other differences between the two.
While bridal showers are more formal, they also have a larger and more varied guest list.
The bride's friends and family can all come, including male relatives and also future in-law relatives too.
Some brides may even invite their extended family, co-workers and plus-ones to a bridal shower.
Basically, anyone you expect to turn up to your wedding.
Bachelorette parties, however, tend to have a more limited guest list that includes all the bride's closest friends and perhaps some family members.
Because bachelorette parties (see also: The Best Hashtags for Your Bachelorette Party)typically involve consuming alcohol and partying (and perhaps even a stripper!), it's unlikely anyone would invite their grandmother to such an event while she would definitely be one of the guests of honor at a bridal shower.
Most bachelorette parties only contain the bride, her maid of honor and her bridesmaids, but it all depends on whom the bride feels comfortable around and who she knows she will have a great time with.
So, bridal showers are more sophisticated events while bachelorette parties have a totally different vibe.
This is why it's important not to mix up the two!
The Finer Details Of A Bridal Shower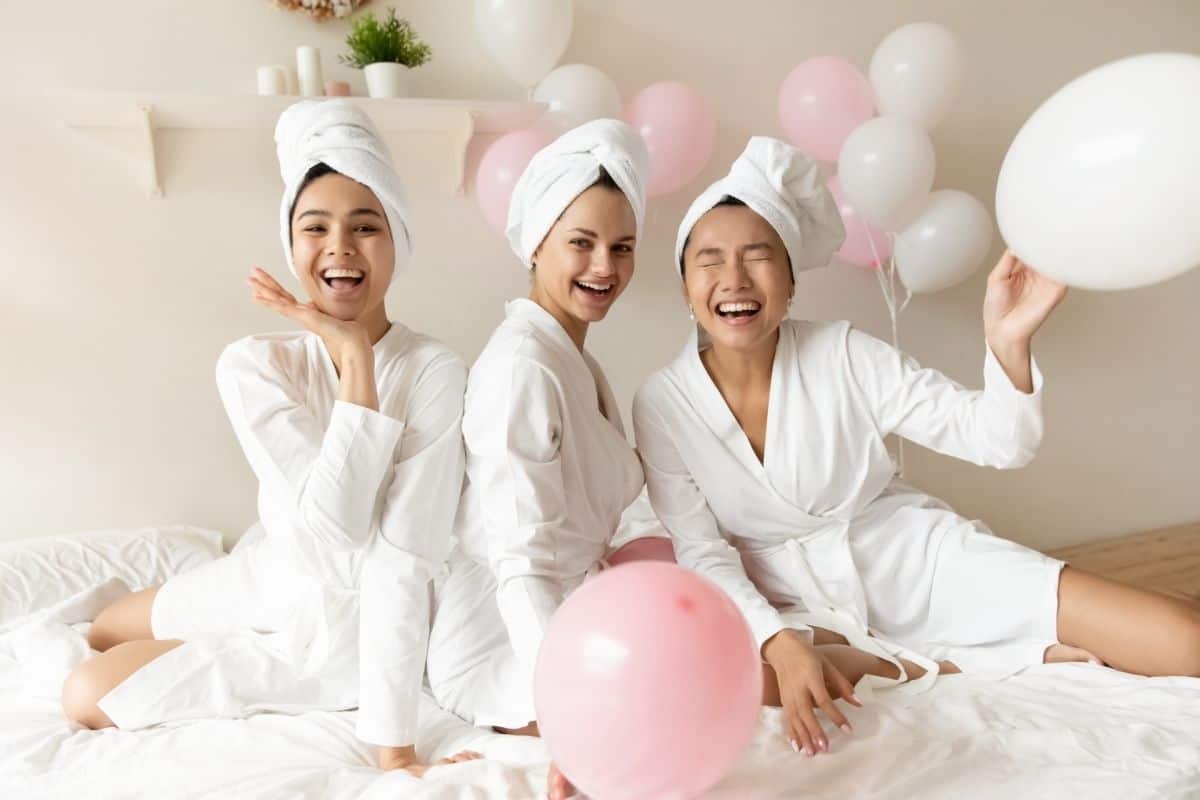 So, now you know all about what a bridal shower is, it's time to take a look at the finer details.
We are talking cost, guests, time, place – all the things you need to know about when it comes to planning a bridal shower including who even plans the bridal shower.
Who Plans The Bridal Shower?
Brides, it's time to kick back and relax because the bridal shower is not your responsibility.
Traditionally, brides do not plan their own shower.
This is because it is seen as if the bride is throwing a shower to celebrate herself when it should really be her family and friends throwing the shower to celebrate her and her upcoming marriage.
So, if you are reading this and you are the bride to be, you don't have to worry about the added stress of planning your bridal shower.
You already have your wedding to worry about – focus your attention on that and let someone else take over planning your shower.
This means that the ones who typically plan the bridal shower are those closest to the bride.
Traditionally, the role of head planner falls onto the maid of honor but anyone can help play their part in making the bridal shower a success.
While the maid of honor can be the one who hires the venue and organizes the schedule for the event, a bridesmaid could be in charge of food and drink while another bridesmaid could be in charge of organizing the gifts and another bridesmaid can be in charge of decorations.
Alternatively, the bride's family can get involved too and help contribute to the event.
Some bridal showers include a buffet where each guest brings a dish as well as a gift for the bride.
However, it's not traditional for the mother of the bride or the future mother-in-law to throw the shower – but the planner should be someone that the bride trusts and someone who knows them very well.
How Much Does A Bridal Shower Cost?
For the bride, nothing. It's not their responsibility to throw the shower and so the responsibility of paying falls onto the planner.
Usually, the planner will pool together funds from various sources – gift donations from the bridesmaids, from the family of the bride, etc. – and use that money to pay for the whole bridal shower.
However, the cost of a bridal shower varies because each one is totally unique.
For example, a bridal shower held at the bride's home with minimal decorations and a potluck buffet will be far more affordable than a bridal shower thrown at a rented venue with a full catering service and additional decorations.
Venue, catering, decorations and guests all contribute to the rising cost of a bridal shower.
If you are trying to plan a bridal shower on a budget, then reducing the guest list and hiring a smaller venue can help face hundreds of dollars off the price tag.
There are a few more tips we will go into later regarding the cost of a bridal shower, but it's important to know for now that a bridal shower should only cost as much as you are willing to spend.
There are ways to throw a bridal shower that costs absolutely nothing!
Who Is Invited To A Bridal Shower?
The guest list of a bridal party all depends on the bride's wishes.
Although traditionally the list is far more inclusive and extensive than that of a bachelorette party, it is down to the bride who she wants at her bridal shower.
A lot of brides choose to invite all the guests of their wedding and perhaps those who are unable to attend.
This includes family members of both the bride and groom, extended relatives, plus ones, friends and co-workers.
Sometimes, a bridal shower is a great way to celebrate with those who cannot attend the wedding.
This is especially useful for couples whose wedding is severely restricted by costs or have chosen to have a destination wedding.
Thus, the guest list for a bridal shower is pretty long. There's just one important person missing – the groom to be.
The groom to be does not typically attend a bridal shower.
Sometimes, they turn up at the very end to thank everybody for their generosity and to help load the gifts up into the car to take them somewhere safe.
However, it's not uncommon for a groom to be completely absent from the bridal shower.
When Do You Throw A Bridal Shower?
Bridal showers are usually thrown two weeks to two months before the wedding date.
This is to give the guests enough time to think and order a gift and for the planner to plan the event.
It's also important that you wait for the confirmed date of the wedding before setting a date for the bridal shower – otherwise, you may end up with a bridal shower months before the actual wedding or perhaps even after the wedding!
Also, it's important to note that bridal showers usually happen after the engagement party but before the bachelorette party.
They also usually happen on a weekend during the day which is the optimum time to invite your guests as they are more likely to be free and able to attend.
Where Do Most Bridal Showers Happen?
The best venue for a bridal shower is dependent on two things – the bride's preference and cost.
A lot of bridal showers are thrown at a family member's home (sometimes even the bride's home!) as it saves on costs and allows the party to be enjoyed somewhere private and comfortable.
Alternatively, a lot of bridal showers take place in prevented venues such as restaurants, hotels, country clubs, museums, and parks.
The fee for such events can be costly and typically range between $300 to $750 depending on the guest list.
If you are looking for somewhere where you can hold a bridal shower for free, then public parks and beaches are a great way to enjoy a large open space for free!
However, the bride may drop hints about where she would rather her bridal shower to be so it's important to pay attention to her preferences and see what you can do.
Mistakes To Avoid When Planning A Bridal Shower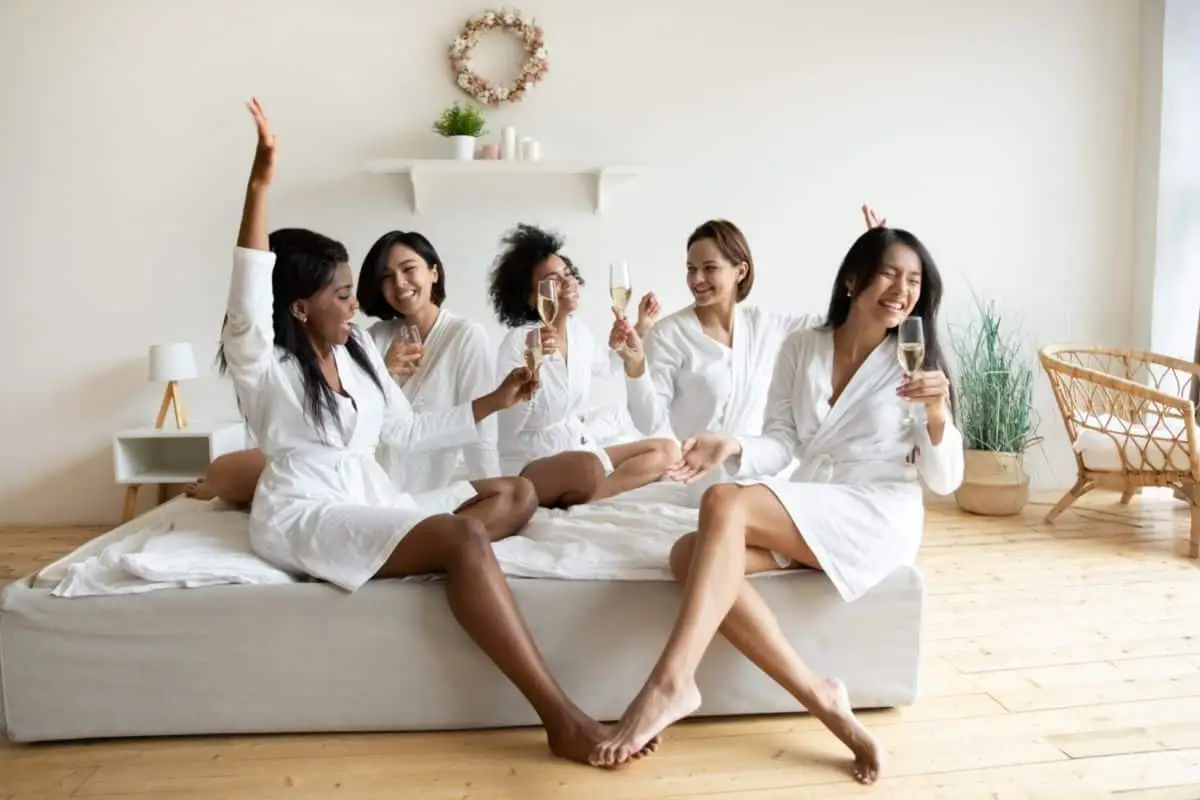 Planning a bridal shower can be stressful business, which is why a few mistakes here and there are not uncommon.
However, facing the consequences of these mistakes can be super embarrassing so it's important to keep on top of things and watch out for these common mistakes that happen when planning a bridal shower.
Take note of our advice below to avoid making the same mistakes yourself!
Leaving Out Important Guests
If you are planning the bridal shower for someone else, then knowing who to invite can be a massive issue that can lead to a lot of embarrassment and hurt feelings.
Not every maid of honor knows the ins and outs of the bride's family – how were you to know they had another third cousin who had to be invited?
To avoid accidentally leaving out anyone on the guest list, it's a good idea to go to a couple of sources when writing up the guest list.
You can always go to the bride herself to get the names of her coworkers, her distant relatives, her partner's relatives who should also be invited, etc.
This way, you will be able to get a good list of people who the bride wants at her bridal shower.
This is also a great way to avoid accidentally inviting someone the bride does not get on well with.
It's not uncommon for a bridal shower planner to accidentally invite some relatives of the bride who she no longer talks to.
Check with other relatives and the bride to make sure the full guest list includes all the necessary and important guests!
Going Over Budget
Setting yourself a budget is a great way to make sure that you don't spend too much on the bridal shower.
Because the planning of the bridal shower often falls to the maid of honor, they are also expected to pay the fees – but that's not always the case.
Today, a lot of people like to chip in to throw a great bridal shower to help out the bride but as the planner, you should make sure you have all the funds ready beforehand.
It's not uncommon for someone to promise a certain amount and either never cough it up or only give half as much as they promised.
So, never spend more than you have and check out some creative ways to save money.
Pulling in favors, hosting in a public place, or holding a potluck buffet is a creative way to cut back on costs.
Sometimes, you may have a bride who wants their bridal shower to be held somewhere beyond your price range – be firm and tell them that you cannot afford that unless they are willing to make up the difference.
Most brides will be understanding and willing to chip in so they can have the bridal shower they want, but do not let yourself be bullied into spending money you are not comfortable spending.
Not Accepting Help
A lot of bridal shower planners make the mistake of thinking that the whole event is their responsibility, so they must do everything themselves.
This is definitely not the case – bridal showers are big events that require a lot of juggling, so it's impossible for one person to sort out all the details themselves.
Don't be afraid to reach out and ask for help from other members of the wedding party.
It's perfectly fine to hand off certain roles or jobs to bridesmaids and family members to help bring the event all together.
One person can sort out the guest list, another can get all the decorations, another can secure the venue, etc.
In fact, this is a great way for the bridal party to all work together as a team and prove their affection for the lucky couple.
More often than not, members of the wedding party will be more than happy to help out because it's all for their bride!
So, don't feel that you have to do it all yourself – reach out and ask for help if you need it!
Gift Etiquette
Because gift giving is such a huge part of bridal showers, it also means that many make the mistake of giving an inappropriate gift.
So, as the bridal shower planner, you should make it clear what kind of gifts the wedding couple will be happy to accept and what guests should not bring under any circumstances.
For example, it's not unusual to see someone give a gift like baby clothes or diapers to a bride before her wedding.
Although the social expectation is that a married couple will then want to have a child, this is not the case for all brides.
A bride who does not want or cannot have children but receives baby-related gifts at their wedding shower is a recipe for upset and disaster.
Other gift etiquette to clarify can relate to money donations and a gift registry.
A gift registry is a list of gifts the bride and groom would like to receive and where those gifts are available to purchase.
Making sure that all the guests are aware of the gift registry and where they can find it is a great way to make sure that all the gifts given at the bridal shower are appropriate.
Conclusion
Bridal showers are a wonderful opportunity for friends and family to celebrate the upcoming nuptials of two people they love dearly.
But, there are some things you can do to ensure that the day goes smoothly and without a hitch.
By planning ahead and making a few small changes, you can avoid common mistakes that many bridal shower planners make when planning these special days.
Happy Planning!

Latest posts by Lisa Plaitt
(see all)