Planning anything to do with a wedding can be stressful and complicated, with numerous things to consider at any one time, and all the hype and hullabaloo of the impending happy day making every hiccup seem like the end of the world.
However, it is important to remember that this whole thing is supposed to be a celebration – one that is celebrating the coming together of two people who love one another. As such, why not set the tone moving forward in that vein?
One that is a party and celebration with loved ones, friends, and family – not to mention one that doesn't sweat the small stuff, and focuses on the bigger picture!
What Needs To Be Considered?
Of course, before you can have an engagement party, there are some things you need to consider – logistical elements that might not be as exciting as the event itself, but which are pivotal when it comes to making the whole thing happen without a hitch (pardon the pun).
Venue/Group Size
This one is kind of a two parter, and concerns both the size of the party you want to bring to the venue, and the subsequent size of your proposed venue.
These are very much two sides of the same coin, and one can certainly hinder the other when it comes to making arrangements.
We recommend writing your engagement party guest list first, that way you can make appropriate venue arrangements without setting your heart on a location that ultimately proves not to be fit for your needs.
Venue Cost
Depending on the type of party (or venue) you want to book, you may have to pay a deposit for the venue rental.
This is not always the case, especially with restaurants and bar-based parties, but if you are wanting to rent a special room for your guests to congregate within, then you may need to consider the costs, and where these factor into your wider plans.
Themes
There are also numerous themes you can have for your engagement party. These aren't compulsory, and depending on your tastes, you might prefer something more lowkey.
However, a theme can be a great help to plan proceedings, and can really make it a memorable experience for everyone involved.
This also sets the tone for decorations and any games you wish your guests to play, so if you have your heart set on a certain theme, then this can be a good tool to guide you through the planning stages.
Food & Drinks
Of course, what party is complete without refreshments? Food and drinks are a must have as far as engagement parties go, but the extent to which you commit to this is entirely up to you.
If you are booking a restaurant or bar to have the party, then food and drinks are at hand to be consumed, however, if you are looking to book a random venue, then you will have to arrange some form of catering to keep your guests fed and watered throughout.
Choosing The Perfect Theme
As we stated before, choosing the right theme for you and your significant other is half the battle when it comes to making plans – and a good plan can act as your compass, navigating you through the decision making process.
Wine & Cheese Evening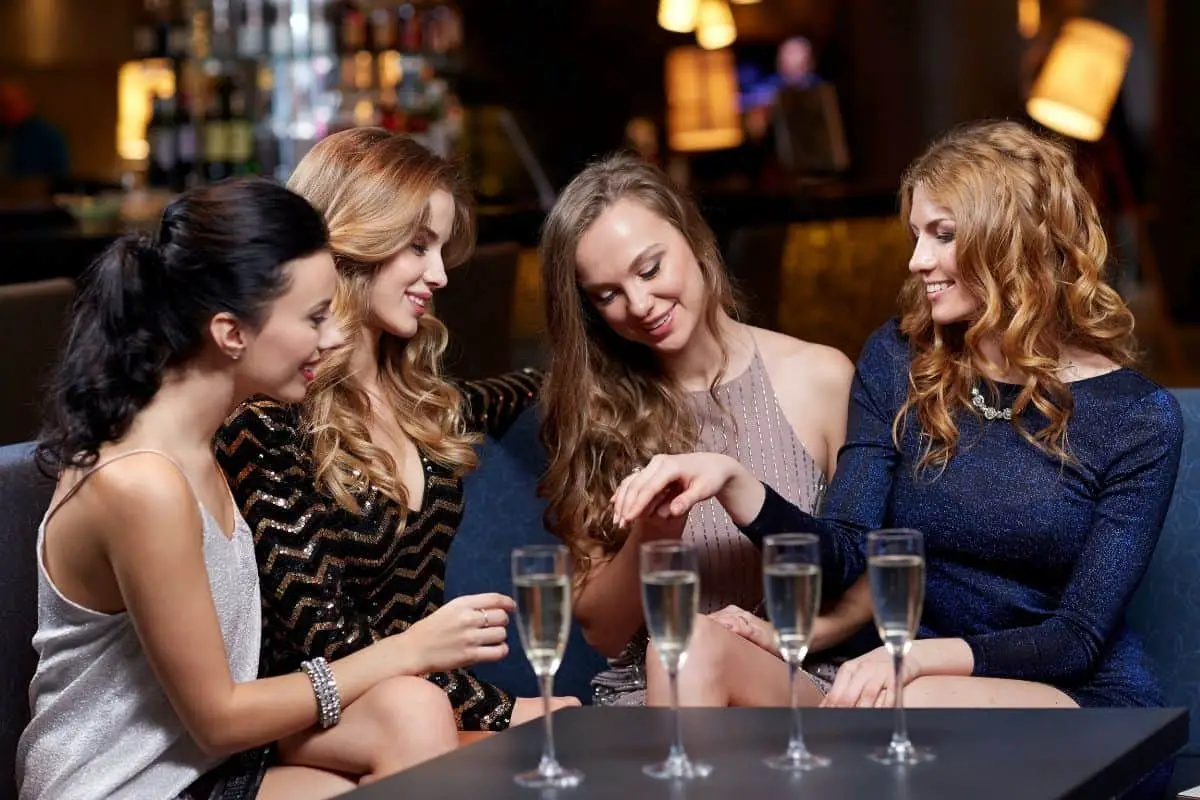 Classy, subtle, and oh so tasty! Wine and cheese can be the perfect theme for you and your guests to enjoy, and can really set a relaxed, enjoyable tone for proceedings going forward.
Of course, this can come with certain pitfalls – especially if some of your guests do not consume dairy, or indeed, if they do not consume alcohol for whatever reason.
It can also mean that the engagement party might have to be adults only, which for friends with children could be a potential difficulty.
However, you can let these factors govern your individual choices, and for those with none of those setbacks, wine and cheese events can be a great way to enjoy some delicious food, sample some divine wines, and kick back with those you love the most.
Decorations
For this style, the decorations would probably be fairly minimal – focusing either on classy, subtle design classics, or relying on the decor of your chosen venue to provide the ambience.
However, you could still opt for personalized invitations and name markers on the tables to make everyone feel that bit more VIP.
You could also opt for personalized wine glasses to make your guests feel special, and to leave them a keepsake of your special day.
Games & Entertainment
The best way to entertain your guests is to give them a scorecard for their tasting sessions, allowing them to compete with one another, and compare notes on what they have tried, and which ones they like best.
You could also pepper this with live music – something subtle and classy like a string quartet, or maybe some smooth jazz to set the right ambience.
Summer BBQ/Garden Party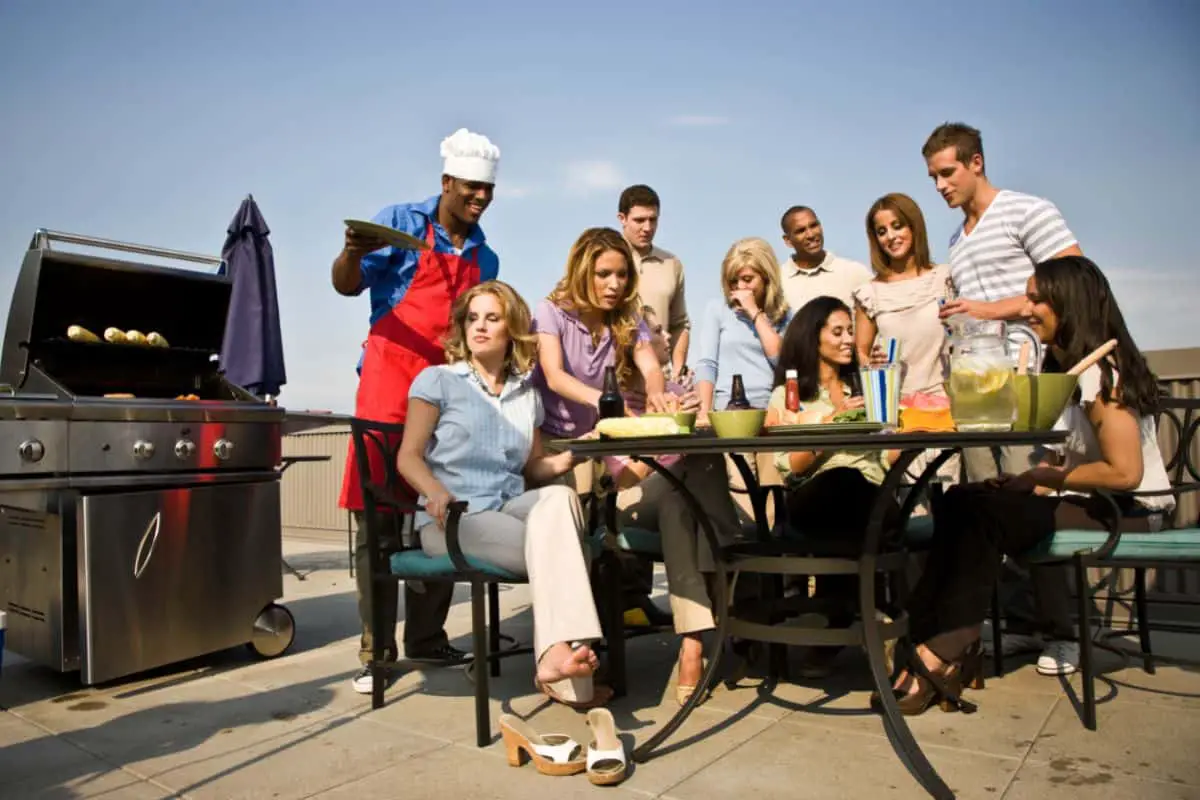 If you live in a warm climate, or you are getting engaged in the summertime, then why not throw an informal garden party BBQ for you and your guests to enjoy?
These have the benefit of being very inclusive – both in terms of age and dietary requirements – and are the perfect lowkey setting to make memories and chat with the ones you care about.
There are many ways you can go about this, opting for classier dress and dishes if you choose, or keeping things simple, informal, and relaxed if that is more your speed.
The best thing about the BBQ party is that you can make it as dressy or rustic as your taste prefers, ensuring everyone has a relaxing and fun time.
This could be interspersed with live music, food and drinks, and various games that all age groups can enjoy. But whatever you choose, it will certainly be one to remember.
Decorations
For decorations, you can really go homemade with this theme – something that could save you money in the long run.
This could be wooden pallets, lanterns, and outdoor seating for a romantic, atmospheric nocturnal experience, or, alternatively, it could be picnic tables and a fire pit experience, wherein guests can bundle up and gather around the fire to toast marshmallows.
Games & Entertainment
The games for this are literally limitless, and could include any of your outdoor favorites! How about some softball or football? Or how about frisbee, tag, hide and seek, or giant jenga?
There are numerous options you can choose, and you can cater these to the demographic of your guest list.
Roaring Twenties Theme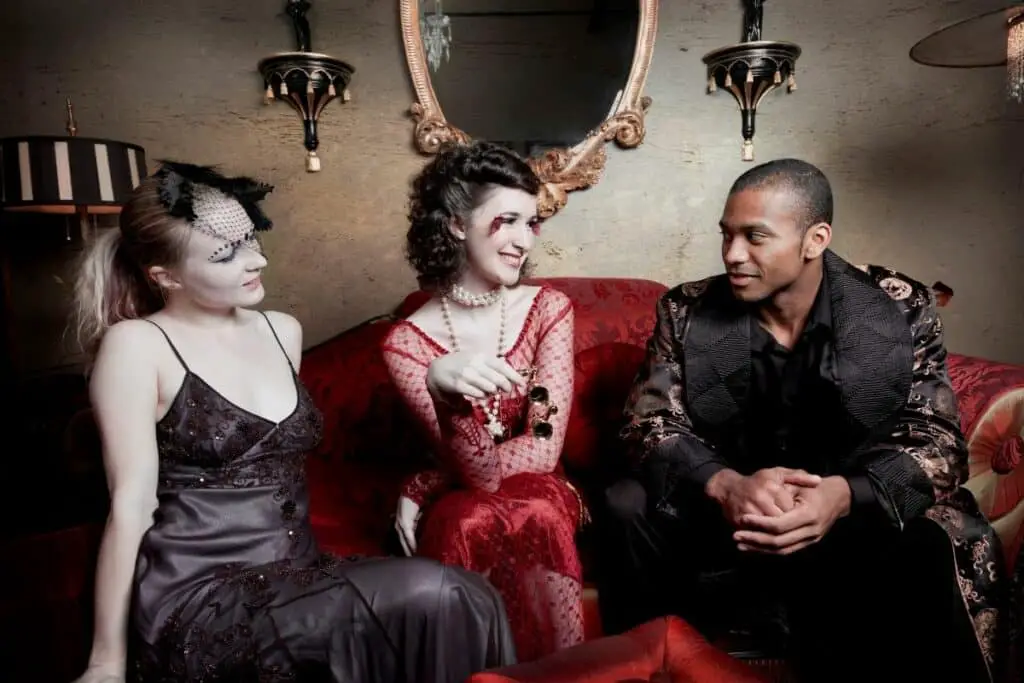 Are you and your significant other a fan of the roaring twenties, typified by movies like The Great Gatsby and numerous others? Then why not make this striking, exciting time the theme of your engagement party?
The roaring twenties were notoriously famed for their carefree displays of fun, excitement, and a lust for life that still strikes a chord with people 100 years later.
Decorations
The 20s were known for their vibrant, extravagant art deco style, and so this extravagance and sense of timeless style is something you want to focus on.
This can mean breaking out the fine glassware, or it could just as easily mean renting out a swanky restaurant for the evening.
Either way, you want classy and striking – a style that marked a new era in western culture and the way people celebrated and behaved.
One great way to decorate your chosen venue is with gold and black balloons, and gold streamers that can adorn the ceiling and the walls. You want opulence, and what says that more than gold?
You could send out specially made invitations, and encourage your guests to get suited and booted – be it in period gentlemen/flapper attire, or just in their Sunday best. The details are yours entirely!
Games & Entertainment
For this theme, you could hire a mixologist to fix up impressive cocktails for you and your guests, or you could even hire a dance teacher to teach you all how to dance some notable 1920s dance styles.
Alternatively, you could hire a jazz band to perform all the hits of this bygone era to really finish off the Great Gatsby vibe you were aiming for!
Festive Christmas Theme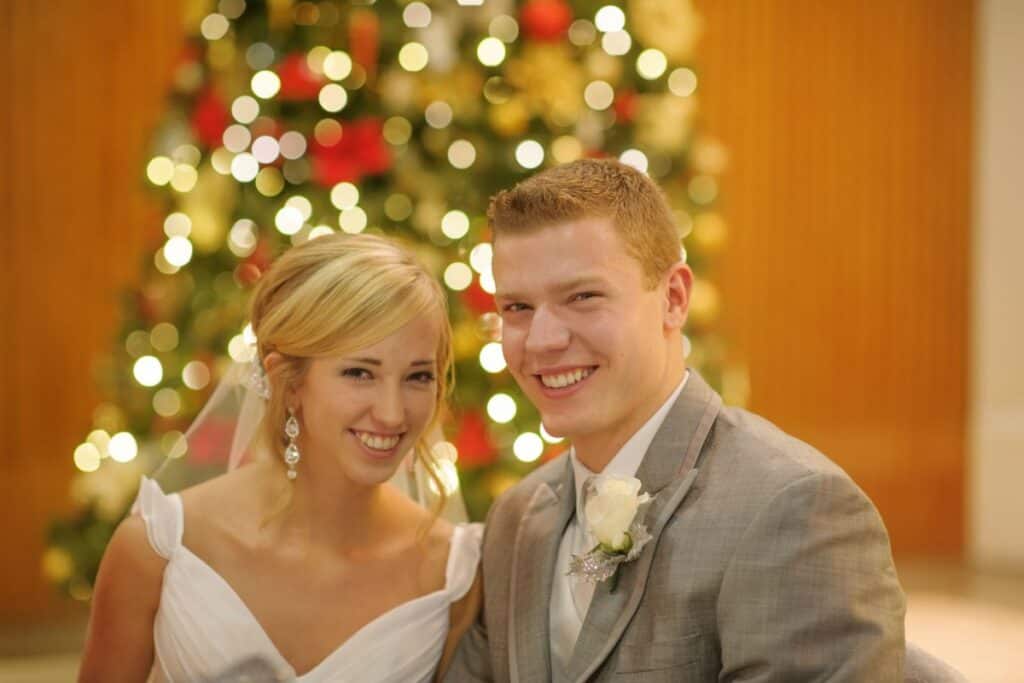 If you and your significant other are getting engaged throughout the festive period, then why not lean into that and have a seasonal, Christmas engagement party?
This can be fun for all the family, and can really help to get people into the holiday spirit – not to mention your big day in the very near future.
These can be either family friendly events, or a more adult themed soiree – depending on your guest list and tastes – or, alternatively, you could split your day, hosting an afternoon party for all of your guests, and then an adults only late party for those who're so inclined.
Decorations
With this theme, the decorations really speak for themselves, and in many ways this is one of the easiest themes to decorate for – after all, the template is already set.
But why not spice things up with personalized name plates, little gift bags with personalized treats inside, or even small gifts under the tree?
Games & Entertainment
As far as games and entertainment goes, there are numerous options you can choose from. Firstly, you could have a festive cocktail making class for the grown-ups, as well as a funny secret santa that people could take part in.
Or, alternatively, you could even have a Santa Claus pay a visit, offering gifts and photo opportunities for all the guests!
Costume Party Theme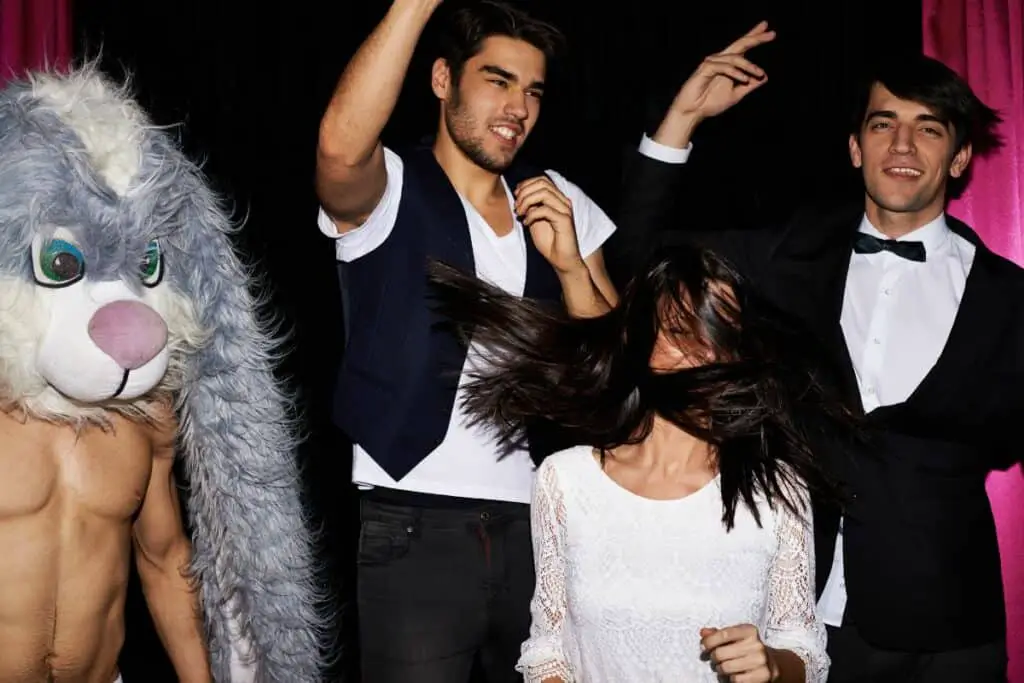 For something fun and laid back, why not have an adult's costume party theme for your wedding day? This is great if you are getting engaged in the Fall or around Halloween, or it can just be a funny, lighthearted party idea for those who enjoy a good costume!
There are many ways you can do this – including setting a specific theme, such as movies, TV, a period of music you like, or whatever your imagination can conjure up!
Decorations
The decorations for this kind of party can be quite simple, and depending on when you have it, you could lean into the Halloween theme, or you could simply opt for balloons, streamers, and other aspects of traditional party decorations.
You could also have personalized gift bags for trick or treating, cocktail bars, and a buffet of all your favorite party treats for your guests to sample.
Games & Entertainment
Depending on whether you are doing Halloween or just a normal costume party, you could include several different kinds of games.
For Halloween themes, why not bob for apples or hit a spooky themed pinata? Or, for a normal costume party, why not hold a costume contest for prizes?
Final Thoughts
And there we have it, everything you need to know to plan the perfect engagement party in preparation for your special day!
It's true that wedding preparations can be stressful undertakings, however, with these tips and tricks you can set the tone to something more fun, lighthearted, and celebratory – providing a great occasion for you and your loved ones, and charting a better, happier course towards the future.

Latest posts by Lisa Plaitt
(see all)