Planning a wedding is no easy task, but when you only have six months to do it, it can seem impossible! But trust us when we say that a wedding can be planned in six months with some good time management and quick decision-making.
Weddings usually take about a year to plan, but not everyone has that much time. With this guide, you'll be able to plan an incredible wedding in just six months and enjoy an experience you'll never forget.
It will outline everything you need to do month by month, so let's get started!
First Month
Set A Budget
Before you start doing anything, you need to determine your budget. You'll have to find out who will be contributing, how much you'll have to spend on your wedding, and where you need to allocate your money.
Start by listing the essentials: a venue, a dress, catering, and a photographer should all be high on your list. After that, you can put down anything you really want at your wedding, such as certain flowers or a specific DJ.
This can help you figure out how much money needs to go towards the different aspects of your wedding.
Choose Your Venue And Date
Despite what you might've been told, you can still book a great wedding venue with six months' notice.
While it does cut down your options, as some venues require bookings a year in advance, there are still plenty of places where you can have your ceremony and reception.
You just need to be a little creative and consider non-traditional venues or venues that aren't in huge demand. When it comes to a date for your wedding, you're not likely to get a Saturday in a fancy venue unless you book further in advance.
Think about having your wedding on a Friday or Sunday instead. You can also choose a weekday, but bear in mind that you might have a lot of guests decline the invite due to work commitments.
Choose Your Dress
Custom dresses that need to be altered are usually ordered between a year and six months in advance, with six months being the absolute limit unless you're willing to pay a rush fee.
You can also choose to purchase a ready-to-wear dress from a bridal shop that won't need to be tailored in any way.
You can also rent a dress online to save some extra money for your wedding, or even buy a non-bridal dress that looks like a wedding dress! You'll just need to take the time to search for the right one for you.
Secure Essential Vendors
So that you have some time to think about your options and continue looking if the people you reach out to are booked up, get in touch with photographers, caterers, florists, bakers, and bands or DJs as soon as you can to avoid disappointment.
Similar to venues, many wedding vendors are frequently booked well in advance, so you should move quickly to secure yours and look for alternatives if need be.
Book Accommodation
For weddings that are far from home and to accommodate those who are coming from out of town, you should secure hotel rooms for you and your guests.
By reserving a block of rooms for you and your guests to book, you'll be able to make sure out-of-town guests are able to attend and that you don't have to travel far after a day of celebrations.
It's also a good idea to do this because you can often get a discounted rate!
Second Month
Choose Your Wedding Party
You should choose your wedding party as soon as you can to ensure that they are able to be a part of your big day.
This is important so you can coordinate your ceremony properly and also get any bridesmaids' dresses and groomsmen suits delivered in plenty of time.
Make Your Guest List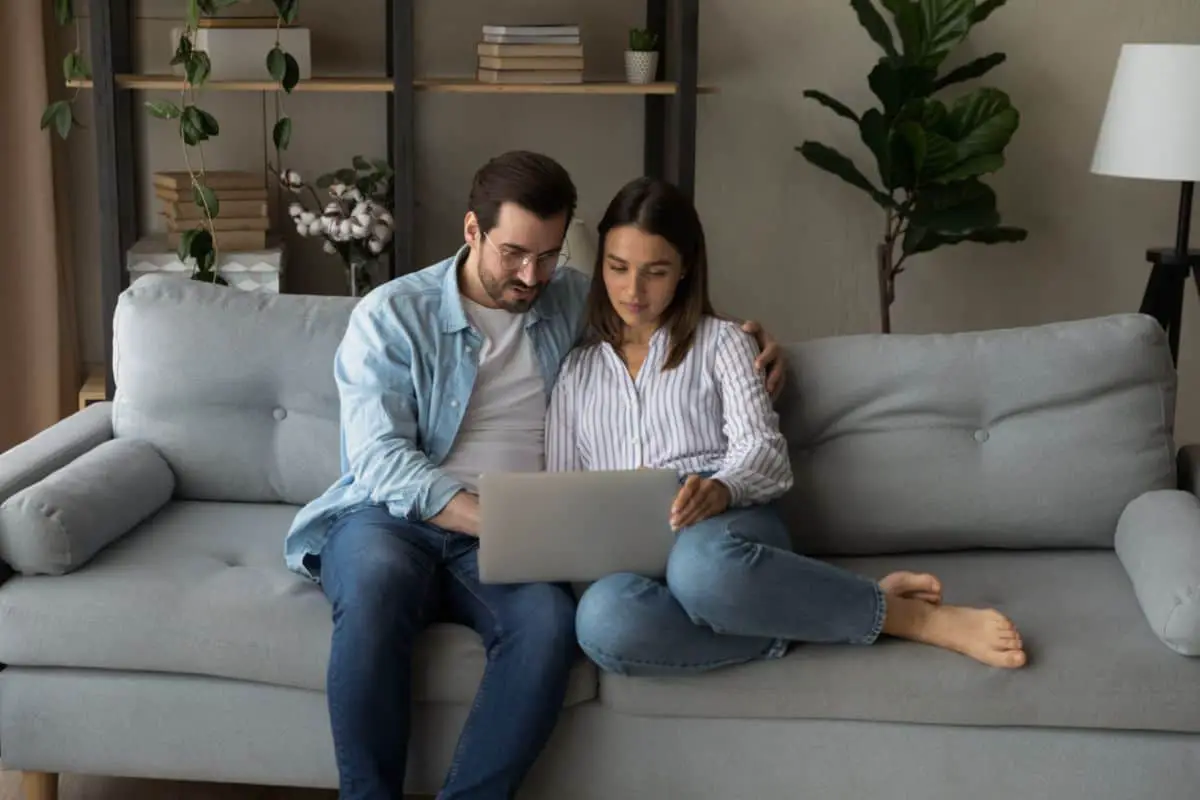 Making your guest list early means you can figure out all aspects of your budget: how much space you'll need, accommodation costs, catering costs, (see also: How Much Does It Cost To Cater A Wedding?)seating arrangements, and so on.
Start by making a list of the most important guests that you want to have attend your wedding, such as your parents, siblings, and grandparents.
Once that's done, you can talk to your immediate family about other guests they want to add, all while keeping your budget in mind.
Create Your Wedding Website
Before you send out your Save The Dates, you should create a wedding website with all the information your guests need. Here, you can let your guests know about the dress code, the venue, and the registry.
Send Your Save The Dates
Once your wedding website is up and your venue and date are secured, you can start sending Save The Dates to your invited guests.
For this, you can send digital ones to save some time or use a template that just needs to be filled out with your unique information.
After they're sent, you can make a start on designing your invites that will be sent out closer to the wedding date.
Third Month
Get Your Wedding Rings
Like engagement rings, wedding rings are custom-made, so you'll need to order them at least four months before your wedding.
They can take up to 90 days to complete, so be sure to spend a day with your partner choosing the perfect wedding ring so it can be sent away to be made as soon as possible.
Secure Any Other Vendors
At this point, you would've booked your essential wedding vendors, so start thinking about any other services you might need.
This could be hair and makeup stylists, transportation, or anything else to make your day run smoothly and have you and your wedding party looking amazing.
Fourth Month
Decide On Your Menu And Wedding Cake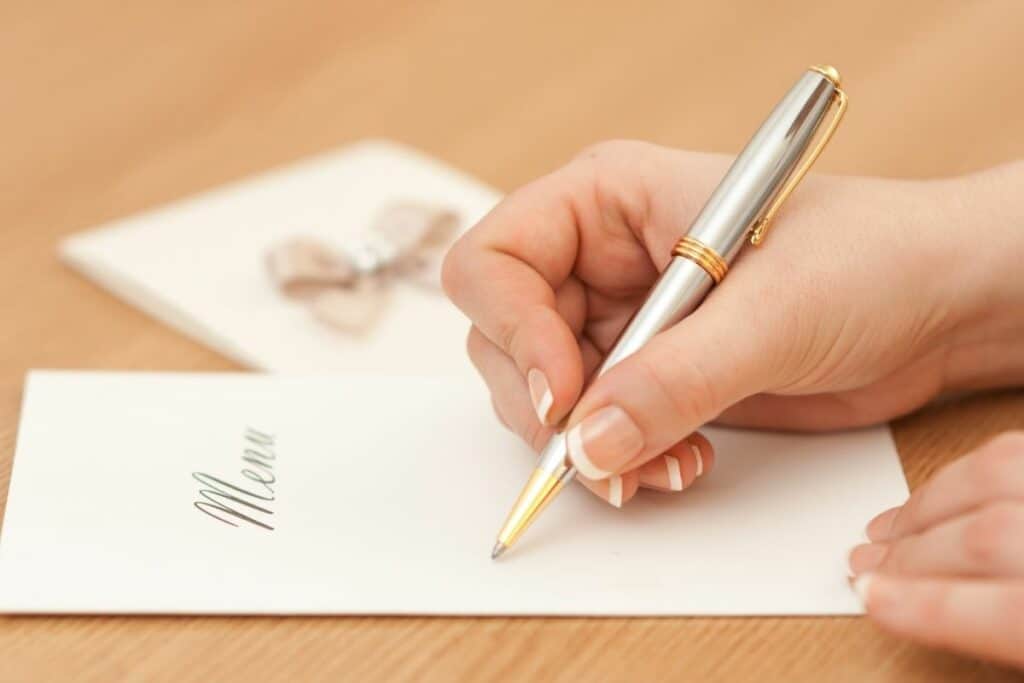 It's time now to get started on the wedding menu and cake for your wedding reception. When choosing a menu, make sure that there's an option for everyone.
There's bound to be at least one person who's vegetarian or has an allergy, so it's important that you choose the right dishes so no one will go hungry.
When it comes to the cake, it's a good idea to do a tasting to make sure it tastes as good as it looks. It'll definitely be one of the most enjoyable parts of your wedding planning!
Send Your Invites
Now, you can start sending out your invites and give your guests two months to RSVP. This should be plenty of time for them to make arrangements and respond to your wedding invitations.
Start Planning Your Honeymoon
Of course, you'll want to relax after such a busy and stressful time, so start thinking about where you want to go on your honeymoon! It's the best way to start your married life together, after all!
Fifth Month
Have Your Bachelor And Bachelorette Parties
You can't have a wedding without a bachelor and bachelorette party! Thankfully, this shouldn't take too long to plan; just make sure they're at least a month before your wedding to avoid any unnecessary stress.
This goes without saying, but definitely don't go out partying the day before your wedding!
Do Your Hair And Makeup Trial
It's important to do a hair and makeup trial the day before your wedding to make sure you look exactly how you want to when you walk down the aisle. Tell your stylists what you want so they know exactly what they need to do for you.
Get A Marriage License
This is important! Not having that piece of paper can lead to an absolute disaster! Pay a visit to your county clerk and make sure you have your marriage license before the wedding day so that everything is legal and recognized.
Sixth Month
Confirm Details
Contact all your vendors and confirm all of the details. Make sure they're aware of everything that will happen on the day of your wedding and provide them with a timeline.
You should also update your wedding website or send out one last email to your guests to remind them of any important details.
You should also make sure that your wedding party has a timeline for the day and knows exactly where they need to be during the ceremony.
Pack Your Bags For Your Honeymoon
Pack everything you need for your honeymoon, as you'll likely be leaving soon after the wedding day is over. It'll help you start relaxing sooner and enjoy your time together away from the stress of the last six months!
Final Thoughts
Congratulations! You now know how to plan the perfect wedding in just six months! With this guide, there's no reason why you can't have your dream wedding planned in a limited time frame.
And once it's over, you can start to relax and settle into your new married life.

Latest posts by Lisa Plaitt
(see all)