I don't know about you, but there's just something magical about the combination of black and gold. It brings to mind a sophisticated elegance that can only be described as absolutely captivating.
So when I started thinking about how this color duo could be perfectly incorporated into a wedding, my heart skipped a beat (or two).
And trust me, these 15 stunning ideas for a black and gold wedding will have your guests swooning from the moment they receive their invitations until they're dancing the night away under twinkling fairy lights.
Prepare yourself for an unforgettable elegant affair that'll leave everyone wondering how on earth you pulled off such perfection!
The Allure Of A Black And Gold Wedding Theme
Have you ever considered the undeniable allure of a black and gold wedding theme?
I must admit, when I first stumbled upon this idea, I was skeptical. Black for a wedding? But let me tell you, my dear friends, once I started exploring the possibilities of combining these two colors, it became clear that there's something truly magical about them together.
This color combo has a way of exuding elegance and sophistication while still maintaining an air of romance – perfect for your special day! Now that we've established just how enchanting a black and gold themed affair can be, let's dive into pairing these hues with other colors to create a breathtaking palette.
Pairing Black And Gold With Other Colors
Now that we've established how stunning black and gold can be for a wedding, let's talk about adding some more color to the mix!
I know it might seem daunting at first, but trust me when I say that combining these two bold hues with other colors can create an even more gorgeous effect.
Not only will this give your event a unique touch, but it'll also allow you to express your personal style in ways you never thought possible.
So without further ado, let's dive into our first accent color combination: black, gold, and sage green.
Accent 1: Black, Gold And Sage Green
Did you know that incorporating sage green into your color palette can instantly elevate the sophistication of your black and gold wedding? It's true!
Adding a touch of this earthy hue creates a chic contrast, making it one of my all-time favorite color accents.
Imagine walking down an aisle lined with lush greenery or sipping cocktails under a canopy of twinkling fairy lights; these enchanting details blend seamlessly with the elegance of black and gold decor.
Trust me when I say, once you've experienced the magic of these colors combined, you'll be eager to explore another captivating accent like vibrant jewel tones.
Accent 2: Black, Gold And Jewel Tones
Now that we've explored the understated elegance of sage green, let's amp up the opulence with our second accent color palette: black, gold and jewel tones.
This rich combination screams luxury and sophistication, perfect for couples who want to make a grand statement on their special day.
Imagine deep emerald greens, vibrant sapphire blues, and regal amethyst purples all coming together in harmony alongside classic black and gleaming gold accents.
From lush velvet table runners to exquisite crystal glassware, every detail will exude extravagance while still maintaining an air of timeless beauty.
And don't forget about those stunning bridesmaid dresses – your best girls adorned in shimmering fabrics featuring these bold hues will surely be a sight to behold!
Accent 3: Black, Gold And Champagne
As they say, 'third time's the charm,' and our third accent idea for your elegant black and gold wedding is adding a touch of champagne. This luxurious hue will add an extra layer of sophistication to your color palette while keeping things modern and fresh.
Here are some ways you can incorporate this gorgeous shade into your big day:
Table linens: Opt for champagne-colored tablecloths or runners to bring warmth and elegance to your reception space.
Bridesmaid dresses: Have your bridesmaids don stunning champagne gowns that complement their skin tones; it's a versatile color with great contrast against the black tuxedos!
Floral arrangements: Mix in subtle hints of champagne-hued blooms amongst the more dramatic black and gold ones — think roses, peonies, or even orchids.
Wedding cake: Add delicate touches of champagne icing or edible decorations on a bold black and gold backdrop for a show-stopping dessert masterpiece.
Invitations & stationery: Impress guests from the start by using beautiful champagne accents alongside black and gold elements in your invitations, RSVP cards, menus, etc.
As you explore these captivating ideas further, we bet you'll fall head over heels in love with this swanky trio! Now let us raise our glasses as we move on to accent 4: black, gold, and burgundy – another fabulous combination just waiting to be discovered.
Accent 4: Black, Gold And Burgundy
Now that we've explored those enchanting black and gold ideas, let's add a touch of romance with burgundy accents.
I simply adore the warmth and depth this rich hue brings to our sophisticated palette. Picture velvety table runners cascading down your tables or bouquets filled with deep red roses and touches of golden foliage – it's like something out of a fairytale!
And don't forget about fashion; think bridesmaids in elegant burgundy gowns or stylish groomsmen accessories. Trust me, this color trio will take your wedding from beautiful to breathtaking in an instant.
Similar Idea: Red and Black Wedding with Gold Accents
Accent 5: Black, Gold And Pink
Now, let's talk about one of my favorite color combinations: black, gold, and a touch of pink!
Adding just a hint of blush to your palette creates an even more luxurious atmosphere while giving it a softer edge.
Imagine how stunning those table settings would look with gold chargers, black plates, and delicate pink napkins nestled on top.
Or picture gorgeous flower arrangements filled with deep burgundy blooms accented by hints of soft pink petals – swoon-worthy indeed!
And don't forget the little details like place cards or favor tags that incorporate all three colors for a truly cohesive look.
Trust me; you're going to love this enchanting twist on the classic black and gold affair.
Invitations: Setting The Tone With Luxurious Stationery
When it comes to setting the tone for your elegant black and gold wedding, we know that first impressions are everything. That's why I think you'll absolutely love these swoon-worthy stationery ideas designed to give your guests a taste of what they can expect at your luxurious affair:
Materials: Opt for high-quality cardstock or even handmade paper in rich textures that scream opulence.
Colors: Black and gold should be front-and-center on your invites, but don't be afraid to incorporate touches of deep burgundy or emerald green for added depth.
Designs: Elegant calligraphy is always a classic choice, but if you want something more modern, consider bold geometric patterns or Art Deco-inspired designs.
Remember, your invitations are an extension of your wedding theme and color palette – so feel free to get creative! With such stunning inspiration awaiting them in their mailbox, your guests will surely be counting down the days until they can join you in celebrating this unforgettable night.
Tablescapes: Creating Stunning Black And Gold Centerpieces And Table Settings
You've never seen tablescapes like these before!
Imagine walking into a room where every single table is adorned with the most breathtaking black and gold centerpieces, making it feel as if you've stepped right into a luxurious Gatsby-themed event.
To create this jaw-dropping effect, start by selecting black linens for your tables, topped with elegant gold chargers and flatware that sparkle under the ambient lighting.
Add tall candelabras dripping in crystals, surrounded by smaller votive candles to cast a warm glow on your guests' faces while they dine.
And don't forget those little details – personalized napkins or menu cards tucked into chic holders can add an extra touch of glamour to each place setting.
As you continue planning your dream wedding and incorporating more stunning elements, let's now focus our attention on choosing flowers that complement your color scheme perfectly.
Floral Arrangements: Choosing Flowers That Complement Your Color Scheme
When it comes to choosing flowers for your black and gold wedding, you might be wondering what blooms will best complement this elegant color scheme. Well, let me tell you – there are plenty of stunning options out there!
Bold Black Florals: Believe it or not, there are some strikingly beautiful black flowers like calla lilies or hellebores that can add a dramatic touch to your arrangements.
Gilded Accents: For an extra touch of glamour, consider adding gold-tipped petals or gilded foliage to your bouquets and centerpieces.
Rich Contrasting Hues: Don't be afraid to introduce deep reds, burgundies, and purples into the mix – they'll create a luxurious contrast against your black and gold palette.
By thoughtfully selecting the right combination of flowers and accents for your arrangements, you're sure to create a breathtaking atmosphere that reflects the sophistication of your special day.
Black And Gold Attire For Bride And Groom
Now that we've got our captivating wedding ideas, let's talk about how to dress the part. The bride and groom can really make a statement by incorporating black and gold into their attire. Picture this: the bride in a stunning white gown with delicate gold embroidery or accents, while the groom complements her look in a dapper black suit with gold accessories. To help you visualize these fabulous outfit combinations, I've created a table below:
| Bride | Groom |
| --- | --- |
| White gown with gold embroidery | Black suit with gold tie |
| White gown with gold belt | Black suit with gold pocket square |
| White gown with bold black & gold accessories | Black suit with gold cufflinks |
| White gown featuring subtle touches of sparkle | Black suit paired with elegant white shirt |
With all these stylish options, there is no doubt that your attire will be just as enchanting as your overall event theme. Moving on from fashion, it's time to discuss another essential element of every celebration – the wedding cake! Get ready for some mouthwatering inspiration as we explore show-stopping designs featuring black, gold, and even edible accents.
Wedding Cake: Showstopping Designs Featuring Black, Gold, And Edible Accents
Now let's talk about one of my personal favorite parts of any wedding – the cake!
When it comes to a black and gold themed affair, you've got so many stunning options for creating the showstopping dessert of your dreams. Think bold black fondant with intricate gold detailing or even an ombré effect transitioning from deep black at the base to shimmering gold at the top. And don't forget those edible accents like 24-karat gold leaf flakes that'll make every slice feel extra luxurious.
This is your chance to take things up a notch and truly wow your guests with not only how delicious your cake tastes but also how fabulous it looks amidst all that glitz and glamour.
On that note, we can't overlook another key aspect of setting the stage for a magical evening: lighting & draping – enhancing the ambiance with strategic decor choices…
Lighting & Draping: Enhancing The Ambiance With Strategic Decor Choices
When it comes to creating a truly magical atmosphere at your black and gold wedding, lighting and draping are the icing on the cake. By carefully selecting these elements, you can transform an ordinary venue into a breathtaking wonderland that will leave your guests speechless.
The key is to strike the perfect balance between elegance and drama; too much of either can easily tip the scales in the wrong direction. As you plan out your lighting and draping choices, consider using twinkling fairy lights or dramatic uplighting to accentuate your color scheme while adding depth and dimension to your space.
Softly draped fabric in luxurious materials like velvet or silk can create an intimate setting for dining and dancing while also helping to define different areas within your reception. And don't forget about those metallic accents – strategically placed gold chargers, candle holders, or sequin table runners can add just the right amount of sparkle without going overboard.
Now that we've set the stage (and mood) for your elegant affair let's dive into signature cocktails & bar décor: serving up style at your reception!
Signature Cocktails & Bar Décor: Serving Up Style At Your Reception
Now that we've got our stunning black and gold color scheme in place, let's talk about one of my favorite parts of any wedding: the signature cocktails and bar décor!
Your reception is a time to celebrate with your nearest and dearest, so why not serve up some serious style at the same time?
Picture this: a sleek black bar adorned with lush greenery and sparkling gold accents. And for drinks, how about whipping up some custom cocktails infused with edible gold flakes or garnished with striking blackberries?
Not only will these details wow your guests, but they'll also create unforgettable memories as you all toast to love and happiness together.
Favors & Gifts: Memorable Keepsakes For Your Guests To Cherish
Like stars twinkling in the night sky, your black and gold wedding theme will leave a lasting impression on all who attend.
Now let's talk about how to send them home with little treasures that'll keep the magic alive for years to come.
Favors & gifts play an essential role in weddings as they act as memorable keepsakes for your guests to cherish long after the celebration has ended.
Think of elegant items like personalized black and gold candles, decadent chocolates wrapped in beautiful foil or even luxurious golden bottle openers engraved with your initials – these thoughtful tokens are sure to touch the hearts of those you hold dear while perfectly complementing your sophisticated affair.
So go ahead, sprinkle some stardust onto their lives and watch as they treasure these exquisite mementos forevermore!
Conclusion
In the end, it's all about creating a wedding that feels undeniably you.
By juxtaposing the opulence of gold with the sophistication of black, your special day is sure to be an unforgettable affair.
So go ahead and embrace this stunning color palette — because when it comes to curating an elegant event, there's truly no better way to make a statement than with these captivating black and gold wedding ideas.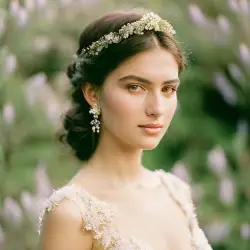 Latest posts by Rosie Liliy
(see all)