It is always an exciting time when someone that you love is getting married. There are so many celebrations and fun things to organize.
There are also plenty of opportunities to gift something to the happy couple. One such occasion is a bridal shower.
Because bridal showers are usually more sophisticated events than bachelorette parties, the type of gift that you give should also be more sophisticated.
Thinking of a gift to give to the bride can be a daunting task, there are so many different things to consider.
Whether you are her sister, sister-in-law, best friend, mother, or even just an old friend, the type of gift you get will be slightly different. In this article, we have compiled a list of the best bridal shower gifts.
Last-Minute Bridal Shower Gifts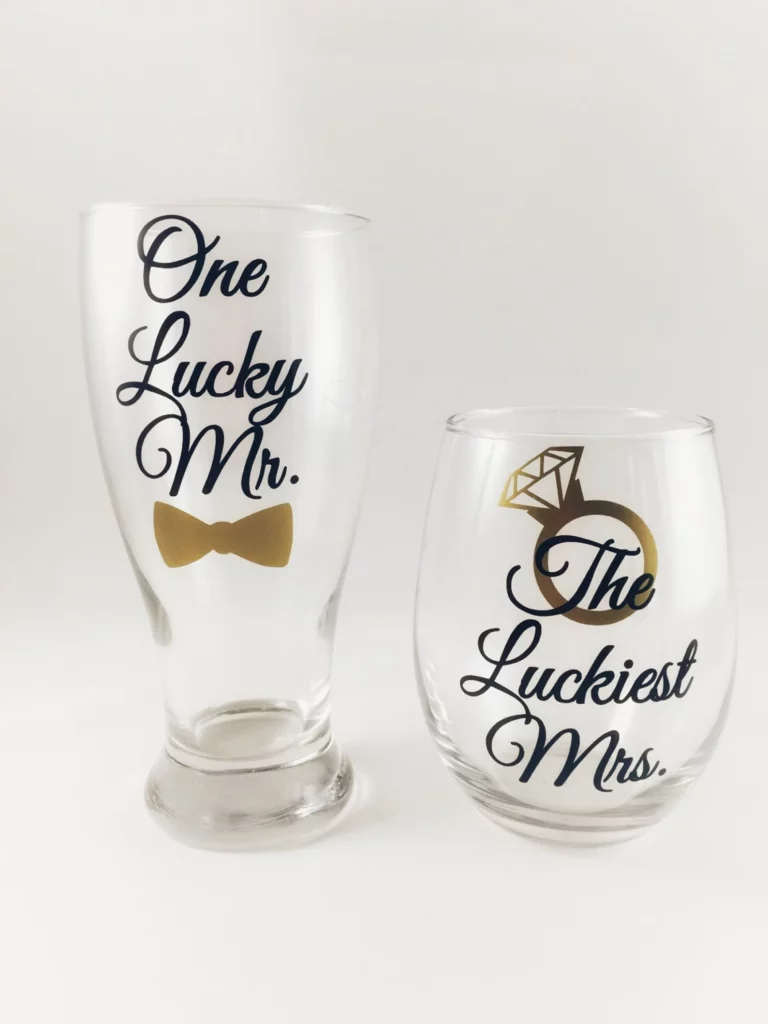 A great option if you have the time is to get some personalized wine glasses for the happy couple.
Even if the bride that you are buying for doesn't really drink, having a pair of beautiful, personalized, sophisticated glasses can be a beautiful addition to their home.
2. Gift Basket
Another great option for a last-minute bridal shower gift is a themed gift basket (see also: Bridal Shower Gift Basket Ideas).
There are two main ways that gift baskets can be made to be great gifts. You can purchase a themed gift basket from a small business on a site such as Etsy.
3. Jewelry Cleaning Kit
A jewelry cleaning kit can be a brilliant last-minute bridal shower gift option. One of the main focuses of an engagement and wedding is the special and sentimental jewelry that takes center stage.
Both the bride's engagement and wedding ring, and the groom's wedding ring will be something that they want to last a lifetime.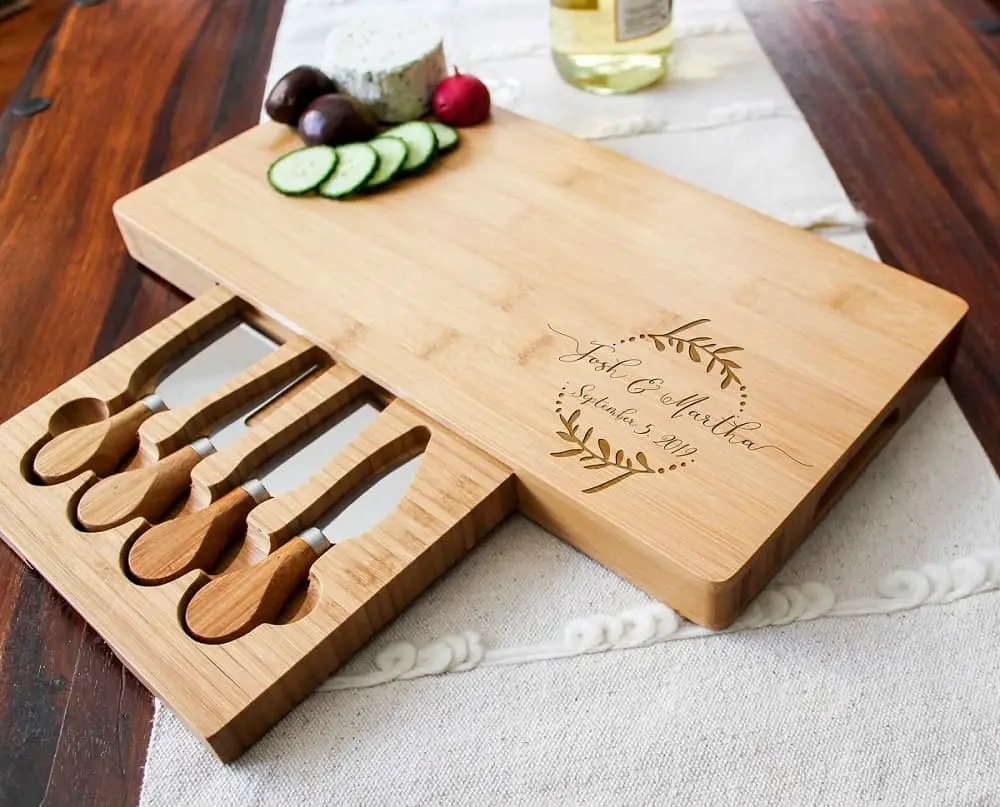 If the bride and her betrothed are big fans of hosting dinner parties or simply really love cheese, a cheese board set can make a great gift.
The best thing about this is that cheese board sets can be purchased from almost anywhere, perfect for last-minute gift rushes.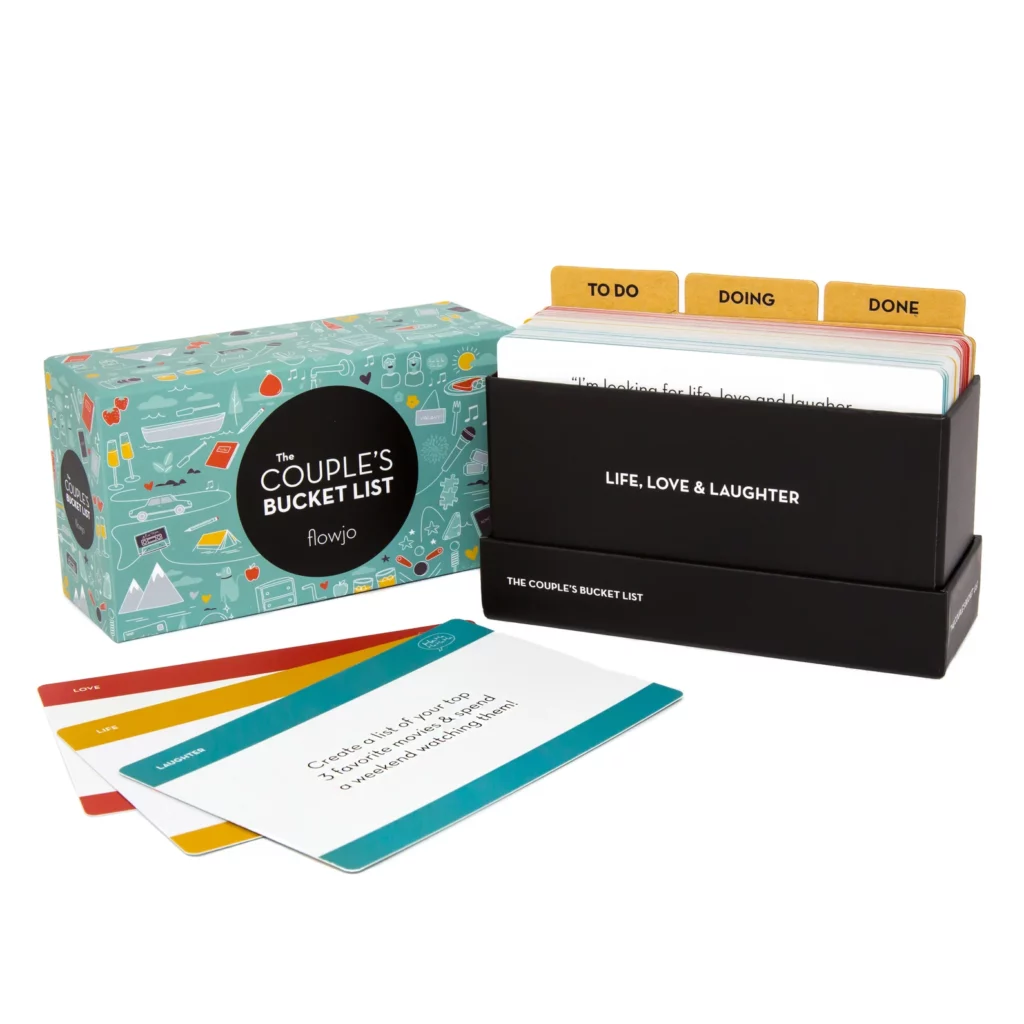 Another brilliantly fun and thoughtful bridal shower gift that can be purchased last-minute online is a couples bucket list card game.
This can be a beautiful gift that the couple can use throughout their married life to help them do all of the things that they've always wanted.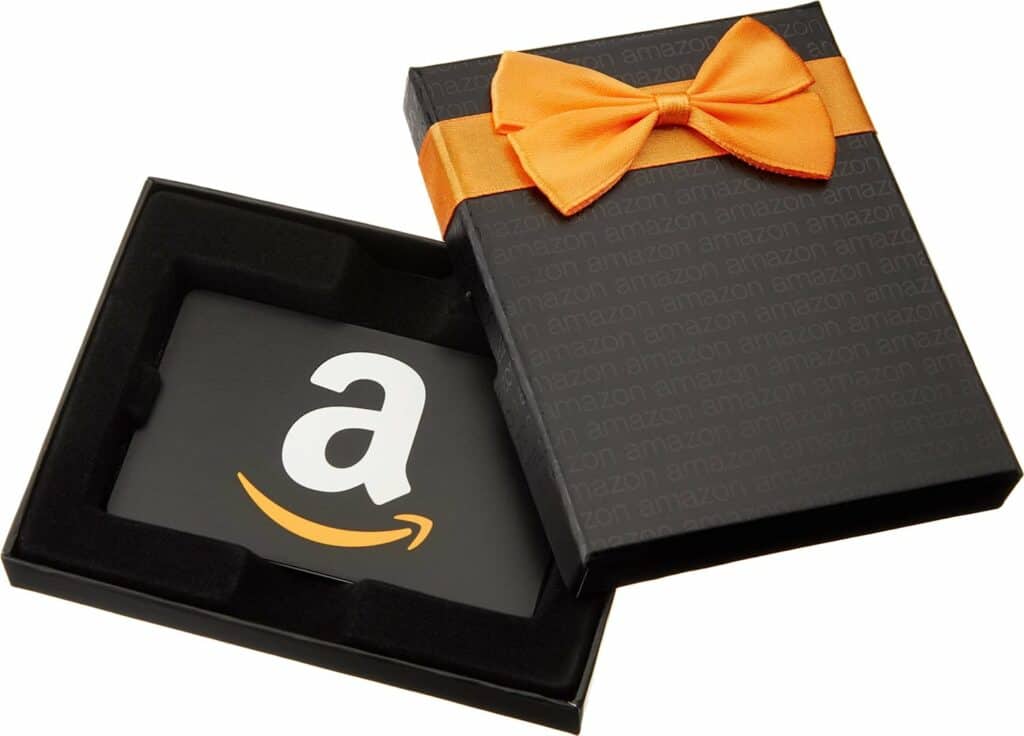 If you are really short on time, an amazon gift card can be the perfect go-to gift for a bridal shower. While it might not be personal or feel overly special, it can be incredibly useful.
Thanks to the existence of e-gift cards, this is a gift that can be purchased on the way to a bridal shower, or even when you are already there.
7. Ninja Air Fryer
If you want to utilize the fast shipping of Amazon yourself to provide a last-minute bridal shower gift, an air fryer makes a great gift.
This is a gift that perhaps doesn't feel overly special for a bridal shower, however, it is something that can benefit both the bride and the groom.
Unique Bridal Shower Gifts
8. Painting From A Photo
Taking a photo from the bride's Facebook page and having an artist turn it into a painting is one of the most unique gifts that you can give.
The best thing about it is that you can choose a picture from any point in the couple's relationship for the painting.
9. Custom Map Art
Custom map art makes a great bridal shower gift that provides a beautiful visual of the couple's relationship. Again, this gift provides you with lots of options to choose from.
You can pick a singular milestone in the couple's relationship and have a map made with a pinpoint.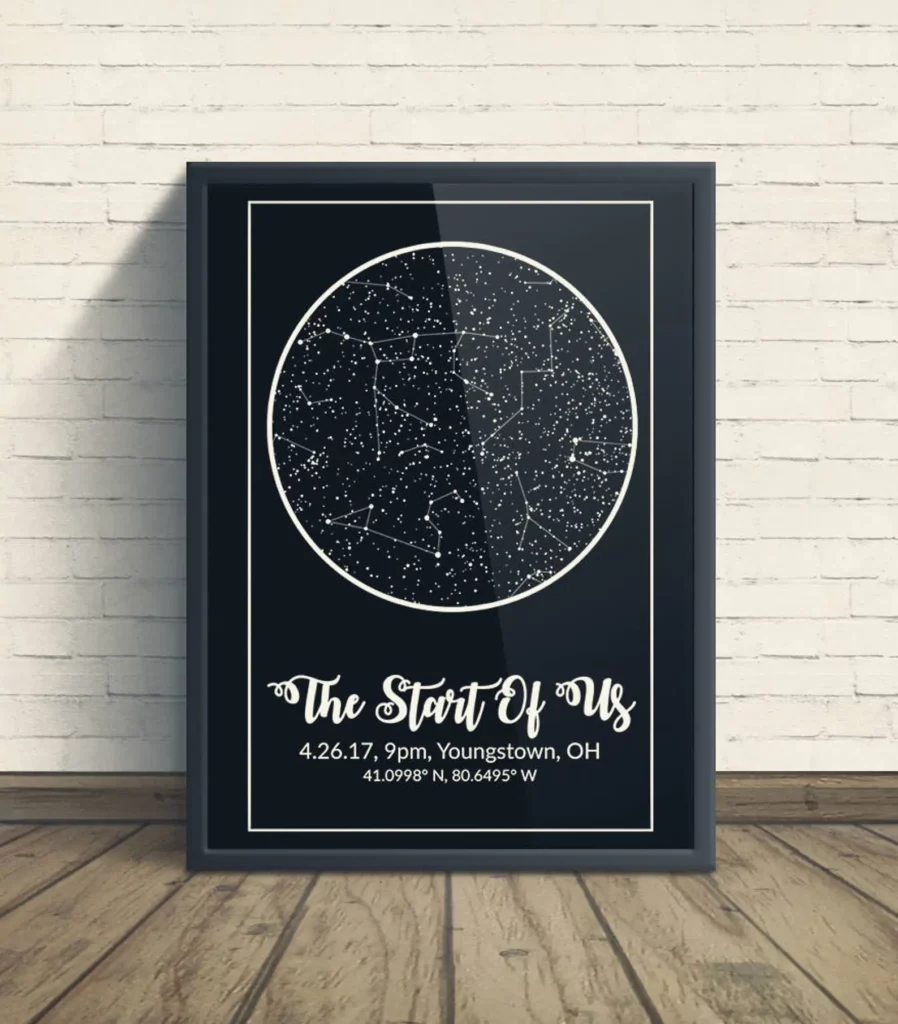 A custom star map is similar to the custom map art mentioned above. Instead of using a street map, however, the art is made from the position of the stars on the date and location of the milestone.
Not only are stars already seen as a romantic thing, but these maps also make beautiful artwork to hang on the wall.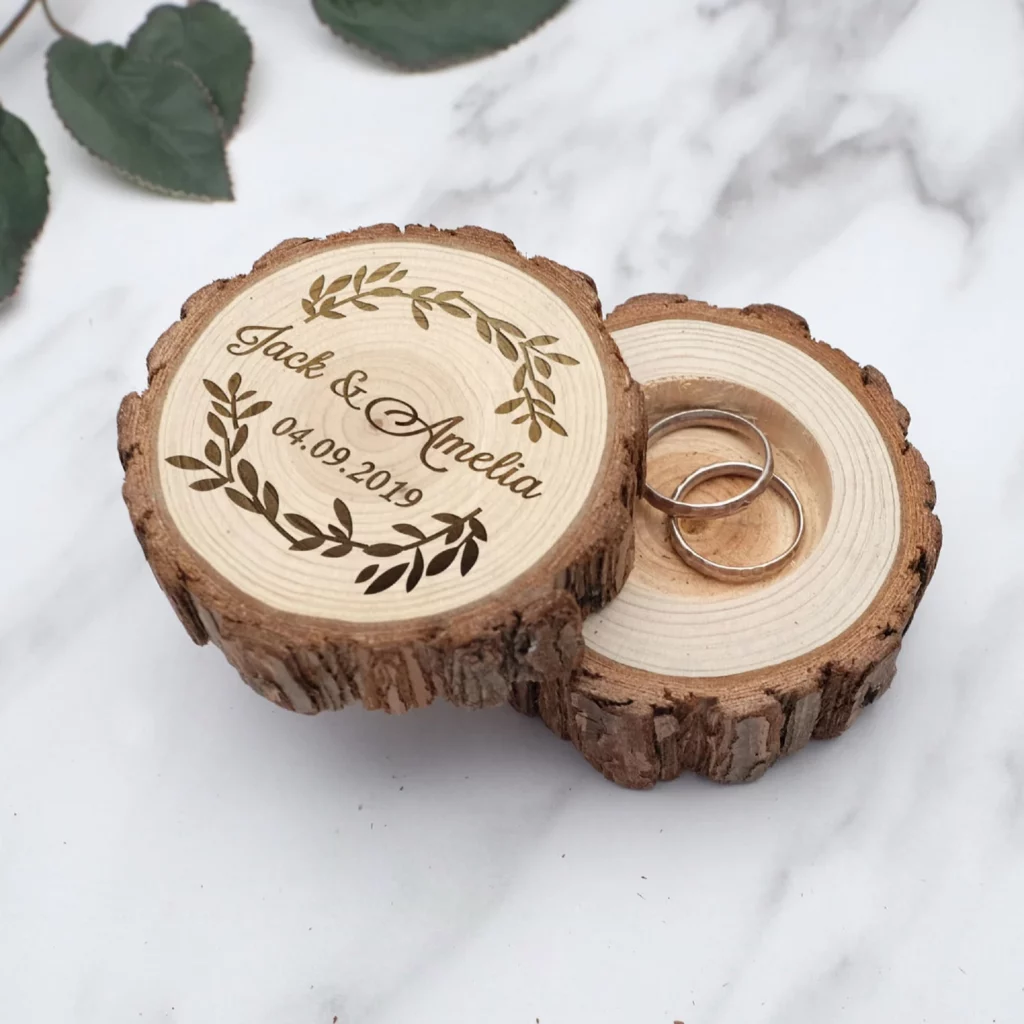 A custom ring box is a wonderful and unique bridal shower gift that also provides the bride with something useful for their wedding day.
This gift might even end up being the bride's "something new" for her big day. There are many different ways that a custom wedding ring box can be made.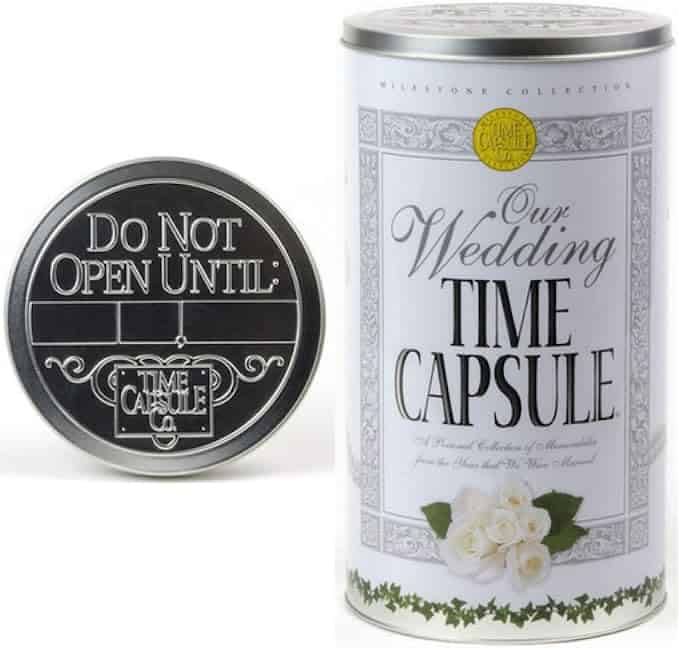 A wedding time capsule can be an incredibly thoughtful and unique gift for a bridal shower.
Most wedding time capsules come with an instruction book that can guide the couple to include the things that may not seem important at the time but will be nice to look back on.
13. Leather Wedding Vow Book
If you have a slightly higher budget and want to give a unique gift that both the bride and groom can enjoy, leather wedding vow books can be a perfect choice.
These small, leather-bound books can not only be a beautiful addition to the big day, but they can also be a great keepsake for the couple to look back on in the future.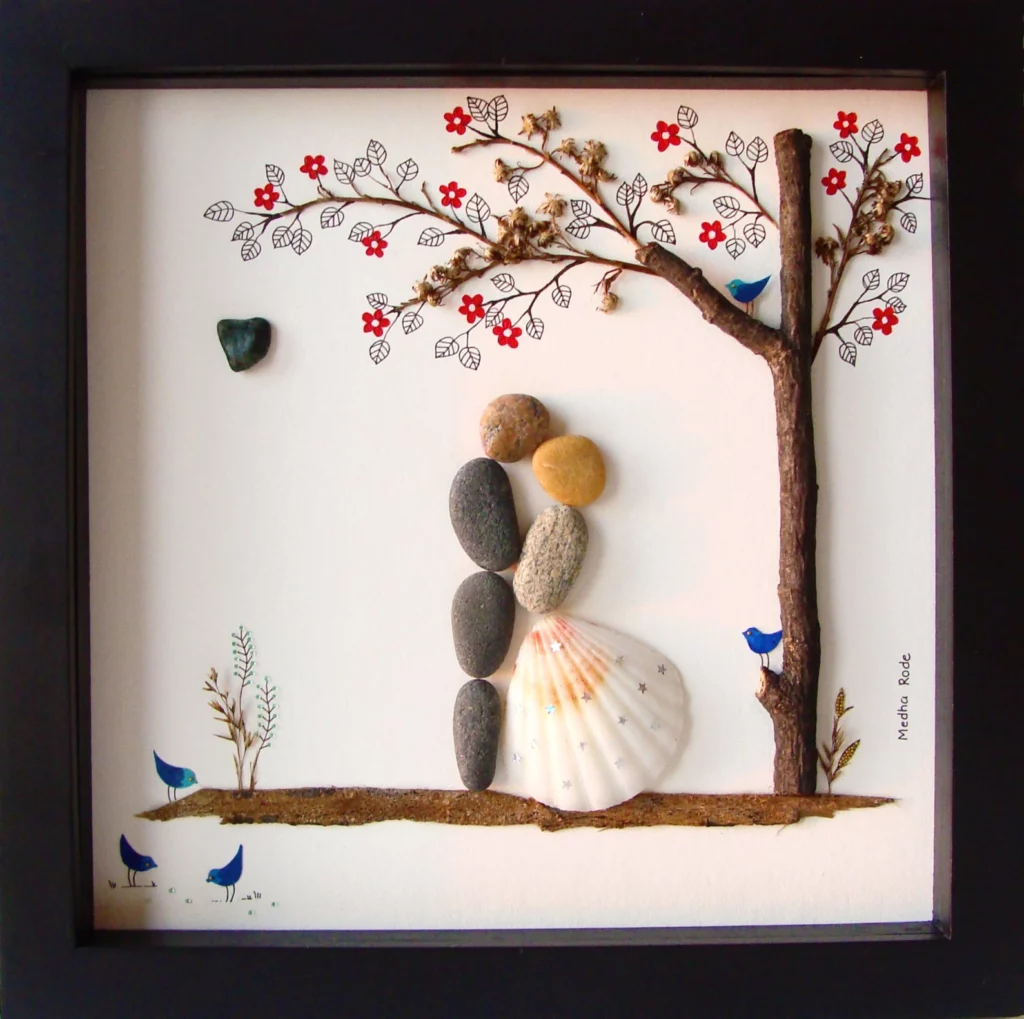 Another beautiful and unusual gift to give at a bridal shower is some pebble art. These pieces of artwork are beautiful and incredibly unique thanks to the use of natural pebbles.
You can also have them personalized to include the names of the couple getting married.
Bridal Shower Gifts For A Second Marriage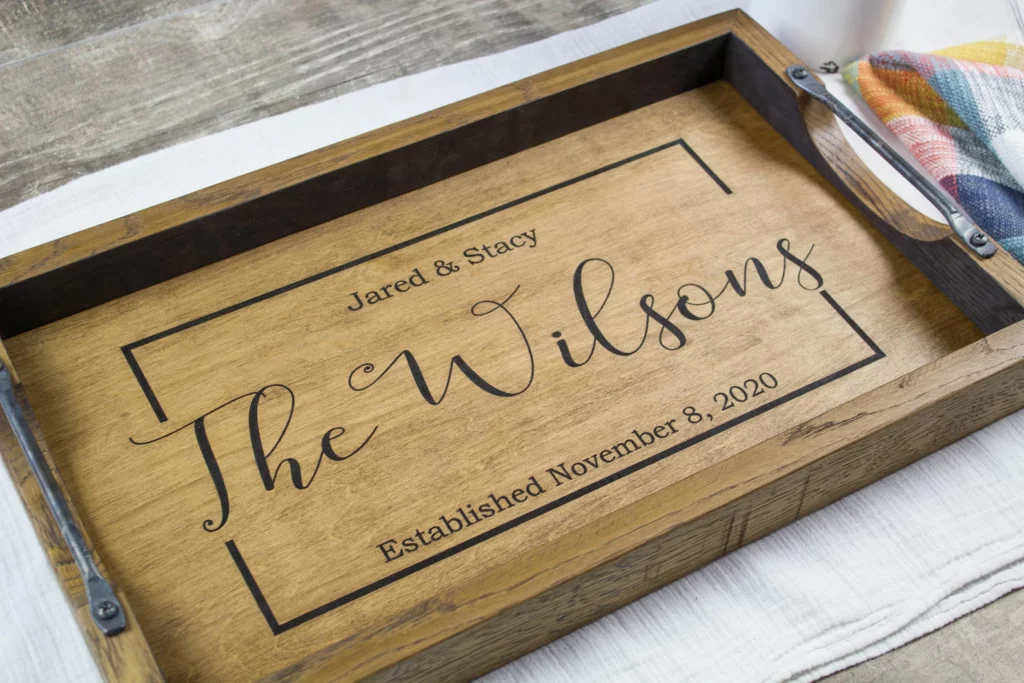 A beautiful, solid wood serving tray can make a brilliant, sophisticated, and grown-up bridal shower gift.
The bride and her groom can use the tray when they are entertaining in their home. It can also be a useful addition to the venue or even getting ready in the morning.
16. Travel Map
If the couple getting married like to travel with their hard-earned money, a travel map can be a great option to help them plan and track where they have traveled in the world.
A travel map that uses pins can be a great way to color code the destinations on the map and combine the places the bride and groom have visited separately and together.
17. Couples Lessons
Couples' lessons can be a great bridal shower gift option for a second marriage. Gifting lessons can be a fun and interesting idea.
The sort of lessons that you can purchase include dance lessons, cooking lessons, and even cocktail mixing lessons.
18. Home Maintenance And Decor Gift Cards
Chances are, that the bride and her groom will already have an established home that they may even own themselves.
This means that they don't need a more traditional bridal shower or wedding gifts such as kitchen items and furniture.
Simple things such as gift cards for home décor and home maintenance stores can be a super useful gift.
19. Stemware Set
A beautiful stemware set can be the perfect bridal shower gift that benefits both the bride and the groom.
Between the bridal shower and the actual wedding, the couple is likely to have lots of guests at their house. Having a beautiful and complete stemware set can add class and sophistication to any get-together.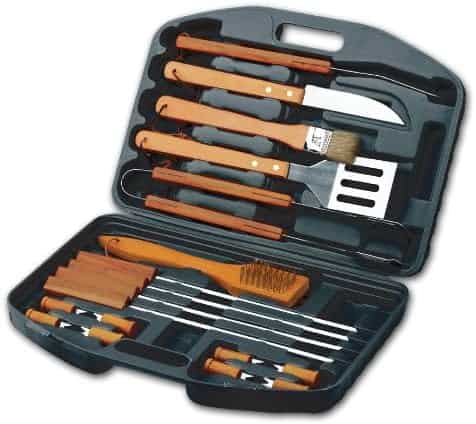 If the bride and her husband-to-be enjoy entertaining friends and family at their home and often host cookouts and barbeques, a high-quality barbeque tool set can make a perfect bridal shower gift.
21. Monthly Subscriptions
Another great gift option for a second wedding bridal shower is a monthly subscription. There are so many different things that you can purchase a monthly subscription for.
Some popular options include wine, recipe kits, books, puzzles, or even cheese.
Best Friend Bridal Shower Gifts
22. Bridal Bathrobe
If you want to stay traditional, purchasing your best friend's bride-to-be an embroidered bridal bathrobe can really up the excitement for the big day.
If you are the maid of honor as well, you can also purchase a whole set of bathrobes to give to the entire bridal party.
23. Over-Bath Wine Stand
If your best friend and bride-to-be enjoys a tipple while relaxing in the tub, this over-bath wine stand could be just what she needs.
There are many different styles of wine stand, some that incorporate a stand for an iPad to create the perfect bathing experience.
24. Bride-To-Be Diary
There are many notebooks that are involved in planning a wedding. One for the guest list, one for all the companies you have to book, one for the color scheme, one for the vows, and so on.
Therefore, a great gift for the bride-to-be is a notebook or diary that is solely reserved for all of their thoughts and feelings during the build-up to the big day.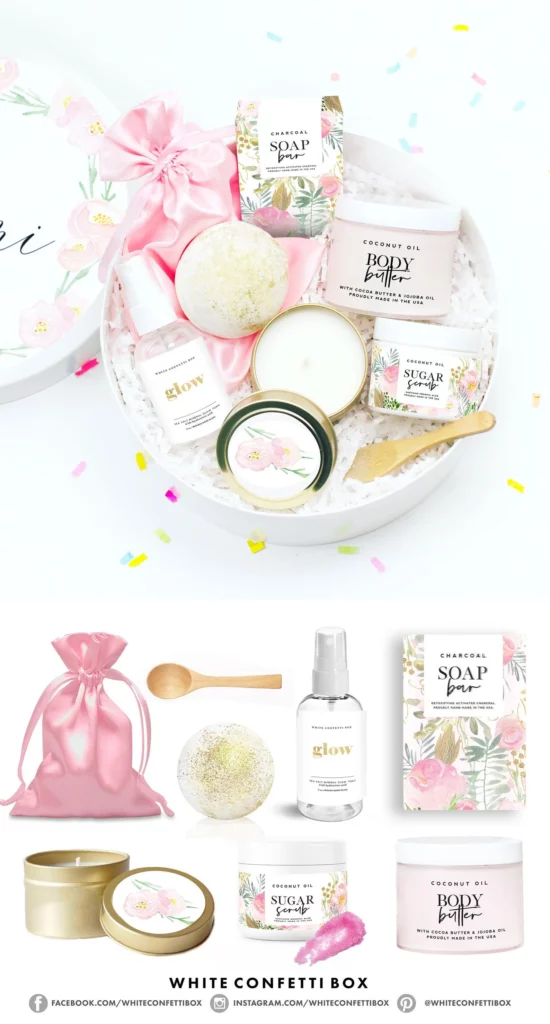 Everyone knows that planning a wedding is a stressful experience. In fact, we have never met a bride or groom that wasn't a little bit stressed out before the big day.
Therefore, a perfect bridal shower gift could be a pamper set. You can personalize the pamper set further by adding some of the bride's favorite products.
26. Mr. And Mrs. Picture Frame
There is nothing like a classic bridal gift. Giving the bride a Mr. and Mrs. photo frame in anticipation of the big day can really increase the excitement level.
It can be a sweet idea to suggest that they display the frame until they have a photo from the day to put in it as a countdown item.
27. Personalized Wedding Hanger
Every bride needs a hanger to hold their dress until they are ready to put it on when the moment arrives.
With a personalized wedding hanger, it can make the moment feel even more special. It also provides a smaller keepsake if she doesn't want to keep her dress.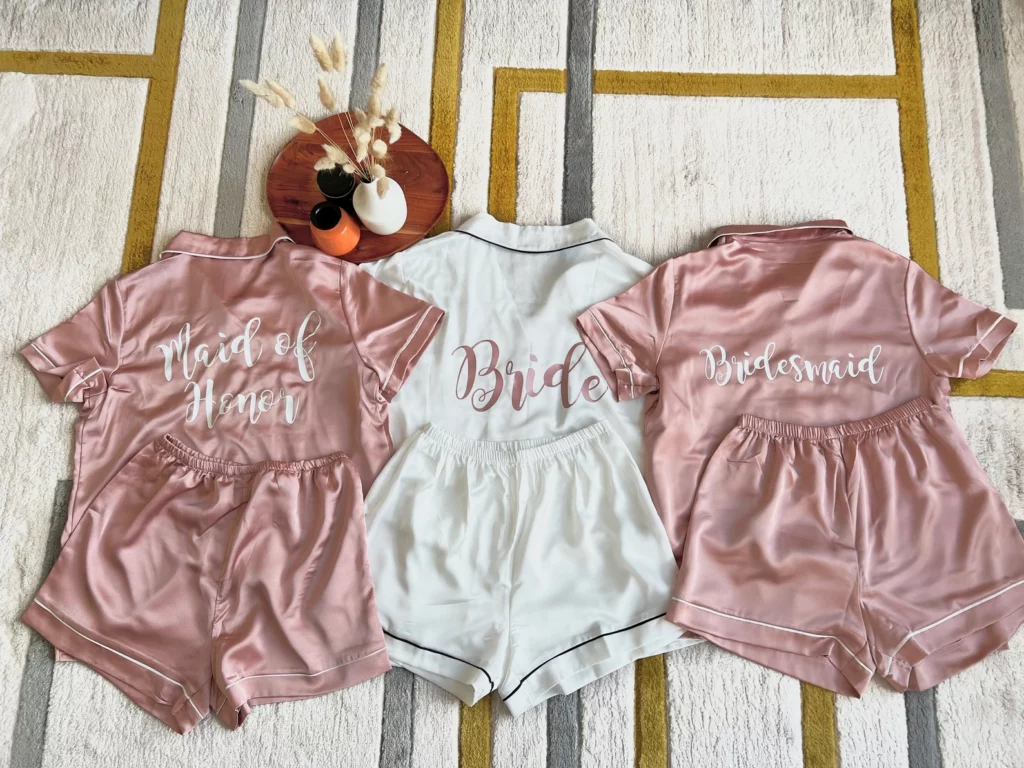 One of the most exciting parts of having a wedding is getting ready with the whole bridal party in the morning. For a lot of brides, this includes having a girly sleepover the night before.
Gifting the bride personalized pajamas can be a fun way to get the festivities started.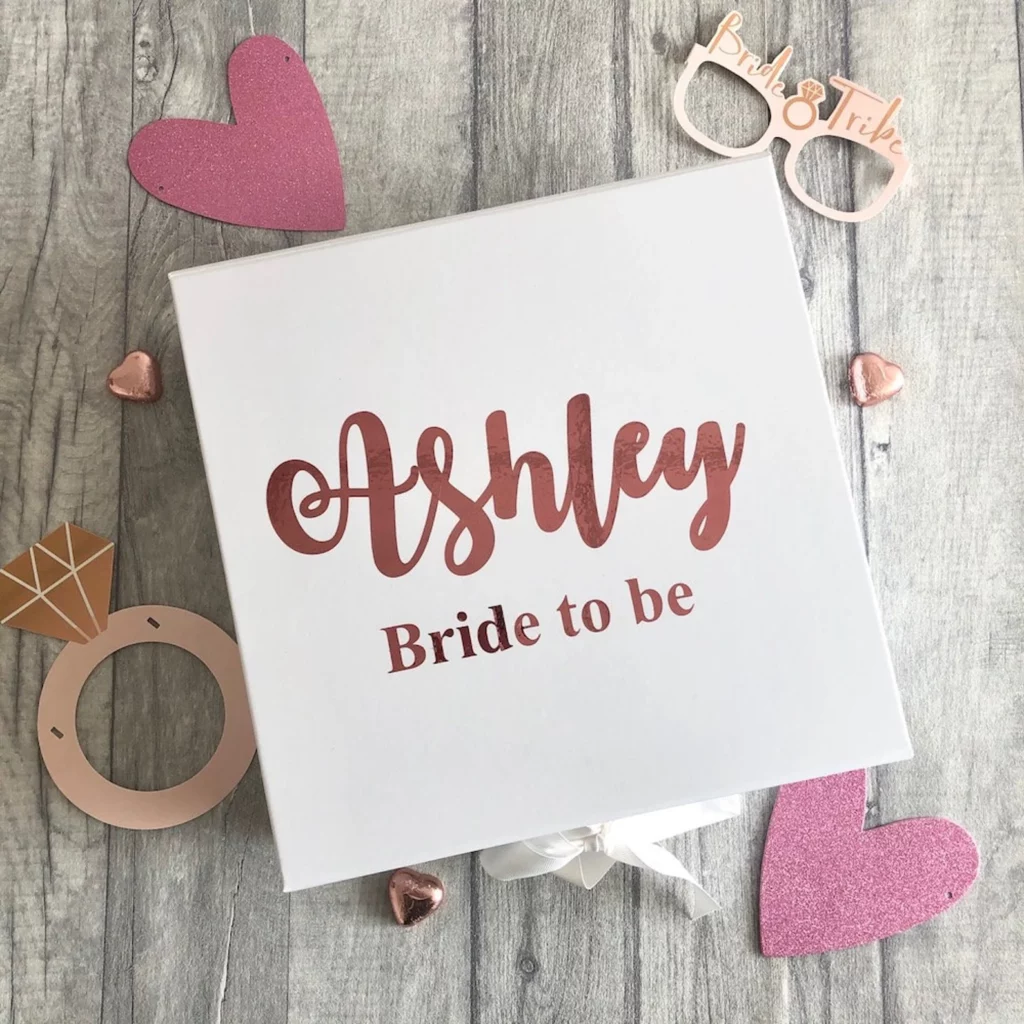 Because you are best friends, you have probably known the bride for quite a while and will have lots of fond memories together.
Creating a memory box of all the things that you have done during your friendship including planning the wedding is a great gift.
Sister-In-Law Bridal Shower Gifts
30. Gift Cards
If you are not very close to your future sister-in-law, buying something simple but useful like a gift card is a great way to go.
If you really don't know her or her tastes very well, a generic gift card such as an Amazon card can be a safe but thoughtful gift.
31. Birthstone Ornaments
If you know the bride better than to just give her a generic Amazon gift card, a birthstone ornament for their house can be the perfect option.
All you really need to know for this gift is the bride's birth month but if you are unsure, the groom should know.
32. Cheese Sculpture
If you know your sister-in-law well and want to get her something more personal but not permanent, a cheese sculpture can be a fun idea.
Obviously, this only works if she really likes cheese. If the happy couple already has a lot of stuff, this can be a great way to avoid adding clutter to their house.
33. Portable Facial Steamer
Most brides want to look their best on the big day and the stress of planning a wedding can make it harder to maintain clear skin.
Gifting a portable facial steamer can help ensure your sister-in-law is looking her best, no matter how busy she is. She can even use the steamer in her car, stationary of course.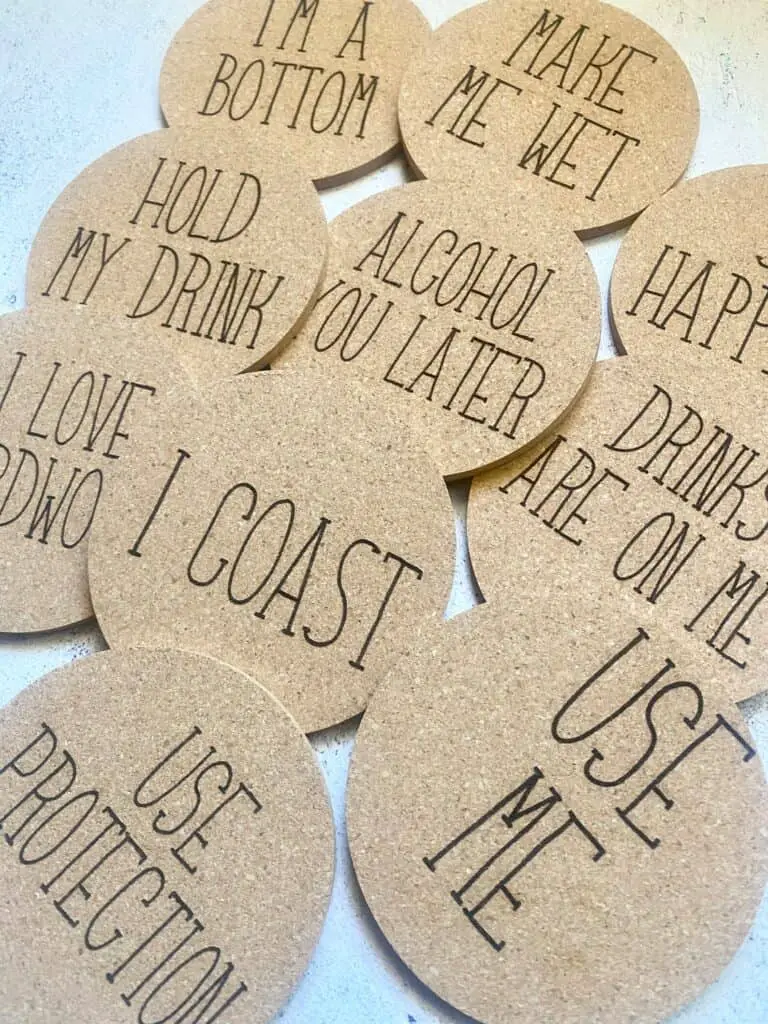 If your sister-in-law and her fiancé love a good laugh and have a good sense of humor, a funny coaster set is a great option for a thoughtful and inexpensive gift.
There are many different options for the type of humor on these coasters so you can find one that suits the happy couple perfectly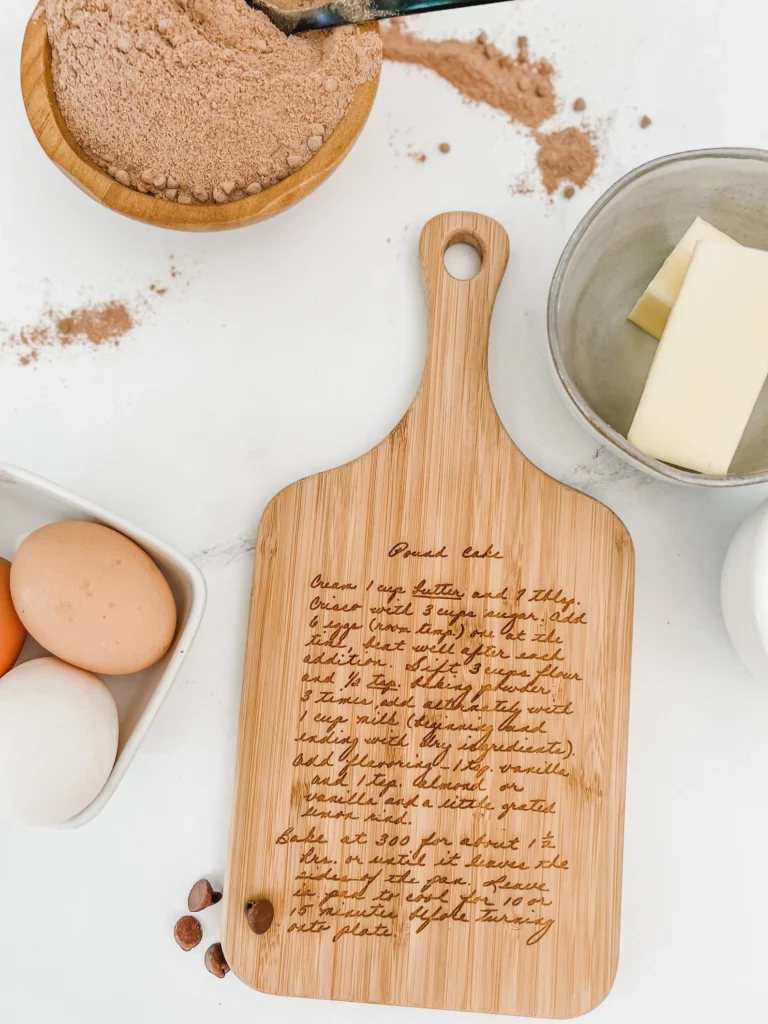 If you are closer to your future sister-in-law and are excited to welcome her into the family properly, a beautiful, sentimental gift can be a cutting board with a secret family recipe engraved on it.
This can be a great way to make her feel welcomed into the family.
36. Monogrammed Leather Jewelry Case
Besides the wedding rings, jewelry plays an important part in the big day. Gifting your sister-in-law a leather jewelry case can be the perfect way to help her keep all the jewelry she wants to wear together and safe.
Having the case monogrammed with her new initials can be a fun twist.
37. Bride Survival Kit
If you want to inject a bit of humor into the bridal shower, you can gift your future sister-in-law with a bride survival kit.
A lot of these products are very generic, but you can make them more personal by adding your own things. A fun addition can be a list of ways to survive life with your brother.
Sister Of The Bride Bridal Shower Gifts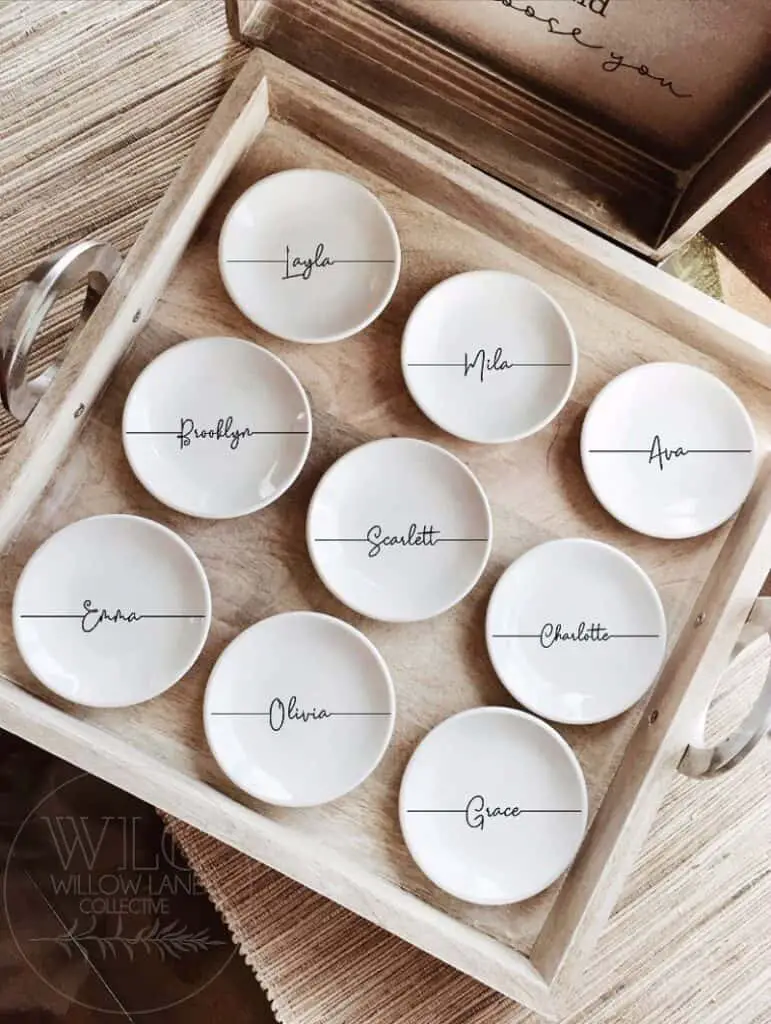 If your sister loves her jewelry and has some regular pieces that she wears, a personalized jewelry dish can be the perfect gift.
Having the dish personalized with her new initials is a loving nod to her future. It can also become a useful item for the big day to keep things organized
39. Matching Bathrobes
If you are the sister of the bride, chances are that you are either part of the bridal party or will be getting ready with her in the morning.
Purchasing matching bathrobes for you and her can be a great gift. The bride and sister of the bride can be embroidered on them.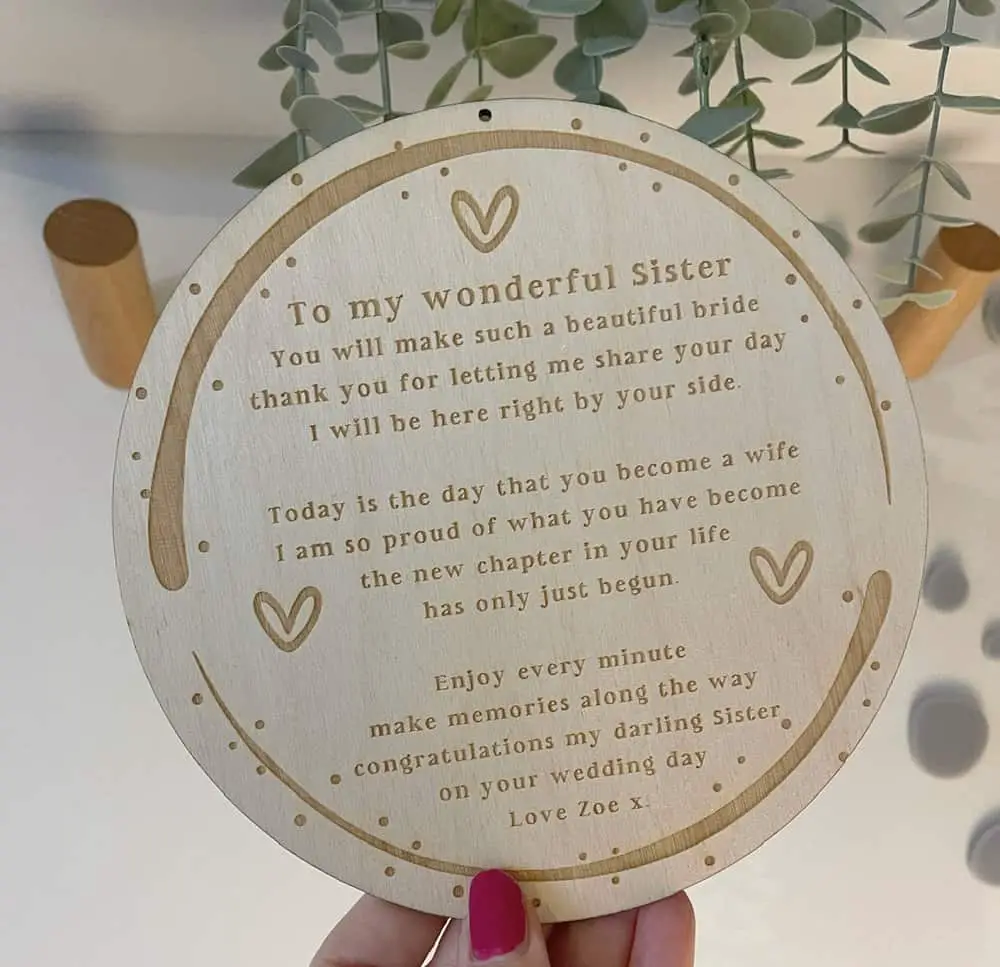 If your sister means a lot to you and you want the chance to tell her just how much you love her, a personalized thank you sign can be the perfect gift.
You can write whatever you want on these engraved signs and they can be a lovely way to remind the bride just how loved and special she is.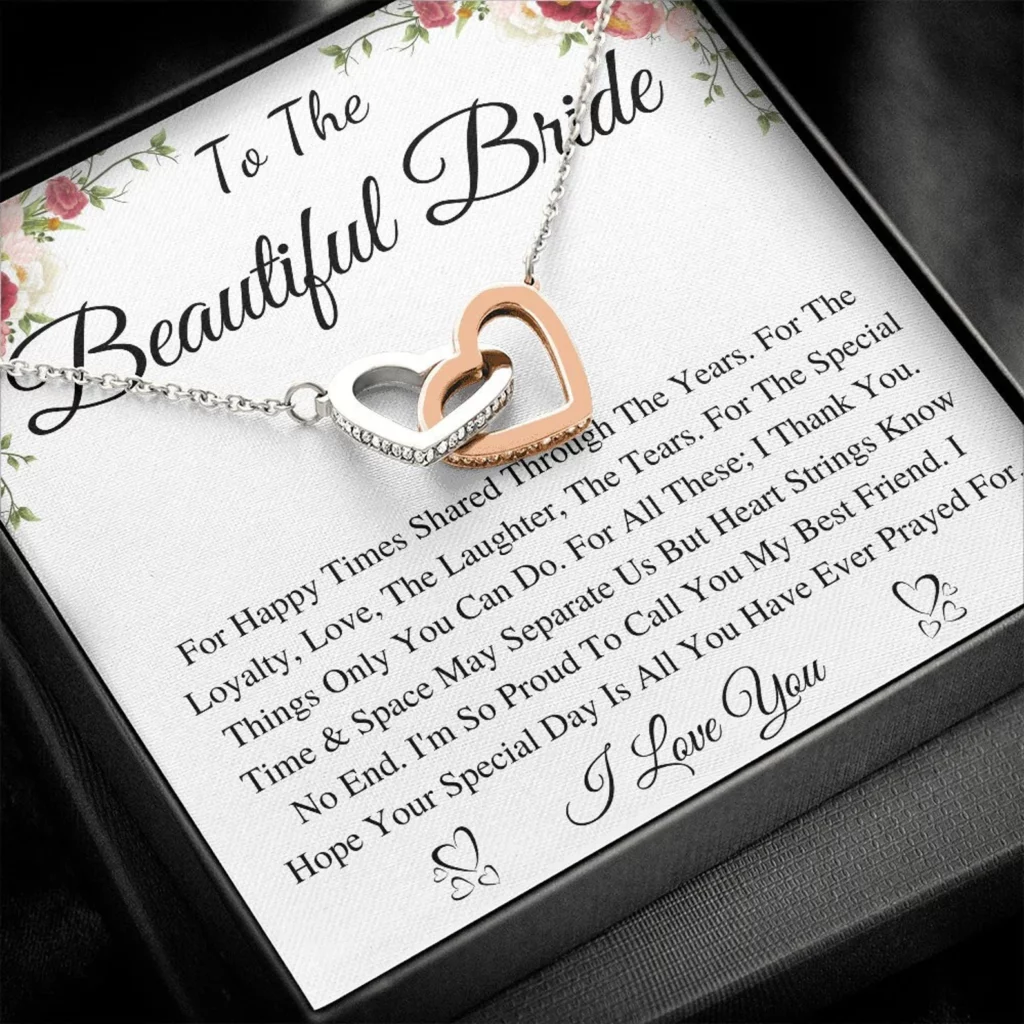 Gifting the bride with a simple diamond necklace can be a wonderful bridal shower gift.
The necklace can be the perfect finishing touch to the bride's look on the day. The card that goes with the necklace can be a wonderful addition to a wedding scrapbook too.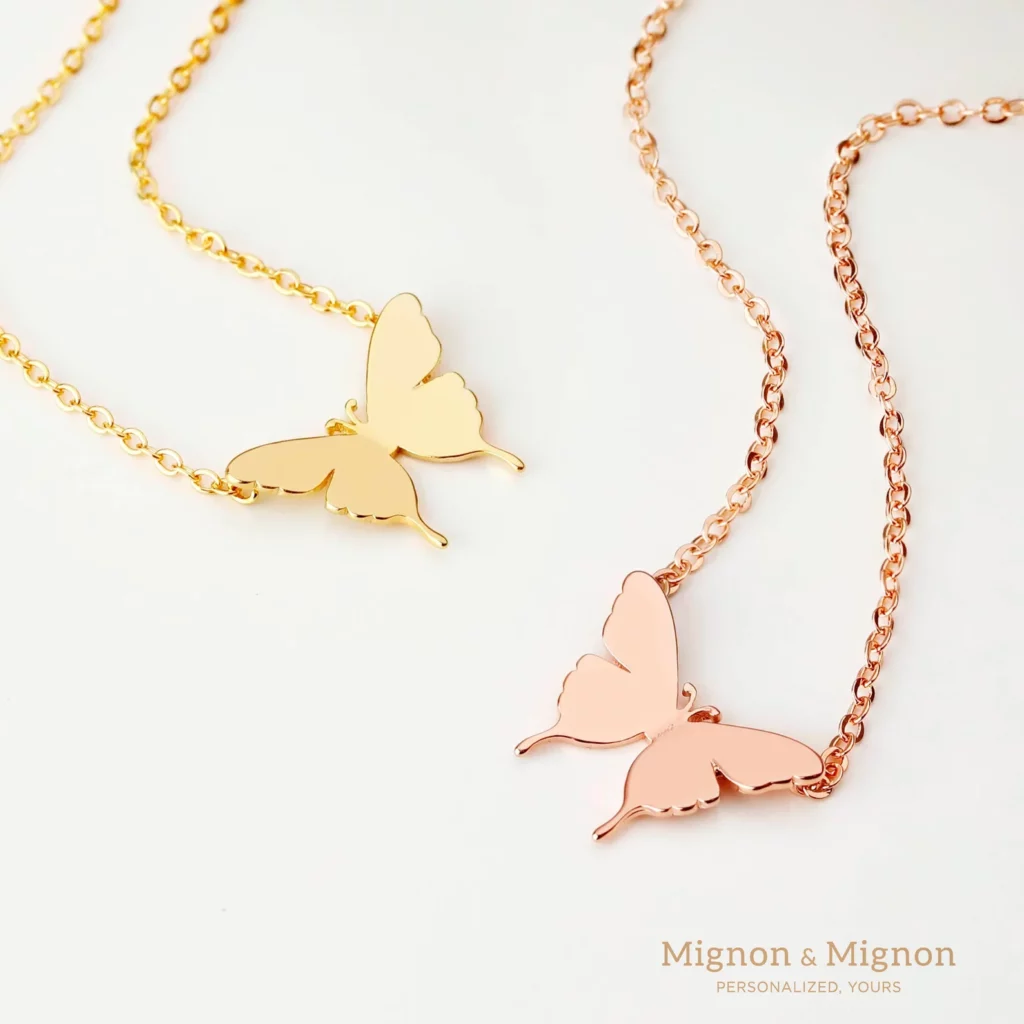 As sisters, growing up you probably had plenty of cheap matching necklaces, perhaps you even made some yourselves from beads.
Gifting your sister a beautiful matching necklace at her bridal shower can be a great way to strengthen your bond further.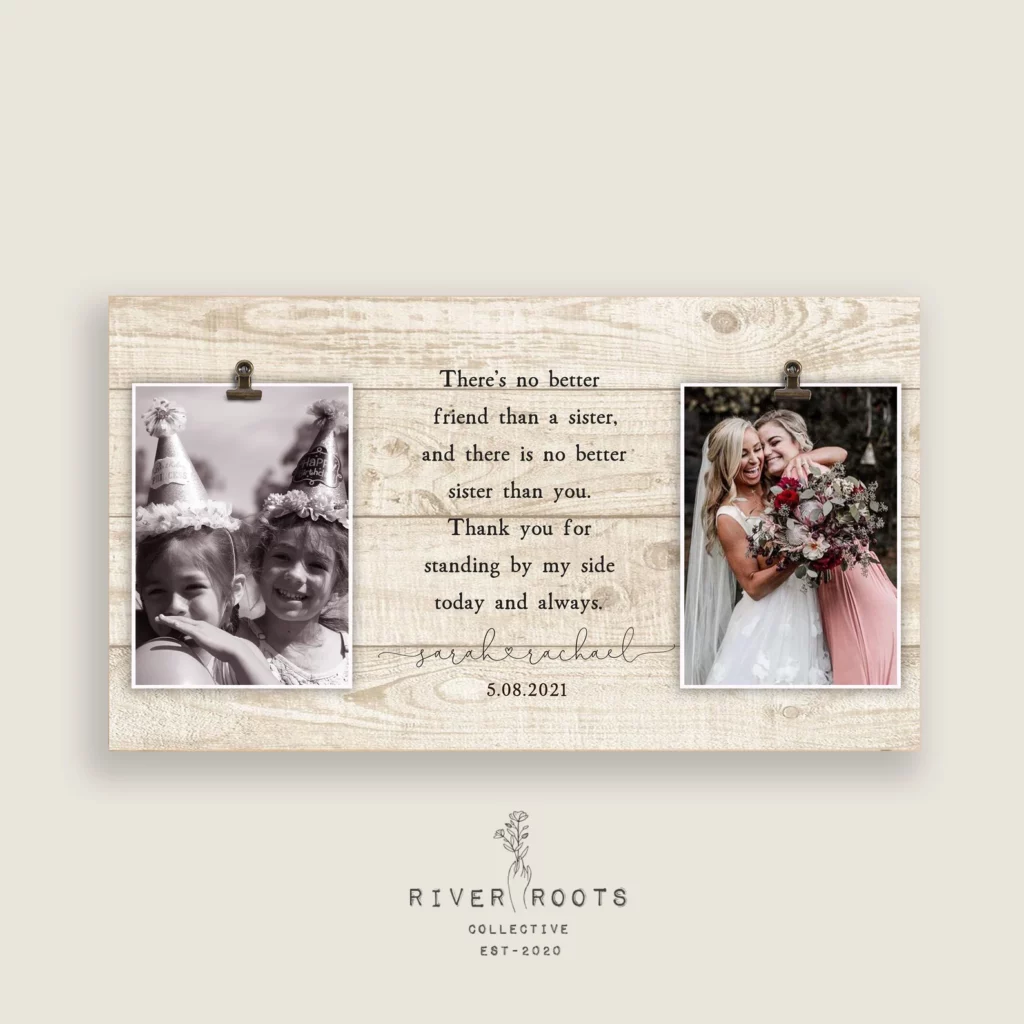 During the process of planning the wedding and getting married, there are going to be lots of photographs taken of the bride and the groom.
It can be nice to give the bride a gift that doesn't involve her and her fiancé's relationship.
A photo frame with a poem or message and a photo of you both can be beautiful. Adding a picture of you as children and one that is more recent can be a nice touch.
44. Little Bag Of Wishes
Getting married can be a daunting event in anyone's life. Gifting your sister a little bag of wishes or a bag of good luck charms can be a sweet way to make it a little easier.
You can even add your own personal items that mean something to both of you.
Mother-Daughter Bridal Shower Gifts
45. Something Borrowed
Taking the stress out of some of the elements of a wedding is always a great gift idea. Gifting your daughter with something borrowed at her bridal shower can do just that.
Something simple like promising to let her borrow a locket with pictures of her late grandparents in it can be perfect.
46. Something Blue
Something blue is another common traditional wedding item that can be sometimes difficult to come across.
There are plenty of small businesses that make small blue charms that can be discreetly worn on the big day.
47. Family Heirloom
A family heirloom can be the perfect bridal shower gift for your daughter. It can be an especially great time to pass the heirloom on if it can be used in the wedding.
Gifting it at the shower gives her time to incorporate it into the day.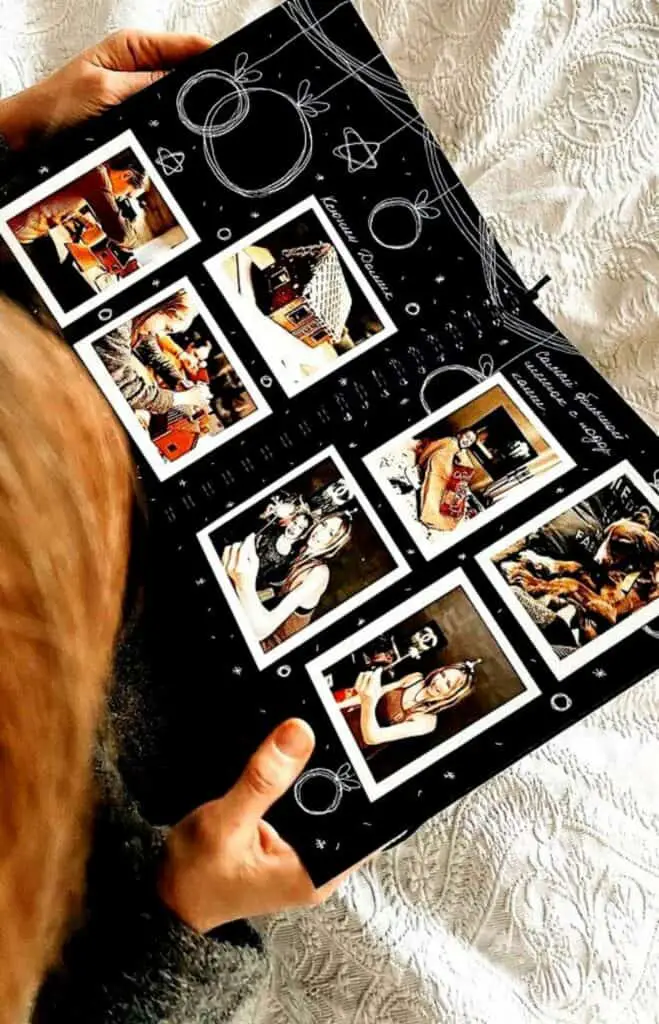 You know your daughter well and have known her longer than anyone else. Gifting her a scrapbook or photo album that contains pictures from her childhood can be a beautiful and sentimental gift.
49. Spa Day
If you have the means, booking a spa day for yourself and your daughter can be a great bridal shower gift.
There are so many different packages available including bridal packages. It can be a bonding experience and help relax her before the wedding.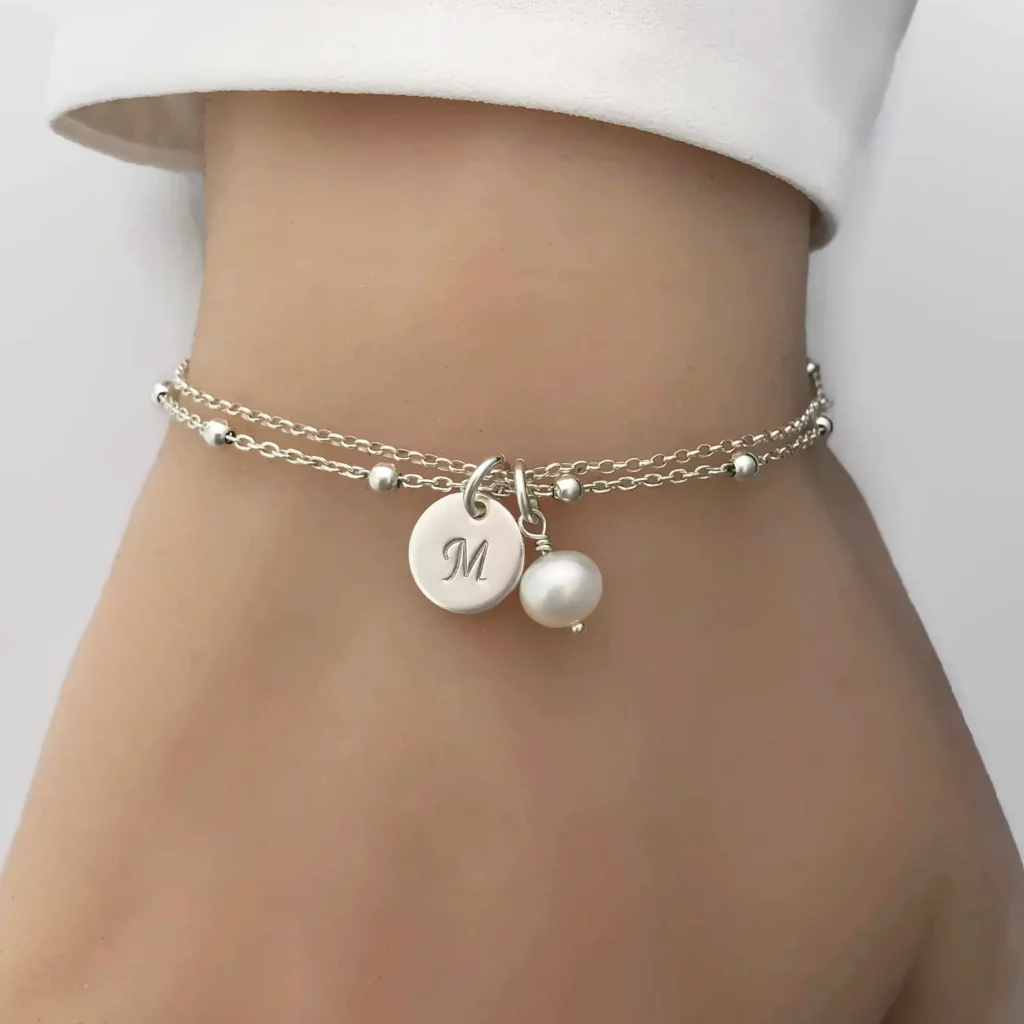 Wedding days can be stressful and nerve-wracking. The bride is going to be feeling a whole mix of emotions and might begin to feel overwhelmed.
Gifting her a bracelet with a personalized message like the one in the picture can help her get through the day.
51. Favorites Gift Basket
Personalized gifts are a great option when you know the bride so well.
Creating a gift basket that is filled with all of her favorite treats from when she was little can be a lovely gift option that she can share with her fiancé before the big day.
Mother-Of-The-Groom To Daughter-In-Law Bridal Shower Gifts
52. Gift Cards
If you are not close to your future daughter-in-law and don't know what she would like as a gift, a gift card can be a great option that is useful and thoughtful.
A generic gift card is a safe option, or you can ask your son what places she likes to shop.
53. Something Borrowed
If you are closer to the bride and want to get involved with the traditions of the wedding, offering something borrowed for the bride to use is a great bridal shower gift.
Even something as simple as a beautiful shawl that she can wear in the evening on the day.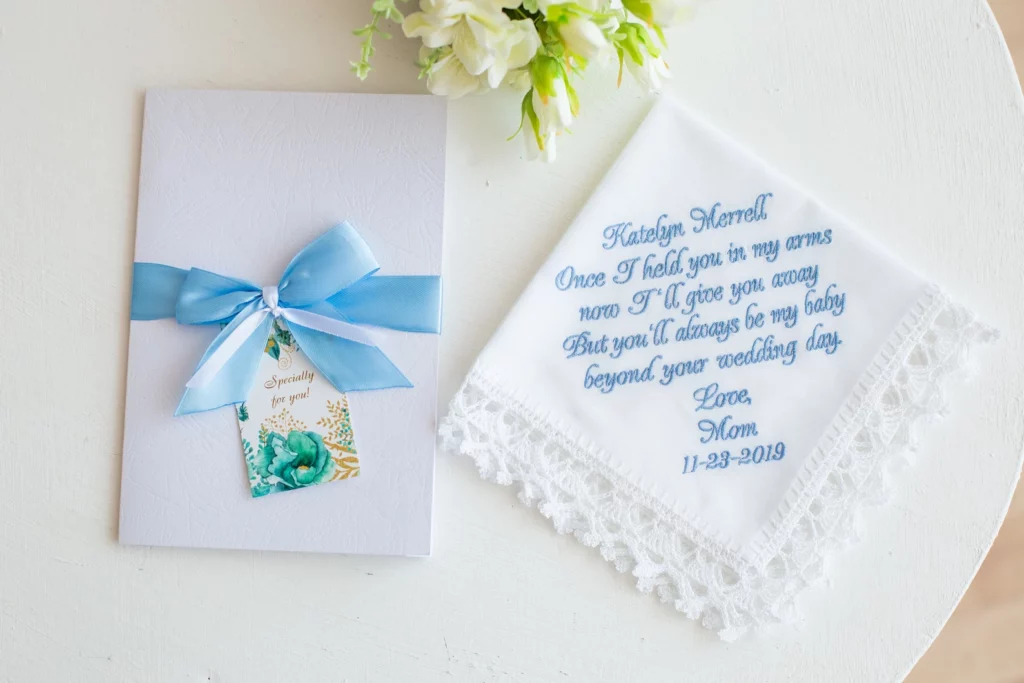 Finding something blue for the big day can be a difficult task, however, you can help through your bridal shower gift.
Gifting a personalized handkerchief with a special message that is embroidered in blue is a great option.
55. Family Heirlooms
A great way to welcome the bride into your family is to gift a family heirloom. This should only be done if you feel comfortable with it. But it can be a great way to strengthen your relationship.
56. Personalized Recipe Book
Another way to welcome your daughter-in-law into the family is with a personalized recipe book.
This can be a beautiful way to share some family recipes with the bride. You can even mark your son's favorites for her.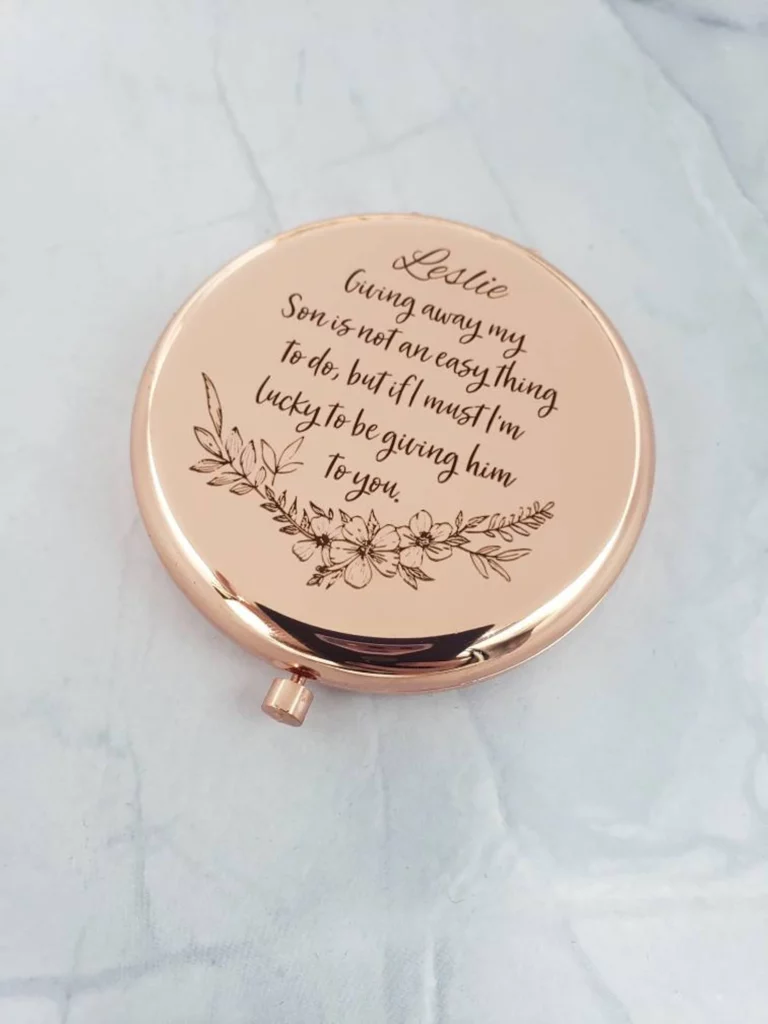 A pocket mirror can be a great bridal shower gift. It can be incredibly useful for the big day to help her touch up her makeup.
Adding a beautiful message can make it more personal. If you are really close to your daughter-in-law, you can write your own message on the mirror.
58. Necklace With Sentimental Card
Many brides struggle to find a simple, elegant, beautiful necklace to wear on the big day.
Gifting one with a card that features a sentimental message can be the perfect bridal shower gift to strengthen your bond.
Bridesmaid And Maid Of Honor Bridal Shower Gifts
59. Bachelorette Party
One of the best gifts you can give to the bride at her bridal shower is the offer of paying for the bachelorette party(see also: 11 Bridesmaid Gifts To Thank Your Bridal Party). This is a gift that requires communication with the rest of the bridal party though.
60. Friendship Scrapbook
If the bridal party has been friends with the bride for a long time, a cute gift can be a friendship scrapbook. You can do this individually, or the whole bridal party can make one together.
61. Wedding Lingerie
Purchasing wedding lingerie for the bride is not an appropriate gift from the mother of the bride or mother of the groom but it can be a fun gift from a bridesmaid or maid of honor. It can be a serious gift or a funny gift.
62. Homeware Items
If the bride is young or the happy couple is moving into their own place for the first time without roommates, they may need some homeware items. These can make useful gifts.
63. Garter
In the same vein as wedding lingerie, a garter can be a fun gift to give at the bridal shower. Again, this can be a gag gift to make everyone laugh, or it can be serious depending on the bride.
64. Personalized Mug
A personalized mug can be a sweet and simple bridal shower gift. There are many different options for this, but it can be useful on the morning of the wedding to keep the bride caffeinated.
65. Personalized Shot Board
If the bride and groom are more party animals than tea drinkers, a personalized shot board can make a fun and unique gift that will get a lot of use over the years.
There are many different types of shot boards that can be personalized in different ways.
66. Wedding-Eve Gift Basket
The night before the wedding can be a stressful or emotional time for brides. Gifting a wedding-eve gift basket filled with pampering items can be the perfect option. Make sure it has lots of lavender.
Travel Inspired Bridal Shower Gifts
67. US Photo Map
A photo map can be the perfect option for a bridal gift for the bride that loves travel. Being able to build up the photos together as they travel can be fun for the happy couple.
68. Custom Luggage Tags
Another great bridal shower gift for the bride that loves to travel is custom luggage tags. Gifting these at the shower allows them to be used for the honeymoon straight after the wedding.
69. Custom Passport Holder
Similarly to the custom luggage tags, a custom passport holder can be the perfect shower gift.
Personalizing it with the bride's new initials or name is a great touch that will make that honeymoon feel even more special.
70. Scratch Map
A scratch map can be a fun way for the bride and her new husband to track the many adventures that they go on together. There are many different colors of maps you can get.
71. Customized Travel Bottles
Traveling with beauty products can be a challenge. However, with these customized travel bottles, the bride can travel in style with her favorite products.
You can also get these travel bottles monogrammed if you wish.
72. Personalized Travel Pillow
A personalized travel pillow made with photos of the bride and groom together can make a wonderful shower gift. Using photos from throughout their relationship is great for this.
73. Customized Beach Towel
A fun and easy travel-inspired gift is a customized beach towel. You can choose any wedding related phrase to have put onto the towel. You can also have one made for the groom.
74. Monogrammed Luggage
If your budget allows, or as a group gift, you can get monogrammed luggage. The bride's new initials can be placed on the bags to match the passport cover.
This can also be a gift purchased by the groomsmen for the groom with some collaboration.
Bridal Shower Gifts For Brides Who Have Everything
75. Custom Corn Hole Game Boards
Custom corn hold game boards can be a great option for a shower gift. This can be a fun gift and be useful on the day of the wedding to entertain the guests.
76. Custom Photo Book
A custom photo book can be a great way to display the timeline of the couple's relationship. You can even ask the couple's family to offer baby pictures.
77. Ice Cream Maker
An ice cream maker can be a fun and random gift to give at the bridal shower of the bride who has everything. It might seem silly, but it can lead to many memories being made for the couple.
78. Dessert Bowls
If you want to collaborate on your gift with another guest at the shower, one of you can buy the ice cream maker while you purchase a set of dessert bowls. For added comedy, make the bride open the bowls first.
79. Just Married Hat
A beautiful sun hat with the words "Just Married" embossed on the brim can be the perfect bridal shower gift. It is even better if the bride-to-be is going somewhere sunny on her honeymoon.
80. Adventure Book
The bride who has everything is likely to appreciate adventure and experience over material things.
Gifting an adventure book at the bridal shower can be a fun gift. The couple can fill it with their adventures, starting with their wedding.
81. Newspaper Keepsake
A newspaper keepsake can be an unusual gift that the bride probably doesn't already have.
You can purchase a newspaper back copy from any day in history. Their engagement date can be a nice gift.
82. The Discovery Game
The discovery game can be a fun gift for the bride and groom to play together in the run-up to the wedding. It can help them get to know one another even better than they did before.
Bridal Shower Gifts For Couples
83. Personalized Cheese Board
Because the wedding is about more than just the bride, a gift that can be used by the bride and groom is a good choice. A personalized cheese board can be good for them to share.
84. Personalized Wine Labels
Another fun gift for the couple to enjoy together is a bottle of wine with a personalized label. You can include the date of the engagement or the wedding on it.
85. Anniversary Journal
An anniversary journal can be a beautiful gift that both the bride and groom can make use of. It can be fun to write each other love notes throughout the first year of the marriage starting from the wedding morning.
86. Kitchen Set
A kitchen set is the perfect bridal shower gift for the couple if they love to cook. Whether they love to cook inside or host barbeques all the time, this matching set can be fun and cute.
87. Matching Passport Holders
Instead of just getting the bride a passport holder with her new initials on it, you can get a pair for the couple. Instead of just initials, you can have Mr. X and Mrs. X embossed on the covers.
88. Matching Keyrings
Another cute idea for a bridal shower gift that both the bride and groom can enjoy is matching keyrings. These are a sweet, budget-friendly gift idea that can be used by the couple before the wedding.
It can also make them feel more connected when they are apart the night before the big day.
89. Personalized Ring Holders
Personalized ring holders can be a beautiful bridal shower gift that benefits the bride and the groom.
Gifting a holder that can store both of their wedding rings and the engagement ring helps to keep the jewelry safe when it needs to be removed for work or washing hands.
Final Thoughts
Buying a gift for a bridal shower can be a difficult task that has different rules and expectations based on your relationship with the bride.
Hopefully, this guide can help give you some inspiration for what to get for the bride in your life.

Latest posts by Lisa Plaitt
(see all)