When the time comes to bid farewell to your wedding guests after a day of fun, tears, laughter and emotions – what better way than to send them off with a good song?
Whether it's cheers or sighs of relief, make sure you choose something that fits the tone of the occassion as your recessional music.
From romantically heartwarming numbers, adventure-filled anthems and slow soulful melodies – we have consulted wedding DJs and planning experts, and curated a huge list of 290+ wedding ceremony exit songs for you to pick from!
So read on if you need great tips and inspiration on how best consider which track will provide just the right swelling background music for that magical transition into married life.
Related:
178 Wedding Ceremony Music
158 Walk Down the Aisle Music
Classic and Timeless Pop Songs for Wedding Recessional
Looking for the perfect song to make your grand wedding exit? Look no further than classic and timeless pop songs! We all have that one pop song that takes us back to our carefree days. And what better way to leave your wedding ceremony than with a nostalgic tune that will leave your guests humming along?
These songs have stood the test of time for a reason, they make us feel good! So, whether you're a fan of Bruno Mars or Katy Perry, adding a classic pop song to your recessional music lineup will have everyone grooving all the way to the reception.
Romantic Pop Songs for Wedding Recessional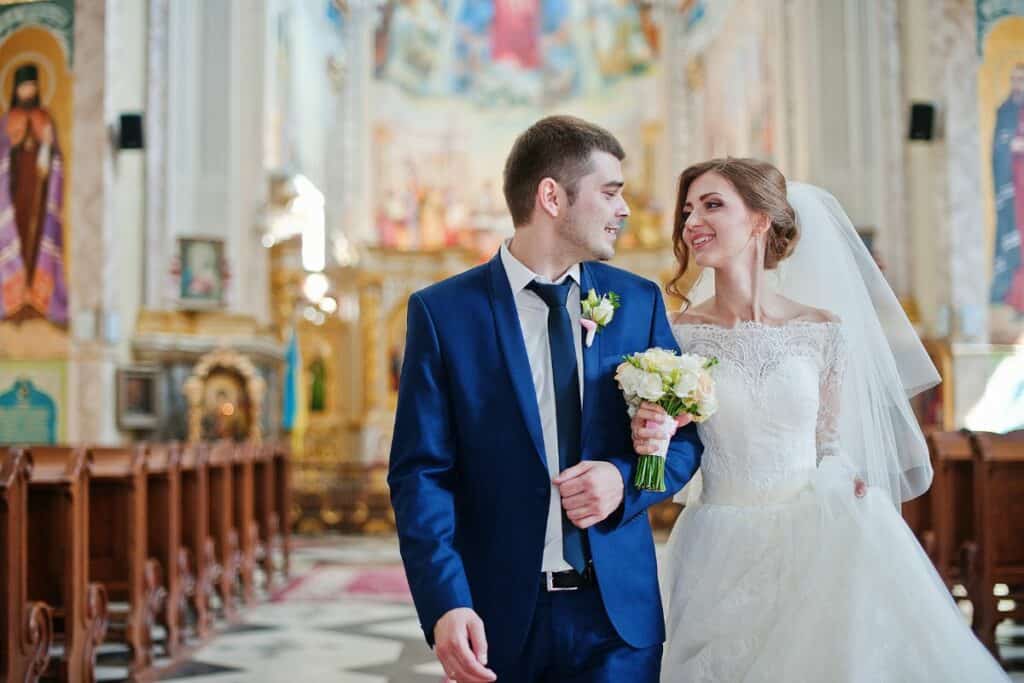 It's the end of the wedding ceremony, everyone is feeling all kinds of emotions, and you need the right kind of song to put a bow on the day. We think Romantic Pop songs might just be the perfect genre to set the mood.
Think about it: with their catchy melodies, sugary sweet lyrics, and danceable beats, these songs will have your guests toe-tapping their way out of the ceremony and into the happy ever after. So come on, let's give the people what they want…a feel-good exit with some Romantic Pop jams that will have them saying "I do!" to love, music, and happily ever after.
Upbeat Pop Songs for Wedding Recessional
Let's face it, weddings are full of traditions, and the Recessional Song is one of them. But who says tradition has to be boring? Cue Upbeat Pop Songs!
These catchy tunes are perfect for the Wedding Ceremony Exit, bringing a playful and vibrant energy to the festivities. Plus, who doesn't love a good sing-along dance party?
Whether you prefer some classic Whitney Houston or the latest Rihanna jam, there's a pop song out there that'll have everyone tapping their toes. So ditch the somber ballads and embrace the power of pop, because this day is all about celebrating love and having a damn good time!
Lighthearted Pop Songs for Wedding Recessional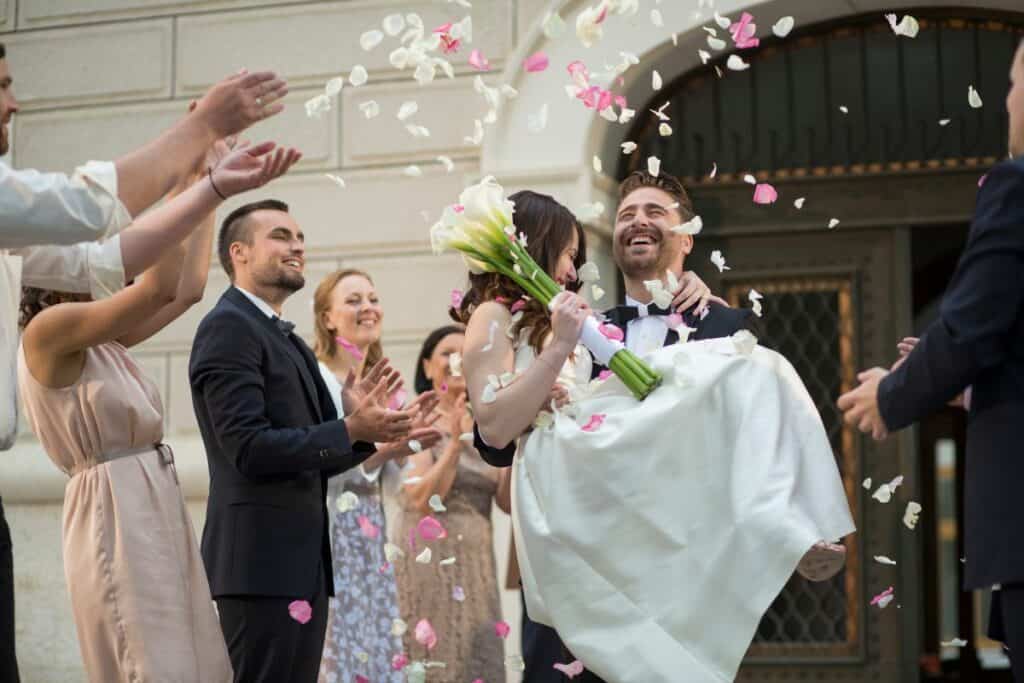 Ready to add a little pep to your wedding exit? We've got just the thing: Lighthearted Pop Songs!
Not only are these tunes catchy and crowd-pleasing, but they'll put a smile on everyone's face as you make your grand exit. Plus, they're a great way to transition from the very formal ceremony to the more laid-back reception that's waiting for you just around the corner.
Rock Wedding Recessional Songs
We know what you're thinking, "Rock songs for a wedding exit? Is this couple trying to stage a mosh pit or something?"
But hear us out, folks. There's nothing like a guitar riff or a drum solo to pump up the energy and excitement for a memorable wedding exit. Plus, who says you can't rock out and profess your love at the same time? It's your choice to kickstart your "happily ever after" with some headbanging beats. Let's do this!
Country Wedding Recessional Songs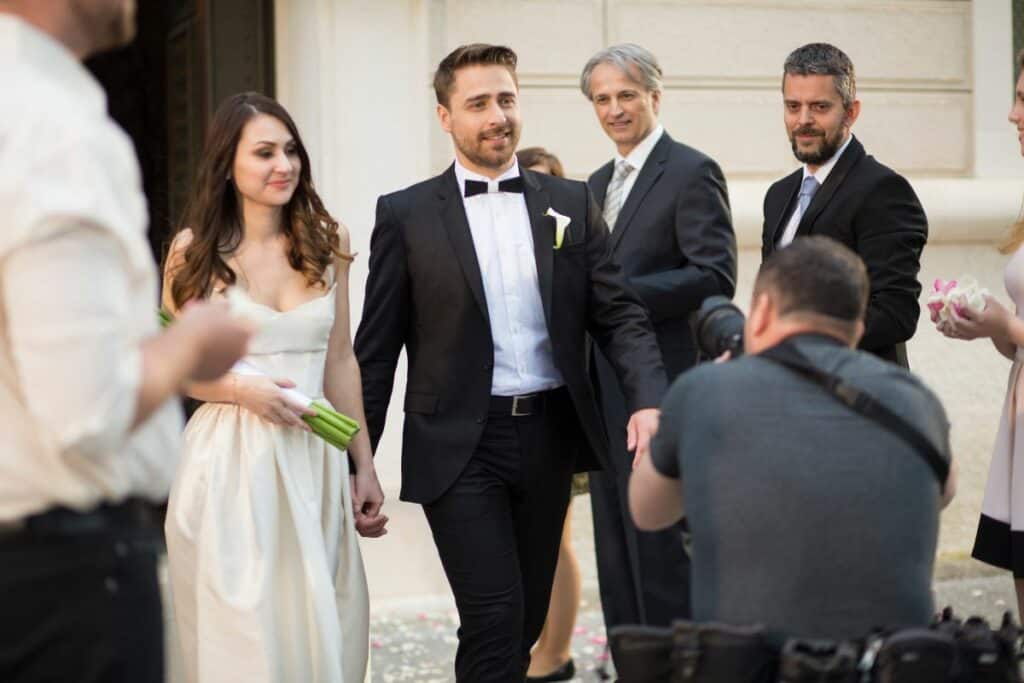 If you're looking to ride off into the sunset with your sweetheart after tying the knot, consider some good old-fashioned Country tunes to accompany your grand exit.
Let's face it, nothing screams romance quite like a twangy guitar and a heartfelt chorus about love and commitment. Whether you're two-stepping down the aisle or boogying out the door, we have the best Country songs that are sure to have you and your guests feeling the love.
So, dust off those boots and get ready to say "I do" to some of the best Country wedding ceremony exit songs out there.
Jazz Wedding Recessional Songs
Looking for a groovy and sophisticated beat to escort you and your new spouse out of wedded bliss and into married life? Look no further than the world of jazz!
Jazz music has a way of elevating any moment to a cool and classy level, making it the perfect accompaniment to your wedding ceremony exit. With its soulful saxophones, smooth crooners, and dazzling horns, jazz music will have your guests snapping their fingers, tapping their toes, and feeling the love in the air.
R&B and Soul Wedding Recessional Songs
If you want to add some serious soul and groove to your big day, then you've come to the right place. R&B and Soul songs are the perfect choice for your Recessional songs, as these tunes are full of energy and passion that will have your guests clapping along.
From classic Motown hits to modern jams, these songs will ensure that your wedding exit is unforgettable. So grab your dancing shoes and get ready to boogie as we take you through our top picks for R&B and Soul songs for your wedding ceremony exit.
Disco and Dance Wedding Recessional Music
Ladies and gentlemen, let's get ready to boogie! When it comes to choosing a song for your wedding ceremony exit, why not spice things up with some disco and dance tunes?
Not only will the beat keep your guests grooving all the way out the door, but these songs also offer a sense of lightheartedness and fun to your big day.
Picture it now: you and your newly betrothed strut down the aisle to the sound of "Come and Get Your Love" Your guests will be waving their hands in the air like they just don't care, and the whole scene will be like a vintage club night out of your wildest dreams.
Hip Hop and Rap Wedding Recessional Songs
Who said weddings have to be all about slow and sappy songs? Hip Hop and Rap songs might just be the perfect genre to spice up your wedding recessional.
With their catchy beats and clever lyrics, these songs can bring a whole new level of energy and excitement to the occasion. Plus, they're a great way to show off your unique taste in music and inject some personality into your grand exit.
Indie Wedding Recessional Songs
Ready to rock and roll out of your wedding ceremony in style? Why not add some indie flair to your big day with our carefully curated list of indie songs for the perfect wedding recessional?
While it may seem unconventional, indie music can add a unique and refreshing touch to your special moment, giving you the chance to show off your cool and eclectic taste to all of your guests.
With upbeat rhythms, catchy lyrics, and an infectious energy, these indie gems are sure to have everyone on their feet and dancing their way out of the chapel.
Nostalgia Wedding Recessional Songs
Nostalgia songs are all the rage these days, and they are the ideal choice to make your wedding exit memorable.
A tune that takes you back to a simpler time, a time before the wedding planning madness took over your life. Nostalgia songs have that special power to transport us back in time and stir up all the feels. They're perfect for that sweet and sentimental moment when you and your love strut down the aisle as officially married folk.
Instrumental Wedding Recessional Music
Finally, we will take a look at the good ol' instrumental music for your wedding recessional. You may think that these are the same old wedding songs that everyone's tired of, but we have some fresh cool arrangements and choices that match your personality and wedding theme.
Besides, with instrumental music, there's no need to worry about awkward lyrics or inappropriate innuendos making their way into the soundtrack of your perfect day. So, ditch the vocal cords and let the music do the talking!
Conclusion
And there you have it – a comprehensive list of wedding ceremony exit songs to end your big day with style and flare. Whether you want something traditional, modern, or off-beat, this selection has something to suit every taste.
Have fun exploring the world of music and make sure to get your dancing shoes on when that special song starts playing – you don't want to miss out on the chance to make a fantastic exit! Finally, just remember when it all comes together in the end that you'll be making memories that will last a lifetime. Best of luck and congratulations!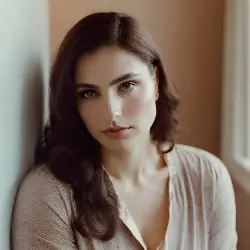 Latest posts by Ana Medea
(see all)