Nothing marks the special bond between a father and daughter like a dance at her wedding. As everyone gathers around to watch the two of them take center stage, it's that magical moment that will stay with you and your dad forever—if you can get through it without sobbing into each other's arms!
Whether you dream of grooving to some classic hits or swaying away with an easy-listening love song, selecting your perfect father-daughter dance music doesn't have to be as daunting as it seems. To help make your search easier and provide a bit of musical inspiration for the heartwarming event, our list covers 218 songs tailored for all tastes from country solos to timeless jazz classics.
If the big day is fast approaching and you're feeling overwhelmed by all of your choices, keep reading – these are guaranteed to warm hearts during any father-daughter party on the dance floor!
See also: Mother Son Dance Songs for Your Wedding
Pop Father-Daughter Dance Songs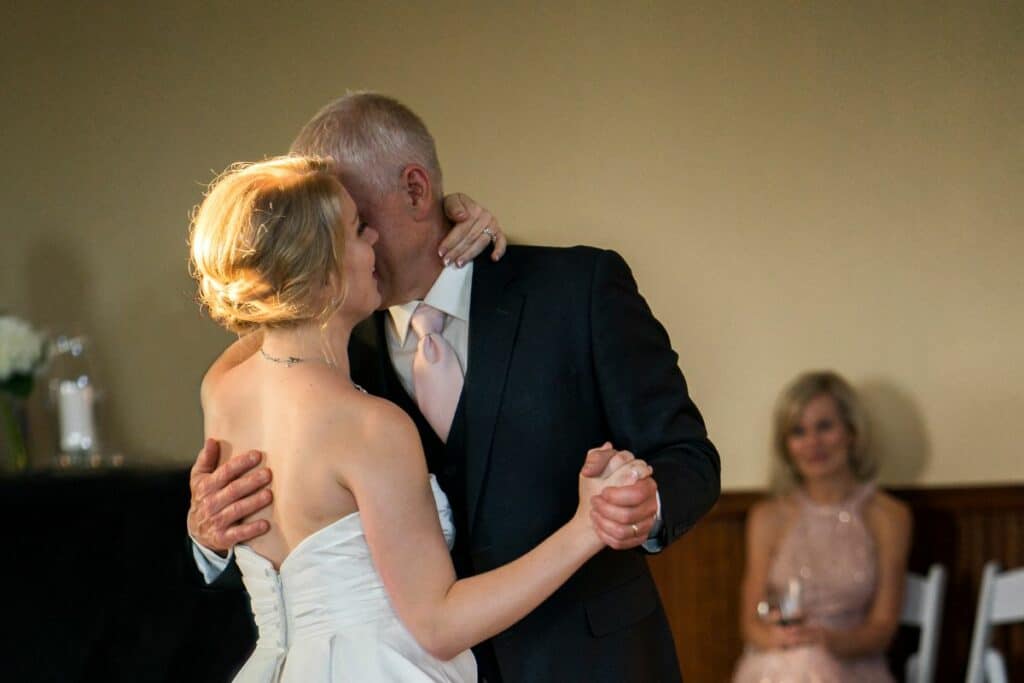 Hold on to your heartstrings because our curated collection of Pop Father-Daughter Wedding Dance Songs is ready to tug at those emotions! These timeless tunes effortlessly blend heartfelt lyrics with catchy melodies, capturing the essence of that special bond between father and daughter.
Whether it's a classic hit or a modern chart-topper, these pop gems are sure to create an unforgettable dance floor moment. So grab Dad's hand, and let's take a trip down memory lane with these swoon-worthy songs that'll turn your wedding reception into a night you'll both treasure forever.
Rock Father-Daughter Dance Songs
When it comes to picking a song for a father daughter dance at a wedding, many people go for the slow and sentimental option. But why not switch things up and rock out with your dad instead?
We've compiled a list of the best rock songs for this special dance, and let me tell you, they will have you and your old man headbanging all night long. From classic hits like "She's A Rainbow" by The The Rolling Stones to more mellow options like "Daddy's Little Girl" by Michael Bolton, this playlist is sure to have something that will make your dad proud to be your rockstar!
Jazz & Soul Father-Daughter Dance Songs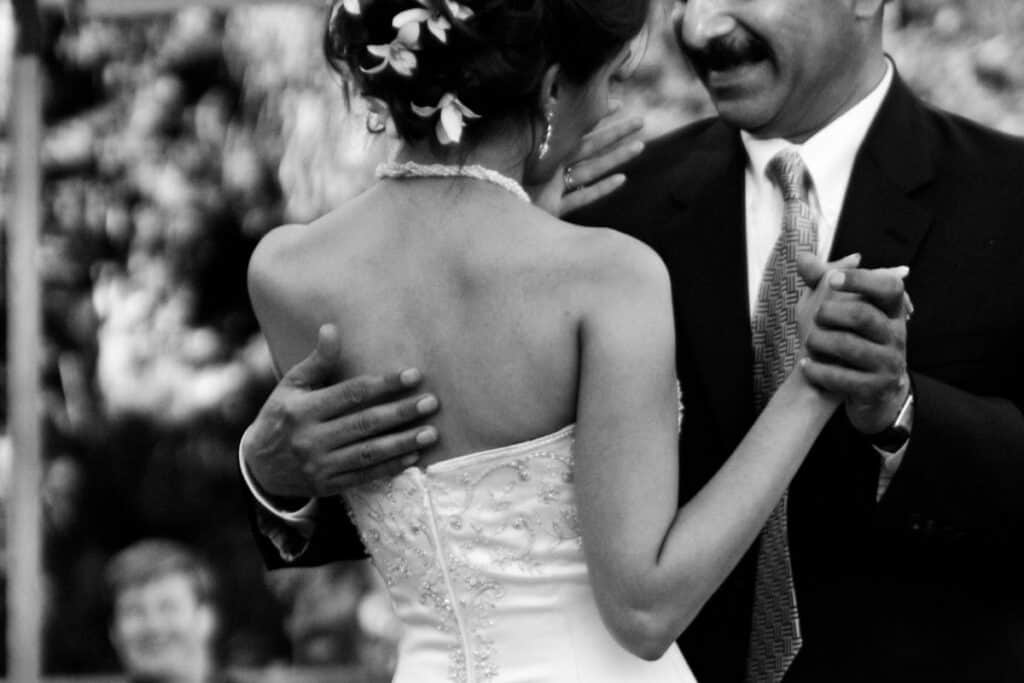 Ladies and gentlemen, it's time to put on your dancing shoes because we've got a killer selection of jazz and soul songs for the father-daughter dance at your wedding.
We've curated a specially crafted playlist that will make sure your guests are tapping their feet and grooving along with you both. No more boring slow songs that put your daughter to sleep – we're talking about lively beats that will have even the shyest dads showing off their fancy footwork.
After all, it's not about perfection, it's about having fun and creating memories that will last a lifetime!
Country Father-Daughter Dance Songs
Get ready to put on your cowboy boots and grab your dad's hand because we've got a line-up of country songs that are perfect for father-daughter dances at any wedding.
From touching ballads to upbeat tunes, our selection is sure to get everyone tapping their toes and shedding a tear or two. We've got songs that will transport you to the rolling hills of Tennessee and songs that will make you want to roll out your best two-step.
Nostalgia Father-Daughter Dance Songs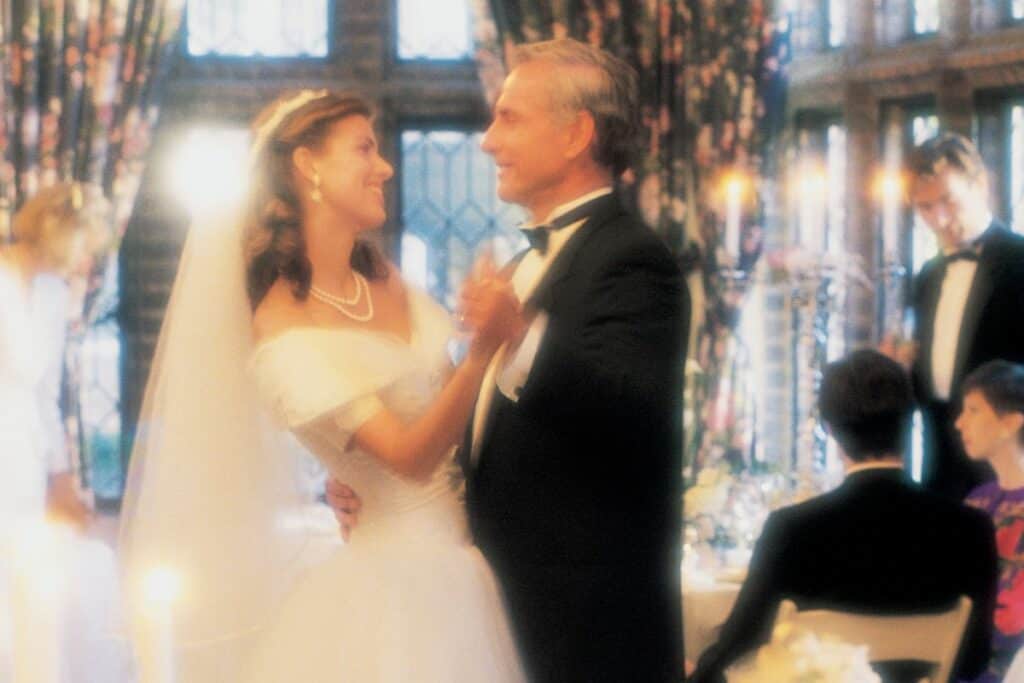 There's just something about a father-daughter dance that gets me every time. Maybe it's the sweet look on dad's face as he spins his little girl around the dance floor. Or maybe it's because I secretly wish my dad was that smooth on the dance floor.
And what better way to evoke all the warm and fuzzy feelings than with some good old-fashioned nostalgia? From "She's Leaving Home" to "When You're Smiling," we've got you covered with the most heartwarming nostalgia songs that will have even the toughest of dads shedding a tear (or ten).
More Father Daughter Dance Song Ideas
If you still haven't found your perfect Father Daughter dance song after browsing our lists above, then how about adding some flavor to your wedding reception with a variety of genres for your father-daughter dance.
We've got a variety of genres for you to choose from – whether you want to get funky with some disco, twirl around to a waltz, or even headbang to a rock ballad, we've got you covered.
Let your personalities shine and show off your fancy footwork. Who says your wedding reception has to be all formalities? Get loose and have some fun with your dad on the dance floor – it's a memory you'll cherish forever.
Conclusion
It's always a special moment when it's time for the father-daughter dance at a wedding, and this list of 218 heartwarming songs should make that moment extra unforgettable. Whether you're both country music fans or fans of old classics, this list has something for every father-daughter duo looking to make the most of their big day.
No matter which song you choose, keep in mind that it's about creating a moment for just the two of you to enjoy – one that will stay in your memory long after you take your last step on the dance floor. Put on your dancing shoes and let the music take over; it'll be an awe-inspiring night!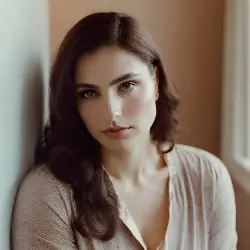 Latest posts by Ana Medea
(see all)