From youthful ballads to nostalgic classics, a mother and son wedding dance is the perfect way to honor your mom on the most special of days. The right song can really set the tone for a beautiful moment that neither you nor your guests will soon forget.
With all the heartfelt emotions of this special occasion in mind, we searched far and wide for inspiring music fit for memorable mother-son choreography. Get ready to find over 200 incredible mother/son songs guaranteed to give everyone attending an extra dose of joy!
See also:
218 Father-Daughter Dance Songs
118 Brother Sister Dance Songs
25 Best Mother-Son Wedding Dance Songs – Our Picks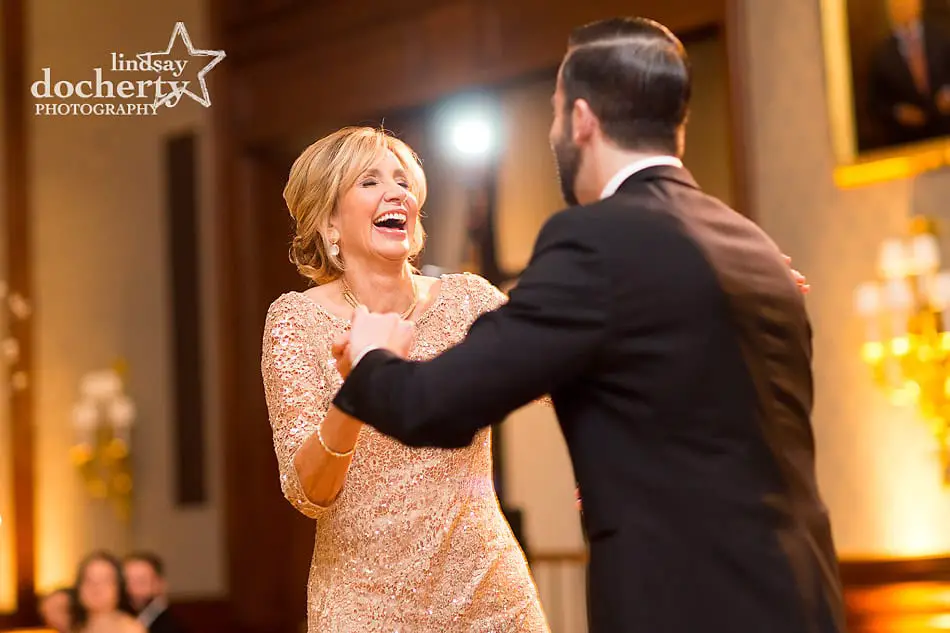 Roll out the red carpet and break out the fancy tissues, because we're taking center stage with our top 25 Mother-Son Wedding Dance Songs for that unforgettable dance!
This exquisite selection showcases the beauty of a mother's devotion and her son's love, embellished by a divine soundtrack.
Whether you prefer tender ballads, crowd-pleasing classics, or even unexpected tunes that touch your heart just right—we've got you covered!
So embrace each other's arms and get ready to glide gracefully across the dance floor to these swoon-worthy melodies as we toast to this treasured moment between momma and her baby boy.
Stand-Out Lyric: "You raise me up, so I can stand on mountains."
If you're looking for a powerful mother and son dance song for your wedding, then look no further than "You Raise Me Up!".
This classic song is the perfect accompaniment for this part of your special day.
Stand-Out Lyric: "You fill my heart with gladness."
This Van Morrison classic is an excellent mother-son dance song at any wedding reception.
All of the lyrics are great at reminding the groom to express his love for his mother on his big day.
And whatever version is played, the true meaning of the lyrics shines through.
Stand-Out Lyrics: "Forever young / I want to be forever young."
This song is every parent's ode to their children, about guiding their children towards the right path and helping them grow to become better people.
It also says a lot about growing up but still managing to stay young. 
Mom – Meghan Trainor
Stand-Out Lyrics: "Ain't nobody got a mom like mine"
Meghan Trainor's "Mom" is the perfect upbeat tune for any mother-son dance.
It's an excellent way to show off your dance moves while paying homage to the incredible woman who raised you, and the relationship you share.
Stand-Out Lyrics: "Before you cross the street / Take my hand  / Life is what happens to you while you're busy…"
John Lennon wrote this song for his son, Sean. The song itself sounds like a classic lullaby that references the process of growing up.
It also talks about the relationship between a parent and their son.
Stand-Out Lyrics: "One bright and guiding light / …  I found in my mother's eyes"
If the groom's mother is a big fan of old-time music, this iconic track by Frankie Valli might be the solution to your problems.
The timeless lyrics in "My Mother's Eyes" express love and appreciation for a parent.
Stand-Out Lyrics: "She rocks me like the rock of ages and loves me."
The lyrics of "Loves Me Like A Rock" talk all about the immense love between a mother and a son.
It is a perfect way to celebrate such a special moment and will be something that a mother can cherish forever.
Stand-Out Lyrics: "You're an angel dressed in armor."
"Close Your Eyes" is an excellent tribute to the strength of women. It also shows how much men depend on them and the stability that a mother can provide in her son's life.
It's definitely something to be celebrated on the big day!
Stand-Out Lyrics: "How long will I love you / As long as stars are above you."
Ellie Goulding's track is all about the infinite importance of family and love. The melody is calm and relaxed for everyone to enjoy.
It's not overly sentimental but it's enough to get the waterworks going during a mother-son dance!
Stand-Out Lyrics:  "Well my mama told me there'll be days like this"
"Days Like This" tells a unique story. Mainly, it encourages us to embrace happier days, forget about our troubles, and appreciate all of the good we have in life, much like your mother always said.
This makes it a great song choice for a mother-son dance.
Stand-Out Lyrics: "Forget your lust for the rich man's gold / All that you need is in your soul."
This song is known to be a staple at weddings, especially for the mother-son dance.
This is because of its simple yet effective message that everyone should enjoy the simple things in life. 
My Wish – Rascal Flatts
Stand-Out Lyrics: "My wish, for you, is that this life becomes all that you want it to."
If you want something heartfelt yet equally as fun, then look no further.
The lyrics in Rascal Flatts' "My Wish" suggest that the speaker wants other people to know that they are loved and that they wish nothing but greatness on them and their lives. 
Stand-Out Lyrics: "You are the sunshine of my life / … Forever you'll stay in my heart"
This is one of the greatest and most popular mother-son dance songs out there.
It features simple yet sweet lyrics that reflect just how special a mother-son relationship is, and is an effective way to create a special moment for mother and son alike.
Stand-Out Lyrics: "Oh my beautiful mother / … Son in life you're gonna go far / If you do it right / You'll love where you are."
The heartfelt lyrics of "93 Million Miles" reflect on maintaining a strong relationship between a son and his mother as he ventures into an unknown part of life.
Playing this song during your mother-son dance will inspire lots of sentimentality from everyone in attendance.
You Are My Sunshine – Morgane Stapleton And Chris Stapleton
Stand-Out Lyrics: "You make me happy when skies are grey."
This version of a classic old-timey lullaby will create a truly unforgettable mother-son dance experience.
Its country twist transforms the song into a slower ballad that makes it perfect for any mother-son duo during their dance.
Stand-Out Lyrics: "I wanted to tell her how grateful I am … I love you, Mama"
The lyrics are simple and self-explanatory in expressing a child's love for their mother.
"Letter To My Mother" has lots of emotional depth and is quite a sentimental choice for the mother-son dance.
Stand-Out Lyrics: "For all the joy you brought to my life / For all the wrong that you made right"
This Celine Dion song makes for a great soundtrack in such a core sentimental moment in any mother's life.
It will create a powerful moment between a mother and a son as they embrace such an important part of their lives.
Stand-Out Lyrics: "When I love I give it all I've got / Like my mother does."
"Like My Mother Does" is an ode to the strength of maternal love. This song showcases the incredible relationship between a mother and her child.
It shows that mothers are always there in times of need and hardship.
Stand-Out Lyrics: "The way the sun brings those freckles out, / … He gets that from me"
It's the perfect accompaniment to any mother-son wedding dance. It's a love letter from mother to son that is written after the death of her husband.
It describes their close relationship and reflects on how she sees her attributes in her son.
Stand-Out Lyrics: "Mama said there'll be days like this / There'll be days like this my Mama said"
This is a classic 60s bop about motherhood and the comfort that a mother can provide to her son.
It is a pretty upbeat song to choose for a mother-son dance but has lots of meaningful lyrics that make it a stand-out choice.
Stand-Out Lyrics: "Oh, I won't be afraid / Just as long as you stand, stand by me"
This is the perfect mother-son dance song choice for protective mothers.
It describes the close bond between mother and son and their supportive roles in each other's lives through a catchy melody and a recognizable chorus.
Stand-Out Lyrics: "Then I call my Mama to help me / And she came right away."
If you're looking for a song choice with lots of soul, consider this one for your reception.
The lyrics talk about venturing into the unknown but still needing a mother's guidance in navigating new waters, which could be relevant on your special day!
Stand-Out Lyrics: "She's the sky that holds the clouds … A blind believer in all I dare to be"
This track by That Band Perry is much more subdued than others on this list, with lovely lyrics and a mellow instrumental.
It's a heartwarming reminder of the beauty, grace, and strength that a mother possesses.
Stand-Out Lyrics: " I'll always thank you / More than you would know … I'll always love you."
Good Charlotte is widely known for producing pop and rock hits, but the mellow nature and statements about admiration and respect within "Thank You Mom" stand out for all the right reasons.
It's a great choice for all mother-son dances. 
Stand-Out Lyrics: "In my life, I love you more."
As a sentimental tune in its purest form, "In My Life" is a timeless track that is a great choice for a mother-son dance.
In just over 2 minutes, the lyrics and catchy tune shine a spotlight onto the mother and son duo and the special relationship that they share.
Pop Mother-Son Wedding Dance Songs
Now that you've feasted your eyes on our top picks for mother-son wedding dance songs, let's dive deeper into the wide world of genres!
Kicking off with pop tunes, get ready to groove and tear up as these heartwarming Pop Mother-Son Wedding Dance Songs twirl through lyrics steeped in love and memories. With their catchy melodies and swoon-worthy vibes, these songs are sure to add an unforgettable touch of magic to your mother-son dance.
So why wait? Explore these irresistible pop gems that'll create a moment both you and Mom will treasure forever!
Country Mother-Son Wedding Dance Songs
Get ready to put on those cowboy boots and grab your mama, because we've got some country tunes that are perfect for your mother-son wedding dance! From tear-jerking ballads to toe-tapping jams, our selection of songs will have you and your mama swaying and twirling on the dance floor like nobody's watching.
And let's be real, there's just something special about a country song that speaks straight to the heart. Time to take a ride down country lane and make some unforgettable memories with your number one lady. Yeehaw!
Rock Mother-Son Wedding Dance Songs
Get ready to rock out with your mom at your wedding reception! We've curated a kick-ass playlist of rock songs that will have you and your mom tearing up the dance floor. From classic rock anthems to modern hits, we've got something for everyone.
R&B, Jazz and Soul Mother-Son Wedding Dance Songs
Get ready to bust a move with our curated selection of R&B, Jazz and Soul songs for Mother-Son wedding dances. We've got everything from the smooth grooves of Stevie Wonder to the sultry sounds of Adele. But don't worry, you won't need to do any fancy footwork or twirls to impress your dear old mom.
This is a celebration of your love for each other, so just let loose and enjoy the music. Trust us, with these tunes playing in the background, even the shyest of grooms will be moving and shaking.
Nostalgia Mother-Son Wedding Dance Songs
Are you ready to boogie down memory lane with our list of Nostalgia Songs for Mother-Son Wedding Dances? These tunes will have you and your mom tapping your toes and reminiscing about the good old days.
Whether you want to slow dance to Louis Armstrong's "What A Wonderful World" or bust a move to The Beatles' "I'm Happy Just To Dance With You," we've got you covered. So put on your dancing shoes, grab your favorite lady and get ready to make some new memories with these timeless tunes.
More Mother-Son Wedding Dance Songs Ideas
Get ready to put on those dancing shoes, boys – it's time to talk about some out-of-the-box, non-traditional Mother-Son wedding dance songs.
Sure, you could go with the classic slow tunes or nostalgic throwbacks, but why not inject a little personality into the proceedings? How about busting a move to some funky disco beats? Or maybe even a little hip-hop swag for you and your mama?
We've got a whole range of genres to choose from, so get creative and let's make this dance one to remember. Who knows, you might just start a new trend that all the other grooms will be envious of.
Summary
These are some of the greatest and most heartfelt song choices for a mother-son dance on your wedding day. 
But don't stress out about it! Granted, the mother-son dance is a very special moment in the whole wedding process,
However, the mother of the groom is bound to enjoy the experience regardless of the song choice!
If you are still undecided on the song you want at your wedding after browsing this list (but how is that possible?🤔), you should take the initiative to reach out to friends and family to get their input.

Latest posts by Jodie Messines
(see all)