Ahhh, happily ever after… nothing quite compares to a classic Disney wedding!
But when it comes to planning your fairytale nuptials, you want to make sure that all the special moments are captured – and let's face it, sometimes you can hardly remember which hashtag came first.
With 435 magical wedding hashtags inspired by our favorite Disney films, we've got your social media posts covered so you can focus on creating your own 'happily ever after'. So warm up those typing fingers and get ready for some serious #DisneyWeddingInspo!
Ladies and gentlemen, hold on to your (mouse) ears! We are about to dive into the enchanting world of Mickey Mouse wedding hashtags. Yes, you read that right. Who needs regular old hashtags when you could have ones inspired by the iconic Disney character?
From #MickeyAndMinnieTieTheKnot to #HappiestWeddingOnEarth, these hashtags are the cherry on top of any Disney-inspired wedding. So, grab your popcorn and sit back as we explore the magical world of Mickey Mouse wedding hashtags. Trust me, it's going to be a ride worth taking!
#MickeyAndMinnieTieTheKnot
#MouseMarriageMagic
#DisneyDreamsComeTrueWithMickey
#MickeySaysIDo
#TheHappiestMousiestWeddingEver
#MouseEarsAndWeddingCheers
#MarryingMickey
#TheMostMagicalMouseWedding
#HappilyEverAfterWithMickey
#MickeyAndTheBrideGetHitched
#AWholeNewMouseWedding
#MouseLoveAndMarriage
#MickeyAndMinnieGetHitched
#TheMickeyMouseWeddingExperience
#LoveInTheHouseOfMouse
#TheMouseThatGotTheGirl
#DisneyWeddingMagicWithMickey
#AWeddingForTheAgesWithMickey
#TheMickeyMouseWeddingAffair
#MickeyAndTheBrideForever
#TheMickeyMouseLoveStory
#AWholeNewWorldOfMickeyLove
#MickeyAndMinnieSaidIDo
#SmilingFromEarToEar
#MouseEarsOnTheAisle
#TheMickeyMouseBrideAndGroom
#TheHappiestMouseWeddingOnEarth
#MickeyAndTheBrideTieTheKnot
#MickeyAndMinnieForeverAndEver
#MickeyMouseTakesThePlunge
#TheMickeyMouseWeddingCelebration
#MouseWeddingMagic
#MickeyAndTheBrideGetMarried
#MouseLoveInTheAir
#TheMickeyMouseWeddingFantasy
#MickeyAndTheBrideAreGettingHitched
#TheMouseAndHisBride
#AWholeNewWorldOfMouseWeddingMagic
#MickeyAndMinnieForeverTogether
#TheMickeyMouseWeddingOfTheCentury
#MouseAndBrideSayIDo
#TheMickeyMouseWeddingParty
#MickeyAndTheBrideSaidYes
#MouseWeddingBells
#TheMickeyMouseWeddingExperienceOfALifetime
#MickeyAndMinnieSaidYes
#TheMostMagicalMouseMarriage
#MickeyAndTheBrideSayForever
Once upon a time, Cinderella had the wedding of her dreams. Her fairy godmother hooked her up with a beautiful gown, glass slippers, and even a horse and carriage ride to the ceremony. But let's be real here, what really made the day was her Instagram-worthy hashtag. You know, #CinderellaWeddingGoals or #GlassSlippersAndKisses.
And now, brides-to-be are taking note and creating their own magical hashtags. So grab your Prince Charming and start brainstorming, because you don't want to settle for anything less than a happily ever after hashtag.
#CinderellaSaidYes
#HappilyEverAfterWithCinderella
#CinderellaAndHerPrinceCharming
#FromRagsToRichesToWeddingDresses
#TheCinderellaWeddingExperience
#BibbidiBobbidiBride
#CinderellaAndTheGroomLiveHappilyEverAfter
#AWhimsicalCinderellaWedding
#GlassSlipperWorthyWedding
#TheCinderellaStoryContinues
#LoveAndHappilyEverAfterWithCinderella
#CinderellaAndHerHappilyEverAfter
#TheFairestWeddingOfThemAll
#CinderellaWeddingDreamsComeTrue
#TheCinderellaWeddingAffair
#AStorybookCinderellaWedding
#CinderellaAndThePrinceGetHitched
#TheCinderellaWeddingFantasy
#AOnceUponAWeddingWithCinderella
#FromCinderellaToBride
#TheCinderellaBrideAndGroom
#AWholeNewWorldOfCinderellaLove
#CinderellaSaidIDo
#TheRoyalCinderellaWedding
#CinderellaAndHerGlassSlipperGroom
#TheHappiestCinderellaWeddingOnEarth
#CinderellaAndThePrinceTieTheKnot
#TheCinderellaWeddingCelebration
#AEnchantedCinderellaWedding
#CinderellaAndThePrinceForeverTogether
#TheMostMagicalCinderellaWedding
#CinderellaAndThePrinceSayIDo
#AWholeNewWorldOfCinderellaWeddingMagic
#GlassSlippersAndKisses
#TheCinderellaWeddingExperienceOfALifetime
#CinderellaAndTheGroomAreGettingHitched
#TheCinderellaWeddingParty
#FromRagsToRichesToWeddingBliss
#TheCinderellaWeddingStory
#CinderellaAndThePrinceForeverAndEver
#ByeByeEvilStepmother
#CinderellaWeddingMagic
#TheCinderellaWeddingOfTheCentury
#CinderellaAndThePrinceSayForever
#TheFairyTaleCinderellaWedding
#TheCinderellaWeddingExperienceToRemember
#FromCinderellaToHappilyEverAfter
#TheCinderellaWeddingFairytale
Get ready to feel the magic coming your way with some enchanting wedding hashtags for your Beauty and the Beast themed wedding! Yes, you read that right! A fairytale wedding that celebrates the love story of Belle and the Beast is an absolute wonderland, and what better way to make it special than with some awesome hashtags that capture the essence of the story.
With a dash of humor and a sprinkle of creativity, you are sure to find the perfect hashtag that will serve as a reminder of your happily ever after. Get those imaginations running and let's dive into a world of hashtags that will leave you awestruck!
#BeOurGuestding
#TaleAsOldAsTimeTiesTheKnot
#BeOurBelleandGroom
#BeOurGuestsForLife
#TheBelleOfTheBallAndHerBeast
#AWhimsicalWeddingTale
#FallingForMyBeastFriend
#BeastModeMarriage
#DancingInOurEnchantedBallroom
#BelleOfTheBallAndHerBeau
#TheRoseHasChosenUs
#EnchantedForeverAfter
#HappilyEverBelleandBeast
#BeOurGuestsInTheGreatWideSomewhere
#BeOurHappilyEverAfter
#BelleAndHerBeastlyLove
#TheMagicOfOurLoveStory
#BeOurFairytaleWedding
#BelleAndTheBeastlyGroom
#FallingInLoveWithTheBeast
#AOnceUponATimeWedding
#OurFairytaleBeginning
#TheBeautyAndTheBeastlyTie
#BeOurForeverGuests
#AWhirlwindRomance
#BelleAndTheBeastSaidIDo
#OurTaleIsJustBeginning
#BeOurForeverAfter
#TheRoseWillNeverFadeForUs
#BelleAndBeastlyBridegroom
#FindingLoveInTheCastle
#ForeverAndAlwaysBeOurGuests
#TheMagicOfLoveAndFriendship
#BelleAndBeastlyBond
#BeOurBeautyAndTheBeastlyGroom
#DancingIntoOurHappilyEverAfter
#FromEnchantedRoseToWeddingPose
#AWhimsicalBeastlyWedding
#BeOurEverlastingGuests
#BelleAndTheBeastlyVows.
Welcome to our Snow White Wedding Hashtags section, where we'll show you how to make your wedding photos as enchanting as fairytale art. But don't worry, you don't need seven dwarfs to help you – all you need is the perfect hashtag! Because let's face it, no wedding is official without a hashtag.
And for those of you who have chosen a winter wonderland wedding, we have some snow-sational hashtags for you! So get your cameras ready and prepare to capture every magical moment with these Snow White approved hashtags that will make your wedding photos the fairest of them all!
#WhistleWhileWeWed
#FairestOfThemAllTiesTheKnot
#SnowWhiteAndHerHappilyEverAfter
#SevenDwarfsAndAWedding
#AWhistleWhileWeMarry
#AppleOfMyEyeWedding
#SnowWhiteAndHerPrinceCharming
#OnceUponAWeddingDay
#MirrorMirrorOnTheWallWho'sTheHappiestCoupleOfThemAll
#SomedayOurWeddingWillCome
#TheFairestWeddingOfThemAll
#HappilyEverAfterBeginsToday
#DwarfsInAttendance
#FromTheForestToTheAltar
#SnowWhiteAndTheSevenGroomsmen
#AHappyEndingWedding
#MineMineMineOurWeddingDay
#AWhistleWhileWeWedAndDance
#SnowWhiteAndHerForeverAfter
#SevenDwarfsForSevenGroomsman
#HappilyEverAfterWithSnowWhite
#WhistlingDownTheAisle
#OurLoveStoryIsFairytale
#FairestBrideInAllTheLand
#WhistleWhileWeSayIDo
#ThePrinceAndHisFairBride
#FromTheMinesToTheAltar
#LoveAsPureAsSnow
#OnceUponADreamyWedding
#WishingWellOfLoveAndMarriage
#TheAppleDidn'tFallFarFromTheTree
#WhistlingIntoMarriedLife
#SnowWhiteAndHerHappilyEverAfterGroom
#AWhistleWhileWeBecomeOne
#FromTheWoodsToTheAisle
#TheFairestBrideAndHerPrince
#SomedayOurPrinceWillComeToOurWedding
#DancingInOurEnchantedForest
#OurLoveIsTheFairestOfThemAll
#WhistlingTheWeddingMarch
Ah, Sleeping Beauty. The lovable princess who spent most of her life in a coma, waiting for true love's kiss to wake her up. But once she finally found her Prince Charming, it was time for a fairy tale wedding. And what comes with every wedding in today's age?
Hashtags, of course! So, let's throw on our tiaras and dive into the wonderful world of Sleeping Beauty wedding hashtags. From #HappilyEverAfterSleepyBride to #AuroraGotHerMan, these hashtags are sure to make you laugh and feel like royalty. So, start scrolling and get ready to fall in love with happily ever afters all over again.
#SleepingBeautyAndHerBeau
#OnceUponADreamWedding
#AuroraGotHerMan
#TrueLove'sKissWedding
#EnchantedEverAfter
#SleepingBeautySaysIDo
#AwakenedByLoveWedding
#FairyTaleWeddingDreams
#RosePetalsAndWeddingBells
#FromSlumberToForever
#AuroraAndPhillipForeverAfter
#Love'sSweetKissWedding
#HappilyEverAuroraWedding
#WakingUpToForever
#LoveConquersAllWedding
#PrinceCharmingAndHisSleepingBeauty
#ThornlessPathToLove
#DreamyWeddingWishes
#SleepingBeauty'sAwakeningWedding
#RoseAndCrownsWedding
It's time to shell-abrate because we're diving into the world of The Little Mermaid wedding hashtags! Whether you're planning an underwater extravaganza or just want to add some aquatic vibes to your special day, we've got you covered with fin-tastic puns and whimsical wordplay.
From #SeasTheDay to #FishyForever, these hashtags are sure to make a splash on social media and have your guests feeling like they're part of Ariel's world. So grab your dinglehopper, pop open a bottle of bubbly, and let's swim into the sea of mermaid magic!
#ArielAndEricTieTheKnot
#UnderTheSeaWithUs
#MermaidKissAndWeddingBliss
#SeasTheDayWithArielAndEric
#ShellWeWed
#TheLittleMermaidSaidIDo
#MakingWavesWithOurLove
#SeasTheDay
#MarriedToMyMermaidMan
#DiveIntoLoveWithUs
#FlounderFoundHisMatch
#OceansOfLove
#WeddingFinTastic
#TritonSaysIDo
#MermaidAndHerPrinceCharming
#TaleAsOldAsTimeUnderTheSea
#FishyForever
#WhositsAndWhatsitsGalore
#LoveOnTheHalfShell
#KissTheGirlAndSayIDo
#FromFinsToForever
#SealedWithASplash
Get ready to rub your lamps and make some wishes, because we're diving into the magical world of Aladdin wedding hashtags! Whether you're a prince looking to marry your princess, or a diamond in the rough searching for your one true love, there's no denying that an Aladdin-themed wedding is the ultimate way to add some enchantment to your special day.
From #AWholeNewWedding to #PrinceAliGotMarried, these hashtags will have your guests singing "A Whole New World" all night long. So take your seat on your magic carpet and get ready for a ride of a lifetime, because these Aladdin wedding hashtags are sure to make your happily ever after sparkle and shine just like a genie's lamp.
#AWholeNewVow
#AladdinsWife
#JasmineAndAladdinTieTheKnot
#RidingOffIntoTheAgrabahSunset
#MagicMatrimonialCarpet
#PrinceAliFoundHisPrincess
#AgrabahAdventuresForever
#AWholeNewWedding
#DiamondInTheRoyalRough
#ArabianNightsToWeddedBliss
#TheGenieApprovedOurMarriage
#CaveOfWondersWedding
#WishingUponAWedding
#ShiningShimmeringSoulmates
#LoveInAHopelessPlace
#SultanAndSultanaSayIDo
#BibbidiBobbidiBride
#TheMagicOfOurLoveStory
#WeddingWishFulfilled
#HappilyEverAgrabah
#ThePrincessAndTheStreetRatSayIDo
Are you ready to roar with excitement because Simba and Nala are tying the knot? Well, we certainly are! The Lion King Wedding is one of the most anticipated events in the animal kingdom, and we want to make sure it's a party to remember.
That's why we've come up with some paw-some hashtags to capture every moment of this wild celebration. From #HakunaMatataMarriage to #PrideRockParty, we've got you covered. Let's go ahead and get those cameras ready because this wedding is going to be grrr-eat!
#HakunaMatataMarriage
#CircleOfLove
#TheLionAndHisQueen
#CanYouFeelTheWeddingTonight
#HappilyEverAfterPrideRock
#SimbaAndNalaTieTheKnot
#PumbaAndTimonWereTheBestMen
#RoaringWithLove
#TheWeddingKing
#TheLionessAndTheLionSayIDo
#LionHeartedLoveStory
#HearUsRoarTogether
#SavannahSoulmates
#HakunaMatrimony
#WildAtHeartWedding
#RafikiBlessedOurMarriage
#TheCircleOfMarriage
#PrideRockNuptials
#FromCubToCouple
#KingAndQueenOfTheJungleSayingIDo
Brrrrrrrrrr! It's time to break out the parkas and prepare for a Frozen-themed wedding extravaganza! You've got your icy blue dress, your frosted flower arrangements, and your Olaf-shaped cake all ready to go, but what about your hashtags?
Don't let your social media game freeze over! We've got you covered with some punny and playful #FrozenWedding hashtags that will have your followers trying to thaw out their frozen hearts. So, put on your frosty tiara and get ready to slay the ice queen game with these cool hashtags. Let it glow, let it glow, let it glow!
#FromArendelleToTheAisle
#WarmHugsAndWeddingBells
#FrozenFantasyWedding
#KristoffAndAnnaSayIDo
#MarryingMyOwnOlaf
#FrozenHeartBeatsAsOne
#TrueLoveThawsAll
#TheIcyKissOfMarriage
#SnowyAndWed
#ThePerfectSnowflakes
#FrozenHeartFilledWithLove
#IcyTillTheEndOfTime
#OurFrozenFairytale
#DoYouWantToBuildAWedding
#FrostyLoveForever
#TogetherInArendelle
#AnEternalWinterOfLove
#ArendelleDreamWedding
#FrozenFrolics
#SnowySoulmates
#FrozenInLoveForever
#TheColdNeverBotheredUsAnyway
#LetItGoToTheAltar
#DoYouWantToMarryASnowman
#TheIceQueenAndHerKing
#ThawingOutOurHearts
#FrozenForeverTogether
#ElsaAndKristoffSayIDo
#LoveIsAnOpenDoorToMarriage
#ChillingWithMySoulmate
#FrozenHeartsWarmTogether
#SvenTheRingBearer
#MarryingMyHansomePrince
#FrozenLoveMeltsOurHearts
#BuildingASnowmanTogether
#SisterlyLoveWedding
#HappilyEverFrosted
#TheSnowQueenAndHerKing
#TheWinterWeddingOfOurDreams
#LetOurLoveThawTheFrozenHeart
You know what they say, love is a journey, and what better way to celebrate that journey than with some wacky and punny hashtags? If you're planning a Tangled-themed wedding, you're in for a treat. With all the lanterns, the frying pans, and of course, Rapunzel's luscious locks, the possibilities for hashtags are endless.
Whether you're a fan of Flynn Rider's smolder or the chameleon Pascal's sass, we've got you covered with some of the most unique, creative, and downright hilarious hashtags out there. So, let's dive right in and see what kind of magic we can create with Tangled wedding hashtags!
#TiedTheKnotLikeRapunzel
#LoveLitTheLanterns
#TangledInLove
#TangledTalesOfTwo
#TangledUpInEachOther
#TangledTogetherForever
#TangledHappilyEverAfter
#RapunzelsRomance
#FlynnAndRapunzelForever
#TangledInMarriage
#RapunzelsWeddingWishes
#TangledUpInWeddingBliss
#LetDownYourHairForLove
#FromTangledToWed
#RapunzelsLoveKnot
#TangledUpInTyingTheKnot
#HappilyTangledAfter
#OnceUponATangledWedding
#TangledTieTheKnot
#TangledUpInWeddedBliss
Are you ready to get froggy with it? Because we're diving into a section all about the Princess and the Frog wedding hashtags! If you're planning on tying the knot soon and looking for a way to add a little magic (and humor) to your big day, you've come to the right place.
From #KissAFrogToFindYourPrince to #LoveIsTiana-ful, we've compiled a list of hashtags that will make your guests ribbit with laughter. Don't worry, we won't be throwing shade on the enchanting story of Tiana and Prince Naveen (we love them as much as you do), but we also acknowledge the hilarious hop-potunities for puns. So, let's jump right in!
#HoppilyEverAfter
#IAmFinallyThere
#KissTheFrog
#BayouBrideandGroom
#TianaTiesTheKnot
#FairyTaleRibbit
#FrogPrinceCharming
#CroakAndRoll
#MardiGrasMatrimony
#EnchantedSwampSoiree
#LoveIsTiana-ful
#ThePrincessAndTheGroom
#FrogtasticWedding
#LilyPadLove
#NaveenAndTianaTieTheKnot
#KissMe, I'm a Prince
#SwampySoulmates
#NewOrleansNuptials
#AWholeNewWife
#LoveInTheBayou
#FairyTaleFroggyWedding
#OnceUponAFrog
Aloha, lovebirds! Are you planning a tropical-themed wedding with all the beautiful colors of the ocean and the exotic flowers of the island? Then, you can't miss the chance to include some Moana-inspired wedding hashtags to make your special day even more magical!
Whether you want to incorporate the brave and adventurous spirit of Moana or the playful nature of Maui, we've got you covered with a list of unique and creative wedding hashtags. So, grab a piña colada, put on some ukulele music, and let's dive into the world of Moana wedding hashtags!
#MoanaAndMauiTieTheKnot
#SailingIntoMarriage
#MoanasBigDay
#TheOceanBroughtUsTogether
#HeiHeiSaysIDo
#MoanaAndMauiSayAlohaToForever
#TheHeartOfTeFitiMarries
#WeKnowTheWayToHappilyEverAfter
#MoanaAndMauiAdventureTogether
#MoanasVoyageToMarriage
#ShinyRingForMoana
#HappilyEverAfterIsOutThere
#MoanaAndMauiDiscoverLove
#TheIslandOfLove
#MoanasOceanLoveStory
#MauiAndMoanasBigDay
#WeAreMoanaAndMaui
#MoanasJourneyToTheAltar
#OurLoveIsLikeTheTides
#MoanaAndMauiFindTheirWayToEachOther
Get ready to RSVP to the party of the year because we've got the Mulan wedding hashtags that will have you feeling as if you're right there in the middle of the action. Whether you're a fan of Mushu or Li Shang, these hashtags are sure to have you laughing, crying, and clapping along with the festivities.
From #MulanGetsHitched to #MatchmakerMakeMeAMatch, we've got it all covered with the perfect mix of humor and heart. So put on your best red dress, grab a sword, and get ready for the wildest wedding in all of China!
#BringHonorToUsAllTyingTheKnot
#MatchmakerFindMeAMatch
#WarriorAndTheBride
#MakeAWomanOutOfMe
#GreatStoneDragonWitnessesOurLove
#FaZhouingOurWeddingDay
Let'sGetDownToBlissness
#FromThisDayForwardBeYourself
#ReflectionsOfOurLove
#DragonAndPhoenixSayIDo
#TheFlowerThatBloomedInOurHearts
#RideIntoOurHappilyEverAfter
#MakeAGroomOutOfYou
#LetUsTakeOurPlaceAmongTheStars
#BraveAsTheBrideAndGroom
#AncestorsBlessOurMarriage
#OurReflectionsEntwine
#ToughAsSteelInLove
#TheSwordThatProtectsOurLove
#LoyalBraveAndTrueToOurVows
#InThisMarriageWeBringHonor
#AHeartFullOfLoveForYou
#HappilyEverHappner
#MagicKingdomMarriage
#MickeyandMinniemony
#CinderellaStorytellers
#DreamsComeTrueTwo
#EnchantedLovebirds
#PrinceCharmingAndHisQueen
#FairyTaleTieTheKnot
#BibbidiBobbidiBooed
#LoveIsAnAdventureland
#OnceUponAWedding
#PixieDustedPromise
#TheLittleMermaidAndHerMate
#TangledUpInLoveKnots
#HakunaMatataMarried
#YouveGotAFriendInWed
#BeautyAndTheBeaus
#AWholeNewWife
#CircleOfLifePartners
#LetItGoToTheAltar
#UnderTheSealedTheDeal
#TheLionKingAndQueen
#PartOfYourWedding
#ReflectionsOfOurLove
#ColorsOfTheWedding
#ADreamIsAWishYourHeartMates
#BibbidiBobbidiBrideAndGroom
#HappilyEverHudson
#WonderlandWeddedBliss
#DisneyDreamsComeTwo
#AdventureIsOutThereTyingTheKnot
#DisneyLoveStorybookWedding
#BelleOfTheBallroom
#ItsaWonderfulWeddingWonderland
#OurMagicalMatrimony
#DisneyWeddingMagicMade
#HappilyEverAfterBeginsHere
#BeautyAndTheBrideAndGroom
#PrinceAndPrincessTieTheKnot
#HappiestWeddingOnEarthBound
#MickeyAndMinnieTieTheKnot
#TheBareNecessitiesOfLove
#TheJungleBookWedding
#OnceUponATrueLove
#HappilyEverAfterEveritt
#CinderellaAndPrinceCharming
#TheHappiestMarriageOnEarth
#TheLittleMermaidAndHerKing
#FlyAwayWithMeToNeverland
#TheLionKingAndHisQueen
#BibbidiBobbidiBrideAndGroom
#ThePrincessAndTheGroom
#HappilyEverAfterHoch
#EnchantedRoseWedding
#TaleAsOldAsTimeMarriage
#TheWonderfulWorldOfWedding
#LoveIsAnAdventurousJourney
#WeddingAdventureland
#BelleOfTheBridalBall
#DisneyDuoTieTheKnot
#OnceUponADisneyWedding
#PixieDustToTheAltar
#TheLionKingAndHisLioness
#PartOfYourHappilyEverAfter
#TheBeautyAndTheGroom
#BibbidiBobbidiBooingForever
#UnderTheSeasideWedding
#TheMagicalDisneyWedding
#TwoDisneyLoversForever
#DisneyFairytaleForever
#TheMostMagicalMarriage
#ThePrinceAndThePrincessTieTheKnot
#HappilyEverAfterHappens
#TheWeddingOfDisneyDreams
#TheDisneyCoupleTieTheKnot
#AWholeNewWorldOfLove
#TheHappiestDisneyWedding
#TheWonderfulWorldOfLove
#AWorldOfWeddingMagic
#DisneyAndTheBride
#AWholeNewWeddingWorld
#TangledInLoveForever
#TheWeddingOfOurDreamsComeTrue
#TheMostEnchantedMarriage
#TheHappiestWeddingOnEarthEver
#PrinceCharmingAndHisBride
#TheDisneyFairyTaleWedding
#LoveUnderTheDisneySky
#TheDisneyWishfulWedding
#TheWeddingOfDisneyLove
#TheHappilyEverAfterWedding
#LoveInTheMagicalKingdom
#AOnceUponATimeWedding
#DisneyLoveAndMarriage
#DisneyHappilyEverAfter
#TheWeddingOfDisneyMagic
#TheDisneyFairytaleMarriage
#TheDisneyMagicWedding
#DisneylandOfLove
In Conclusion
Wedding hashtags are the perfect way to give your wedding reception an extra touch of Disney magic. No matter how you decide to incorporate them into your celebration, they're sure to help make your guests laugh, smile, and have a great time!
Whether you go strictly #TeamMickey or make things more romantic with #LoveStoryForever, you'll be bringing your happily ever after to life in no time. With 450 Disney wedding hashtag ideas at the ready, you can rest assured that your fairy tale ending will be as magical as can be. Congrats on finding each other and starting this new adventure together!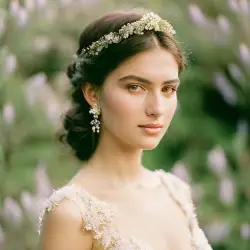 Latest posts by Rosie Liliy
(see all)