As your wedding day draws nearer, you may be starting to wonder what other things you need to plan. There's a lot to think about and consider before you actually stand up and say I do. 
One of the more popular trends today are the wedding hashtags you can use to celebrate your big day. You can use a wedding hashtag with your names, or with fun puns to make your wedding extra special. 
Wedding hashtags are not just a fun gimmick, they actually serve a purpose. So, why do you need a wedding hashtag, and what ones can you use depending on the letter? Read on to find out! 
Why You Need A Wedding Hashtag
Wedding hashtags are a great idea, as you can easily locate all of the candid, natural wedding shots that your guests have posted to Instagram, Facebook, or Twitter.
When you simply search for the wedding hashtag, you will see all of the photos and posts right there in front of you. It also keeps them all together nicely if you need to find them again to save any or print them off to remember the big day.
In addition, a wedding hashtag can fit in with the theme of your special day. It makes it that little bit more personal, as the whole day is about you and the celebration of your love.
If you want your own wedding hashtag, but are unsure where to start or how to pick one, then check out our handy guide of the best wedding hashtags by letter. 
You're sure to find one you can use or change up a little bit to suit your needs and make your special day that little bit more special. 
When it comes to a wedding hashtag, you can be really creative with it. You can choose whatever you want, but some of the best ones play on the first names and last names of the betrothed couple.
This makes it more personal, and reduces the likelihood of someone else using your wedding hashtag who isn't part of your wedding day. 
For example, if your married surname will be Matthews, then you will want to use a wedding hashtag that incorporates this, and ties in with the fact that you're getting married.
In this case, you could use a wedding hashtag such as #MeetTheMatthews, or #MakeHerAMatthews, or even #Mr&MrsMasonCelebration. Keeping the name as the main focus of the wedding hashtag ensures that this one is personal to you. 
If you're unsure of where to start, we've got a few examples for each and every letter of the alphabet that you can try!
#AnnouncingTheAllens
#AllYouNeedIsLoveAndAlexanders
#FeelingAmorousForAnders
#WelcomeToTheAdamsFamily
#AtLastAnAndrews
#AisleBeMarryingArmstrong
#AbbottDamnTime
#AlwaysBeTheAyads
#AisleToArnone
#I'llBeAnAbrams
#TheAaronsFamily 
#BetrothedToBaker
#BenjaminBetrothal
#BigDayForTheBrowns
#BlissfullyTheBennetts
#BellsRingingForTheBarnes
#BrooksToBe
#BesottedByMrBrown
#BrooksBondedForever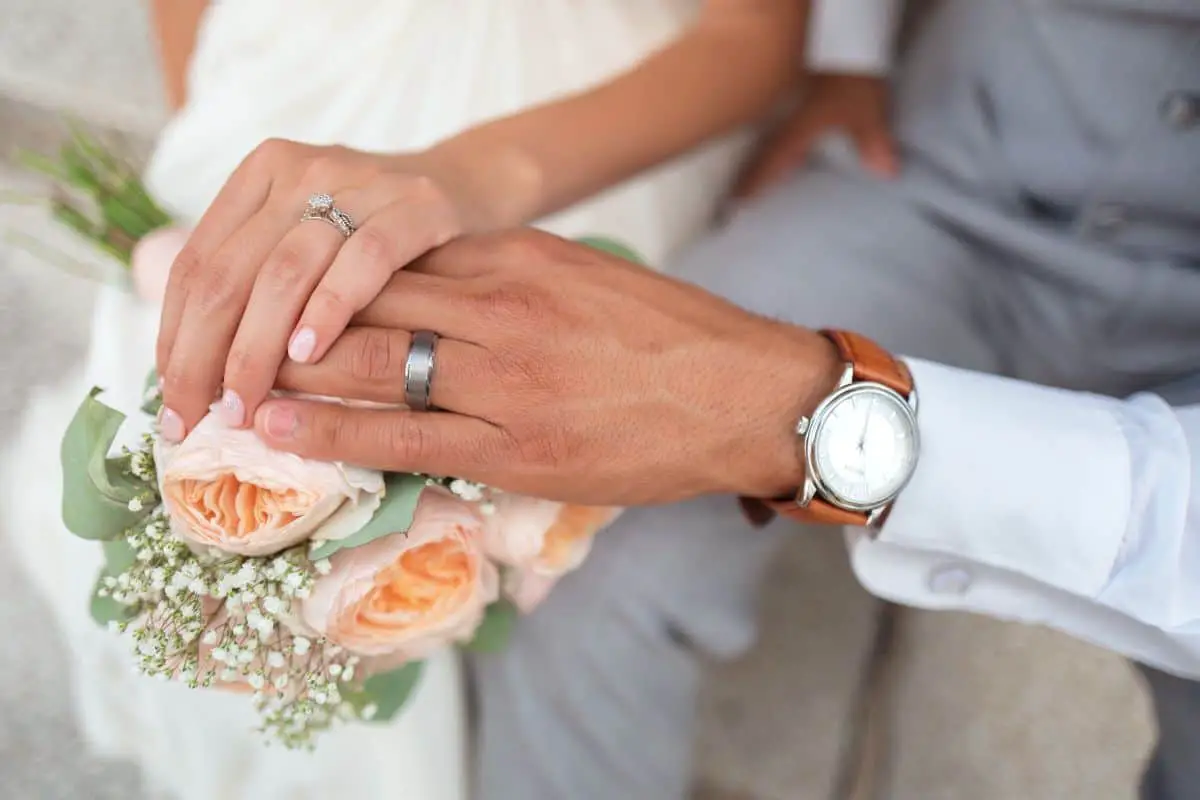 #CheersToTheCollins
#CooksInLove
#CrazyForCampbell
#ClarksCelebration
#ChensInTheChapel
#HeyMrsCarter
#CaptivatedByTheCampbells
#SuperDuperCoopers
#ConnectedToCamara
#CharmedByTheColes
#CakeForTheColesons
#CamerasOutForCrawford
#CommittedToCohen
#DreamingOfDeBellis
#DoylesDanceOff
#IDoToTheDawsons
#DelightedToBeADupont
#DiazDreamsComeTrue
#DaltonGoBreakingMyHeart
#DickensonDanceParty
#DevotedToDixons
#DeclareIDoToDuncan
#DrinksWithD'Angelo
#DotingOnDavis
#EndearedByTheEllisons
#EternallyAnEastwood
#EndlesslyEllis
#EnthralledByTheEatons
#EdgertonEverAfter 
#EverlastingEasmons
#EnchantedEmersons
#FinallyAFoster
#FallenForAFisher
#ForBetterOrForFranklin
#FellForAFleming
#ForeverAFoster
#FellForFernandez
#FrolickingWithTheFullers
#AFreemanFairytale
#FarewellMsFerguson (maiden name)
#FlemingFestivities
#FirstDanceWithTheFords
#FeastWithTheFowlers
#FianceToForeverAFields
#GibsonsGettingHitched
#AGameOfGarrett
#GoodbyeMsGriffin (maiden name)
#GroovingWithTheGrahams
#GraysGettingMarried
#GalaForGonzalez
#GoingGoingGibsons
#GoingToBeAGordon
#GetYourGriffinOn
#GetDownWithTheGardners
#HappilyEverHarry
#HeadOverHeelsForHoward
#HendersonsGetHitched
#HereComesTheHoldens
#HomeSweetHughes
#HotForTheHadids
#HappinessForTheHalls
#RunningForTheHills
#ToHaveAndToHolden
#HookedOnTheHarrisons
#HayesGettingHitchedToday
#IncrediblyIrwins
#InspiredByTheInglesias
#IconicIrelands
#InfatuatedWithTheIrvings
#InvitedToTheInmans
#IDoWithIversons
#ImminentlyIsaacs
#JustMarriedJames
#KeepingUpWithTheJacksons
#JonesesAreJoined
#JenningsJammingJamboree
#GotMyJordans
#JoiningTheJacobs
#JamOutWithTheJohnsons
#JoyfulWithTheJenkins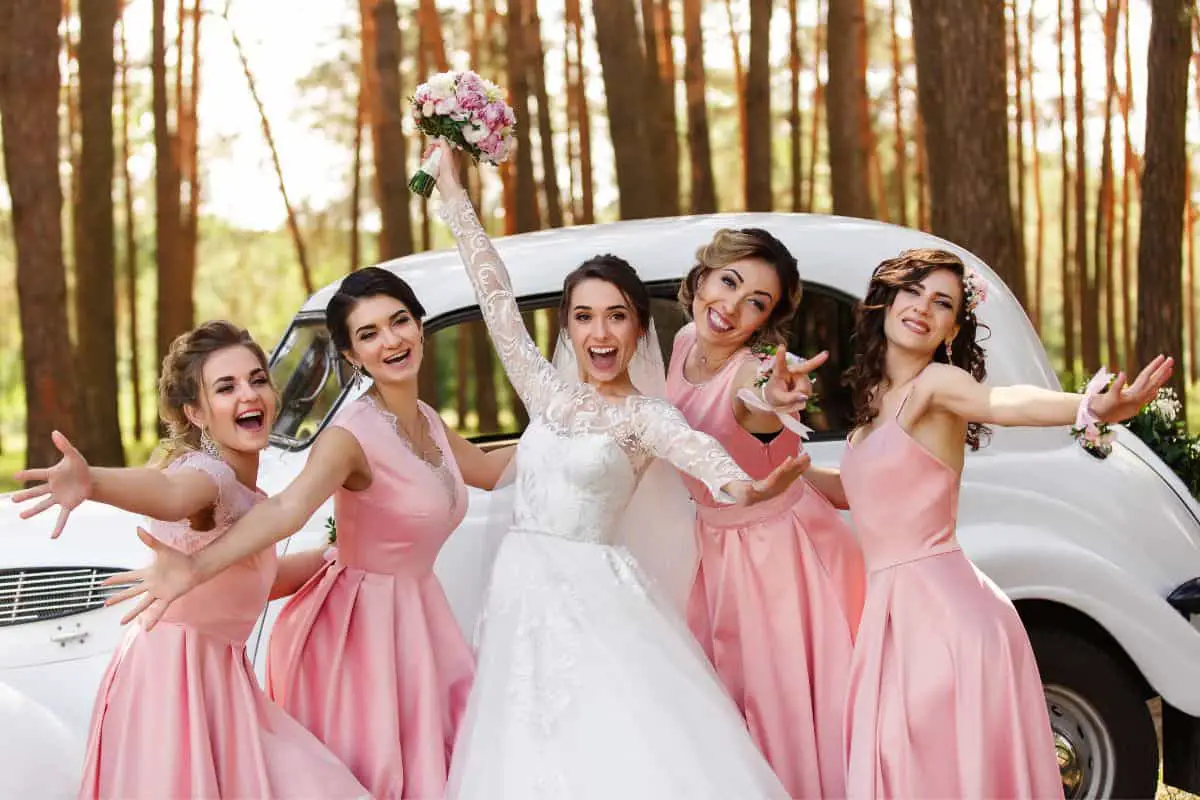 #KingFoundHisQueen
#AKissForTheKing
#KeepingKennedys
#KellysAKeeper
#KeepingUpWithTheKramers
#KissAndTellKhans
#PeachyKeenKelleys
#OnCloudKane
#TheKindredKirbys
#LovedUpLucas
#LiveLaughLoveLanes
#LongingForTheLongs
#ALewisAtLast
#LuckyInLiu
#LivingLaVidaLarson
#LewisLastingLoveForever
#StayInYourLane
#MeantToBeMarshalls
#MorrisMarriage
#TheMartinezMerger
#MakeWayForTheMillers
#WereTheMillers
#MadlyDeeplyMaddison
#MezmerizedByMalik
#MatchMadeInMalcom
#MartinMatrimony 
#NewmanNuptials
#NealNewlyweds
#NewlyNewtons
#NearlyANoble
#NicholsonNoMore (lost maiden name)
#NextStopNewman
#NutsForNeals
#OfficiallyAnOConnor
#OnceUponAnOmar
#OverjoyedForTheOlsons
#OBriensOffTheMarket
#OnCloudOrtega
#OverTheMoonForTheOsbornes
#OfficiallyAnOwens
#PerfectPowells
#PassionateForPeters
#PerfectForEachOtherPierces
#ParkinsonsArePartners
#PartyLikeAPorter
#PattersonPartyFor2
#ThePalmersTakeThePlunge
#TwoPerrysInAPod
#ParkersInCrime
#QuintessentiallyQuiads
#QueenForQuailen
#QuinningAtLife
#QuigleyPoppedTheQuestion 
#QuiteHappyToBeAQuick
#MeetTheRobinsons
#RushingToBeARamirez
#RollingWithTheRoberts
#RichardsRomance
#ReservedForRogers
#ForRichardsOrForPoorer
#RossPutARingOnIt
#RunawayWithTheRyans
#OnARollWithReynolds
#RingsForTheRollins
#RunningToBeARussell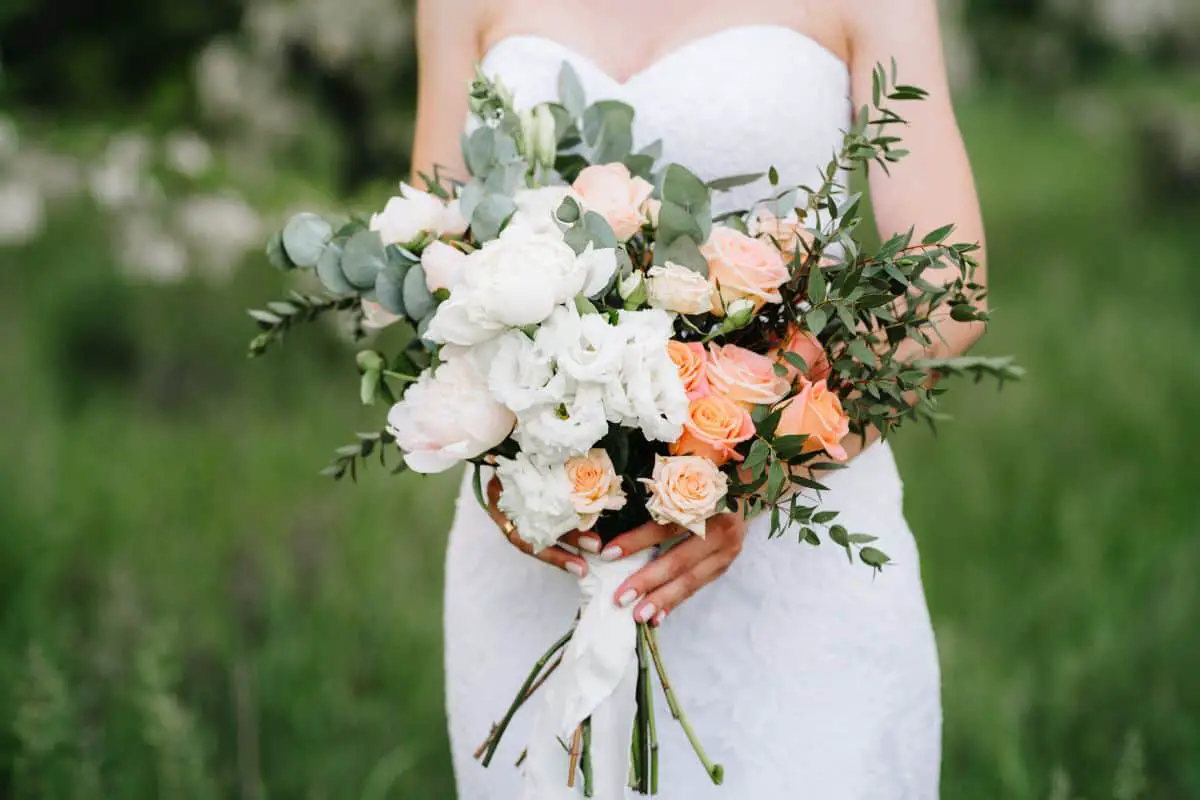 #TheSmittenSimons
#TheSmiths
#SimplySullivans
#SpellboundByTheStewarts
#SeducedByStevens
#SinghsShindig
#SimonsSomethingBlue
#ScottsSayIDo
#SoftSpotForSanders
#SpecialDayForScotts
#SimmonsSoulmates
#SimpsonsSpouses
#SplendidStones
#ThompsonsTieTheKnot
#TenderTowardsTaylor
#TakenByThomas
#TransfixedByTorres
#TeamTurner
#ToastToTurner
#TuxOnForTaylors
#UnionOfUnderhills
#UbelUnion
#UntilForeverUber
#UrbansUnderASpell
#UnconditionallyUpchurch
#UnforgettableUnderhillWedding
#RemoveTheVeilVickers
#VincentVows
#VivaVargas
#SaveTheLastVance
#LoveAtVossSight
#BeMyValentines
#ViolinsForTheVaughans
#VisionInWhiteVogels
#TheFirstVance
#VisionInWhite
#WalkingToWardsTheAlter
#WeddingBellsForWatsons
#WilsonWedding
#WaitingForTheWangs
#BestWishesWright
#TheWrightCouple
#SoWrightForEachOther
#GoWests
#TheWildWests
#WoodYouMarryMe
#WeirMeantToBe
#WeaverWeddingToGoTo
#WheelerMeetYouAtTheAlter
#AWinterBall
#TestingTheWaters
#WalkerOnSunshine
#NearlyWedlakes
#NewlyWedlakes
#FromALandDownXander
#XaviersSayYeah
#ExcitedToBeXavier
#XenosSayYes
#YoursForeverYoung
#YayForYusuf
#ForeverYork
#SayYesToYoder
#YaegerYearsOfLove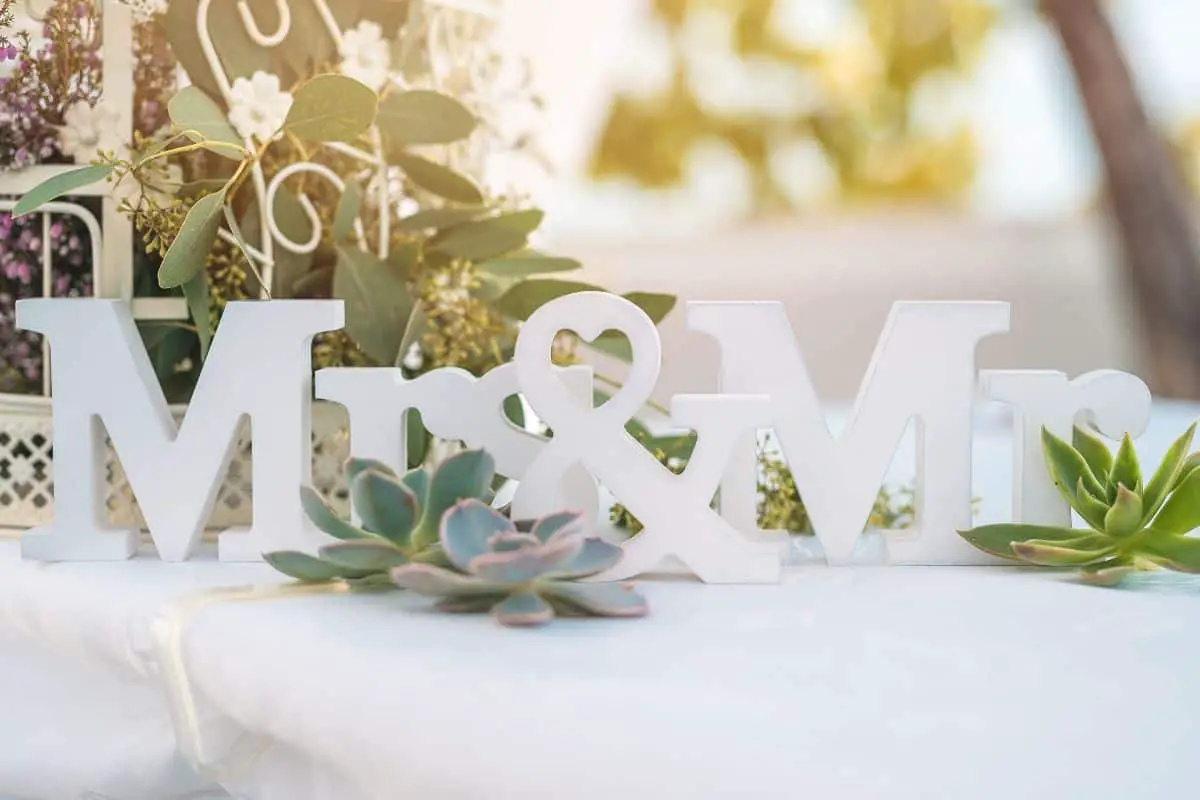 #ZoomingToZimmerman
#ZealousForZeigler
#SaveTheDateForZhang
#ZeiglerSweethearts
How To Use Your Names In Your Wedding Hashtag
As you can see from the many examples above, the way we have made these wedding hashtags is to use alliteration and similar sounding words in order to make a fun, memorable phrase. 
Most of these examples involve using the same letter for the betrothed couple's name for the other words in the phrase so that it simply rolls off the tongue.
As exemplified above, we've also used references from popular culture in some of these wedding day hashtags to make it fun, recognizable, punny and lighthearted.
This is often the preferred method for choosing a hashtag for your wedding party to use, because it is easy for them to remember, and you can make it different so only your wedding pictures come up when you search for this personalized hashtag. 
However, you may want to use your maiden name or first names as part of the hashtag instead. For example, you can use a hashtag that talks about who the couple is, or including the maiden name being lost as a fun way to commemorate the wedding.
In these cases, you may want to use some of the following:
#MillersCupOfTheresa
#ThomasAndCooperEverAfter
#JonesAndWedlakeWeddingBells
#FrancisAndReynoldsDownTheAisle
#TheStoryOfWilliamsAndAnders
#SmithsGettingYates
#JohnsAndSmithsAfterAll
#OnCloudNineWithCambellAndCook
#CheersToCollinsAndJones
#MichaelsMetHerPrince
#SheSaysYesToTheCress
How To Make Your Own Wedding Hashtag
If you want to use your first names in the wedding hashtag for that extra level of personalization, you can! After all, what are the chances of someone with your name marrying someone with your partner's name? 
You can use your first names to create your very own wedding hashtag to use! For instance, take a look at some of these fun, creative examples. 
#BritneyGotTheJackPot
#KatieInHolyMattrimony
#DanAndDavidSayIDo
#EmilysCupOfJoe
#PennyForYourThoughtsJeff
#SarahWonATony
#CarrieGotKengaged
#MattFoundGrace
#HannahGotMarked
#RobertGotStephed 
Well, you get the general idea. If you are still stumped, then why not ask your close friends and family for ideas. After all, two heads are better than one. You'll never know what they come up with!
You could also ship your surnames to create your own hybrid wedding name for your hashtag. Think of Victoria and David Beckham, we call them Posh And Becks.
There was also Kim Kardashian and Kanye West, who we called Kimye! Ben Affleck and Jennifer Lopez are called Bennifer and Brad Pitt and Angelina Jolie were called Brangelina.
So, why not try shipping your names to come up with a hashtag? For example, you could do:
#TheBrithWedding – Smith and Brown
#TheMivisWedding – Miller and Davis
#CheersToTheWones – Jones and Williams
#ToastToTheHenders – Henderson and Carter
If you cannot think of your own surname combinations, then why not use a Name Combiner tool? All you have to do is input your surnames, or your first names too, and it will come up with various combinations that you can use for your wedding hashtag. 
Finally, if you still can't come up with your own, then wynot use a Wedding Hashtag Generator? There are so many free tools that you can use. We've got three different ones that you can try out to find the best wedding hashtag for your special day.
eWedding Wedding Hashtag Generator
Wedding Hashers Wedding Hashtag Generator
Shutterfly Wedding Hashtag Generator
Perhaps you just want a fun, trendy hashtag for your wedding guests to use when posting your photos. By using a trending hashtag, your images are more likely to show up in search results, get more engagement, comments, shares and more likes.
If you want your wedding to be Insta-worthy, then you may want to use some of these more popular, less personalized wedding hashtags on your special day.
#TilDeathDoUsParty
#LoveAtFirstSwipe
#Newlyweds
#WedLongAndProsper
#EatDrinkAndGetMarried
#Wedding
#BrideToBe
#WeddingPhotography
#WeddingInspiration
#InstaWeddings
#WeddingParty
#LoveWins
#OurHappilyEverAfter
#TogetherForever 
#WorthTheWait
#JustTheBeginning
#InSicknessAndInHealth
#ToHaveAndToHold
#TaleAsOldAsTime
#OnceUponATime
#DisneyWedding
#FairytaleWedding 
Summary
To summarize, if you have been dreaming of having your own personalized wedding day hashtag for all of your friends and family to use when posting pictures of the big day, then you can. 
Even if you think your surname is a hard one to find a funny pun or phrase to use to commemorate the day, we've got you covered with 277 different wedding hashtag examples to choose from, starting from names beginning with A and even offering a few even if your surname to be ends in Z! 
There are no limits to what you can choose for your wedding day hashtag. After all it is your day after all, so have some fun reading through the different options, and switch them up to find the perfect option for your special wedding day.
Just make sure that it is different and unique enough to make it simple to find all of those candid snaps that everyone has taken and posted to their social media, to see the unforgettable moments from your wedding day time and time again.

Latest posts by Jodie Messines
(see all)