It's your BFF's big day, and you're standing beside her beaming with joy! You are clearly having the time of your life… so why not capture that moment with a fun bridesmaid caption for Instagram!? Trust us – you don't want to miss out on a chance to show off your special place in the wedding.
Luckily, we've got you covered with 130 hilarious Instagram captions for bridesmaids. So get ready, smile pretty on camera…and get creative!
For more Instagram caption ideas, check out Engagement Captions, Wedding Captions for Guests, Captions for Wedding Photos.
Squad Goals
"They say diamonds are a girl's best friend, but I think my fellow bridesmaids come pretty close. ❤️ #SquadGoals #BridesmaidLife"
"It's official, I'm part of the bride's squad. And let's be real, we're the ones who make the party happen. 🎉💃 #BridesmaidDuties"
"Being a bridesmaid means being part of a lifelong sisterhood. And I wouldn't have it any other way. ❤️👯‍♀️ #BridesmaidForLife"
"My girls, my squad, my ride or dies. Couldn't have done it without you."
"Cheers to the bridesmaids who laughed, cried, and drank champagne with me."
"Bridesmaids: The only thing that can outshine the bride's dress."
"Squad goals? More like squad rolls after all that cake at the reception."
"We're like the Spice Girls, but instead of 'girl power' it's 'bride power' #bridesmaidsquadgoals"
Here's to the ones who fluff the dress, calm the nerves, and keep the champagne flowing 🥂 We're the backbone of the bride tribe 💪
"All for one, and one for the bride."
"I do crew, reporting for duty."
"When you're the wing-woman at the wedding, but also the reigning dance floor champion 👑"
"This wedding is going to be epic, but first let's take a selfie"
Bridesmaid Duties
"Besties before testes, but on this day, it's all about the bride"
"Being a bridesmaid is like being a cheerleader for love"
"Being a bridesmaid means being a superhero in a pretty dress"
"I may not be the bride, but I'm definitely stealing the show as the #1 hype girl. 💍🎉 #BridesmaidGoals"
"My job description for today: Make sure the bride is happy and the drinks keep flowing"
"Being a bridesmaid is like being the bride's personal superhero. Capes and masks optional."
"Bridesmaids by day, dancing queens by night #weddingfun"
"Bridesmaid duties: looking pretty, not tripping, and keeping the champagne flowing"
"We're like the Spice Girls, but with better dresses."
"Being a bridesmaid is like being part of a top-secret mission. We've got the dress, the shoes, and the champagne. Let's do this! 🥂👯‍♀️ #BrideTribe"
"Here's to the friends who've been there through it all, from the first date to the last dance."
"Bridesmaid tip: Always bring your dancing shoes and your best smile. You never know when you'll need them. 😉👠 #BridesmaidEssentials"
"I may have been called a maid of honor, but I prefer to think of myself as a professional bouquet holder and dance floor enthusiast. 💐💃 #MaidOfHonorLife"
"Being a bridesmaid is like being part of a secret society, except everyone knows about it"
Wedding Vibes
"Today's forecast: 100% chance of happy tears and dancefloor shenanigans"
"They say rain on your wedding day is good luck. As a bridesmaid, I say rain or shine, we're here to make sure the bride has the time of her life. ☔️💃 #BridesmaidMentality"
"Love is in the air…and on the dance floor"
"We're not just bridesmaids, we're hype-women 💃 Let's get this party started!"
"Weddings are like emotional rollercoasters, but with an open bar." 🎢🍻
"Cheers to the bride who found her prince charming and to the bridesmaids who found their partners in crime 👑💕"
"Bridesmaids: Because who else will hold your dress up while you pee?"
"Our friendship is a garden, and this wedding is the bloom 🌸 Let's make it one to remember 🌺"
"May your marriage be as strong as your wifi signal."
"Life's a party, and love is the piñata. So let's take a swing and see what falls out!"
The bouquet toss is like a Hunger Games for single ladies.
"Love is in the air, and I'm just trying not to sneeze…"
"That moment when the bride and groom share their first dance and you're trying to hold back tears… or laughter."
"When life gives you lemons, grab your girls and make mimosas 🍋🍾"
Open Bar Shenanigans
"I'm just here for the free champagne and cute photo ops"
"Here's to the nights we'll never forget with the people we'll never forget 💃🍾"
"She found her Prince Charming, and we found a new drinking buddy. Cheers to the happy couple!"
"When the groomsmen are looking fine and you're thinking, "I do" want one of those."
"Always a bridesmaid, never the designated driver." 🚗🍹
"If you need me, I'll be at the open bar. Cheers to love! 🥂❤️"
"The only thing better than free cake at a wedding? Free drinks all night 🍸"
I'm just here for the open bar and cute groomsmen.
"I'm not crying because I caught the bouquet, I'm crying because it's free alcohol"
"The bridesmaid life chose me, but at least I got to choose the wine."
"Here's to love and laughter and happily ever after… or at least until the open bar runs out."
Dance Floor Divas
We're the crew that never leaves the dance floor and always has each other's backs 🕺🏼💃
"We may be bridesmaids, but we're always down to party like brides #weddingvibes"
"Weddings are great until the DJ plays the Cha Cha Slide for the millionth time."
"When the DJ finally plays your jam and you hit the dance floor like it's your job 🎶💃"
"When your bestie gets married and you realize you're the only single one left… #foreveralone"
"When the dance floor is calling and you've had one too many glasses of champagne… #sorrynotsorry"
"If anyone needs me, I'll be on the dance floor perfecting my 'Single Ladies' routine"
"Happiness is finding a friend who will dance with you even when you look like a fool." 💃🤪
"I'm ready to hit the dancefloor with these amazing gals."
It's not just a wedding, it's an opportunity to eat cake and dance all night! #priorities
A wedding without a dance floor is just a fancy dinner party.
"No dress code here, just bring your dance moves!"
More Funny Bridesmaid Captions
"Always a bridesmaid, never a bride…but I'm totally okay with that when the bride is my bestie"
"Pop the bubbly, she's getting a hubby"
"I do crew…but mostly just here for the cake"
"The perfect bridesmaid is like a good bra: supportive, comfortable, and always there for you."
"When life gives you lemons, add vodka and be a bridesmaid #bridetribe"
"We're the support system, the planners, and the life of the party #bridesmaidlife"
"Always a bridesmaid, never the one getting married… But at least I get to wear a pretty dress."
We may not be related by blood, but we're connected by something stronger: love, laughter, and the occasional tequila shot 🍹💕
"Behind every bride is a group of bridesmaids trying to keep her from becoming a bridezilla."
"Being a bridesmaid is like being a personal assistant for a day… or a year."
"Love is patient, love is kind, and love also means being a bridesmaid for the third time this year."
"I couldn't say 'I do' without my crew."
"When you're the maid of honor and your speech turns into a stand-up comedy routine 🎤😂"
"My girls make me feel like a queen on my special day."
Just trying to keep up with the bride's Pinterest board.
Let's get this party started!
"I'm not saying I'm the best bridesmaid, but I did just convince the bartender to give us a discount"
"We're not just bridesmaids, we're professional tissue providers"
"I'm pretty sure I'm the reason the bride said 'yes'"
"We may not be blood, but these girls are my ride or dies"
"Happily ever after starts with a group of crazy friends and a lot of champagne"
When your friend says "I do," but you're secretly thinking "I don't know about this one" 😂
Toasting to love, laughter, and happily ever after! And maybe a few shots for courage.
"I've never felt more honored than being a part of my best friend's special day. Let's make some memories! 📸🎉 #BFFsWedding"
Cheers to the bride, who found her happily ever after, and to us, who found free drinks and food for the night!
Being a part of the bridal party means you get to wear a fancy dress and act like you're important for a day. #feelingmyself
"My ride or die, my partner in crime, my forever wingwoman."
Here's to dancing until our feet hurt and laughing until our sides ache.
I'm the human equivalent of confetti, spreading joy wherever I go.
True love is finding someone who will dance the Macarena with you at your wedding.
When the bouquet toss is your only chance at finding love, but you accidentally drop it 🌹😭
May your marriage be as long and happy as the line for the photo booth.
Love is a journey, and today the happy couple has reached their destination.
"My feet may be killing me in these heels, but at least the photos will be worth it."
When your dress is so fancy you feel like a Disney princess, but your feet hurt like a villain's.
"Never knew I could catch a bouquet with my elbows until today."
"Who needs a dance floor when you can twerk in the hotel hallway?"
"If you don't catch the garter, don't worry. There's always next wedding season."
"Being a part of this wedding was a dream come true, even if my wallet doesn't agree."
"If being a bridesmaid means getting to spend the whole day celebrating love and happiness, count me in. 🥰💍 #BridesmaidPerks"
"If anyone needs me, I'll be in the corner with the wedding cake."
"Life is short, but the memories we make at weddings last a lifetime."
"Cheers to the newlyweds! And to us for surviving the bachelorette party."
"My girl's getting hitched and I'm the hype woman she deserves"
"Today, we celebrate love and my ability to walk in heels"
"We may be the supporting cast, but we sure know how to steal the show."
"The bride may be the star of the show, but I'm the comedic relief"
"With these ladies by my side, who needs friends?"
"Here for the bouquet catching and slaving for the bride!"
"Let's get this party rolling…bridesmaids, assemble!"
"No more 'will you be my bridesmaid?' – I'm already devoted to the cause"
"Gather round, ladies, we've got a wedding to plan."
"Shake it off and let's get this shindig started!"
"Ain't no bride squad like mine – we're unstoppable!"
"The adventures of me and my bridesmaids begin…"
"Fiercely loyal and always ready for a good time!"
"Time to get wild, the bridesmaids have arrived!"
"The bride's squad is here and ready to roll!"
"Ready or not, we're coming through – it's wedding time!"
"Let the shenanigans begin – we got this bride covered!"
"Bride tribe ready for a night of fun!"
"We came to party and that's what we'll do!"
The bride asked us to wear "blush" for the wedding. I didn't know if she meant the color or my reaction to her demands.
Bridesmaids: the only people who can make "here comes the bride" sound like a battle cry.
"I never knew being a bridesmaid required a degree in event planning and a black belt in diplomacy."
Conclusion
With these 130 funny bridesmaid captions for Instagram, you can honor your closest friends and make them laugh out loud!
Being a bridesmaid isn't always easy but having fun with it is a must. Whether it's a pun-filled caption or an inside joke, everyone will be sure to remember how special your wedding day was.
Include some fun hashtags like #BridesSquad and #BrideTribe when you post your photos so that everyone can join in the laughter and glee. So have fun, stay positive and make the most of this moment. Congratulations on getting ready for your big day!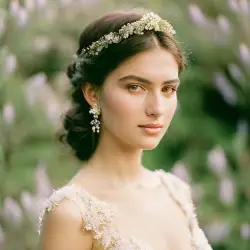 Latest posts by Rosie Liliy
(see all)