Finding a wedding dress that gives you all the right feelings AND makes you look absolutely stunning is tough.
But it can get ten times harder when you are a curvy bride and you are looking for a dress that is flattering, makes you feel beautiful, and fits like a glove. 
There are a ton of different wedding dresses out there. Dresses that suit every body type, every taste, and every type of wedding.
But, how do you go about choosing a plus-sized wedding dress for a beach wedding?
Well, find out the answer to that question in this article. So, without further ado, let us get started!
Picking A Wedding Dress For The Beach
Before we even get into beach wedding dresses for curvy brides.
We need to discuss what you should be looking for when you are choosing a dress that will be worn on the beach. Below are a few hints and tips you can use to guide you. 
The Style
Beach wedding dresses do not need to just be practical and suited to an outdoor wedding. You can pick a beach wedding dress based on the style or theme of your wedding.
For example, you may want a formal, casual, or even a semi formal event. It is all up to you.
The Type Of Beach
Every beach is not the same. From the look to the weather, there are a ton of things that might be different depending on which beach you are getting married on.
Are you going to a lakeside beach, or perhaps you are going to a tropical paradise in Jamaica, Mexico, the Caribbean, or even Australia?
Depending on where you are going you will have different temperatures and humidity to deal with.
Because of this, you will need to make sure that you have a dress that is suitable for the weather and one that is light enough and easy to pack for the long trip. 
The Reception
It is one thing to have your ceremony on the beach, but the next thing you need to think about is whether you are having your reception on the beach or not.
Your dress will need to be suited to being worn comfortably for long periods of time on the beach. So you will need to make sure that it works for you. 
What About The Activities?
This one gowns hand in hand with your reception plans. Before you get a wedding dress for the beach you will need to be clear on what your plans are.
Will there be dancing deep into the night? Will you be indoors or outdoors for the most part?
Are you more interested in a loose and comfortable dress, or would you prefer something more structured?
There is a lot to consider especially when you are thinking about what activities you want to do.
Beach Wedding Dress Style That Will Suit Curvy Brides
When you are looking for a wedding dress that makes you feel good.
If you are looking for a beach wedding dress that will suit curvy brides you will have two main choices in the after when it comes to the style of your wedding dress.
Pick A Dress That Suits The Setting
A wedding dress that is destined for the beach is quite summery, light, and breezy. At least that is what we picture.
There are a ton of styling options that normally look great in a beach setting. Below are a few of the more popular options:
Strapless Bodices
Spaghetti Strap Bodices
Tank Top Bodices
Flutter Sleeves
Light Skirts
There are a ton of different options other than the ones we have suggested here.
But beach-style wedding dresses are often made of fabric like chiffon or organza which are perfect to get that breezy, light, and airy beach bride look. 
Pick An Option That Is Totally Bridal
But, just because you are having a beach wedding does not mean that you can't go for the full bridal look.
This is a more traditional look which can often include the following features or styles:
Fit and Flare
Mermaid Dress
A-Line 
Ballgown
But having a total bridal look does not necessarily involve these things. It is what you make of it.
But typically someone that is going for a full bridal look will prefer a traditional dress with all the trimmings.
If your heart is set on a more formally styled gown you may want to look into finding a venue that can be upgraded to suit a formal event.
You could for example choose a venue that has a balcony or terrace that will overlook the beach. This is a great option if you want a beach wedding but do not want to be on the sand. 
What Should You Pick?
Are you still at a loss? Well in this section we have several great suggestions for you. So, without further ado, let us take a look. 
Consider Picking A Wedding Dress That Reflects Who You Are
Your wedding dress should be something that you love. A dress that reflects who you are as a person. If you are stuck on what to pick you should take a closer look at your personal style.
What clothes do you like to wear? What kinds of clothes make you feel most comfortable? Does a particular color make you feel confident?
Are you a fan of modest gowns or are you a fan of something a bit more bodacious?
Regardless of what you like to wear you should take a look at your wardrobe and see what makes you feel good so that you can find a wedding dress that will make you feel that good. For example: 
Is your wardrobe full of fitted and classic outfits? You may like an A-line wedding dress or maybe a dress that is a fit and flare. 
Is your wardrobe more conservative? You may like dresses that have ruching which will help to show off your beautiful curves. 
Consider A Lace Wedding Dress
If you are wondering what would look good at a beach wedding for plus-sized brides, you can always try out lace.
This elegant fabric can add a beautiful, detailed yet light and airy look that just suits a beach wedding.
Best of all you can have as much lace as you like. The whole dress or perhaps just the bodice or sleeves. 
What Kind Of Wedding Dress Suits A Bride With An Apple Shaped Body?
There is no real answer to this question. The perfect dress for a bride with an apple-shaped body is the one that she likes best and feels the most beautiful in.
There is no reason to hide your body or be ashamed. You are perfect just the way you are. So pick the dress you get THAT feeling in and own it.
If you are marrying someone who loves you they most likely think that you are perfect and love you just the way that you are.
Weddings are a celebration of the love that you feel for your partner. So just pick a dress that makes you feel beautiful and celebratory.
Consider A Wedding Dress With Sleeves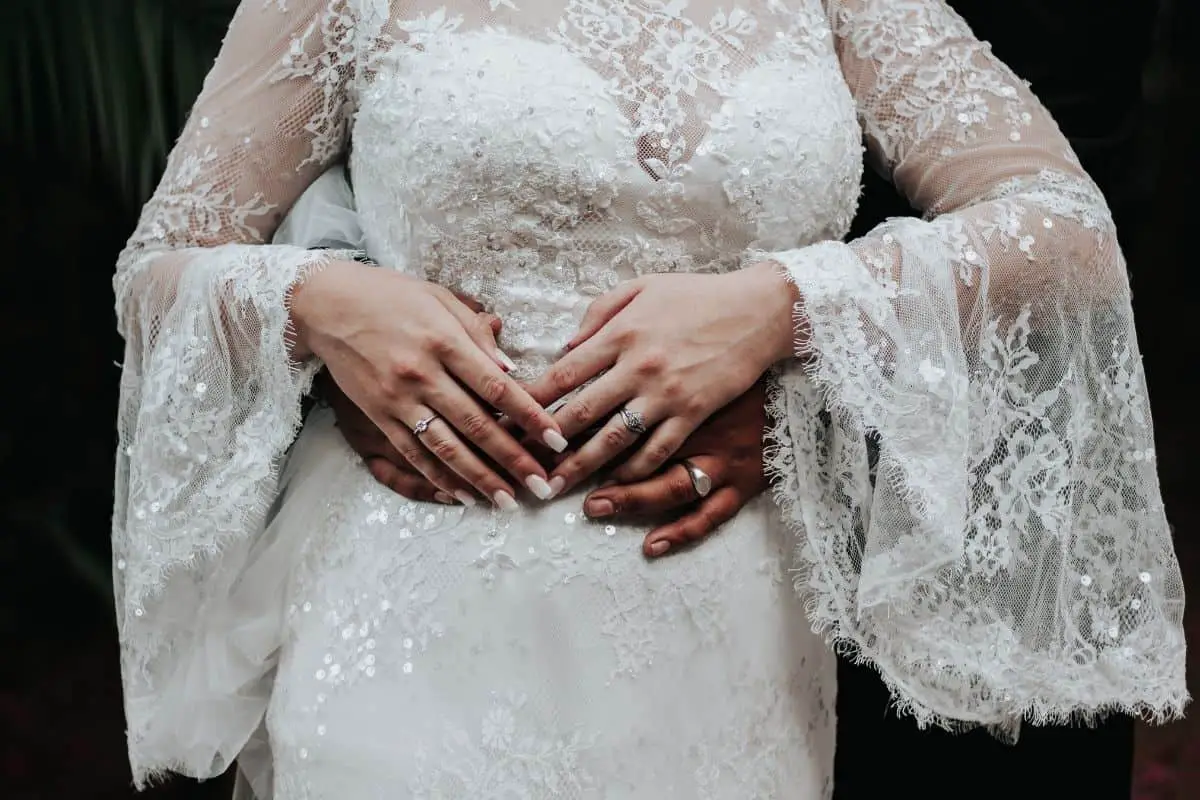 When you think of a beach wedding you do not usually think of sleeves. But, there are a lot of dresses with sleeves that would really work at a beach wedding.
We recommend picking a dress with mesh or lace sleeves as this will keep the dress looking nice and light while also keeping you cool.
On top of that, there are a ton of different types of sleeves that can be made unique for your dress. So you can literally have anything you want. 
Consider A Casual Wedding Dress
Is your wedding going to be a relaxed and casual affair? Then you should consider purchasing a dress that is relaxed and easy-going.
If this is the vibe you are going for we recommend looking for one that is not super structured. You might even want to consider not having a train as it will be all too easy to get sand all over it. 
Should You Wear A Ball Gown?
Yes, you can! The main thing to look out for if you have your heart set on a ball gown for your beach wedding is if it suits the rest of the wedding.
You might want to consider a venue that has a patio or boardwalk so that you do not have to drag your dress through the sand. 
Consider A Maxi Wedding Dress
If you are looking for a dress that is light and flowing you should consider wearing a maxi dress.
They are comfortable and often come with great features like fitted waists, empire waists, or even a relaxed fit. So you can choose an option that suits you. 
Consider A Short Wedding Dress
If you are looking for a wedding dress that is a little different and perfectly suitable for a beach wedding you might want to think about getting a short wedding dress.
They come in a ton of different styles that really will be able to suit anyone. 
Sizing
Finding a wedding dress that is your size can be a tricky business. Especially if you are plus-sized. It can leave you wondering where you stand.
So, in this section, we are going to talk a bit more about the sizing in the wedding dress industry. 
Measuring Yourself
Shopping for a wedding dress at your local wedding dress shop will usually means that the consultant will be taking your measurements so that they can check what size you are against their chart.
But, things can get a little more complicated if you are shopping online.
If you are shopping for your perfect wedding dress online you will need to know your sizing so that you can be certain that your dress will fit you correctly.
Because of this, you are going to need to get out your measuring tape so that you can measure yourself.
But, how do you go about measuring yourself? Well, let's take a look at how it works. 
Step 1 – Measure your Bust: You should start by measuring your bust, you can do this by taking a measuring tape and taking the measurement around the area of your bust that is the fullest. When you do this you should make sure that you wear the bra you are intending on wearing with the dress as the shape and style of your bra can change the measurement. 
Step 2 – Measure your Waist: Next, you should take your waist measurement, you can do this by wrapping the tape around the narrowest part of your waist. Make sure to breathe normally and make sure that you can fit your finger under the tape. 
Step 3 – Measure your Hips: For this part, you will need to measure the widest area across your hops and rear end. Once again, make sure that you can fit your finger between the tape and your body. 
Step 4 – Measure the Length: This type of measurement is known as the hollow hem and it is one that you will need help to get right. You take this measurement by placing one end of the tape on the area between your collar bones, this is usually where the hem sits and then measuring to the ground or the area you want your hem to be. Make sure that you are wearing the shoes you want to wear at your wedding so that the hemline is right. 
Which Wedding Dress Is The Right Size For You?
The best way to get the right sized dress if you are shopping online is to get a size that will fit your largest measurement.
The other areas can be taken in or adjusted. Just bear in mind that there may be an extra cost to getting those alterations done when your dress arrives. 
If you are shopping for a dress in person you will need to talk to the people there as they will take your measurements and reference the sizing guide that they have on hand to make sure that your dress fits you just right. 
Are Size Fourteen Wedding Dresses Plus-Sized?
If you are looking at normal day-to-day clothing you will normally be considered plus-sized if you are wearing a size twelve or fourteen.
But this will depend on what brand you are shopping at.
Wedding dresses are normally cut even smaller than regular clothes which means that your size will likely go up if you wear a wedding dress.
For example, if you are normally a size fourteen you may actually be a size sixteen wedding dress. 
One issue with wedding dress sizes is that designers will not normally use standard clothing sizes.
In fact, designers will often have unique sizing charts that are different even from each other.
So when you are shopping for your perfect wedding dress you will need to check with the brand or designer that you are thinking of buying from. 
Should You Buy Your Wedding Dress Online?
Sometimes we just cannot seem to find our perfect dress at any of the local bridal shops. At this point, the best bet is to do some online shopping for your dream dress.
But, it is important to remember that the internet is not always as good as it seems and there are some things that you need to keep in mind so that you remain safe.
Below are a few tips to keep in mind when you are looking for a dress online:
When you are not sure whether a dress is good quality or not you should make sure to read any customer reviews. This will give you an idea of how many people liked the dress and what their thoughts are. 
If you are making any payments online you should always make them using a credit card or PayPal as you will be able to have some assurance that your details will be protected. 
Sometimes a structured dress will need alterations and this could take quite a while. So, when you order your dress make sure that you have left enough time for them to be done and for your dress to be shipped. 
Don't get held up by the promise of custom dresses unless you have the time to have this to get done. Getting a custom dress is perfectly acceptable as it can mean that you will get a dress that is exactly what you dreamed of. You just need to make sure that you have the time to be able to do this. 
You do not want anything to be wrong, but just in case you should make sure that you have checked the refund policies from the seller. 
Wedding Dresses On Amazon
In this section, we have a selection of simple and cheap wedding dresses that are suitable for plus-sized brides and are also available on Amazon.
This is a lovely airy wedding dress that is sure to suit a beach wedding perfectly as well as flattering brides of any shape and size. 
This dress is equal parts elegant and bridal. So if you are looking for a wedding dress that will wow the guests and will be suitable for warm weddings this is the perfect one for you. 
This dress is quite spectacular. It comes in a variety of sizes while also looking perfectly elegant. The light skirt and leg slit helps make this dress light and airy. The perfect look for a beach wedding. 
Final Thoughts 
We hope that you enjoyed this article on plus-sized wedding dresses for the beach.
Remember that there are a ton of different dresses out there and there are no right or wrong answers when it comes to picking a dress for your big day.
So find a dress that speaks to you and go with it. 

Latest posts by Lisa Plaitt
(see all)