When it comes to planning your wedding day, there are so many unique themes that you can choose.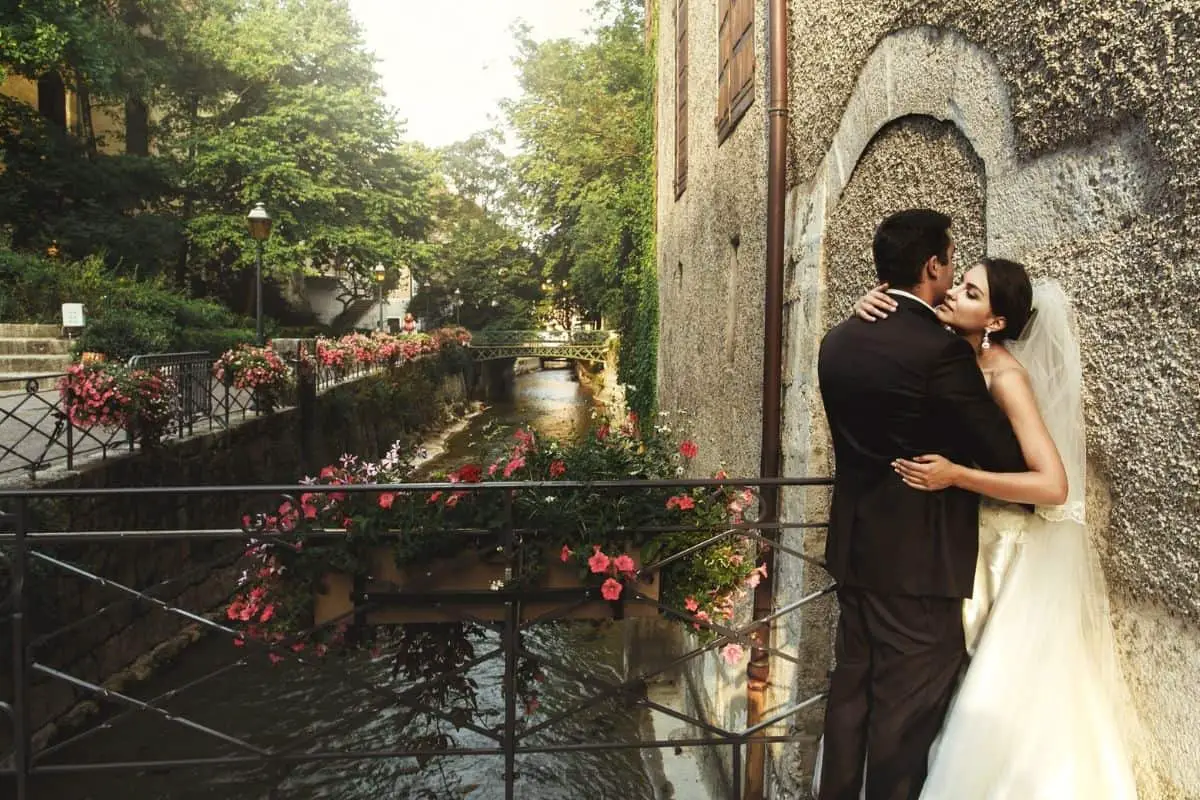 This should be seen in the type of venue, table settings, the dress code, and more.
If you are looking for a unique fairy tail inspired wedding theme, then there are many routes you can take. 
Depending on your budget, inspiration, and the preferences of you and your partner, it could be worth beginning your wedding planning by checking out the different themes.
Here are ten enchanted forest wedding themes that can help you decide what kind of day you want your wedding day to be. 
Related: 10 Fairytale Enchanted Forest Wedding Cakes Ideas
Rustic Forest
Firstly, you could choose a rustic wedding theme if you want to stick to a low budget without making it look too obvious.
There are many ways that you can add charm to a rustic forest wedding to make it feel like a fairy tale. 
These include creating your own wooden wedding banners and table decorations.
Keep things simple with neutral color palettes, and integrate as many homemade or second hand items as possible.
The simplicity of a rustic wedding is what will give it its charm. 
You can plan your reception dinner in a barn in the forest and add plenty of fairy lights, and wear a simple yet elegant silk gown.
Many people see these wedding themes as highly romantic, because of how stripped back they are, and you could easily make something magical on a budget for your big day. 
Fairy Tale Boho
Another unique way to create that fairy tale wedding magic is with a Bohemian theme. Plan your ceremony on a sunny day, and ask your guests to wear light colors.
This style is relatively relaxed, and features layered materials and organic shapes. 
Consider a Bohemian theme if your wedding is scheduled to take place in a forest, because of the deeper connection to nature.
You will feel connected to the fairies, sprites, and tree spirits when you are walking down the aisle. 
Bohemian style is whimsical and romantic, without going overboard. You could integrate this into your wedding favors, invitations, and the venue itself.
If you are unsure about the weather, you could hire a large gazebo or shelter and decorate it using plenty of lace, neutral colored fabrics, fairy lights, and ribbons. 
Secret Garden
Similarly, a secret garden theme will make your guests feel connected to nature and the fairies.
You could hire a walled garden for your venue, or rent a public area which feels like a secret garden to you. 
Consider decorating with plenty of florals and greenery, and finding a wedding outfit that has intricate details of flowers, lace, or anything that pays homage to the natural world.
You could also keep things simple by decorating plain cakes with fresh flowers. 
Vintage
Alternatively, a vintage theme could be the better fit for you. Integrate golds and bright colors into your decor, and find the perfect venue with a range of interesting architectural features.
If you want to have your ceremony in the forest, you could use antique chairs that have been dressed up as guest seating. 
Use white rose petals as confetti and find a vintage-style wedding gown for your big day.
The great thing about vintage themes is that you can choose your favorite time period to celebrate, or integrate modern and old features.
This could be by setting the dress code as a traditional masquerade, or finding an authentic minister to marry you and your partner. 
Earthy
Host a barefoot wedding by setting an earthy forest theme. Connecting with the natural world is a great way to plan your big day.
Many people feel most comfortable and at peace when they are surrounded by nature, and an earthy wedding could celebrate this and share the experience with your guests. 
There are a range of ancient civilizations that worshiped the natural world, and regarded mother earth as sacred.
If you want to explore this a little more, you could plan an earthy inspired wedding with traditional Celtic vows and plenty of natural fabrics as decoration. 
Natural, uncut wedding rings and a wildflower bouquet tied with twine would be perfect for this theme.
You could also plan your ceremony at a place in the forest where you can see or hear water flowing to integrate more elements into your wedding. 
Princess Theme
For some, a fairy tale enchanted forest theme means royalty and princesses.
You could take inspiration from your favorite Disney movies, or fantasy tales of forest royalty.
For a more rustic approach to this, you could wear a flower crown as your head piece, or a tiara. 
One of the best ways of creating this fairy tale atmosphere is by using an old castle or mansion as your wedding venue.
Make sure you are able to integrate some elements of the forest into this so that you can keep with the theme. 
Other elements like your first dance and the wedding colors are also effective for tying it all together on the day.
Of course, you can wear the classic princess style gown if you like, paired with elegant kitten heels to complete the look. 
Light
Alternatively, you could choose to celebrate light elements in your wedding.
This could be by decorating with sundial table numbers, taking your wedding pictures when the sun is about to set, or by adding plenty of lanterns to your venue. 
Wind fairy lights around the trees, have each of your guests hold an artificial candle or small lantern, and plan your ceremony when the sun has set.
You could set up a light theme by creating your wedding arch or backdrop out of strung lights, or take your photos with sparklers as props. 
This is a great theme to base a celestial wedding theme around, and you could find a veil that has tiny sparkles on, which looks like constellations.
A great way of doing this is by using yours and your partner's birth stones in the rings, and talk about fate and destiny in your vows. 
Winter Fairytale Wedding
Another unique way of creating your dream fairy tale wedding is by using inspiration from snow and winter in general.
There is something magical about this, and you could base your wedding around this. 
Of course, it will be far colder and harder to set up decorations in a forest at this time of year, but you could find a solarium or greenhouse that overlooks the natural world.
This can keep you and your guests warm while still creating the fairy tale atmosphere. 
This could be made special using candles and by decorating the space using plenty of dark green colors. You could also hand out fake fur throws or wear fuzzy accessories. 
Alice In Wonderland
Additionally, a gothic spin on the Disney fairy tale theme could be to take inspiration from Alice in Wonderland.
This hypnotic story features a range of fantastical creatures and warped reality, and it could be fun to set up a tea party style reception. 
Some people use red and white as their main colors as an homage to the Queen of Hearts, while others will include some blue features as a link to the main character's iconic dress.
Consider integrating less well-known quotes into your wedding vows as a way of celebrating the weird and wonderful. 
If you are a fan of Alice in Wonderland, you could make your own table numbers using second hand top hats.
Create a sense of nostalgia that your guests, and you, will love, while keeping your wedding classy and inspired. 
Adventure Inspired
Finally, you could use a forest venue to create an adventure theme based on camping and exploring the world.
If this is something that is important to you and your partner, you could set up makeshift hangings from overhanging branches or the ceiling of your venue. 
These can connect in the middle to create a tent shape over each guest table.
Later in the night, you could also set up a s'mores making area, or create a unique dessert for everybody to enjoy.
Maps can also be used as a background for your invitations, or in your wedding program. 
Each guests' name could also be made to look like travel tickets, so that they can be unique mementos of your big day.
Additionally, your gift table could be set up with old-fashioned briefcases or travel bags. 
Summary
There are so many unique themes to choose from when it comes to planning your wedding.
Make sure you find something that expresses your personality, and that feels like a fairy tale enchanted forest wedding to you and your partner. 
Whether that means connecting with nature by encouraging a barefoot wedding, or a winter celebration, the possibilities for a forest-based wedding are endless.
Your theme should reflect on a range of items including table numbers, your wedding invitations, and even the cake.

Latest posts by Jodie Messines
(see all)