Most wedding receptions feature a wedding cake as the major focal point, and forest themed weddings are no exception.
These incredible cake designs can assist you in selecting yours if you've decided to get married in a forest, secret garden, or at a celebration with a forest theme.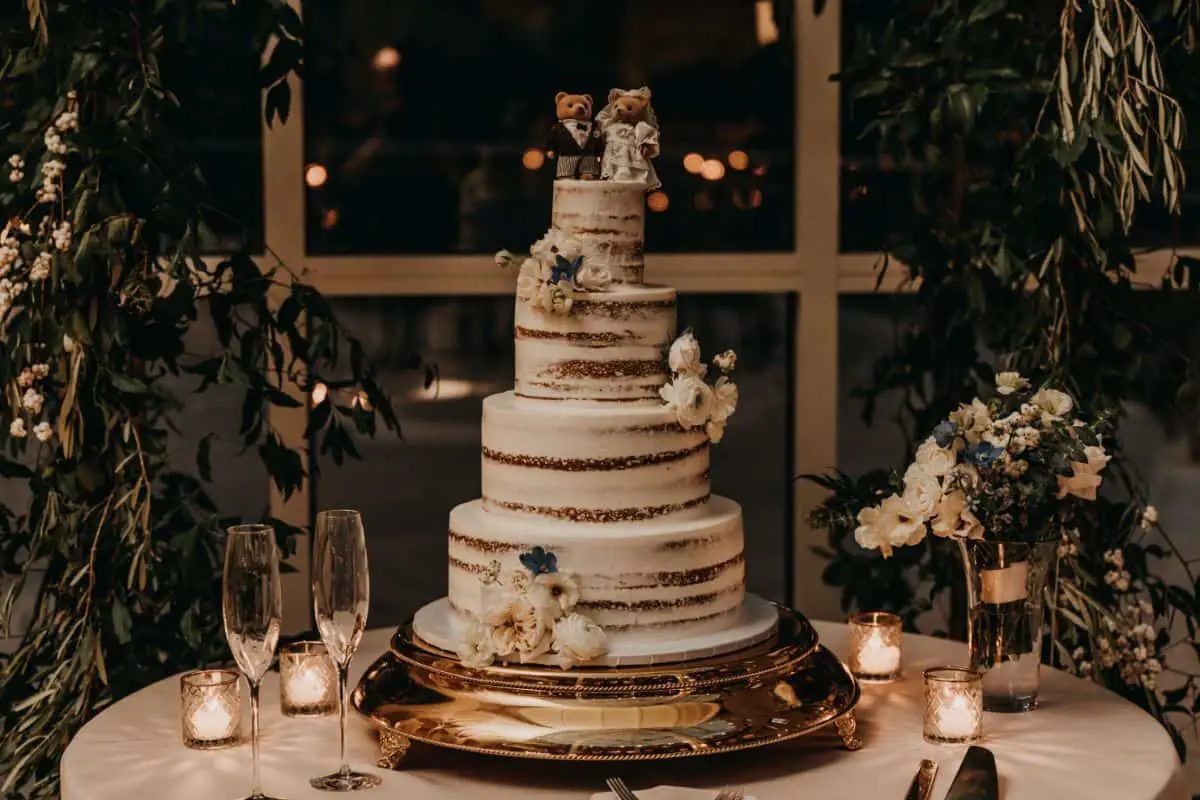 What sets apart wedding cakes with an enchanted forest theme from others? With their designs, they evoke feelings of a woodland from a fairy tale.
They might include ivy, vines, branches, flowers, ferns, fall fruit, butterflies and other forest critters.
These cakes can be really simple, or you can go all out with the enchanted forest decorations.  
In this article, we have put together the 10 most enchanting and fairy tale forest themed wedding cakes that we know you are going to absolutely adore.
A trendy concept for a wedding cake is an enchanted forest wedding cake in white with sugar blooms, berries, patterns, and feathers.
It keeps your cake looking simple, yet the addition of the blooms and berries, help to elevate this cake and make it look fit for a forest wedding. 
The sugar paste blooms are so delicate, they look like they are sprouting out from your cake.
This cake will look perfect during a spring or summer forest wedding, due to the colorful blooms. 
This rust enchanted forest wedding cake will surely make an impression on your big day. Sat on a wooden platform will sit your 4 tier cake.
This cake has been rustically iced with smooth buttercream and sprayed with a golden spray to create a magical effect.
Then your favorite flowers are placed in a particular way that will swirl all the way around your cake. 
Golden colored leaves are placed on the middle layer, to draw your eye to the cake.
You could only have three tiers and the effect would still be just as good.
This is a much more rustic looking cake, but it still feels special at the same time. 
This floral wrapped cake is exactly what it says. No matter how many tiers you have, each tier is topped with a crown of small, delicate flowers and berries.
The wire that holds all these decorations in place, looks like tree branches or twigs, which adds to the overall effect. 
This cake is ideal if you are looking for something that is simple and also a bit delicate as well. 
Make a real impression with your cake and have it made to look like a tree trunk. Each tier of your cake has been iced to create a bark effect, which will look really impressive.
You can personalize the cake to suit your style.
For example, you could even have you and your partner's initials carved into the wood, as you would with a real tree.
Then, to make this look more romantic, add the blooms that match the flowers used in your wedding ceremony on the cake.
Usually these flowers will be draped over the top and bottom tiers to add a softness and romantic element to your cake.
Also, you could add other foliage such as ivory, for a true authentic tree look which you would see in an enchanted forest. 
If you aren't sure whether you want your whole cake to be forest themed, you could always go half-and-half.
Which then creates a very stylish enchanted forest wedding cake.
Half of your cake is simply white like a traditional wedding cake, yet the other half has been iced to look like the bark of a tree. 
In addition to that, on the bark side, small delicate weeds have been created using sugar paste to make the tree portion look more realistic.
Then to bring the whole cake together, an assortment of big blooms are carefully positioned all over and on top of the cake.
These blooms help to bring the cake together, but also add a feminine and charming touch to the cake.
The best choice if you and your partner can't decide on what kind of cake you want. 
You don't have to go all out if you don't want to. Sometimes simple is still just as effective.
As a result, why not have this beautiful white cake, decorated with white buttercream and white roses.
The only color you see comes from green foliage that is carefully positioned on the top tier alongside the white roses.
This foliage will naturally fall over the sides of the other tiers of your cake.
This cake is simple yet classy. By being so simple, it makes a bold statement, yet the green vines help to keep it within the enchanted forest theme. This cake would be suitable at any fairy wedding. 
This beautiful enchanted forest wedding cake is made of multiple tiers of green and white decorated cakes.
Each tier is decorated differently, yet they all work really well together to make a truly special enchanted forest cake. 
It's the simple decorations that make a real impact, and help to produce a beautiful cake. 
Lots of green decorations such as green vines and green sugar paste flowers are used to help decorate this cake.
Alongside, a tier of green and white petals and a tier of green and white ruffles.
This cake will easily fit into an annoying first themed wedding, whether it is sat on a normal table, or placed onto a specially created tree trunk platter. 
As mentioned above, sometimes simple is better.
You don't have to go all out on the decorations on your cake to make it look incredible and fit your theme.
Even naked cakes can fit your enchanted forest theme, especially for weddings during summer or fall. 
Your cakes are lightly covered in buttercream known as a crumb coat. However, elements of the cake can still be seen.
Then, your cake tiers can be adorned with small clusters of flowers and berries or fruits that suit the style of your wedding.
Overall, this is a really subtle and simple cake, but the flowers and fruit add color that help tie it into the theme. 
A stunning variety of buttercream-covered wedding cakes decorated with bark and flowers, moss and branches, and other elements from an enchanted forest.
You could easily believe that this tree has been home to various fairies over the years. Due to its size, it really catches your eye, and feels magical. 
None of the structural elements can be seen, as everything is covered in moss and branches to create a really natural looking design.
That being said, the stand has a lot going on, yet the cakes themselves are quite simply designed, in simple white and gold decorations.
This makes the cakes feel more special due to the gold, yet they tie in well with the tree and branch stand design. 
If you have the budget and want something really eye-catching, then this is the ideal-enchanted forest cake you should have. 
Wedding cakes don't have to be brightly colored or white, you can go for a chocolate wedding cake.
This wedding suit is a chocolate wedding cake, covered with chocolate frosting fondant.
Then it is decorated on top with a creamy drip, sugar mushrooms, nuts, and chocolate spherical.
However, you could decorate this cake in any way that you like, but due to the busy nature of the tiers, it does look a bit like what you may find on the floor of an enchanted forest. 
With that being said, it is best to keep the decorations of this cake as simple as possible and try to not add too many elements.
This cake is ideal for a couple who want their cake to look fun and charming.
This is the cake for anyone who doesn't seek a traditional looking cake for their wedding day. 
Conclusion
Every wedding that has one includes a wedding cake because it highlights the wedding style or theme, showcases the color scheme, and sometimes even displays the sense of humor of the couple.
An enchanted forest wedding is similar to a woodland wedding but with a magical elvish touch; it is about woods.
Enchanted forest wedding cakes are particularly artistic since they incorporate both fairy tales and woodlands into their design.
In this article, we have shown you 10 enchanting fairytale forest wedding cakes.
You may take inspiration from any of these cakes, or find the cake of your dreams within this article. 

Latest posts by Jodie Messines
(see all)