We've all been there at weddings where everyone's eyes are glued to that towering beauty frosted with love. Let's delve into something as delicious as it is inseparable from the grand celebration of love – the wedding cake!
Your wedding cake is much more than just dessert; it's an edible symbol of your union that should reflect you both as a couple and enrich the aesthetics of your celebration. Through careful planning and insightful choices, you'll create something truly spectacular – both for the eyes and taste-buds. Now go forth – happy tasting awaits you!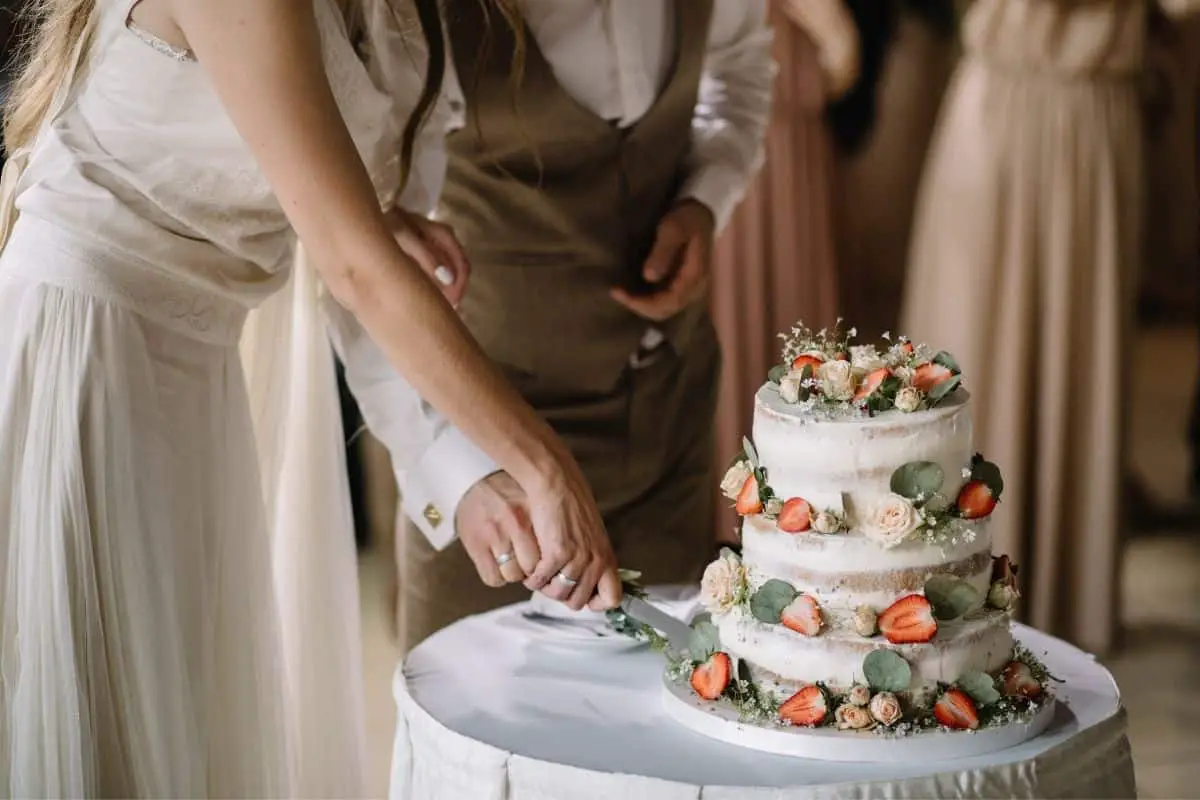 Choosing a flavor shouldn't be the hardest decision when it comes to your wedding, but it is often still a struggle to choose. 
So, we are here to help. 
You might fancy something a bit more on the traditional side of things, or maybe you want to be wild and unique, whatever you want, we have some ideas that will get your mouth watering.
Choosing The Perfect Cake Flavor
The thrill of selecting your wedding cake is a gastronomic adventure beyond compare! However, just like a successful marriage, choosing your dream cake goes beyond love at first sight (or in this case, first bite).
Style & Colors Go First
As tempting as it is to immediately begin cake tasting as soon as that sparkly engagement ring adorns your finger – Pump the brakes! Experts recommend beginning the process around six months before the big day. Never choose your cake flavor before you have chosen the style and color scheme of your wedding.
This lands after crucial decisions such as color schemes and venue have been selected. They are critical to ensure that your cake design complements them exquisitely.
Shop Around
You want to try at least a few different bakeries and do taste tests. Not every place will allow you to do this for free, but it is worth doing so, even if you have to pay a little.
It'll help you cross certain flavors off your list and give others ticks. 
Whatever place you end up choosing will usually take the cost of this off of your total price. Also make the most of it, and taste everything you can. 
Choose Based On YOUR Preferences
You should always make your choice based upon what you and your partner want, not what everyone else wants.
You can never make everyone happy, so it is best to simply choose what will make you happy. 
If you are taking people with you to your cake tastings, only take people who will respect what choices you make.
If you also have some family members or guests that will not agree with your choice, you can always have a smaller cake to cater to them as well. 
You could call this a 'safety cake'.
If You Can't Agree, Get Two! 
If you and your partner cannot decide between you, or if you have different tastes, you could always have two smaller cakes.
You could have a small cake for the bride's flavor and a sheet cake for the groom. It's not that uncommon.
Think About What You Already Like
There are countless options for cake flavors, so it can get a little overwhelming. The best thing to do is simply to start off by thinking about what cake flavors you already know you like. 
What things tickle your fancy, nuts? Fruits? Chocolate? Vanilla? Are you a sucker for red velvet cake or maybe fudge cake? What really tickles your taste buds? 
Narrow it down from here. It gives you a place to start at least.
Understand Frosting
Flavor is not just about the body but also about the frosting. Not all frosting is the same. 
Buttercream is the most common, which can be flavored however you want. Yet, some cakes have a fondant which is almost like doughy frosting. It is cleaner but does not always taste amazing. 
If you want this, do ask for buttercream to be under the fondant, so you can still get that delicious cake with an appealing frosting. 
Have Fun With It!
Plenty of aspects of a wedding will be stressful, choosing a cake should not be one of them, in fact it should be one of the more fun parts!
Have fun and enjoy the many cakes you get to taste. You can go a little crazy for this, let the cake choosing process be a break from stress.
You Can Have More Than One
You would be wrong to think that you only have to pick one flavor. If you like many, then you can have more than one. Picture citrusy lemon delights or velvety red velvet, or even a mix it up between tiers. Why not consider having more than one flavor? Think about it; Aunt Cathy may prefer traditional vanilla, while cousin Lucy might be team chocolate all the way.
If it is a multilayered cake, have one layer for each flavor! It makes the cake even more fun and gives plenty of options as well. 
You could even have bite size pieces as well, so your guests can pick which they like most! 
Mix It Up
You do not have to only focus on the body of the cake and the frosting, add bits and pieces; nuts, fruits, jams, ganache and so much more. Go wild, make it taste like heaven on earth! 
You CAN Skip On The Frosting
Many people are cutting back on frosting these days, we could call this kind of cake 'naked'. Instead, the baker could put filling or frosting between layers. 
You can't skimp on the frosting on the sides, or even have the sides un-frosted. You don't need to go traditional. It's your cake, do what you want with it! 
What Are The Traditional Cake Flavors?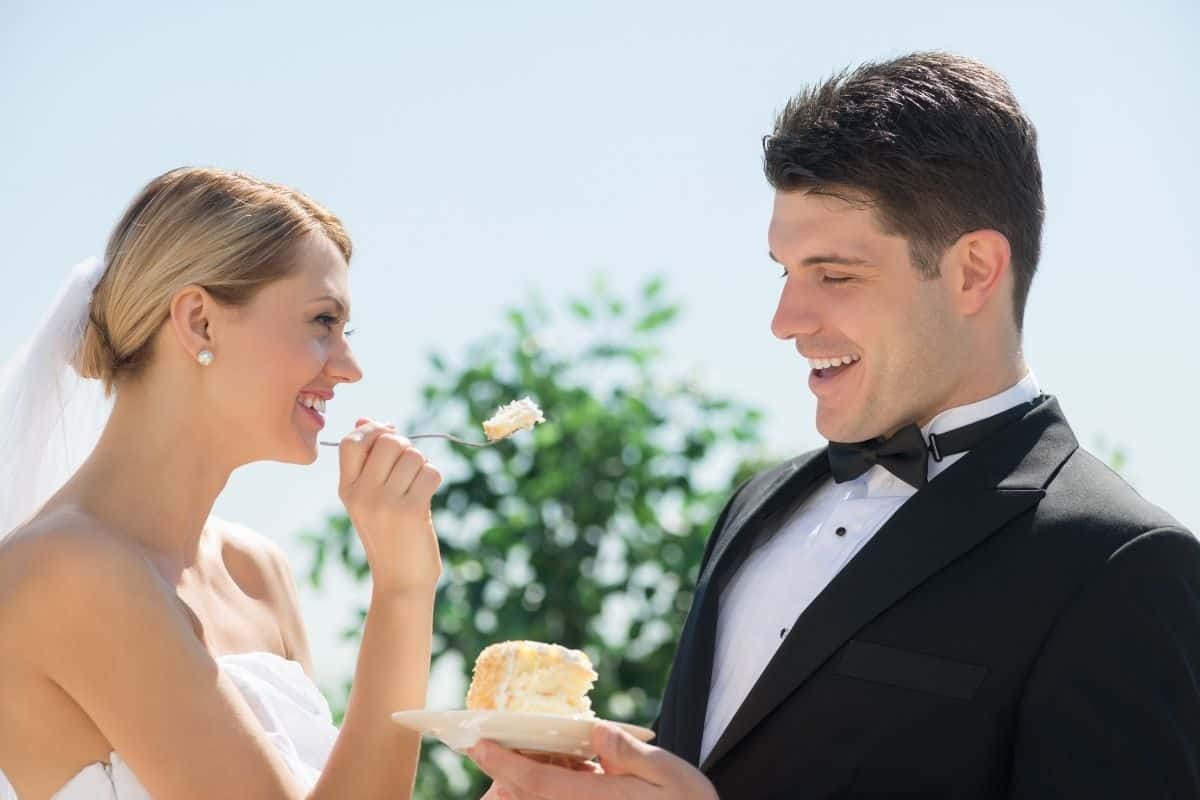 Maybe you want to stick with tradition, and that is okay. You don't have to be super unique, you can simply enjoy the elegance of having a traditional wedding cake. 
We have taken a look at the options of traditional cakes and their flavors and have created an awesome list for you to get an idea of what your options are if you fancy going down the traditional route. 
If you want to go traditional but still want to mix things up a bit, you could even mix and match between some of these.
Maybe a red velvet cake at the bottom but a vanilla cake at the top with cream cheese and buttercream frosting? 
Gross to some, delicious to others. 
Here are our options. 
| | | |
| --- | --- | --- |
| Cake Body Flavor | Filling Flavor | Icing Flavor |
| Traditional Vanilla | Raspberry jam, cream cheese, buttercream, fruit. | Buttercream, marzipan, cream cheese |
| Carrot Cake | Cream chase, candied pecans, orange curd, lemon cream cheese | Cream cheese |
| Chocolate Cake | Chocolate mousse, white chocolate buttercream, mocha mousse. | Fondant or chocolate buttercream. |
| Red Velvet Cake | Cream cheese, chocolate gouache, passion fruit. | Chocolate gouache, coconut flakes, cream cheese, or fondant. |
| Coconut & Lime Cake | Coconut lime buttercream, lime curd, Italian Meringue buttercream. | Buttercream, Lime flavor, coconut. |
| Lemon Cake | Raspberries, raspberry jam, raspberry buttercream, elderflower buttercream, vanilla buttercream, or lemon curd. | Fondant, or vanilla buttercream. |
| Pink Champagne Cake | Whipped cream, rum cream, strawberries, vanilla pudding, Bavarian cream. | Buttercream. |
| White Chocolate Raspberry Cake | Raspberry jam, Raspberry icing (creamy) or mascarpone. | White chocolate buttercream, or white chocolate meringue. |
These are all options for traditional cakes, and as you can see they all have plenty of variation in the flavors they can have, as well as the fillings they can have and what frostings as well. 
Some of them have a lot of fillings and frostings in common, so if you wanted to mix and match your cake layers, some of these would be ideal for doing so.
For example, a red velvet cake and a chocolate cake may pair well together. 
Spring Tastes
What if you are having a Spring wedding? Spring is a time that is full of fruity and floral flavors to celebrate summer being just around the corner.
If you are having a spring wedding, it is only right that your cake emulates this. 
So, you may start thinking about what your options are for this. Sure, you could just go traditional and make the cake decor look spruced up for spring time, but what if you could go one step further and make the whole cake remind you of spring? 
Well, you could focus on flavors, but what if you focused on flavors and looks!
A great look for a springtime cake is one that is white with greenery and flowers decorating it like a beautiful spring garden. 
Traditional flavors will never go out of style, and everyone will always love them, some will actually work with a spring theme, but here are some extra ideas for you in what you could have for your springtime wedding cake! 
Strawberry cake, with icing and fresh strawberries with a strawberry filling.
Almond cake with a lemon filling. 
Banana and walnut with a creamy cream cheese frosting. 
Coconut cake with passion fruit filling or a lemon cream. 
Key lime cake with a creamy lime cheesecake mousse. 
Lemon pound cake with a lemon curd and raspberry filling, with a frosting of vanilla or raspberry buttercream. 
Vanilla cake with sprinkles, with a vanilla buttercream icing and filling. 
Summer Tastes
Ideally in the summer you will want something that tastes and looks very tropical or floral.
Summer can get very hot as well, so you do not want anything too heavy. It should be refreshing, light and a bit fruity. 
We could probably avoid cakes such as red velvet or chocolate at this time of year as they can be a bit on the heavy side. 
Here are a few ideas we have for you. 
Coconut and banana cake with a white chocolate ganache. 
Banana and chocolate cake with a chocolate ganache. 
Vanilla cake with refreshing pineapple cream. 
Coconut cake with a spiced rum buttercream. 
Lemon cake with white chocolate.
Lime cake with a ginger cream filling and frosting. 
Lemon cake with a filling of lemon curd and a limoncello buttercream frosting. 
Vanilla cake with a mix of orange, berry and dark chocolate. 
Coconut cake (spiced) with a buttercream frosting and some coconut flakes.
Pink champagne cake with a white chocolate and strawberry mousse filling. 
Fall Tastes
The fall is very well known for pumpkins, spice, apples and so on. What if you could have a pumpkin spiced cake? Ooh, yum! 
So, what flavors do we recommend for a wedding in the fall? Well, you want something savory, but stay away from heavy cakes again, it is still mildly warm in the fall, so you do not want anything too dense. 
In fall, you can have a traditional cake and just use nuts and caramel to add to it if you want to. 
Apple cake (yes that is a thing) with a caramel filling. 
Spiced cake with a hazelnut buttercream frosting. 
Apple and cinnamon cake with an oozy apple pie filling. 
Orange and butternut squash cake with an orange mousse. 
Red velvet cake with a cream cheese frosting and filling. 
Pumpkin spice cake (Oh yes!) with a cream cheese filling. 
Vanilla almond cake with a chocolate mousse and buttercream filling. 
If these ideas sound great but don't quite hit the spot, consider all the things you traditionally associate with the fall, and you might find your perfect fall wedding flavor! 
Winter Tastes
So, what about winter? Well, there are so many flavors we associate with winter, but some of them aren't applicable… No one wants a cake that tastes like a Christmas dinner. 
But, gingerbread, peppermint, cranberries, and fruits are all very winter appropriate. Spiced orange is also a lovely winter flavor too. 
You can have a delicious winter wedding cake that you can easily enjoy with a tasty cup of hot cocoa, or maybe a mulled wine.
Mix in the traditional seasonal flavors with your wedding cake and decorate accordingly if you want a seasonal theme. 
Here are some ideas. 
Chocolate fudge cake with some dark chocolate chips and a fresh peppermint mousse.
Bourbon vanilla with a succulent raspberry filling.
Chai tea cake with a gentle French honey buttercream. 
Double chocolate cake with a dark chocolate ganache filling and a pink peppermint buttercream frosting, with a topping of candy canes crushed up. 
Chile chocolate cake paired with a Mexican chocolate buttercream and a chocolate fudge. 
Brown butter spiced cake with a filling of maple sugar buttercream, and a frosting of cream cheese. 
Graham cracker cake (yep, that is a thing) with added dark chocolate ganache and a toasted marshmallow buttercream. 
As you can see, we recommend that if you are going to go heavy, this is the time to do so.
In winter, we gorge ourselves, so now is the time to bring out the chocolate cakes, the dense flavors and the heavy cake bases. 
Tasty Southern Flavors
What if you fancy something a little more Southern? Some southern weddings have really elegant and beloved traditions that really make these events magical. The cake is included in these. 
Sometimes they are personal things, a recipe that grandma had at her wedding, and her grandma before her.
But, all we know is Southern cakes are a whole other thing. Let's look at some that we know and love already! 
Lemon and orange chiffon cake. 
Pineapple and banana spiced cake with a frosting of cream cheese. 
Coconut chiffon cake 
Poppy seed cake with a gentle buttercream frosting. 
Red velvet cake with coconut cream cheese icing. 
Strawberry cake with a filling and icing of strawberries and fresh strawberries on top to finish. 
These cakes tend to be on the lighter side, likely due to the heat in the south, and heavy cakes not being of preference. You could always try one of these for a summer or spring wedding! 
Indian Cake Flavors
These cakes are in a world of their own. They will usually be rich in colors, have vibrant embellishments and have henna styled designs.
For many these cakes will be close to home, and you can always add an Indian styled cake to your list. 
Here are some flavors that you can try for an Indian wedding cake. 
Vanilla cake with a strawberry filling and a buttercream icing. 
Vanilla cake with a mango filling and buttercream icing. 
Pink champagne cake with strawberry filling and frosting. 
Green tea cake with a filling and icing to match. 
Chocolate cake with a chocolate and hazelnut filling and a buttercream frosting.
Something A Bit Different
These are all just ideas, but you do not have to go along with any of these, you can go off on your own and come up with something totally different, totally unique, and maybe even a little weird.
You could have a lemon basic cake, a honey lavender wine soaked cake. 
Go wild, your cake is for you, and its unique flavors will remind you of your special day for years to come. Cake is delicious, but on this occasion it is something a bit more than just that.

Latest posts by Jodie Messines
(see all)