A wedding can be a costly affair. Once you start picking the venue, photographer, and all the things you need like catering and table decorations, the money can begin to mount up.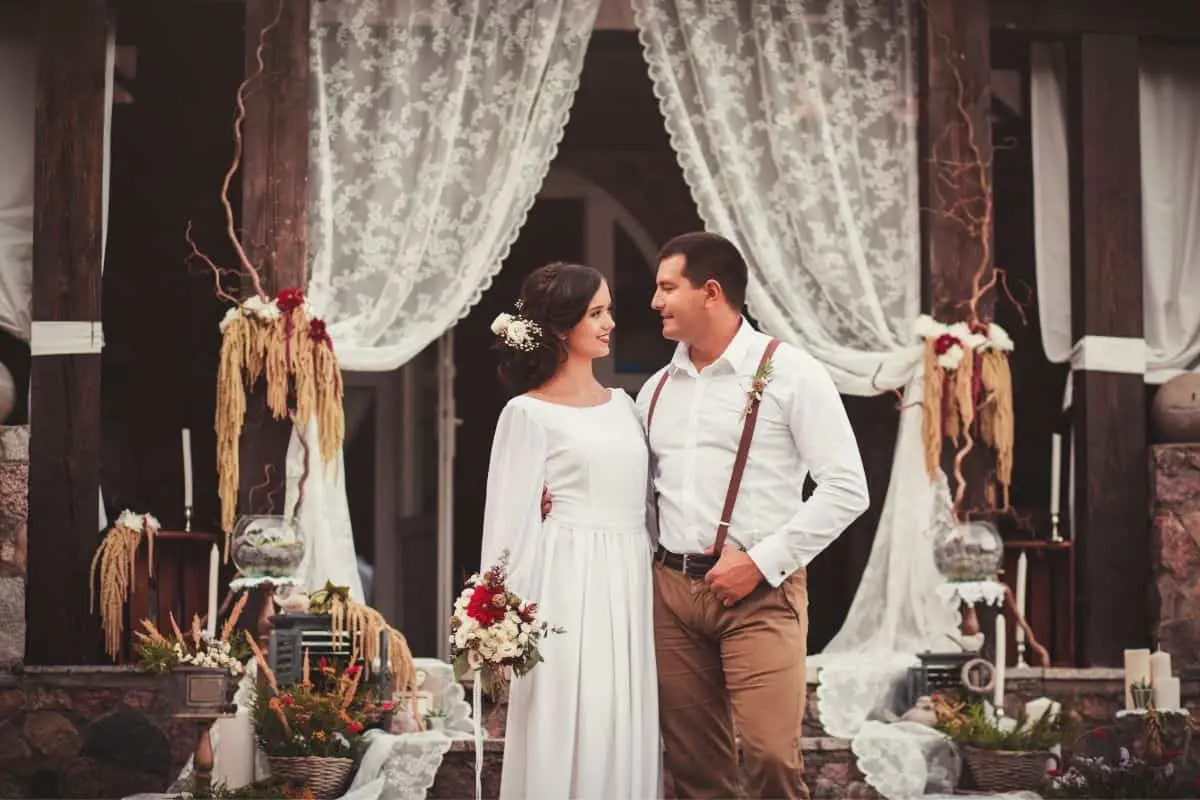 When it comes to sticking to a budget, one of the best ways to save money at a wedding is to go with a rustic theme.
This doesn't mean that everything has to look 'budget' either, but it can really help with keeping the costs down. 
Even so, having a DIY element can also make preparing for the Big Day fun, and you can also ask friends and family to help.
The rustic theme will make the day less stressful due to the laid back nature, and all your guests are sure to have fun.
So with this in mind, let's take a look at what a rustic theme means when it comes to a wedding, and how you can save money, as well as making sure the venue (and everything else) looks great. 
What Is A Rustic Theme?
Whilst you might immediately think that a rustic wedding screams casual, it basically just means that you are looking to incorporate handmade items that have been well thought out, and perhaps choosing wisely where you get married.
For example, a rustic wedding could be held in a barn or a garden. It is about including personal touches, and yes, going DIY where you can to save some money. 
If you like the vintage style, you can also go rustic as well. Who doesn't like handmade table settings? Not only will it look good, but it will be unique to your wedding, as well as extra special.
You can also have fun getting creative with mason jars and flowers. To put it simply, having a rustic themed wedding means that you can have a lot of variety whilst still sticking to chosen color themes, etc. 
It also doesn't mean you cannot have a traditional wedding either. You are just having more fun along the way!
Where To Start With A Rustic Themed Wedding?
Before you decide on what the rustic wedding means to you, think about whether it is going to be super casual, slightly formal, or completely formal.
Rustic doesn't have to mean you skimp on traditions or any glamor. 
With rustic, you can create a more casual and easy going type of wedding, or you can make it elegant.
However, if you do plan to go more upscale, then costs may build up compared to if you decide to make it less formal.
So, despite the fact you can make your wedding look like something out of a fairytale, you might want to consider planting your feet firmly back on the ground for a more casual wedding. 
It will still look as beautiful, but you will have enough money for the honeymoon too!
Themes To Consider For A Rustic Wedding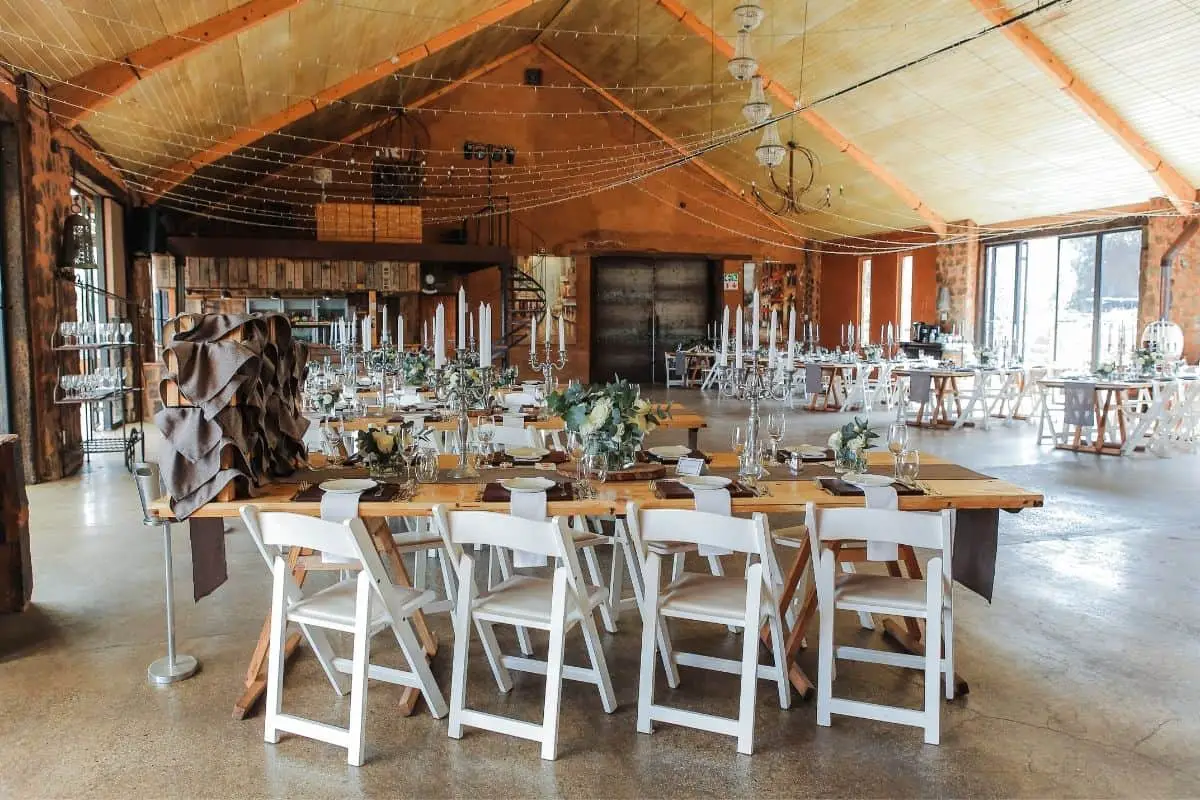 Now that you have chosen to have a rustic themed wedding, you need to narrow it down. That's because a rustic wedding is quite vague – but we guess you have already figured that out by now.
You can make it anything you want, from elegance with beautiful flowers and glamor, to cowboy boots and barn dancing.
Whilst having a rustic theme is a great place to start, it will help if you begin to use some words to describe the theme a lot more clearly. This will then be your starting point to help you on your way.
Try a Pinterest or physical moodboard to get those creative juices flowing if need be. There are so many ideas online to start you off. Just give it a Google!
If you are really stuck for ideas, take something like a mason jar or a particular flower, and work your way up from there. It doesn't need to be a constricted idea either, so have some fun with it. 
Or, another way to go about it is to look at venues and to pick a season. Once that has been done, you can think about the rustic theme. Here are a few ideas to get you started:
Sunflowers, daisies, windflowers or roses
Romantic colors and feelings
Choosing A Rustic Wedding Venue
When it comes to a wedding, the venue is one of the most important things to get right. It can set the scene for the whole theme.
You also will find that the rental for the room and the catering is going to be the biggest expense of the wedding.
Make sure that before you decide on the venue you have looked at the cost. Doing so can help you stick to your budget, because if it is too expensive, there may be other options to consider. 
You are going to want to know whether it is all inclusive.
For example, does it include a beverage and food package? How long can you rent it for and what is the cost?
How many guests will fit into the space, and do you have to pay for the vendors that they prefer, or can you hire a cheaper option?
Here are some ideas for both indoor and outdoor venues to get you started.
Indoor Options
Sometimes the weather can be an issue, so you might need to consider this. However, there are some nice indoor options that can help you to kick off a rustic wedding. These are:
Keeping the venue natural and not over the top (like a mansion) can not only keep the costs down, but fit in with a rustic theme. 
Outdoor Options
An outdoor wedding can be beautiful, especially during the summer and spring seasons.
An outdoor wedding is also a chance to be one with nature, and to keep the atmosphere easy going and casual.
Some of the options to think about are:
Having the wedding outdoors is one of the best ways to save money. You can always use something like a gazebo to shelter guests from the rain.
Flowers To Consider For A Rustic Wedding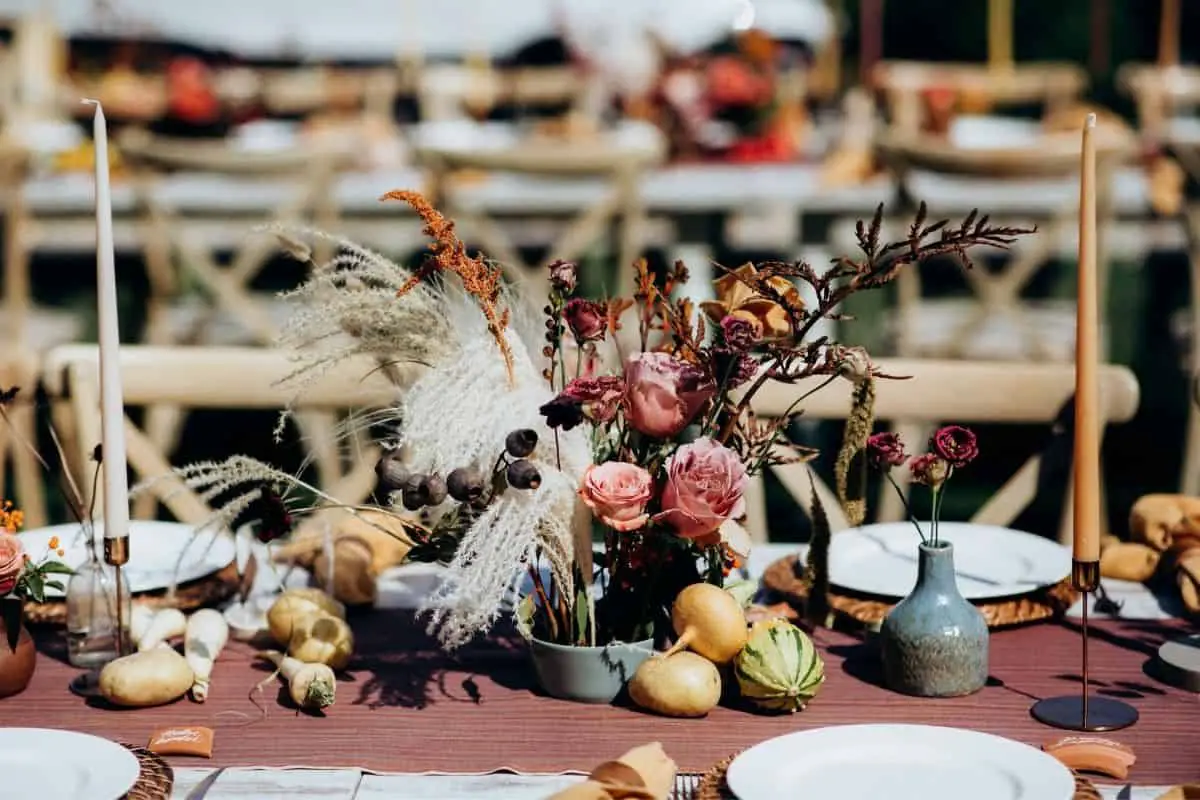 Fortunately, because a rustic wedding can be more casual than a traditional wedding, you can go the DIY route when it comes to the bouquet.
You can even create a beautiful bow to tie the flowers together.
Also, whilst you can buy fresh flowers, consider going the faux route. Compared to a decade ago, fake flowers can look real, and it means you can save a bouquet to keep forever in a vase.
If you are wondering what flowers will suit a rustic wedding, here are some examples:
Think about how flowers will work as boutonnières too. You might want everything to match, however, due to it being rustic, you can stray away from this tradition. 
Rustic Wedding Decorations
When it comes to the decorations for a rustic wedding, the more natural you go, the better.
That means creating handwritten name cards for the table with beautiful lettering, or building a wonderful flower arrangement with a vase and candles for the center of the table. 
Whatever you decide to do, make sure it fits with the venue. For example, you might not use candles and carnations for a barn wedding.
However, you might design on sunflowers and hanging lights that have a more vintage vibe.
Some things to think about for rustic decoration ideas are:
Mismatched vases and flowers
Dresses For A Rustic Wedding
The dress for a rustic wedding doesn't need to cost the earth. In fact, there are many stores where you can buy a beautiful wedding dress without spending half of your savings.
For this reason, a rustic wedding works for those on a budget.
You don't even need to compromise on style or quality, however, it does mean you can wear a mid-formal style dress – which are becoming super popular these days.
Here are some examples:
Groom And Groomsmen Clothing For A Rustic Wedding
When it comes to the formality of the menswear at a wedding, it will all depend on what the bride has gone for with her dress.
For example, if she has decided to be more casual with a basic white dress, then the groom can follow with a less formal suit.
If she has gone for a somewhat formal wedding dress, then the groom should stick with a full formal suit too. It just means that they match, and do not look like they aren't the wedding couple.
This also goes with the rest of the wedding party too. Everyone should match when it comes to the formalness of the wedding attire. 
Depending on the above points, here are some ideas:
A traditional suit and shoes
Final Thoughts
It doesn't have to cost the earth to plan a wedding. Going with the rustic theme will not only help to give you plenty of variety for decorations and venues, but it will also help to keep costs down if you are on a budget.
Hopefully you have been inspired by this article. For more information, tips and tricks, check out the rest of our website for more information.
Good luck with your wedding planning!

Latest posts by Jodie Messines
(see all)