For most couples planning a wedding, one of the most important issues is choosing the venue for the reception as well as a caterer to provide the food. There are many options for reception venues but one you may not have considered is a restaurant. 
However, there are some valid and worthy reasons for choosing to host your guests at a restaurant after the ceremony. We consider the benefits of an affordable wedding venue with a restaurant reception. 
How To Choose A Wedding Reception Restaurant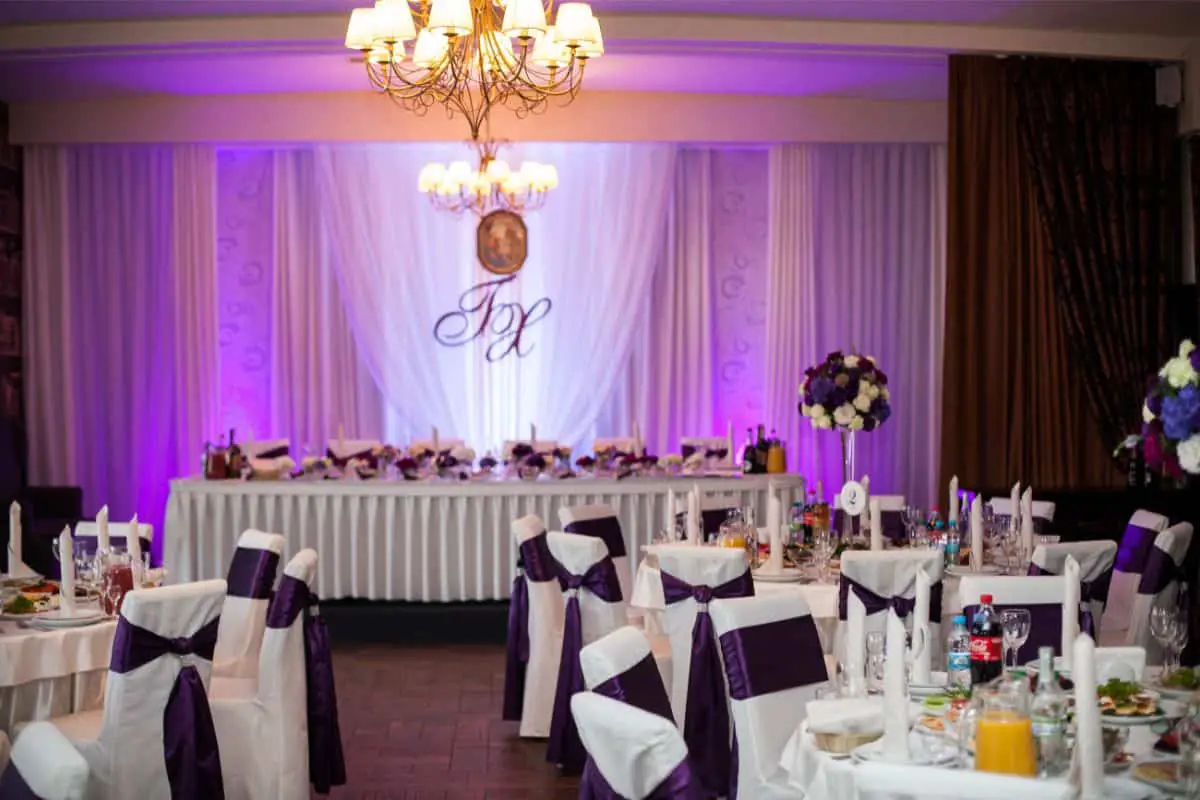 Research is the key word here. Without looking at all aspects of the needs of your wedding reception you will find it hard to make a decision about choosing a suitable restaurant. The best thing to do is sit down and make a list of all the elements you need to consider. 
One of the most important issues will be your budget but equally important is the quality of the food that you will be serving your wedding guests. Calculating the number of people you want to invite and how that will work for a restaurant reception is also vital. 
You also need to think about the style of dining, the kind of food you want to offer and the layout of the seating arrangements. 
So, with so much to think about let's look at a few of these things in more detail. 
Budget 
If you are weighing up the pros and cons of having a restaurant reception versus a traditional wedding venue the first thing you will probably want to think about is the cost. 
When you hire a venue it will typically be just the rental of the space that you are paying for. Any furniture, linens, decorations or extras will be up to you to provide and pay for separately. 
Unlike traditional wedding venues restaurants don't charge rental fees, although there will be certain minimums you will need to meet. You will also be saving money on decorating the venue, although you may want to add some personal touches if that is permitted. 
One of the biggest impacts on the cost of a restaurant wedding reception will be the time of year. If you can, avoid times of year when restaurants are busier. For example, the holiday season, November & December when there may be a lot of corporate or office parties.
Of course, some areas will be more expensive for hosting your restaurant wedding receptions. Cities like New York or Los Angeles will obviously charge more especially for top quality dining. 
However, most cities have a wide range of different types of restaurant that you can choose from according to your budget and the style of dining you want for your reception. 
Sticking to your monetary limit is important. If you find the perfect venue, but it is too small for all the guests you originally planned to invite, consider trimming the guest list to include just close friends and family.
Think about where you want to have the wedding ceremony. If you are having a civil ceremony then you could look for a restaurant that has an outside space such as a rooftop terrace, garden or separate room. 
This will save you money on paying for a separate location, although you will still have to pay for a celebrant. You will likely have to pay a little extra for this space, but it should be more affordable than a completely separate ceremony location. 
When you are budgeting for your restaurant wedding reception don't forget to budget for tips as well as local taxes. This could add another 20-30% to your bill so make sure you allow for it. 
Quality Of Food
When you decide to have a wedding reception at a restaurant the spotlight is going to be fully on the food. With a traditional wedding venue, the food is just one, albeit important, part of the post ceremony celebration. There will also be music and dancing for the guests. 
None of that will apply to a restaurant reception and the quality of the food will be front and center. For this reason you need to do your research and make sure the food is to the standard that you want and is worth what you will be paying. 
It is much easier to judge the quality of the food at a restaurant than from a caterer. Of course, you would do tastings with potential caterers before finalizing your choice. However, it is not always guaranteed that the food on the day will be of the same quality as the tasting. 
When checking the quality of a restaurant's food you don't even have to rely on your own opinion. Use professional reviews and recommendations to create a short list of good restaurants in your area that are willing to host a wedding reception. 
Go to dinner or lunch in the restaurants you have shortlisted a few times and take family or friends to get their opinion too. 
You will also need to find out if the restaurants' event menus are the same as their regular menus or does it change when catering for one large gathering. 
Headcount
When hiring a traditional wedding venue you will normally choose a location that will accommodate the number of guests you are expecting. 
With a restaurant wedding reception it almost works in reverse, you choose the restaurant and decide how many people it can safely accommodate. You also need to think about how much to spend on each person. 
While you could spend $75 per head on a hundred guests, by having just 75 guests you could spend $100 per person on even higher quality food. You also need to consider the cost of any alcohol that you will be including with the meal such as champagne or wine. 
A restaurant will have a minimum spend for food and drink according to the time of day and day of the week when you will have your reception. Other costs will be dependent on the menu choices as well as any beverages you want included. 
Style 
Your research to find the restaurant for your wedding reception will be dictated by the style of food and dining that you want. Think about whether you want a plate service and formal meal or a buffet or family style dining. 
Remember that the restaurant will be operating slightly differently to accommodate your reception. Instead of a different table ordering individually, they will need to cater to dozens of people all at once. For plate service this can create delays. 
If you want a more relaxed atmosphere perhaps choose a buffet style, or cocktail reception. That way people can freely mingle as they enjoy the food. This may be a slightly more affordable option if you are worried about your budget. 
For a more casual reception, you can have family style dining which involves large platters of food being shared between tables. This means no one is left waiting for their food and creates an intimate atmosphere. 
One of the costs associated with using a caterer for a traditional wedding venue is the expense of making arrangements for those with special dietary requirements or allergies. 
Happily, restaurants do this on a daily basis, so it should not cost you extra, and you have the peace of mind that all your guests can eat safely. 
Size & Layout
The seating arrangements are something to think about when deciding whether to have a traditional or restaurant wedding reception. In a hired venue the seating will be laid out specifically for your guests. 
Restaurants typically have a layout that allows for small parties of two, four or six people. You need to think about how you want your guests to sit and make sure that they are not scattered across the restaurant. 
The capacity for a restaurant wedding reception will be around a maximum of 50–100 people depending on the restaurant size and its own policies. If you want the restaurant to rearrange the tables, so everyone can sit together this will need to be arranged in advance.
If you want to hold your ceremony at the same location check for restaurants that have a suitable space for this. This will save guests having to travel between two venues and save some money on a second venue. 
While not all restaurants will be able to accommodate large wedding parties the smaller celebration will be a more intimate and personal experience. Guests will be able to chat while enjoying their meal, and you can relax and enjoy their company and the good food. 
Look at previous wedding recommendations through online research and wedding blogs to find a restaurant that is suitable for your reception. Browse through their website for photo galleries to get an idea of the layout and size. 
Convenience
If you are having the wedding ceremony elsewhere choose a restaurant nearby so that guests are not having to pay for taxis to travel between the two. 
Think about the parking and transportation close to the restaurant. Traditional wedding venues typically have their own parking lots, restaurants typically don't, so this is a cost to consider for your guests. 
Contact The Restaurants You Are Considering 
Make a list of the restaurants in your area that are willing to host a wedding reception and have made your short list. You could contact them by email, phone or personal visit to discuss your requirements. 
One of the most important things to establish is whether the restaurants have previously catered to wedding receptions so yours is not the first. Wedding receptions are very different from regular restaurant service, and you don't want to be their guinea pig. 
Do they have an event coordinator or do you need to speak to the front of house manager? You need to deal with someone who can agree prices, headcount and any special arrangements with you. 
Cost To Hire A Restaurant For A Wedding Reception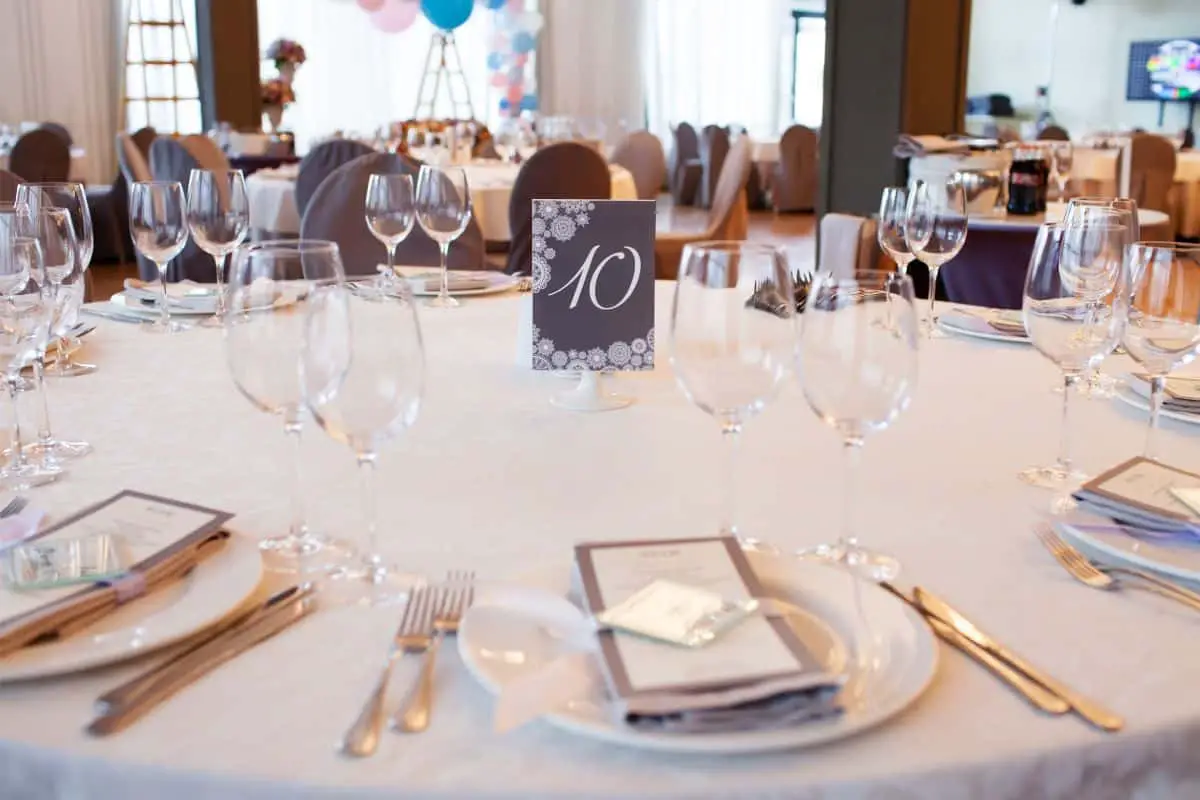 To compare the costs of hiring a traditional wedding venue with a restaurant you have to decide if you are going for a full buyout or just a private section of the restaurant. 
Full Buyout
A full buyout means that you take over the whole restaurant for the duration of your wedding reception. This guarantees you the exclusivity and privacy for your celebration but will come at a cost. 
The restaurant will want a guaranteed minimum spend for the cost to the restaurant of closing to other potential customers for the time you want the place to yourself. 
If your guest list is over a hundred people then this may be your only choice if you really want a restaurant reception. The location of the restaurant will affect the buyout cost as will the time of day, day of the week and potentially also the time of year. 
You can mitigate the cost of a restaurant buyout by hosting your wedding reception on a day when they would normally be closed. That way they are not losing other customers, but instead making money on a day they normally wouldn't so may offer you a good deal. 
Private Section
For couples who want a more relaxed and affordable wedding reception, having your own space in the restaurant is a good compromise. If space allows, you may get your own screened off or separate area away from other diners, although this may cost more. 
If you are happy to be in proximity to the rest of the restaurant patrons and just want to seat your guests together ask if you can group some tables together. Most restaurants will be willing to oblige if they have the space to accommodate your party. 
Do you want to decorate the area to personalize it? Ask about bringing in your own decor to add some personal touches to your tables. However, this may be limited to a centerpiece or wedding banner above the bride and groom. 
Day Of The Week
To save money choose an off peak day of the week and avoid Friday and Saturday evenings. Having a midweek reception will be more affordable in most cases as restaurants will be less busy. 
Time Of Day
For a more affordable wedding reception choose a brunch, or lunchtime when there is less demand at most restaurants. Combine this time of day with an off peak day of the week to maximize your savings. 
An evening reception on the weekend will cost a lot more so if you can avoid these times. 
Time Of Year
Be aware of busy times of year such as the holidays. Prices to buyout a restaurant or even have a private section will be a lot more expensive at this time of year. If you can be flexible with your dates, and times then this will potentially save you money. 
Length Of Hire
The price that you pay for a restaurant wedding reception will also depend on how long you can hire the space for. If you only want to enjoy a nice meal with your wedding guests then two to three hours is probably sufficient. 
However, if you want to party into the night in your private section of the restaurant this will cost extra. You will also need to check if there are local restrictions on noise if you are planning to have a party after your meal. 
Finalizing Your Choice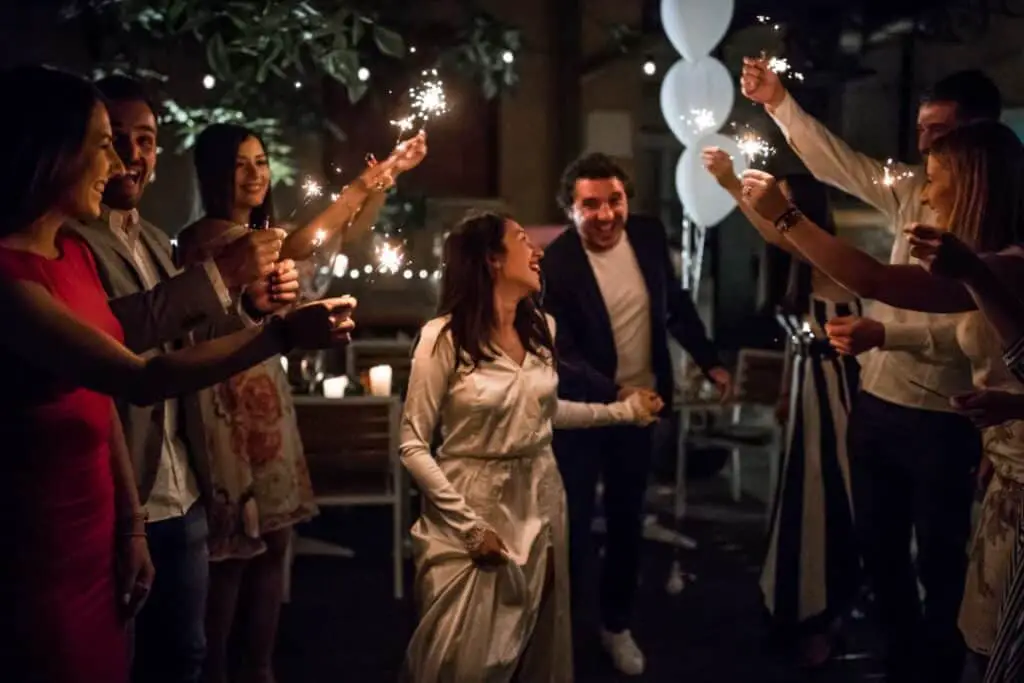 Once you have found the restaurant that ticks all your boxes you can formalize the arrangement by signing a contract. When this is done you can set about discussing and customizing your menu as well as finalizing your head count. 
You should also discuss the issue of alcohol, how and when it will be served and up to what point. Let guests know if you are providing an open bar or just serving alcohol with the wedding meal. 
Traditional Venue vs Restaurant Venue
So, is a restaurant wedding reception cheaper than a traditional venue? There are savings to be made if you carefully choose the time, and location of the reception. You don't need to pay rental or hire additional elements to decorate the venue. 
However, there are restrictions with a restaurant location that would not apply to a traditional venue such as the limit to guest numbers. This may be the deciding factor and the cost difference between the two choices may be minimal depending on your personal choices. 
You can of course have a restaurant reception that is affordable, and it may be a more relaxing way to celebrate your wedding day. It will also be a memorable experience not just for the happy couple but also the guests as a different type of wedding reception. 
Final Thoughts
What you decide to spend on your wedding reception is a matter of your budget, personal preference and the memories you want to create. 
We hope this guide to an affordable restaurant wedding reception venue has answered some of your questions and will help you make the best decision for your wedding. 

Latest posts by Lisa Plaitt
(see all)