No matter what your wedding budget is, you have to factor in the cost of catering for your big day. It's one of the most important aspects of your wedding to keep your guests fed with delicious food and entertained with a couple of drinks.
But how much does it really cost to cater a wedding? What do you need to consider when budgeting?
We're here to help you understand your catering costs and needs. This guide will tell you everything you need to know about catering a wedding and making sure you have enough of your budget set aside so everyone's food and drink needs are met. 
The Average Price For Catering A Wedding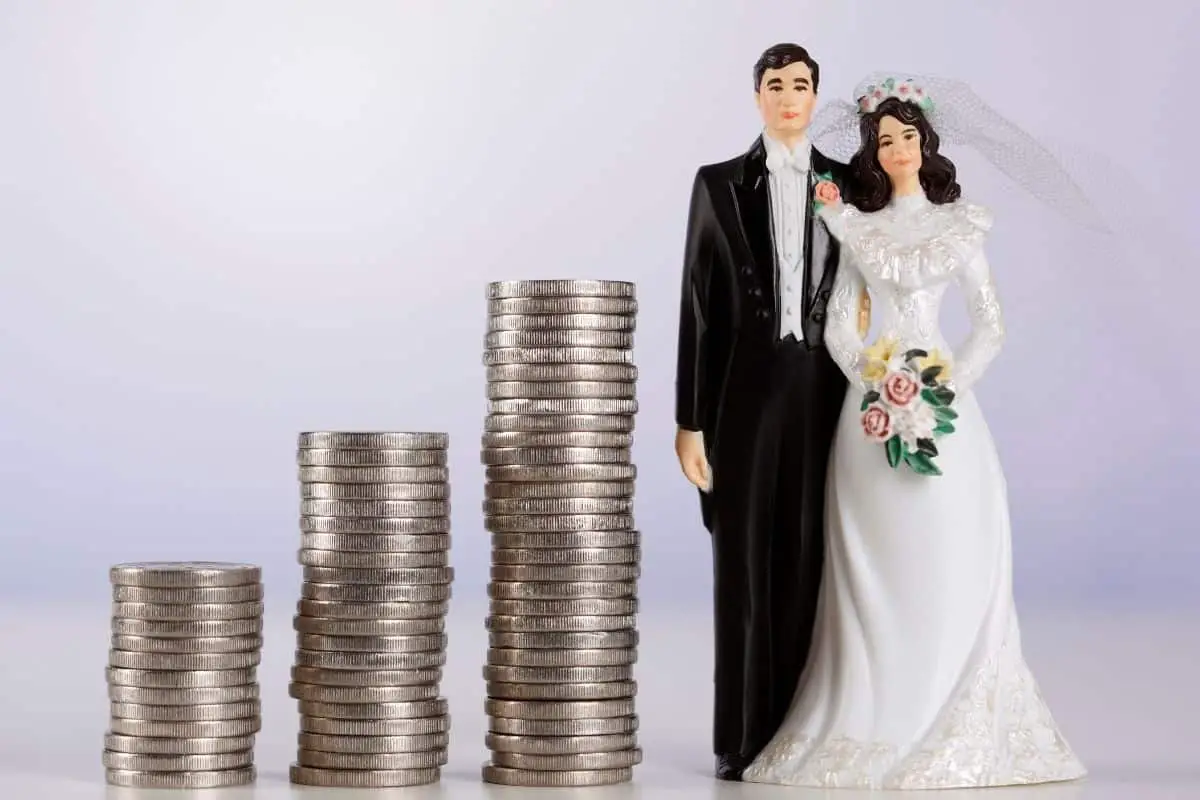 You might be surprised to learn that food and drink will account for around 50% of your wedding budget! But knowing this is important; it means that you can figure out your catering costs first and then build your budget around them.
Overall, the amount you spend on catering your wedding will mostly depend on how many guests will be attending, your wedding venue, the food you serve, and the type of food and bar service you'll be offering.
Prices can start from around $25 per person for those on a smaller budget and can end at around $80 per person for more upscale options. This is before factoring in bar service, which can cost anywhere from $20 per person to $40 dollars per person.
For a wedding with 100 guests, the average cost of catering usually comes between $8,000 and $10,000. This is the typical average, however, this average does change depending on where you're getting married.
For example, you can expect to pay more if your wedding is in Los Angeles or New York City, where the cost of living is higher than in smaller cities and towns. 
Things To Consider When Budgeting For Catering
There are many factors that can affect the cost of your wedding catering. Below, we've listed some that will likely determine the overall fee:
Food Options
The food options and the type of service you choose will make a big difference to the cost of your catering.
More often than not, wedding caterers will offer packages at different prices depending on your budget and what kind of service you want, and also offer upgrades for a bigger selection of food, food stations, and hors d'oeuvres for an additional fee.
If you decide to have plated meals at your wedding reception, you'll likely pay around $100 to $200 per person on average. The food you serve will also factor into this cost. For example, if you want to serve your guests Wagyu steak, your catering cost will be significantly higher!
You can also choose to serve food to your guests buffet-style. This is cheaper than plated meals with waiter service at around $50 to $100 per person. Again, this depends on what food will be served at the buffet table.
Bar
The bar service at your wedding will also fall under the cost of catering. If your budget is particularly tight, you can have your guests pay for their own drinks as and when they want them, but if you want them to enjoy some drinks on you, then you can choose to have an open bar or a full bar.
A full bar at your wedding reception is where the bar has many spirits, wines, beers, and cocktails available, but guests do not receive an unlimited amount.
You would put some of your budget towards a number of free drinks for each guest, but once they reach their limit, they would have to pay themselves.
A full bar can be difficult to calculate in terms of cost because every guest might drink different amounts. It's best to decide based on what you can afford after deciding on your food.
On the other hand, an open bar is where your guests have every drink they order paid for so they can have an unlimited amount of drinks. This is best for couples with a large budget as it can cost around $50 per person; you'd probably have to budget the same amount for an open bar as you would your food.
Wedding Venue
Your wedding venue might also have an impact on the final cost of your wedding. Unfortunately, some wedding venues won't allow you to hire your own caterer and will only allow you to use their services or choose from a list of their preferred caterer. 
This is why it's so important to read your contract before making a commitment to a wedding venue. Having a limited choice in how your wedding is catered can mean higher fees and restricted options. Be sure to check for any hidden fees or conditions to avoid this situation.
Guest List
Your guest list is probably the most significant thing to consider when budgeting for catering. It goes without saying that the more guests you have, the more you'll have to spend catering for them.
No one wants to cut people from their guest list, but if you're working with a small budget, it might be something you'll have to consider as a last resort.
Alternatively, there are some choices you can make to save money when catering for a lot of guests, such as choosing buffet-style food or removing signature cocktails. 
Signature Cocktails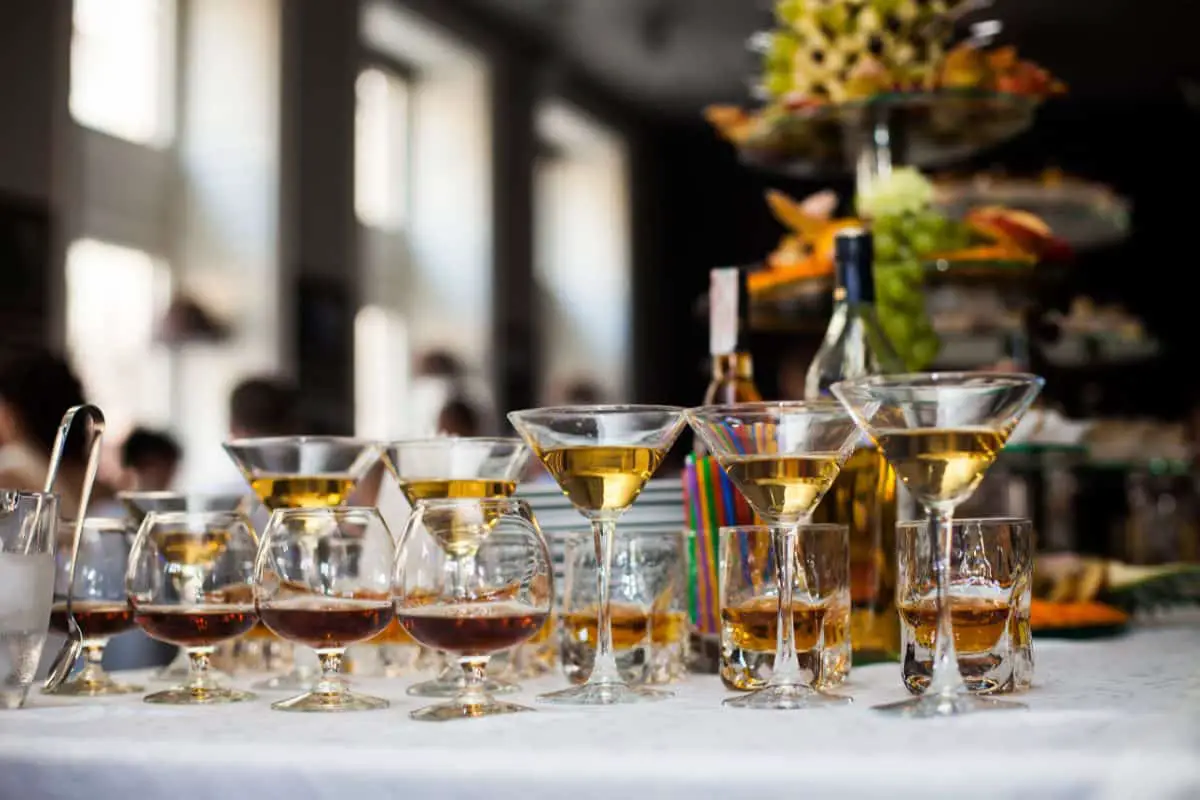 Some couples will want to offer their guests signature cocktails that show their personalities and pay tribute to their wedding day. If you're one of these couples, then you should expect extra fees for the ingredients and a mixologist who can create something unique for you and your partner.
Rented Glassware And Tableware
Of course, your guests are going to need plates to eat from! You'll need to factor in the rental costs of glassware and tableware when figuring out your catering budget. 
Fortunately, many caterers and venues offer these rental services and it is factored into their fees. However, it's still important to ask about glassware and tableware in case those items aren't factored into the overall price.
Wedding Cake
For dessert, you're going to need a gorgeous wedding cake. Although you'll likely order this from a professional baker rather than your wedding caterer, it will still factor into your catering cost.
On average, a wedding cake costs around $7 per slice, but this depends on the flavor, size, and design of the cake. There may also be extra fees for slicing and serving the cake, so make sure to confirm this with your wedding caterer.
Gratuity
Finally, it's only right that you tip your caterers, waiters, and bartenders for the job they've done. Being in the service and event industry is stressful and strenuous, especially when you're taking extra care to make someone's wedding perfect.
Consider paying a 15% gratuity to the staff, unless it's already been included in your final bill.
Choosing The Best Caterer For Your Wedding
It goes without saying that choosing your wedding caterer is one of the most fun parts of wedding planning. You'll get to try some delicious food and meet people who are committed to making your wedding reception dinner perfect.
You should start by doing some research and then choose your top three caterers. From there, you can make an appointment with them and discuss everything you want for your wedding reception meal. You could ask:
Do you have a set menu?
Will you provide bar staff?
How many people can you cater to?
Is glassware and tableware rental included in the price?
Can we sample the menu?
Are you free to cater on my wedding day?
Do you charge a cost per head?
During this meeting, you'll be able to get all the information you need about the food they can offer and the fees they charge. You can then choose who you think is best suited to cater your wedding and start planning everything with them.
What You Can Expect From Your Wedding Caterer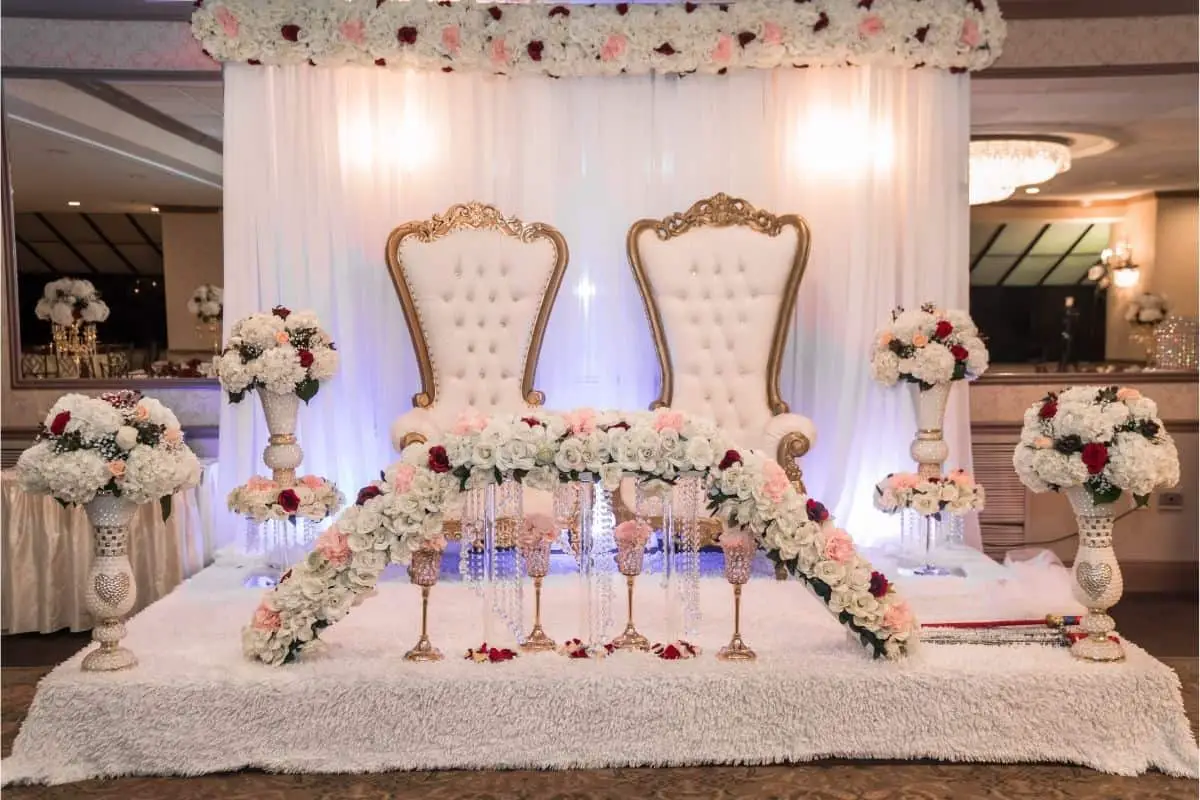 A good wedding caterer will be an all-rounder. The services you get will depend on the package you choose, but usually, your wedding caterer will set up serve food and drinks, set up your dining room with glassware, linens, and tableware, clear tables, cute and serve your wedding cake, and clean the kitchen at the end of the reception dinner. 
Top Tips For Saving Money On A Wedding Caterer
The fact that wedding catering will likely take up a large portion of your budget can be a little worrying, but there are some things you can do to save money. These are our top tips for reducing the cost of catering, so you can put it towards other aspects of your wedding.
Book Early
Booking your wedding caterer in advance will often save you money because caterers who get booked close to the date of your wedding will charge more. This is because the preparations would need to be rushed and more work hours would be going into your wedding. 
To get a cheaper rate, book a couple of months early so that your wedding caterers have enough time to prepare for your wedding without time constraints.
Consider Serving Family-Style
Weddings are meant to be joyful celebrations of a happy couple with a large group of friends and family. You can take that feeling to the next level by serving your meal family-style, all while saving some money!
With family-style dining, your guests will be able to pass the food around as if they were at a family meal rather than paying to have each portion individually served. Although it is perhaps a little more casual, it might be a fantastic choice for a couple on a tight budget.
Limit Your Options
You can't possibly please everyone at your wedding.  Offering guests a choice of four entrees may make you think you're being helpful, but in reality, all you're doing is making your bill more expensive.
Finding one fantastic dish to serve to everyone with a vegetarian alternative for those who require it is better than giving your guests the choice of choosing between beef, chicken, lamb, fish, or vegetarian.
Even while some guests might not be the biggest fans of the dish you serve, there will be plenty of sides and appetizers to make up for it.
Edit The Guest List
It's not nice to think about cutting down your guest list, but it might be necessary to make sure you stay on budget. You can cut costs on catering all you want, but the fact is that, no matter what, it's going to be expensive catering for more than 100 people.
If you're struggling to make your budget work, then it's time to consider editing your guest list. It's your wedding day, and as long as the special people in your life are there, that's all that will matter.
Final Thoughts
Now that you know how to budget for your wedding catering and where the money will go, you can book your caterer with confidence! Regardless of your budget, you'll find a caterer that will make your wedding reception perfect.

Latest posts by Lisa Plaitt
(see all)