You're glancing over the invitation to your best friend's wedding, and one line catches your attention: 'Casual dress code.' Suddenly, a wave of questions cloud your mind. What does casual mean in the world of weddings?
Can you just pull out your favorite pair of jeans and a cute top, or do you have to find that sweet spot between casual and chic?
Fear not! I've got some fantastic style tips and examples with all the deets needed to look effortlessly impressive for that laid-back celebration. With our ultimate guide to casual wedding attire, you'll be strutting your stuff down the rustic barn aisle or sandy beach path like it was a Milan Fashion Week runway. Get ready to demystify 'casual' in the most stylish way possible!
The Basics of Casual Wedding Attire
You're here because you're intrigued by the phrase 'casual wedding attire.' You might imagine it as a beach party where everyone's in flip-flops and bikinis. Well, even though it's casual, it's still a wedding we're talking about! We can do relaxed but chic vibes without veering off into t-shirt and shorts territory.
The first thing to understand is that casual does not mean sloppy. We're dressing for an occasion – a joyful one at that where plenty of photos will be taken, and great memories will be made.
Here's where navigating the turbulent waters of wedding attire becomes more art than science. While you don't want to go all formal in a tux or ballgown, showing up in your gym clothes would turn heads for the wrong reasons.
Casual wedding attire is about exploring the land between weekend barbecue attire and your 9-5 office wardrobe – think along the lines of business casual. Wonderful linen pants, stylish chinos, elegant yet comfortable dresses, cute jumpsuits are all part of this realm.
Now if you're swimming in confusion about what to wear when an invitation says 'casual dress code,' that's often because 'casual' is context-dependent.
The location and time of the wedding can situate this context. A relaxed beach ceremony won't call for the same outfit as a late afternoon ceremony in a rose garden. The trick is to read between the lines – understanding both the couple's taste and the vibe of their big day.
So now that we've established some ground rules for what qualifies as casual, let's dive deeper into how to select your outfit according to your style while staying perfectly gauged on the casual scale. Get ready because wedding-shopping just became a whole lot easier with our game-changing style tips up next.
How to Choose Casual Wedding Attire for Men
Alright, gents, your turn! Men navigating the casual wedding attire universe can sometimes feel like explorers dropped off in uncharted territories. Is a necktie too formal? Can a pair of jeans ever be appropriate? Let's settle these quandaries once and for all.
Say hello to the magic combination of dressy shirts and slacks to your rescue. Perfectly suited (sans the suit!) for a casual wedding, this duo is both comfortable and stylish.
The wonderful part of going casual is that you can allow your personality to shine through your outfit choices. Fan of printed shirts? Pull out that colorful paisley print or charming gingham pattern.
How about a tie, you ask? Stop fretting, it's optional in this case! If you're inclined towards one, feel free. If not, that's perfectly fine too – just makes sure your shirt and trousers are on point.
If you want to up the ante a bit, a blazer can bring a classy edge without going overboard; balance it with chinos rather than dress pants to keep things relaxed.
Now let's talk fabric selection, shall we? The season plays a crucial role here. Lighter fabrics like linen work beautifully for summer weddings.
Imagine yourself at a beach ceremony with the sun soaking into your light linen shirt – perfect, isn't it? For fall or winter, blend warmth with style by pairing a cozy sweater with sharp slacks.
Let me drop some stellar examples for you: Check out brands like Synrgy and Johnny Bigg for neat prints and blazers that meld seamlessly with the relaxed air of casual weddings.
You'll find gems like Athletic Straight Modern Chino Khaki at Abercrombie & Fitch; dress it up with a crisp shirt from Banana Republic's selection (their Luxury-Touch Polo Navy is pure love).
Remember gents: while dressing down for a casual wedding, staying sharp remains key. Now that you're armed with insights galore, venture forth into the splendid Casual-ville and nail that laid-back yet dapper look!
How to Choose Casual Wedding Attire for Women
Ladies, this one's for you! It's time to stitch together your perfect ensemble for that upcoming casual wedding on your social calendar. Toss away uncertainty and dive headfirst into an array of outfit choices waiting to be explored!
The world is truly your runway when it comes to casual wedding attire. Opt for flowy dresses, jumpsuits, or chic two-piece sets that radiate comfort and style.
You want to avoid the office-like pencil skirts or business suits but don't veer into the territory of beachwear or sundresses either. There's a sweet middle spot where elegance meets comfort – that's the aim for our casual wedding look.
Think of yourself as a fashion stylist creating a fabulous storyboard. Explore prints, colors, lengths that make you feel confident and gorgeous.
Worried about repeating outfits? Mix-and-match formula is your savior here. Pair that vibrant blouse with a silky midi skirt. Matching a structured top with flowing pants would score you equal fashion points.
Celebrating brands that are painting this space with stylish options is essential – Abercrombie & Fitch and Torrid have some drool-worthy dress options specially curated for casual weddings atmosphere.
Or let's say you're someone who prefers sets; allow me to introduce you to Petal + Pup! Their mix-and-match set – Aimee Top paired with Deaville Skirt – has a charm of its own.
Let's not forget the perfect accessories – comfortable yet stylish shoes, cute purses, impressive earrings – all conjoining their powers to elevate your overall look. An adorable pair of block heels or elegant flats can wrap up your attire seamlessly with style and ease.
We know what you're thinking – yes indeed, dressing for a casual wedding is an exciting voyage through fashion-ville! Step in, experiment, make impressions, win hearts – nails scruffed up from rummaging through racks are well worth the glamorous outcome!
Accessorizing for a Casual Wedding
Think of accessories as the secret sauce that turns a good outfit into a stunning ensemble; they're the little extras that infuse your look with personality and sparkle. Here's where we turn basic to boho-chic, or cute to classic elegance!
Before you dive into the fascinating world of jewelry, shoes, and bags, take a moment: what's the wedding environment like? Are you going to grace a beach event with soft sand under your feet? Or perhaps, it's an afternoon garden party? Environment dictates practicality, my friends. Consider swapping stilettos for trendy block heels (no one enjoys the 'heels sinking in grass' dance), or flaunt fascinating ankle-wrap flats for that beach soirée.
Time plays its part here too; wearing chunky statement earrings or sparkling necklaces fits perfectly for an evening event. For day-time weddings though, think minimalist – delicate silver chains or tiny pearl earrings can add just the right amount of glitter.
Colors come next – do make sure they complement your outfit efficiently. Remember, accessories act as accent pieces, highlighting and contrasting but never clashing with your attire.
And then we have themes! A vintage-themed wedding calls for antique-looking jewelry; an earthy setting might inspire woven-fiber necklaces or bangles; a city-chic couple might suggest sleek metallic accessories.
If you feel overwhelmed, remember advice from styling experts like Yasmin Moinian can provide great help while deciding on your accessories. Her philosophy? Choose what makes you feel fabulous!
You see how accessories become an adventure in creativity? They articulate style mantras, whisper fashion truths and sometimes even shout out bold statements. So go ahead ladies and gents – accessorize and personalize! Trust me when I say this – You'll draw more compliments on those distinctive touches than anything else!
Exploring the Difference between Casual and Cocktail Wedding Attire
Okay party people, it's time to chat about an interesting conundrum – the difference between casual and cocktail attire at weddings. Hang on to your party hats as we navigate this confusing terminology together.
Let's kick off by saying – yes, both casual and cocktail attire are about being comfortable. But here's where the plot thickens.
Picture a casual attire looking lovingly at comfort from across a room filled with relaxed hemlines and carefree shirt patterns. Now, stand cocktail attire next to it, and you'll see it winking slyly towards formality. They're related but certainly in distinctive ways.
Casual wedding attire is your ticket for a laid-back elegance that settles more on the cozy side of the style spectrum. An outfit you could happily wear for a relaxed dinner with friends but which can be dolled up just enough for a wedding celebration.
Cocktail attire, on the other hand, pulls you slightly towards more formal garb while still claiming roots in comfort town. Cocktail signifies a little dressier profile – like, say fancy jumpsuits for women or blazers and slacks (not necessarily matching though) for men. A touch of bling is totally on the cards here!
Imagine them as gastronomic delights: Casual is like your hearty soup that warms you up without making you feel too stuffed – perfect balance, not too simple, not too hearty. The cocktail? It's akin to that bite-sized appetizer – carefully crafted and intricately flavored, just ahead of something more substantial.
Guided by this newfound wisdom, decrypting your next wedding invite's dress code should be like slicing through butter with a hot knife – smooth and satisfying! Just remember: whether it's casual or cocktail, each style carries its unique flavor of sophistication and charm.
Common Questions on Casual Wedding Attire
If your mind's been buzzing with queries since reading your wedding invitation claiming 'Casual attire', don't sweat! Chances are, those questions swimming around in your mind are shared by many! So let's break the ice and delve straight into some common questions on casual wedding attire.
First things first – "Can I wear sandals to a casual wedding?" you might wonder. Well, it depends on the venue and weather.
Fancy leather or embellished sandals could work great for a beach or garden ceremony, but they might not fit well with an indoor, evening reception. When in doubt, go for dressy flats or nice booties.
How about hats, you ask? A stylish wide-brimmed hat might just be the perfect accessory for a daytime outdoor wedding. But remember, if the wedding is inside or during evening hours, leave the hat at home to avoid being over-the-top.
One of the top concerns: "Is there any hard rule for dress length?" Ladies, fear not! You've got flexibility here. Everything from mid-thigh to maxi is acceptable; just keep it a notch above everyday summer dresses or resort wear.
Also, a quick note to update any age-old myths lingering on: Men — yes, you can absolutely wear khakis to a casual wedding— just pair them with an appropriate shirt and shoes.
But again — and we can't stress this enough — dig into the wedding invitation. The couple could offer hints of their expectations subtly woven into their words. Also valuable are insights from fashion savvies sharing tips online – take advantage of their expertise!
Remember folks; questions help us learn and prepare better. Keep asking them because we're here to answer them all!
Frequently Asked Questions
What does 'casual wedding attire' mean?
Casual wedding attire refers to outfits that are comfortable, stylish but less formal than traditional wedding garments. This could mean dressy shirts and chinos for men, and sundresses or smart separates for women.
Can I wear jeans to a casual wedding?
Even for casual weddings, jeans might be considered too laid-back. A safer option would be to go for dressier trousers or stylish chinos.
What should I avoid wearing to a casual wedding?
While the dress code is relaxed, it's best to avoid anything too casual, such as shorts, flip-flops or tank tops. Also, remember to steer clear of white unless explicitly mentioned by the couple!
Can I wear sneakers to a casual wedding?
Sneakers could work for some casual weddings, provided they are clean and in good condition. Pair them with a nice trouser or skirt so your ensemble still maintains an element of polished charm.
Should my accessories match my outfit at a casual wedding?
Your accessories do not need to be an exact match! They should rather accentuate and complement your outfit. Just make sure they don't clash with your overall look.
What if I'm unsure about the appropriate attire for a casual wedding?
When in doubt, it's always best to ask the couple or someone close to them – after all, they know their vibe better than anyone else! Alternatively, lean slightly more towards smart-casual than purely casual.
Remember: style and class can take any dress code up several notches!
Wrapping It Up
Well, there you have it! Our ultimate guide to acing the casual wedding look, just for you. Admittedly, given its in-between nature, casual wedding attire can get a bit tricky. From interpreting the laid-back dress codes to choosing the right accessories, it might feel like crunch time.
But worry not, style explorers! With the secrets we've spilled and insights we've shared, you're now more than equipped to take on that "casual" wedding outfit chart with fierceness and flair. It's about finding a fine balance that swings comfortably between looking relaxed yet ready to party.
So get out there and make fashion-forward waves at your next casually classy wedding occasion. Remember, style is about having fun while expressing yourself. So put on those dancing shoes, flash that megawatt smile and let your sartorial charm mesmerize – it is a celebration after all!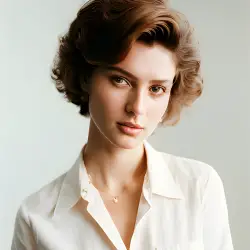 Latest posts by Carol Chatham
(see all)