Brush off those dusty keyboards, dear brides-to-be, because it's time for some heart-tugging, tear-jerking letter-crafting! Yes, you guessed it. It's all about penning down your love to the one who taught you what 'love' actually means: Mom.
Nestled in between wedding dress shopping and flower arrangements is this emotional moment that ties together the journey from the little girl she raised to the woman she's proud of today.
Through this extensive guide filled with cherished advice and peppered with heartfelt real-life examples, we'll journey together towards crafting that perfect 'wedding day letter' to mom – one that echoes every life lesson, beams with gratitude, applauds her unwavering support and most importantly, gushes with love.
Stick around because today; we're creating a keepsake that will warm mom's heart forever. Let's get started!
Acknowledging the Unique Mother-Daughter Bond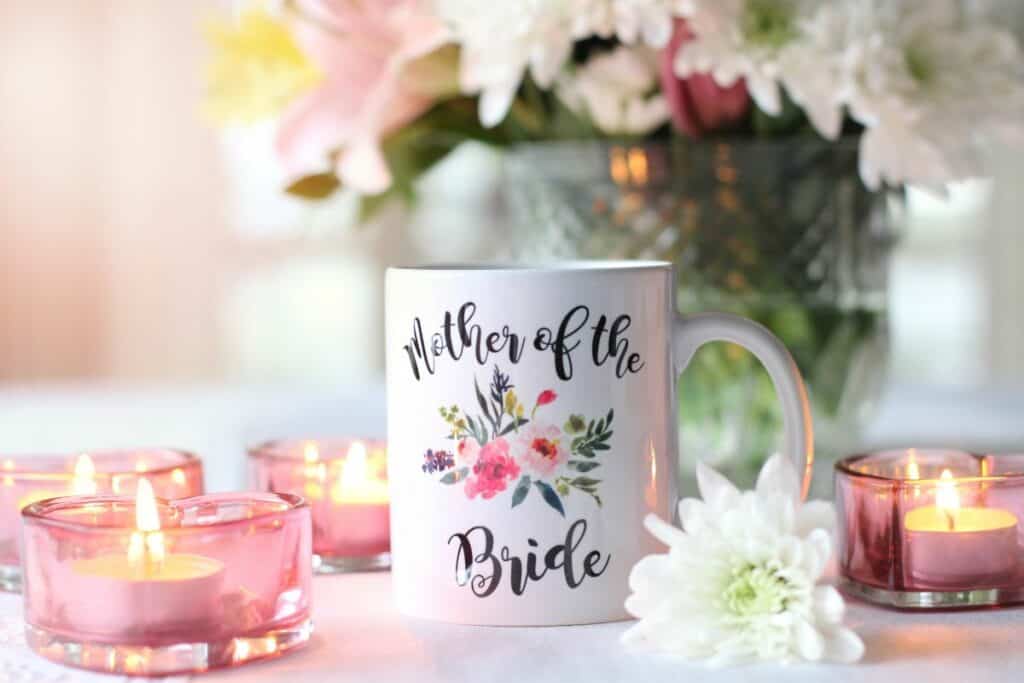 Get ready, ladies, and let's take a deep dive into the depths of your relationship with your superwoman – your mom. No two bonds are alike, and this mother-daughter connection? It's special, unique, and deeply profound in ways that words can barely capture.
But ladies, that's exactly what we're going to try and do! Embrace the challenge because your wedding day is as much about her as it is about you.
Think about the moments that have sculpted your bond into this beautiful piece of art it is today. Every shared giggle caught between sunset drives, every quiet nod of approval from across the dinner table, those comforting hugs on a rainy afternoon—all add life to an otherwise sterile piece of paper.
Your mom shaped you – your personality, values, beliefs. Those impromptu 'life-lessons' at the breakfast table weren't just rantings of a woman wanting her daughter to eat her greens; they were pearls of wisdom coated in love and care.
So, how exactly do you acknowledge this powerful impact in your letter? Start by reflecting on specific instances that speak volumes about your bond: maybe that time she held you while you cried over hurt feelings or perhaps when she roused the house with laughter when mixing up idioms.
Did she stand beside you through tough choices? Chronicles those poignant moments in your prose! Paint her sacrifices with colors of admiration.
Remember this: Acknowledging the intricacies of this bond doesn't mean painting a picture that's all sugar and nice. Real life isn't all sunshine and rainbows! Maybe there were disagreements or fights but they were equally instrumental in shaping who you are today.
You'd be surprised how a mere acknowledgment of these real-life struggles deepens the resonance of your letter—it makes it authentic!
In a nutshell: reflect, reminisce and most importantly—recognize her impact on you. Penning down those thoughts will not just bring tears to her eyes but treasure that bond even more.
Letters to Mom: Reflections on Life Lessons and Gratitude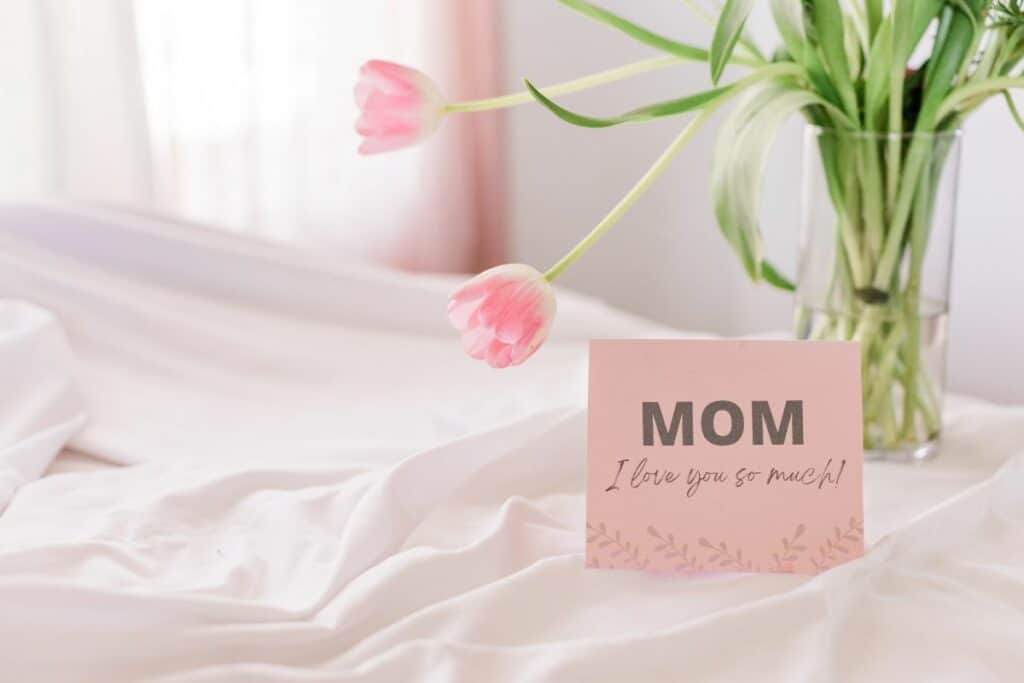 Love, resilience, grief, balance—lessons which seem second nature to you today, but let's hit the pause button and rewind to when they weren't. Who navigated you through these uncharted waters? Can you hear the echo of your mother's voice gently guiding you?
Think of your letter as a treasure chest brimming with golden nuggets of wisdom she imparted. Got one in mind? Fantastic! You're ready to begin. Start by telling her how her teachings helped you maneuver life's obstacles – personal growth, learning about love, understanding grief, balancing life's many facets.
Did she perch by your bed narrating tales of resilience till sleep claimed you? Did she subtly teach you about love and compassion by reaching out to that lonely lady across the street? Reflect these lessons in your letter, giving vivid sound and color to her anecdotes and teachings.
Now sprinkle these tales with gratitude—a warm 'thank you' that encapsulates years of sacrifices gone unnoticed. Think along the lines of 'gratitude for waking up countless nights cheering me on during finals' or 'I'm thankful for those unseen hours spent on ensuring I had a smile when things went astray.'
Here's where it gets personal—each letter will carry its unique labyrinth of lessons learned and gratitude felt. It might be easy to drift towards generic expressions—trust me when I say this—it's the personal touch that turns good into dazzlingly heartfelt!
An extra tip? Remember it's not just what you say; it's how you say it too! Scattering genuine emotions while chronicling life lessons will have your mom reaching out for tissues (and bragging rights at the wedding!).
Don't shy away from showcasing raw emotions—after all, authentic feelings make the most unforgettable letters!
Appreciating Mom's Unending Emotional Support
Wedding planning, as breezy and exhilarating as it's made to seem, can be quite the roller-coaster ride—with its breathtaking highs and stomach-churning lows. Amidst booking florists, sampling cake options (the delicious part), negotiating with caterers, there's your rock, your safe harbor in turbulent times—Mom.
Let's transform these feelings of appreciation for her unflagging support into heartfelt mementos with our letter. But how does one go about it you may wonder? Well, hold my hand and walk with me as we find words to capture this feeling!
Start by acknowledging those specific instances when she firmly held the helm while you navigated through wedding planning whirlwinds. Maybe she listened quietly when you vented about your painstakingly chosen hues of blush and merlot failing to match the linens or the numerous times she reassured you when you second-guessed every decision. Bring these memories to life through your letter.
These shared experiences reveal her steadfast emotional support. Now to wrap them neatly with a big bow of appreciation! Show her that her emotional resilience didn't go unnoticed—that her quiet presence was the soothing balm to your bridezilla frustrations.
Validation is vital—validate her feelings, her efforts. Tell her how much she means to you in simple but powerful sentences such as 'Mom, your silent strength carried me through my fretful moments' or 'Your firm conviction was my anchor in dire times.'
And let me tell you this—a dash of humor never hurts! Got a funny moment where mom stepped in to save the day? Shared laughter and chuckles about an epic wedding disaster averted will lighten not only mom's heart but yours too!
Remember, honing on these moments of undying support and couching them in appreciation is what will transform your letter from just another 'note-of-thanks' to a memorable tribute that echoes unconditional love.
Go on now; show the world—and more importantly, mom—how incredibly blessed you are for this priceless emotional support!
Valuing Mother's Acceptance and Guidance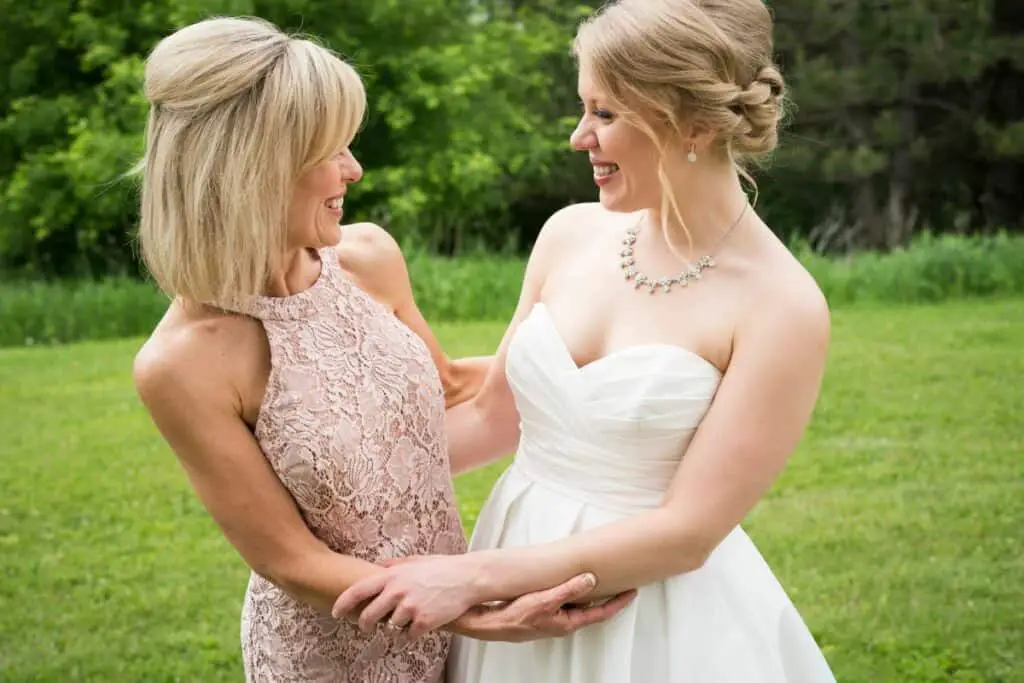 Remember that first moment when she called your fiancé 'family'? Her words struck like soft whispers, yet echoed in your heart like a grand symphony. An acceptance you had longed for was finally here!
Your mom's warm embrace of your partner is as priceless as a vintage diamond—distinct, radiant, and profoundly influential. And it deserves to be celebrated in your letter!
Every 'howdy-to-the-family' brunch talk to every piece of advice she handed to make this unison work; they were the building blocks topped by her acceptance. Time to ink these moments and feelings into words.
Start with anecdotes hinting at her acceptance. When did you see her acknowledge your intended as more than just a passing figure? How did her opinion shape your relationship with your partner?
Her loving approval might have soothed many a worry-line on your forehead, but remember—it didn't stop there! She continues to guide you beyond the 'I Do'. Craft sentences that shed light on her ongoing support—how she's still there, steering you gently through the maze of married life.
Try phrases like 'Your belief in us filled my heart with confidence' or 'Your guidance is my North Star navigating my journey into married life,'—personal yet profound.
And hey, don't forget! This letter isn't a one-time read; it's an enduring symbol that will resonate with the promise of future support and unconditional love. Ink down hopes of continued guidance—this will amplify the emotional depth of the letter.
Key Considerations in Personalizing Your Wedding Day Letter
Alright, ladies! We've gone over the why's and how's, but now—let's talk about infusing your special touch into the letter. As inviting as templates might seem —remember this—a heartfelt giggle or teary-eyed memory can never be templated. They are organic and personal to YOU!
Dig into the vault of your memories with your supermom. Personalize your letter with the touch of shared moments and private jokes—a la 'Remember when we tried wedding dresses with spaghetti stains?' or 'Your wisdom is like your secret pie recipe—always right.'
You might wonder—is that it? Nope! Let me share another secret—the way you envision your relationship evolving post-wedding is equally important.
Perhaps you see more wine nights with mom or foresee her role morphing into a grandma? Whatever it may be, let these charming future musings find their place in your letter.
Imagine sentences like 'As I walk down the aisle to form my new family, I can't help but dream of future playdates' or 'Even as I become a wife, I seek comfort knowing our coffee dates shall continue.' These anticipatory notes will sprinkle sunshine on your strong bond.
Feeling unsure about your grammar or writing style? Don't sweat it; keep it simple. Remember—you're not vying for an English Pulitzer! All that matters are genuine feelings poured from-the-heart. Being authentic often outweighs eloquence.
Lastly, and most importantly—if one phrase doesn't beautifully wrap up the whirlpool of emotions you feel towards dear momma—don't stress. It's okay to express overwhelming love in snippets and pieces across paragraphs. It's YOUR day; let YOUR feelings set the rhythm for this magical letter!
Be creative and let loose on that keyboard—it's time to stitch heartfelt words into an indelible tapestry! Here's to creating bespoke love letters for our superheroes!
The Craftsmanship of the Letter: Making it a Memorable Keepsake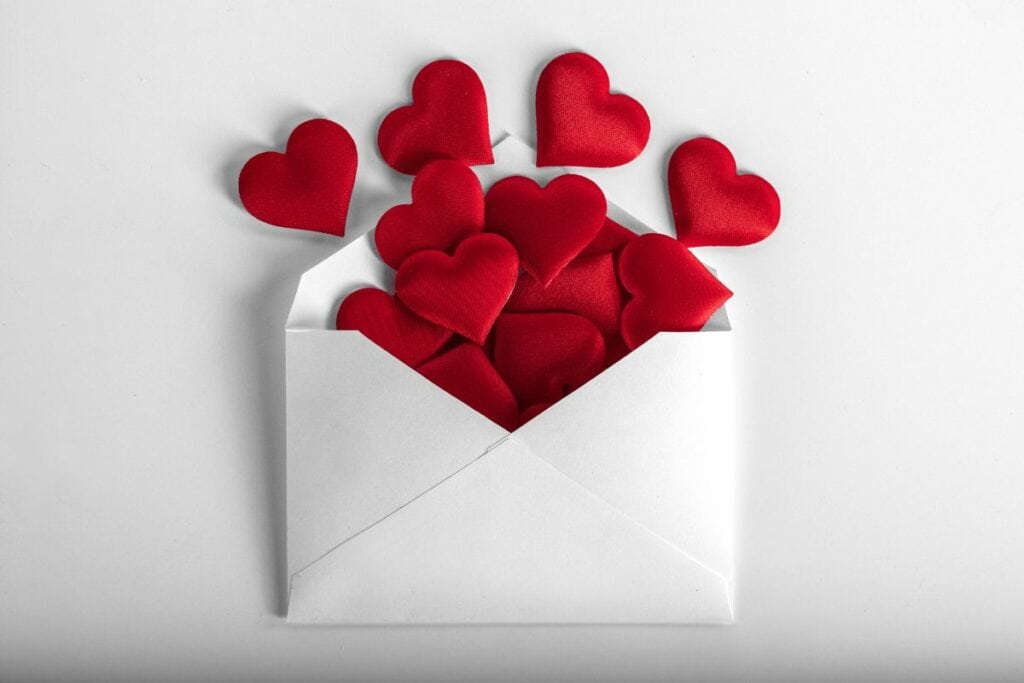 Let's pivot from the whirlwind of emotions and shift gears towards the craft of your letter. You've poured your heart out onto paper; now it's time for some finishing touches to transform this heartfelt prose into an enchanting keepsake which mom can re-visit on rainy, nostalgic days.
First things first—the envelope. It isn't just a container for your emotions—it's the first peek into those abundant feelings.
Go beyond generic card-paper; choose something that resonates with your style and personality—an artsy parchment or a classy silk-lined envelope maybe? Play with wax stamps or beautiful calligraphy for 'To Mom'. Dare to be different—this is your masterpiece!
Now, how about this? Along with those carefully chosen words, tuck in a highlight—a token that raises up memories. It could be that doodle you made in grade school which she adored, or a picture of you two sharing a hearty laugh—transforming your written art into a time capsule.
Next comes the moment of truth—the 'handover'! Consider how you'd like to deliver this token of love. Do you want to slip it under her pillow for her to find once you've walked down the aisle, or have her read it while you're getting ready together? The choice is yours to make it as intimate and special as possible.
Last but not least—if you're worried about running dry on words, don't hesitate to conclude your letter with something pre-established yet touching, like a stanza of her favorite poem or quote. Sometimes, sentiments expressed by others seem to encapsulate exactly what we wish to say!
Full Letter Examples to Inspire You
Alright, it's time to display those vibrant heart-strings you've been weaving all this while! The abstract concepts we've discussed are about to come beautifully alive through real-life letter examples! Who knows, these heartfelt words might be exactly the muse you need to pen down your feelings.
Classic & Sentimental Letter Example
My Dearest Mom,
As I am on the precipice of a new chapter, about to step into the world as a wife, my mind floods with emotions and memories that lead me back to you. You— my first teacher, my confidante, my rock who raised not just a person, but dreams and hopes too.
Reflecting on our journey together—an exquisite weave of joy, tears, love, disagreements—I'm struck by how profoundly you've influenced my life. Remember how we would spend hours under the old maple tree, you narrating tales of courage and values, while we watched its leaves dance in the wind? Little did I realize then that those stories would be my guiding principles, shaping the woman I am today. They were more than just tales; they were signposts illuminating my path to self-discovery.
Turning towards our shared laughter, tears—the harrowing late nights during exam season when you stood vigil at my study table with hot cups of cocoa and comforting words. The afternoons spent bent over storybooks as we traveled realms unknown. Even the squabbles over curfews or disagreements over choices seem like precious treasures now. The beautiful tapestry of our relationship is painted in authentic colors – bright joy coupled with grey disagreements – it's pure love at its core.
Throughout this journey towards marriage, your unyielding emotional support has been the lighthouse against uncertain tides. When my enthusiasm for eggshell-white and cream flower arrangements waned or when doubts clouded my vision—you were there. With your calming voice wrapping around me like a protective blanket soothing frayed nerves. Mom, your silent strength was truly the anchor holding me steady amidst wedding whirlwinds.
From that eager gleam in your eye when John introduced himself—the tacit approval that assures me that he's a right match to the valuable tips about making relationships work—you've been instrumental in molding this union. Your wisdom has served as an invaluable guide as we venture onto this exciting path—an adventure made all the more delightful by your unwavering faith and hope.
Now let's peep into my crystal ball—I see our bond strengthening post-wedding—additional roles etching themselves into our narratives—maybe a grandma-role in your future? The thought warms my heart as much as it tickles! What more could I ask than to have you with us every step of this amazing journey?
So before I plunge into these sparkling new waters of marital life—I pause—to offer you these humble words woven with love and admiration.
And before I step aside with a quiet request for more wisdom nuggets, let me wrap this letter with a quote that breathes what you mean to me:
"You are braver than you believe, stronger than you seem, smarter than you think." — A.A Milne
Forever yours,
[Your name]
Modern & Sweet Letter Example
Hello Awesome-Mom,
As I sit here, pen in hand and heart brimming over, I find my mind flooded with the sweetest of memories. Memories that, at their heart, are a song of love—a beautiful, quirky duet sung by you and me.
Our journey together has been one heck of a kaleidoscope—vibrant colors, abrupt shapes, and changing patterns at every turn. Amidst this groove of joyous twists and sentimental twirls, it's clear to see—you're the architect who designed me.
From childhood tales soaked in wisdom that I carry like talismans on my adulthood journey to your unwavering faith in my ability to be more than just my summative parts—you've helped me evolve into the woman I am. Every chuckle-laced chat in our sunlit kitchen and tear-streaked discussion on gloomy afternoons has shaped me more profoundly than you'll ever know!
Amidst all the wedding chaos—one tantrum too many, countless second-guessing—your steadfast emotional support was my safety net. Like a mother-bird patiently guiding her chick—you were there through it all—a beacon of sanity amidst pastel color swatches and endless seating plans.
Your approving smiles during bridegroom brunches added an extra charm to Jake—he wasn't only 'The One' for me but became 'accepted' by you! Your trust is our pillar of strength—a testament to the blossoming of our love story from courtship to wedded bliss—and beyond!
The pivotal moment when you held his hand and welcomed him into our family—it's etched into memory forever. Yet you didn't stop there! From ideal relationship anecdotes or secret dispute-resolution techniques (I knew arranging clothes by color had a deeper meaning!), your guiding light continues to shape us as we take baby steps into our conjugal life.
And hey! Who says we won't hold karaoke nights anymore? Just because I'm shifting zip codes doesn't mean we're breaking tradition! Those off-tune renditions can hardly wait- rest assured they'll be plenty of visits back home! My conjugal chapter certainly cannot be written without you—the superstar!
As we prep for bridal marches and ring exchanges today—I want to pause awhile. To thank you for being my indomitable cheerleader—prodding me along life's challenging course—and my cherished mentor whose pearls of wisdom have been my coveted treasures.
In conclusion, I share words immortalized by E. E Cummings—an echo of what rests within my heart: "I carry your heart with me (I carry it in my heart)"
Mom—I love you past infinity!
Yours Always,
[Your Name]
Creative & Funny Letter Example
Hey, Queen Mom,
It's your slightly-nervous, mostly-excited bride-to-be writing from her giddy palace of anxious butterflies and Pinterest wedding plans. As I stand here on the fringes of my new world, I glance back to you—you, who have been my combination lock for life's trickiest puzzles!
Our journey together reminds me of an adventurous hike—we've had sunny clear skies, sudden downpours and everything between. You've been both my guide and handy compass—my human-sized Google Maps. Rummaging through our wacky collective memory, there's a particular phrase that stands out—your immortal wisdom encapsulated in—"Don't wear white after Labor Day." Today as I prepare to don pure white—I chuckle in sweet irony.
Amidst the whirlwind craze of flower selections (they all look too similar!) and dress fittings (I still can't spot the difference between cream and eggshell), your unwavering emotional backbone became my sanity oasis. Deciphering the 'why-are-there-so-many-whites' mystery or fending off caterers from one too many food testing events—you slayed it! You're the superhero we never knew we needed!
And then there was Bill—remember his 'comical' attempt at making pasta? That glorious kitchen disaster was when I knew—you didn't just like him, you accepted him wholeheartedly—with an incredible capacity to burn dinner! That nod meant the world to me. Your guidance blossomed him from my high school crush to 'Our Son-in-Law.'
But let's take a raincheck on those cooking experiments post-wedding unless we want occasional surprise visits from local firefighters! Skipping ahead—I see stellar mom-grandma adventures unfolding soon. Cross-your-heart promise—it won't be as chaotic as it sounds (or so we hope!)
Now before I prance around fluffing satin trains and tightening bow-ties, let me bedazzle you with sentiments nestled within a lighthearted wrapping. From beatbox battles during house cleaning sessions to lip-sync duels in between stuffing wedding invites—you've taught me that humor is the secret sauce for any relationship.
As I end this special dedication—peppered with giggles and cheeky memories—let's circle back to wisdom coated with humor: "Always remember to fart freely around true love."
Mom, thanks for decking every situation—even the toughest ones—with laughter and love. The woman about to wobble dramatically down the aisle is truly a reflection of your vibrant spirit!
Your daughter who still struggles with folds of saris,
[Your Name]
Wrapping it Up
And there you have it, folks—your comprehensive guide to crafting a heartfelt wedding day letter to mom—complete with laughter, tears and everything in between. These precious penned-down reflections are more than mere words; they're tangible tokens of gratitude for the effervescent sparkle your mom has added to your life.
Always remember, the ultimate ingredient is authenticity—because it's not merely about how elegantly we string words or how grand a language we possess. It's about sincerity drenched in love, embracing imperfections, and acknowledging shared experiences with dear mom. It's an affirmation—a promise echoing into the future—keeping her forever close, even as life scripts change.
Ladies, ready to create magic (and tear-jerking moments) with some heartfelt prose? We can't wait for you to get started!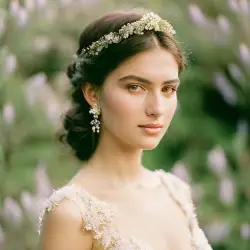 Latest posts by Rosie Liliy
(see all)