Hello, beautiful brides and grooms-to-be! As a seasoned wedding planner and blogger, I've seen it all when it comes to weddings. From intimate backyard ceremonies to grand ballroom affairs, each couple's big day is unique and special in its own way.
One question I often get asked by my clients is whether an all-inclusive wedding venue is the right choice for them. Today, I'm here to help you answer that question by diving deep into the world of all-inclusive venues and sharing my expert insights with you.
Introduction: Understanding All-Inclusive Wedding Venues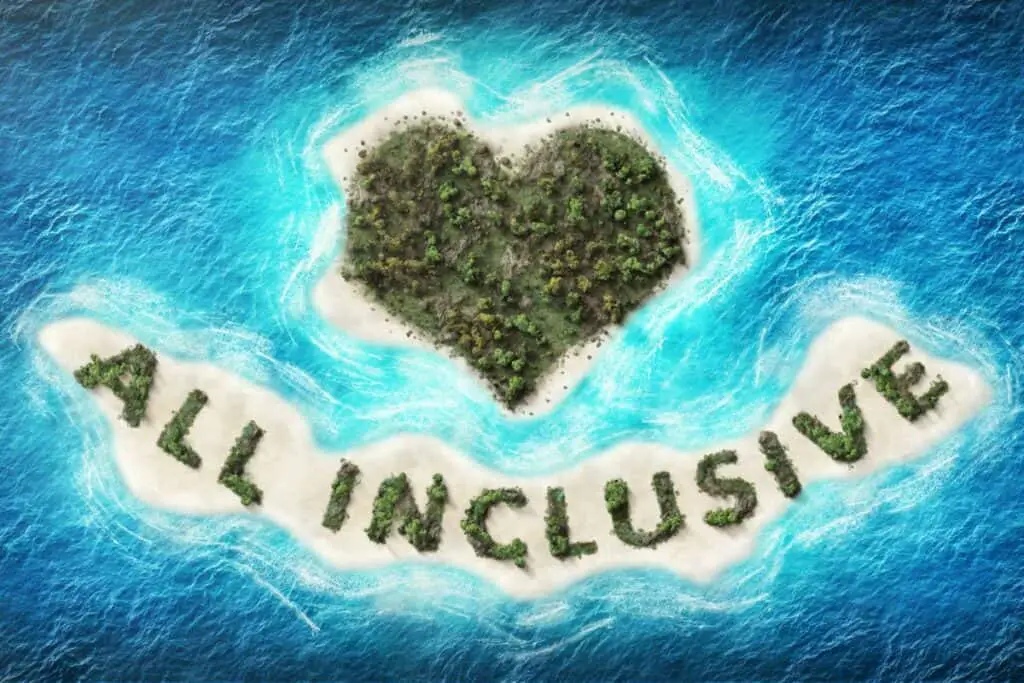 The concept of an all-inclusive wedding venue can be both intriguing and confusing for couples planning their big day.
In essence, these venues aim to provide a one-stop-shop experience by offering essential services such as reception space, catering, rentals, and drink service under one roof (or contract). Some even go above and beyond by including additional services like photography, florals, DJ entertainment, and more.
But is an all-inclusive venue the right fit for your wedding? To help you make this important decision, let's take a closer look at what these venues are, what they typically include and discuss the benefits they offer.
Exploring Different Types of All-Inclusive Wedding Venues
As you embark on your journey to find the perfect all-inclusive wedding venue, it's essential to familiarize yourself with the various types of venues that offer these comprehensive services. Each type of venue has its unique charm and appeal, catering to different styles and preferences.
Let's dive into some popular options for all-inclusive wedding venues:
1. Hotels and Resorts
Many hotels and resorts provide comprehensive wedding packages that include ceremony and reception spaces, catering, accommodations, and additional services like spa treatments or recreational activities for guests.
This option is ideal for couples seeking convenience and luxury in one place, especially if they have out-of-town guests who need lodging.
2. Banquet Halls
Banquet halls often specialize in hosting events like weddings and provide all-inclusive packages covering essentials such as catering, rentals, drink service, and sometimes additional services like photography or DJ entertainment.
These venues are perfect for couples looking for a traditional setting with ample space for large guest lists.
Related: Using Restaurant as Affordable Reception Venues
3. Country Clubs and Golf Courses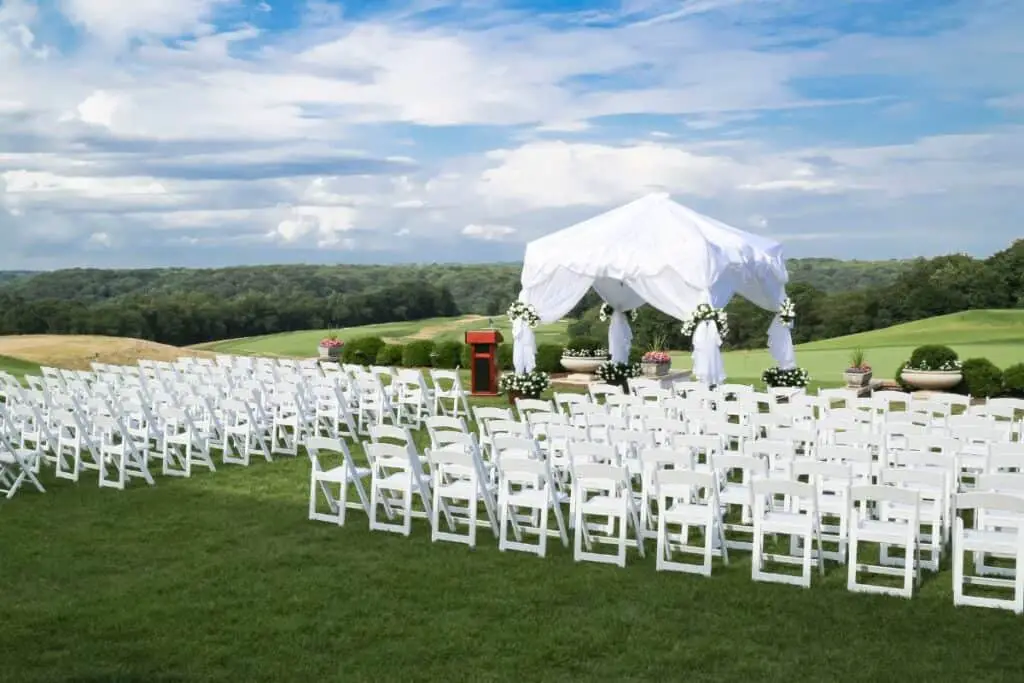 Country clubs and golf courses offer picturesque settings along with all-inclusive packages that include ceremony and reception spaces, catering, rentals, drink service, and other amenities like golfing for guests.
Couples seeking a serene atmosphere surrounded by lush greenery might find country clubs or golf courses an ideal choice.
4. Vineyards and Wineries
For wine lovers or those seeking a romantic setting, vineyards and wineries often provide all-inclusive wedding packages that cover essentials plus unique offerings such as wine tastings or vineyard tours for guests.
With breathtaking views of rolling hills covered in grapevines, these venues offer a stunning backdrop for your special day.
5. Historic Mansions or Estates
Elegant historic mansions or estates can provide a unique backdrop for your wedding while offering all-inclusive packages that cover essentials such as ceremony space, reception space, catering services, rentals, drink service among others.
Couples who dream of a wedding steeped in history and grandeur might find these venues the perfect fit.
6. Cruise Ships
For couples interested in a destination wedding at sea, many cruise lines offer all-inclusive wedding packages that include everything from the ceremony to accommodations for the couple and their guests.
This option allows you to combine your love for travel with your big day, creating unforgettable memories on the open ocean.
7. Themed Venues (e.g., farms or botanical gardens)
Unique themed venues like farms or botanical gardens may also offer all-inclusive wedding packages tailored to their specific theme or setting while covering essential services.
For instance, a farm venue might provide rustic décor elements and farm-to-table catering options, while a botanical garden venue could incorporate lush greenery and floral arrangements into their offerings.
Keep in mind that not every venue within these categories will necessarily offer all-inclusive options; it's essential to research each potential venue thoroughly to determine if they provide the desired services. By exploring various types of all-inclusive wedding venues, you can find the perfect match for your unique vision and create a memorable experience for you and your guests.
What Services are Typically Included in an All-Inclusive Wedding Venue?
While each venue may differ slightly in their offerings, most all-inclusive wedding venues will provide:
Reception space (and often ceremony space)
Catering services
Rentals (plates, utensils, glassware, serving ware)
Drink service (bartender included)
Tables & chairs
Tablecloths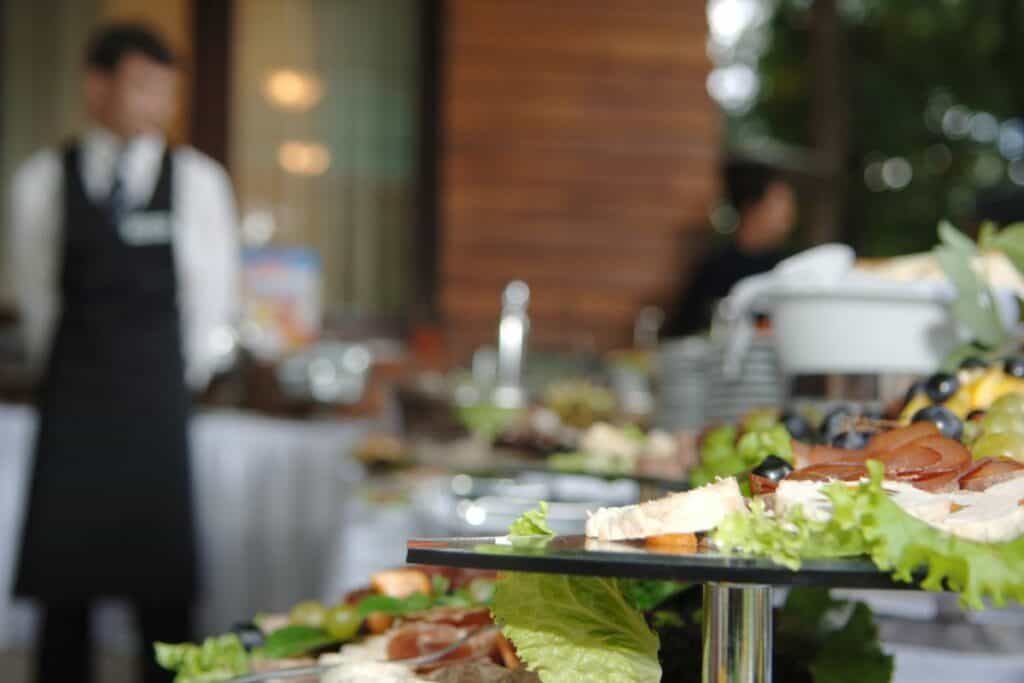 Some all-inclusive venues go even further by offering additional services such as:
Photography
Florals
DJ entertainment
Dessert options
Event coordination or planning assistance
Keep in mind that not all venues labeled "all-inclusive" will offer the same services, so it's essential to thoroughly research and ask questions to ensure you know precisely what you're getting.
The Benefits of Choosing an All-Inclusive Wedding Venue
There are several advantages to opting for an all-inclusive wedding venue. Here are some of the most significant benefits:
a. Stress-Free Planning
One of the most obvious perks of choosing an all-inclusive venue is that it greatly reduces stress during the planning process. With many essential services bundled together, you won't have to spend countless hours researching different vendors or worrying about coordinating multiple contracts.
b. Time-Saving
With an all-inclusive venue handling many aspects of your wedding day logistics, you'll save valuable time that can be better spent on other aspects of planning or simply enjoying your engagement period.
c. A Well-Oiled Machine for a Seamless Event
All-inclusive venues often have experienced teams that have worked together on numerous events, ensuring a seamless and well-coordinated wedding day. This is in contrast to assembling a team of vendors who may not have previously worked together, which can sometimes lead to communication issues or other hiccups.
d. Customizable Options to Suit Your Needs and Budget
Many all-inclusive venues offer customizable packages, allowing you to choose the services that best suit your needs and budget. For example, some venues may allow you to bring in your own photographer or florist if you prefer while still providing other essential services such as catering and rentals.
e. Cost-Effectiveness
While it may initially seem like an all-inclusive venue could be more expensive than sourcing individual vendors, it can often prove more cost-effective in the long run. By bundling services together, you may find that you're able to negotiate better rates or take advantage of package discounts.
Factors to Consider When Deciding if an All-Inclusive Venue is Right for You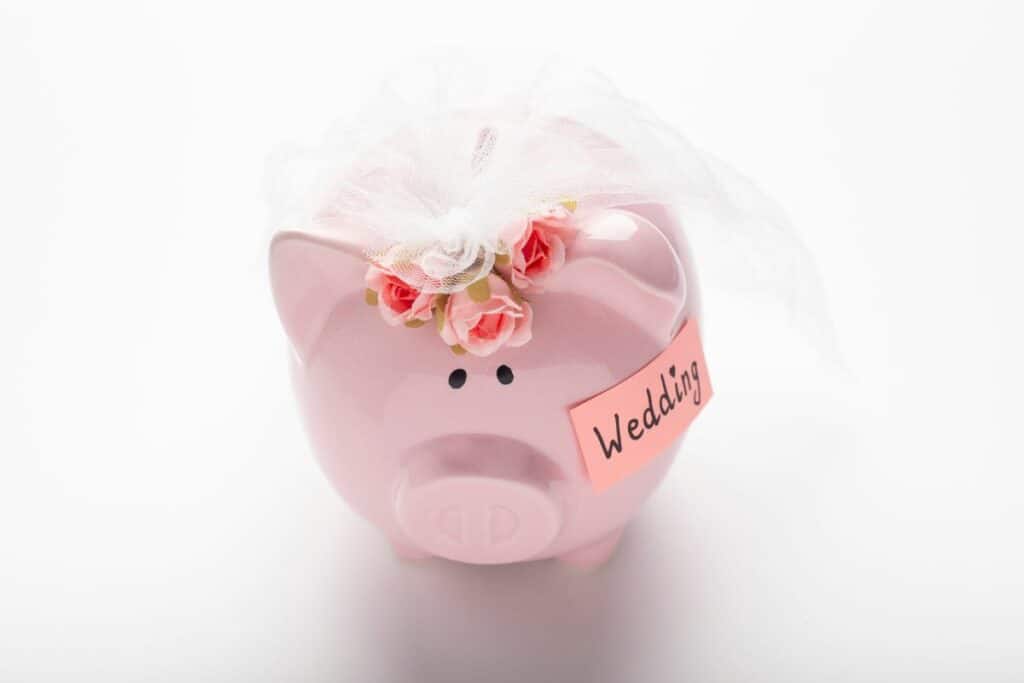 When weighing the pros and cons of an all-inclusive wedding venue, it's essential to consider your unique preferences and circumstances. Here are some factors to think about:
Your budget: Can you afford the cost of an all-inclusive venue? While they can be more cost-effective in some cases, they may not always fit within every couple's budget.
Your desired level of involvement: Are you comfortable with handing over control of certain aspects of your wedding day to the venue? Or do you prefer to have a more hands-on approach when it comes to planning?
The importance of customization: Do you want a highly personalized wedding with unique touches that reflect your style and taste? If so, make sure the all-inclusive venue you're considering allows for customization and personalization.
Balancing Convenience with Personalization: Making Your All-Inclusive Wedding Unique
One common misconception about all-inclusive wedding venues is that they result in cookie-cutter weddings devoid of personality. However, this couldn't be further from the truth! With a little creativity and thoughtful planning, you can make your all-inclusive wedding just as unique and memorable as any other.
Here are some tips for adding personal touches to your all-inclusive wedding:
Work closely with the venue's event coordinator or planner to share your vision and ideas for your big day.
Choose a menu that reflects your tastes and preferences – many venues offer customizable catering options.
Incorporate meaningful elements into your ceremony, such as writing your own vows or including special readings.
Personalize your décor by adding DIY touches like custom table numbers or handcrafted centerpieces.
Select a color scheme or theme that represents your personalities or love story.
Comparing All-Inclusive Venues: What to Look for and Questions to Ask
When evaluating potential all-inclusive wedding venues, here are some key factors to consider:
The range of services included: Make sure you have a clear understanding of what is and isn't included in the venue's package.
The quality of the services: Read reviews, ask for references, and view portfolios to ensure the venue's vendors meet your standards.
The level of customization allowed: If personalization is important to you, choose a venue that offers flexible options for customizing your wedding.
Some questions to ask when touring all-inclusive venues include:
What specific services are included in your package?
Can we bring in our own vendors for certain services if we prefer?
How much flexibility do we have in customizing our menu, décor, and other aspects of our wedding?
What is the cost breakdown for each service included in the package?
Are there any additional fees or charges that we should be aware of?
Alternatives to All-Inclusive Wedding Venues: DIY Approach and Hiring Individual Vendors
If you decide that an all-inclusive wedding venue isn't the right fit for you, there are other options available:
DIY Approach: For couples who enjoy hands-on planning and have time to dedicate to researching and coordinating multiple vendors, a DIY approach can be rewarding and budget-friendly.
Hiring Individual Vendors: You can also opt to hire individual vendors separately (such as caterer, florist, photographer) while still choosing a beautiful venue that provides only the space.
Conclusion: Making the Best Decision for Your Special Day
Ultimately, whether an all-inclusive wedding venue is right for you depends on your unique needs, preferences, and circumstances. By carefully considering the benefits these venues offer – along with your vision for your big day – you'll be well on your way to finding the perfect setting for your special celebration.
Remember that no matter which path you choose – all-inclusive venue or otherwise – what truly matters is celebrating your love and commitment with your friends and family. Happy planning, lovely couples!

Latest posts by Jodie Messines
(see all)