Your wedding day is arguably one of the biggest days of your life, so it's essential to plan ahead to ensure everything goes exactly how you intend. One of the things you can plan for is your vows, but there are different vow scripts to use in a non-religious ceremony.
You can use different scripts for your non-religious wedding ceremony, including humorous and poetic ones. Before choosing a script, think about the feelings you want to convey on your big day. To keep it lighthearted and fun, consider a humorous vow script. Or, keep it simple with a basic script.
Reading a few different wedding ceremony scripts before your big day is good for giving ideas of what you should say. Keep reading this article to learn more!
Related: Non-Religious Wedding Vows
1. Humorous Script
A wedding is supposed to be a happy and joyous day, so the last thing you want is for everyone to be bored. An excellent way to prevent a boring ceremony is to incorporate humor and wit into the day by using a funny and lighthearted script.
Remember that these scripts usually occur before exchanging rings and the "I do's." While some couples choose to say a speech to one another before exchanging rings and traditional vows, others skip it. 
If you're not skipping it and are looking for something humorous to say, consider the script below as a general example for vows:
"From the first date, when you got spaghetti sauce all over your face [or, insert another funny scenario relating to your fiance], I knew I was going to marry you one day. Never had I seen someone so eager to eat spaghetti without a care for anything else at that moment. 
From the very beginning, we were comfortable around each other. We had a lot of fun–maybe even too much fun…all of the late nights, parties, and deep conversations we've had over the years are things most people would be highly embarrassed to relive. 
Each day that passes with you is a new memory, and although some of them are pretty dull days, there's no one else I'd rather spend my days with.
Thanks for always making me laugh, cry, and question why I'm lucky enough to be with you (considering my below-average face–and that's being generous). I can't wait to make thousands more memories with you, whether it involves eating spaghetti or traveling the world!"
You may also want to ask the officiant to incorporate humor into their script throughout the ceremony (for example, during the invocation). During the start of the ceremony, when the officiant begins speaking, they could say some humorous things about the couple. Below is a short example of an opening:
"X and Y have been together for 10 years, but according to X, it feels like 50. Still, they've decided to be here today and make it official, and that's why we're here to celebrate".
2. Loving Script
In many cases, a script focusing on love and commitment is appropriate. These vow scripts' primary focus should be on your love for your partner and how much they mean to you. 
Below is an example of a loving script for wedding vows that you can tweak to your needs:
"Every morning when I wake up, and every time I look at you, I ask myself why I'm so lucky. You came into my life when things were difficult, but you stuck by me through every hurdle, keeping me afloat and sane at the same time. For that, I am eternally grateful to you and will always do my best to show you how much I appreciate you.
I've known for so many years now that I wanted to marry you, and that desire has only grown stronger every day. 
Thank you for welcoming me into your life with open arms, for sticking by me even when things weren't pretty, and for being here with me today to start a new chapter. I loved you yesterday, I love you today. I'll love you always."
The officiant and wedding guests may also say some loving words throughout the ceremony. Below are some short examples:
Officiant (introduction): "The bride and groom would like to welcome all guests to this beautiful ceremony, where love is the center of everything. X and Y have loved each other for many years, and it's clear that their love and adoration for one another continues to grow stronger with each passing moment."
Wedding guest (possible reading): "X and Y have been in love since the day they met, so today really is a beautiful day. Their love for each other is always at the forefront of everything they do, and they spread that love to those around them."
3. Poetic Script
While standard speech is popular for weddings, some people like to add some poetry. Many famous poems are specifically used for weddings, but you can also use something unique.
Below is an example of a unique poem you can use on your big day during the vows. Alternatively, you could use it as inspiration for your own poem!
"Love is what you make of it, and I know you make it great;
Each day's a new beginning, with your love being the light of each day;
Every time I look at you, you radiate what love means to me;
Passion, determination, and hope are all I can truly see."
While you can use a poem as the entire vow script, you may also incorporate normal speech. 
Be sure to check out famous wedding poems from poets like Shakespeare to get more ideas.
During the readings section of the wedding, guests may also want to read poems (whether they've written them or not). Wedding guests commonly use famous excerpts from poems and books during this part of the wedding, with a popular example being Sonnet 116 by Shakespeare:
"Let me not to the marriage of true minds
Admit impediments. Love is not love
Which alters when it alteration finds,
Or bends with the remover to remove."
You or your guests can choose any appropriate poem or excerpt for a wedding reading.
4. Historic Script
When it comes to the vow script, consider one that details the history of your relationship. It's an excellent way to recap your partnership before closing the chapter and starting a new one. It's also a perfect way for the guests to get an insight into your relationship.
Below is an example of a vow script that details the history of a relationship. You can tweak specific details in the sample to suit the history of your relationship if needs be:
"I can't believe it's been X years since we first met. Our very first date all those years ago is still one of my favorite memories. We went to Y and were both incredibly nervous, but as soon as we sat down and started speaking, everything was so natural. We sat for hours that day, discussing our plans, hopes, and dreams.
Saying goodbye to you after that first date was difficult because I could have sat and talked with you for hours more.
Our unforgettable memories have led us to this moment, and I couldn't be more thankful for that. Thank you for being my best friend from the very beginning, and I'm excited to have you as a best friend for life."
Your situation may have been similar to the one in the above example, in which case you could use it word-for-word. However, if there are details you want to add, feel free to do so.
5. Simple Script
If you want to keep the ceremony simple, you might not be interested in a speech that's too long or emotional, and that's OK! There are plenty of ways to make a script simple and straight to the point.
Below is an example of a short and simple script you could use on your big day before exchanging rings.
"You're my best friend, and I love you with all my heart. Thank you for always being my biggest supporter, even if some of my dreams are far-fetched. I can't wait to spend the rest of my life with you and experience this joy every day."
You might also want other parts of the ceremony to be simple and to the point, including the processional, welcome, and readings. Below are some examples of simple scripts for a wedding:
The words of welcome: "I would like to welcome all guests to this ceremony, where we will be celebrating the union of X and Y. I'm sure we are all eager to get started with this exciting day, so please be seated."
Officiant introduction: "To all who have gathered here today, the bride and groom are happy to see you and start their journey together on this special day. Today, we're celebrating love, positivity, and hope for the future. I'm sure there's no doubt in anyone's mind that these two have a strong and powerful love for one another and that their future is hopeful. With a relationship that has spanned over X years, the bride and groom are eager to begin this journey. Without further ado, we shall begin the readings."
Conclusion
Now that you've read through each of these five unique non-religious wedding ceremony scripts, you're sure to have a better idea on how to make your own unique wedding ceremony that reflects your love and relationship.
There's no right or wrong way to create a meaningful ceremony; it's all about who you are and the kind of celebration you want for your loved ones, too! It may take some creative brainstorming but, in the end, heartfelt sentiments can be paired together with cheerful emotions to create unforgettable moments on the big day.
Make sure to express yourself through the words and stories shared so that this occasion is truly memorable. Above all else, just remember: it's your love and your rules! Here's wishing a love-filled journey for you both into married life and all the adventures beyond!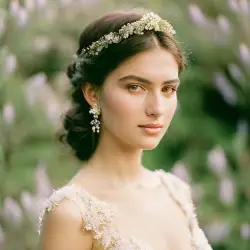 Latest posts by Rosie Liliy
(see all)