The rehearsal dinner is an important tradition that happens just before the wedding day. This dinner is typically held the night before the wedding as a sort of calm before the storm!
It is a chance to sit down, share a meal, some drinks and memories together with your friends and family. 
The purpose of the rehearsal dinner is to celebrate together for the upcoming nuptials. It is also a chance for family and friends to come together and give speeches and pay tribute to the couple, especially if they aren't able to on the big day.
During the rehearsal dinner, there will likely be a lot of speeches, as everyone will want to say how much the happy couple means to them.
There will be toasts, short speeches and funny anecdotes shared, but the speeches are not like the wedding day speeches, as they may be a little shorter, and more to the point, so that anyone that wants to speak can.
The thing is, most people get nervous around audiences, and speeches can make us really anxious and unsure what to say. So, if you're unsure what to say in a rehearsal dinner speech, or how it should go, then follow this guide! We'll go over what to do, what not to do, along with some examples that you can use. 
What To Do In A Rehearsal Dinner Speech
Let's take a look at some of the things you should do in a rehearsal dinner speech, to make sure it goes as swimmingly as possible. 
Check With The Bride & Groom
The first step is a very important one – make sure you have asked the betrothed couple if it is okay to take a few moments to do a speech prior to the rehearsal dinner.
They have likely planned the evening to every specific detail, so never just stand up and decide to do one there and then, as this could delay dinner being served or any other timings.
If they approve of your giving a speech at the rehearsal, then go ahead and start planning what you'll say. 
Prepare 
Let's face it. No matter how confident you are as a person, in the moment of the speech, you will likely forget or stumble over your words briefly if you try and do it off the cuff. So, always be prepared, and write notes. 
Take a few days before the rehearsal speech to plan what you are going to say, and how you are going to say it. That way, there will be no awkward silences, and you won't get sidetracked during the speech. 
You don't have to read the speech from your notes word for word, but at least they will be there if you get distracted or lose what you were saying. 
Introduce Yourself To Everyone
At the start of your speech, be sure to introduce yourself, and how you are related to the bride/groom or both components of the couple.
People there may already know you, especially if it is your brother or sister getting married, but it's nice to say hello to the group as a whole and make yourself known, along with what your relationship is to the couple. 
Talk About The Happy Couple
This is important. Your speech should not single out one side of the happy couple, even if you know them better or are related to the groom.
You need to talk about both halves of the couple in the speech, and tell a story about the two of them, rather than something you did with just the bride or just the groom.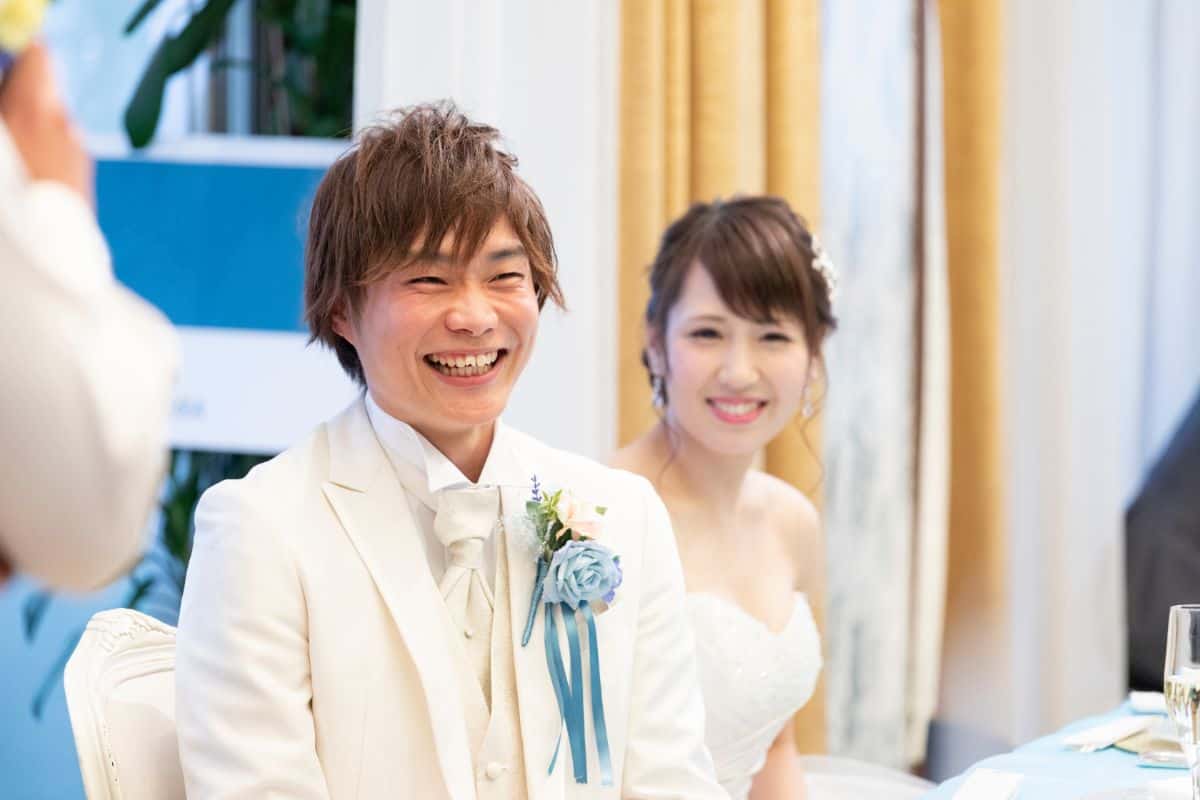 Keep It Clean
It's all too easy to use a speech to talk about funny stories or inside jokes you have with the betrothed couple, but this can sometimes isolate the others present, who are not aware of your inside jokes and funny experiences.
It is best to relay a funny anecdote, as long as it is appropriate. 
In addition, think about who is attending the dinner. Are there children present? Are there elderly relatives present? Is the family traditional or conservative? It could be a good idea to leave out the dirty jokes or toilet humor in his case! 
You should also try to avoid inflammatory language, offensive jokes, anything about exes, vulgarity or curse words to keep it clean, fun and enjoyable for all.
A great tip is to not drink too much before the speeches take place so you don't slip up and say something you shouldn't. 
Speak From The Heart
One of the defining factors of a rehearsal speech is that it gives others a chance to learn more about the bride and groom through the eyes of the speaker. The speech can be revealing, with fun stories and memories shared with the audience about the soon to be wed couple. 
Family members and friends that are going to make the speeches may already know the bride/groom well, and can use this time to tell some stories about the couple's personalities and defining characteristics. 
While telling a story is good, it can be more impactful to show how you feel than saying it. Don't be afraid to get emotional, and speak straight from the heart. 
What Not To Do 
When it comes to making a rehearsal dinner speech, there are a few things you shouldn't do too, to make sure it all goes smoothly and the speech is received well. 
Don't Make It About You
The purpose of a rehearsal speech is to wish the bride and groom or the betrothed well before the wedding day. You should be talking about them. It is not the chance to talk about yourself and your endeavors with the betrothed. 
While it's great to introduce yourself to the crowd, and how you know the couple, your anecdotes should be about them, and not about yourself. You should be talking about why the couple are great together, and wishing them good luck for the future. 
Don't Speak Too Quickly
At a rehearsal dinner, you will likely be in a large room with lots of people scattered around tables, so they may struggle to hear you depending on where they are sitting.
So, try not to speak too fast or too quietly, as they will miss your speech entirely. Speak clearly and slowly, and don't forget to pause for a moment in between what you are saying for laughs, toasts, or responses. 
Don't Try To Be A Clown
You can easily get caught up trying to make your speech the funniest and most entertaining of them all, but if you try too hard to be funny, you'll likely crash and burn. 
This is not the moment to try out your dreams of being a stand up comedian, it is just a chance to talk a little bit about the bride and groom, and wish them well.
It is also not the time to roast the happy couple and make lots of jokes at their expense. It's not funny for everyone, and it's not classy.
Example Father Of The Groom Speech
Good evening all, I'm Jeff, father of (groom). I'd like to thank you all for joining us tonight to celebrate the union of (bride and groom). I've known (groom) all his life! From when he was a young boy, he was always so determined to get what he wanted, and that's not changed over the years. 
When he brought home the beautiful (bride) , from the moment we met her, we knew she was the perfect one for him. She brings out the best in him, as he does in her. When she returned to college, he told us that she was going to be the woman he married, and I had no doubt in my mind that he was right. 
It's been my absolute privilege being (groom's) dad, and I feel honored to now have another daughter to dote upon.  (Bride and groom), we love you both very much, and can't wait to see what your future holds. To the bride and groom, everyone! 
Example Maid Of Honor Speech
Hello everyone, my name is Julia, I'm the best friend of our wonderful bride to be, (bride's name). I've known (bride) ever since I remember, having grown up next door to her. I first met her the day we moved into (street name) and she helped me make friends starting in a brand new school, and we have been inseparable ever since. 
I remember the first time she ever told me about (groom). She was in a time in her life when she had sworn off men forever…for the second time that year…and we were making plans for our next girls vacation and heading off to college. We were talking about how we didn't need to date anyone for a while, and that was until (groom) walked into her life and totally swept her off her feet.
All I remember from this time is her humming love songs to herself, and going all gooey whenever she had a text from him, and I knew that was it. Our girly vacation was definitely off the cards! But seriously, (groom) treated her how she deserved to be treated, and has always been there to celebrate her successes and victories.
I've watched the two of them build a beautiful relationship and life together, and I'm so excited to see where this next chapter takes them. I can only hope that one day we can all share a love as special as (bride and groom)'s. 
(Bride), it's been an absolute privilege being your friend for the past X years, and I feel incredibly blessed to have gained another friendship in (groom), too. I wish you both all the love and happiness in your future. Cheers to the bride and groom! 
Rehearsal Dinner Speech Example Format
Introduce Yourself: Hello, my name is X, and I am (groom name)'s little brother. I've also known (the bride) for ten years now, having been in the same class in High School growing up. 
Insert Anecdote(s) About The Couple: example, first time you met your brother's partner etc or a funny story about them together.
End On A High: I just want to say that there are no two people more perfect for each other. You truly bring out the best in one another, and I wish you all of the best for your future. Cheers, everyone. (Raise a glass and toast)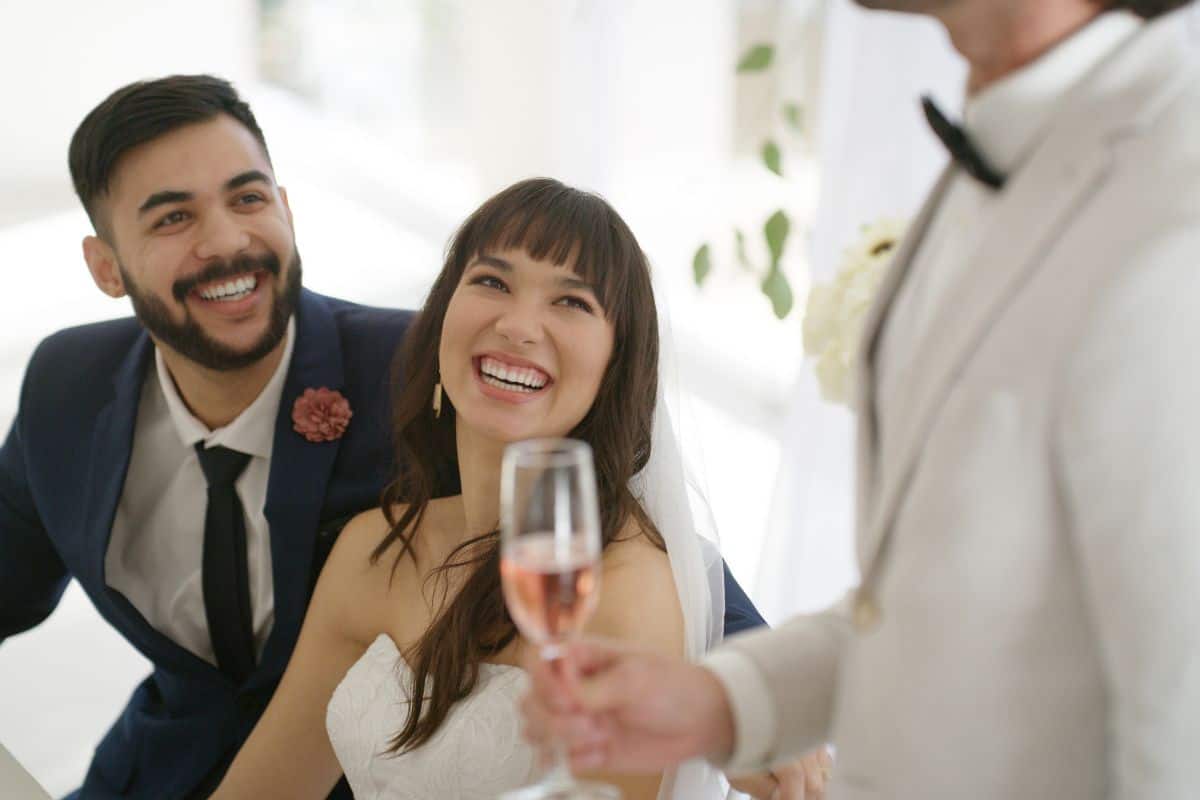 Frequently Asked Questions
Who should talk at a rehearsal dinner?
The rehearsal dinner is everything you think it is. It's a chance to get together, and have a run through, or a sort of mini version of the event before the big day arrives.
As a result, there will be speeches and tributes paid to the bride and groom to be.
A rehearsal dinner is traditionally paid for by the parents of the groom, and they will also likely be the hosts of the dinner. Therefore, the father of the groom, and occasionally the mother of the groom would be the main speakers. 
That being said, nowadays, traditions tend to go out of the window. The happy couples often choose how they want the rehearsal dinner to go, including who does the speeches and when. 
For some couples, there may not even be a groom, or some individuals do not have great relationships with their parents or fathers, so the rehearsal dinner may be organized by the couple themselves. In these cases, anyone the happy couple wants to give a speech is able to give a speech. 
Most of the time, a rehearsal dinner is hosted by the father of the groom, but if this is not the case, then the wedded couple-to-be can choose a host to run things and say a few words.
They may also choose friends or family members to speak during the night. In many cases, the people who are unable to make a speech at the wedding are the ones who will get a chance to speak at the rehearsal dinner. 
How long should the speech be at a rehearsal dinner?
A rehearsal dinner speech should be short and sweet. No one wants to listen to anecdotal stories that go on for 20 minutes at a time.
For the best results, a rehearsal dinner speech should be around five minutes long. This ensures that the audience's attention is captured, it is fun, lighthearted, relaxed and easy going. 
Keeping the speeches short can also ensure other people can have a chance to give their speeches too. We recommend aiming for about 3 minutes in length when practicing, so if you stumble or lose track of time on the night, you still shouldn't exceed 5 minutes by much.
All you need to do is offer your congratulations, reminisce on your relationship with the couple, and engage the rehearsal dinner guests, and that's it!  
How many speeches should you have at a rehearsal dinner?
In a typical rehearsal dinner, the host would begin the speech section of the evening. This is typically just before the dinner is served,while the drinks and cocktails are flowing.
The host will first welcome all of the guests, before saying a few words of congratulations towards the bride and groom. 
The host may then share a short speech about the happy couple, before introducing the next speaker, and sitting back down. Then, the family members and friends who are planning on saying a few words can stand and take their turn. 
The whole point is so those who won't be speaking at the wedding can wish the couple well at the rehearsal dinner. However, if the parents of the bride or groom are hosting, then they are able to speak at the wedding too. 
Do the bride and groom have to do a speech at a rehearsal dinner? 
Not traditionally, no. The bride and groom do not have to speak or give a speech at the rehearsal dinner, unless they really want to, but it is sometimes best to leave their speeches for the wedding. 
This is because everything is leading up to the special day, including the rehearsal dinner. Once it is all said and done, and the wedding has come to a close, then the bride and groom can give their speeches and thank everyone for attending. 
That's not to say that a bride and groom or the happy couple cannot do a speech at the rehearsal dinner. If they would like to say a few words of thanks, then that is perfectly fine to do so. It's their rehearsal dinner after all! 
The general rule of thumb is that if you are giving a speech during the wedding reception, then you do not have to give one at the rehearsal dinner too.
That keeps it fair for everyone so no one has to do two speeches, and those who wish to say a few words but can't at the wedding can say their peace at the rehearsal prior to the big day. 
Final Thoughts
We hope that this article has given you an insight into how to write the best rehearsal dinner speech and what is best to include. If you write from the heart, you can't really go wrong.

Latest posts by Lisa Plaitt
(see all)