Beauty and the Beast is arguably one of the most romantic Disney movies of all time. 
The concept of falling in love with who someone is on the inside rather than just what they are on the outside and fighting all the odds to be with each other perfectly encapsulates the meaning that many of us want to convey at our weddings.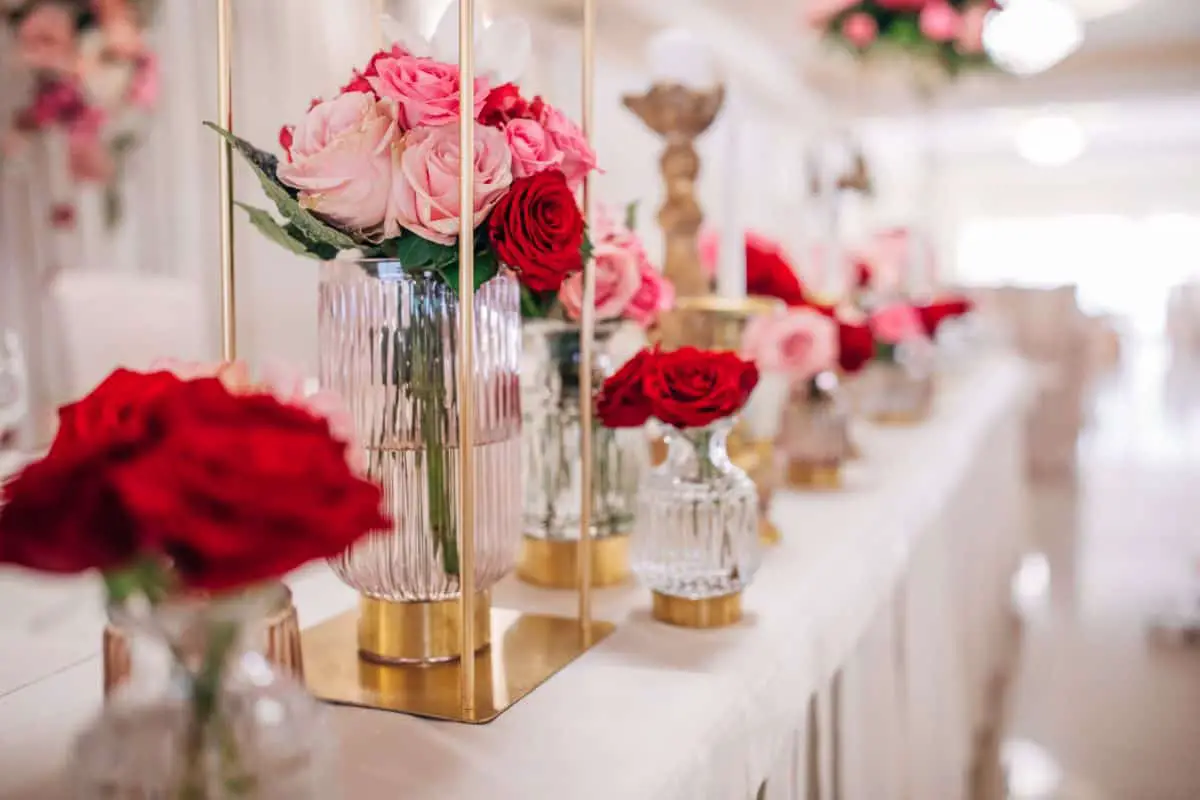 Although most of us will have fallen in love with this movie as children, it is just as relatable now that we are adults, especially now that we are adults who are getting married to our own beasts.  
If Beauty and the Beast still resonates with you just as much now as it did when you were a little girl, inserting a nod to the children's classic in your wedding decor is a great idea. 
You can be as subtle or on the nose as you want to be, but a whimsical, underlying theme of Beauty and the Beast-style romance can really make your wedding unique and unforgettable. 
In this article, we will look at 10 Beauty and the Beast inspired decoration ideas to create the Disney wedding of your dreams. 
Red Roses
One of the easiest ways to incorporate a little bit of the Beauty and the Beast magic into your wedding is through red roses.
There are so many ways that you can work these gorgeous flowers into your special day.  
If the symbolic red rose of the movie is one of the most important reasons why you love it, a bouquet of these stunning flowers could be a great addition to your wedding. 
Carrying the symbol of true love as you walk down the aisle to meet your own beast can give your day that feeling of Disney magic.  
Red roses can also feature in centerpieces, bridesmaid bouquets, buttonholes for the groom and groomsmen, and place settings. 
To avoid the overuse of red roses in your wedding, their usage should be limited to a couple of these options at most.
Candelabras
A great nod to Beauty and the Beast and its key characters is to include candelabras in the decor. You can find beautiful and interesting candelabras at thrift and antique stores. 
This is a good option if you want a more subtle nod to the movie, complete with candles during the ceremony or dinner to create a romantic atmosphere for your guests.  
Alternatively, if you want more on-the-nose incorporation of Beauty and the Beast, it is possible to purchase Disney branded Lumiere candelabras that feature the much-loved character's face and signature posture. 
While this may be more expensive than thrifting candelabras and candlesticks, who wouldn't want their childhood fairytale characters at their wedding?
Books
Anyone who has ever watched Beauty and the Beast knows that Belle adores books, therefore, it makes sense to incorporate them into your dream Disney wedding. 
A small stack of 3 or 4 books can make a great base for centerpieces that encapsulate your favorite princess's love of reading. 
You can get really creative with this and choose books with titles that relate to love, marriage, or even where you and your betrothed are from.  
Similarly, you can create centerpieces by creating page art with old books, and individual pages removed from books can be made into roses to incorporate both books and roses. 
Tea Sets
Mrs. Potts and Chip hold a special place in the hearts of anyone who grew up loving Beauty and the Beast. 
It is hard to imagine having a Beauty and the Beast-themed wedding without incorporating these beloved characters in some way or another.  
The most obvious way to bring Mrs. Potts and Chip along to your wedding is to ensure that serving tea with vintage teapots and china is part of the reception celebrations. 
If this approach is too subtle for you, or you know that your guests won't enjoy tea, there are alternatives.
Teapots and china can make for great centerpiece arrangements, with the ability to hold things such as flowers or treats for each table, they are versatile options too. 
If you are not planning on using the cups to drink out of, it is possible to ensure that they all feature some kind of chip or crack for a more authentic Beauty and the Beast feel. 
Carriage Clocks
Another character that can be easily added to your wedding celebration is Cogsworth. 
Adding antique clocks to your decor can create a subtle nod to your favorite film and add greater meaning to your decorations. 
One of the easiest ways to incorporate Cogsworth into your wedding is on your save the date notifications and your invitations. 
Having a carriage or antique clock embossed onto your wedding correspondence can create a classy nod to the movie and remind your guests that the time for your marriage is coming. 
Alternatively, you can purchase some vintage or antique clocks to use as decoration around your venue. 
To add a layer of meaning to this decoration, you can set each clock to a different time that means something to you and your significant other. 
For example, the time that you got engaged, the time that you said "I do" in your ceremony, or the time that you went on your first date. What can be more "tale as old as time" than that?
Cloche Centerpiece
If books aren't the centerpiece that you are looking for at your wedding, another option is a cloche. 
The cloche, or bell jar that encases the enchanted rose is an unmistakable feature of Beauty and the Beast. 
You can create a full homage and place a rose inside each one, you could even make sure the rose petals have fallen with only one remaining as a nod to the film and a subtle joke if you have waited a long time to get married.  
If roses already feature heavily in your wedding, you can simply place electric candles inside the cloche to create a romantic, illuminating centerpiece that provides a beautiful lighting effect into the evening. 
Yellow And Blue
The main colors in Beauty and the Beast are the yellow and blue of Belle's dress and the Beast's suit respectively. 
Taking on this color scheme for your wedding and your decorations can be a subtle nod to your favorite Disney movie without being too specific. 
The colors of the movie can be used for your flowers, bridesmaid dresses, the groomsmen's suits, the groom's suit, table cloths, bunting, and almost anything that requires color. 
It is a great way to pay homage to your childhood introduction to love at the celebration of your happily ever after.
Cake Topper
While the traditional cake toppers at weddings generally feature tiny models of a bride and groom, that doesn't have to be the case. 
Cake toppers are a great, low-cost way to acknowledge Beauty and the Beast during your wedding celebrations. 
From models of the Beast and Belle to "A tale as old as time" in an arty font, there is no shortage of options for a Beauty and the Beast inspired cake topper.
Welcoming Signage
One of the most notable songs from the movie is "Be our guest", and what greater motto to have when making sure your guests feel welcomed at your wedding. 
The phrase "be our guest" can be used in signage throughout the wedding, or can be used in spirit in order to make sure that your hosting skills will make your favorite Disney characters proud. 
Whether it is seating plans, guest books, or directional signs, make your guests feel that they are very important to you on your wedding day. 
You can even include flip-flops for the dance floor or hand fans to make sure that your guests are comfortable.
Place Settings
A final great way to incorporate Beauty and the Beast into your dream Disney wedding is through the place settings.
You can print images of your favorite characters onto the place cards and even match them to the guests that you feel are most like each character for a fun ice breaker on your tables.  
If you want a more subtle or classy nod to the movie in your place settings, a single rose at each setting can make for a classy look on each table. 
It can also offer a great opportunity for the single guests at your wedding to introduce themselves to other single guests and keep the romance going. 
Again, this is a great option if you have not incorporated roses into many other areas of your wedding.
Final Thoughts
Creating a Beauty and the Beast Disney wedding of your dreams is possible through your decorations no matter how subtle or obvious you want to be about it. 
Disney themselves sells many different types of merchandise that can be used as decorations. 
Alternatively, you can create handmade decorations and use antique items to create an elegant, subtle theme for your wedding and reception.

Latest posts by Lisa Plaitt
(see all)