Planning a wedding is one of the most exciting yet daunting tasks. When it comes to picking themes, couples can feel overwhelmed by all their options! But if you're looking for something timelessly elegant and classic, go with black and white.
Whether it's stripes or polka dots, there are so many creative ways to make your big day stand out while still keeping things chic. Here are fifteen creative black and white wedding theme ideas that'll take your celebration up a notch!
The Timeless Elegance Of A Black And White Wedding
Nothing is more timeless and classic than a black and white wedding. It's the perfect way to create an elegant atmosphere without breaking the bank! Whether you choose to go all out with a formal event or keep it simple, you can't go wrong with this color combination.
For starters, consider using crisp white linens for your reception tables and chairs. This will help make your space look even more sophisticated. Use black accents in chair covers, place settings, and other decorative elements like centerpieces. If you're feeling extra adventurous, why not incorporate some gold or silver touches?
When it comes to creating a stunning ceremony backdrop, there are plenty of ways to use black and white together tastefully. Choose from wall hangings, drapery panels, or fabric garlands suspended from the ceiling – whatever suits your style best!
Don't forget about those little details either: think along the lines of having programs printed on luxurious paper stock or custom-made menus at each table setting.
How To Incorporate Black And White Into Your Wedding Attire
When it comes to a black and white wedding theme, the most obvious way you can incorporate this classic color combination into your wedding is through your attire. For the bride, a timeless look is an all-white gown with subtle beading or lace detailing in black for contrast.
Alternatively, opt for something more dramatic like a white dress with bold black accents such as piping. If you really want to make an impact, try wearing an ornate ballgown-style dress with two different colors of fabric – one side in black and the other side in white!
When choosing accessories, keep it simple by pairing your look with minimalistic jewelry pieces of either jet black or bright silver.
For the groom and groomsmen, there are plenty of options when it comes to suiting up for your special day. A classic tuxedo paired with a crisp white shirt always looks sharp. But if you're looking for something slightly less formal that still fits within a formalwear setting, consider opting for traditional tailoring but have each man donning suits of alternating shades of grey and charcoal.
To add visual interest while keeping things tonal, choose ties in dark hues such as midnight blue or burgundy velvet. With these ideas in mind, you should now have no problem creating stylish looks that perfectly reflect your unique vision for your big day!
Color Accents to Elevate Your Black and White Wedding Theme
Bringing color into your black and white wedding theme can be tricky, but it doesn't have to be! To elevate the classic elegance of a black and white wedding, consider subtly introducing some carefully chosen colors to bring out the best in both.
Here are five ways you can use color accents to add depth and texture to your event:
Introduce touches of sage green—it pairs perfectly with both black and white for an earthy, lush look.
Incorporate jewel tones like deep reds or blues for added drama.
Soften things up by adding pastels such as light pinks or yellows.
For a modern twist, incorporate geometric shapes in shades of grey.
Play around with metallics such as silver and gold to create shine and sparkle throughout the day.

Black, White and Sage Green
For a classic, sophisticated wedding theme with subtle color accents – black and white plus sage green – you can create an unforgettable look that your guests will love. It's all about creating a timeless atmosphere, incorporating pops of this beautiful hue to elevate the design elements and make them unique.
Here are some ideas to get you started:
Wedding Attire
Decorations
Food & Drink
Black tuxes & ties with sage green boutonnieres/bows

White dresses with touches of lace

Sage green bridesmaids' dresses

Black shoes for everyone!
White tablecloths with black chair covers

Green floral arrangements in glass vases

Candles in shades of cream and green

Table numbers printed on cards with black ink
Green-tinted cocktails such as mojitos or martinis

Salads topped with fresh herbs like parsley or basil

Cheese platters featuring creamy brie slices next to vibrant greens like arugula
When it comes to styling your event space, don't be afraid to mix modern pieces such as geometric shapes into traditional designs. This allows you to show off both styles while keeping things cohesive throughout the venue.
Then add personal touches like customized menus or signature drinks served in sleek glasses – little details that will give your big day a custom feel. With these tips, you'll have no problem pulling together an elegant style using only three colors!
Black, White and Gold
The shades of black, white and gold can be used to create a dramatic yet timeless wedding theme. Not only is this color palette classic, but it also creates an elegant atmosphere that will make your guests feel like they're attending something special.
Here are some ideas for how you can incorporate these colors into your big day:
Decor:
Use pieces in neutral tones like cream and ivory to soften up the look. Then add pops of golden accents such as metallic vases or candles holders throughout the space. You could even go subtle with hints of gold ribbon wrapped around bouquets or centerpieces on tables!
Consider adding a touch of sparkle with sequined table runners or chair sashes—the more glittery details, the better!
Stationery & Accessories:
For stationery, opt for crisp whites and creamy ivories paired with shimmering gold foiling. This gives your invitations, menus and place cards an extra-luxurious feel without going overboard.
Accessorize your bridal party by matching their boutonnieres and corsages with the rest of your decor. A small detail like this will tie everything together nicely.
Food & Drinks:
Keep things simple yet sophisticated by serving dishes prepared with traditional ingredients and flavors in beautiful presentation platters. Serve them alongside decadent drinks topped off with edible gold flakes for a glamorous finish!
Create signature cocktails using fresh fruits muddled with sparkling champagne or prosecco garnished with edible flowers dipped in edible 24K gold leaf powder. Your guests will love this unique twist on a celebratory toast!
With its chic combination of neutrals accented by just enough glitz and glamour, this black, white and gold wedding theme is sure to dazzle everyone at your celebration.
Similar Idea: Black and Gold Wedding Theme
Black, White and Blush Pink
Blush pink is the perfect accent for a black and white wedding theme. It adds just enough color to offset the drama of the classic palette without being too overwhelming.
To pull off this look, use blush accents in your decor, from table linens and centerpieces to napkins and chair covers. You can also incorporate small touches like rose petals or blush paper flowers into your ceremony or reception venue.
And don't forget about lighting – warm amber up-lighting will give your reception hall an inviting glow that pairs perfectly with romantic shades of pink!
Finally, pair these elements with timeless accessories like pearls and silverware for a truly elegant feel.
Black, White and Burgundy
When it comes to black and white weddings, adding a third accent color can truly make the theme come alive. Burgundy is an excellent choice for a splash of vibrancy that still feels classic and timeless. With burgundy accents, you can create a look that's bold yet sophisticated.
From bouquets of deep red roses with greenery to table runners adorned in maroon velvet, there are plenty of ways to bring this gorgeous hue into your big day. Take it one step further by having bridesmaids donning wine-hued gowns or using burgundy ribbons to tie back chairs at the ceremony site.
For centerpieces, opt for tall candelabras dripping with crystals and surrounded by lush peonies in shades of scarlet and claret. These details will add an elegant touch while tying together your black, white, and burgundy palette perfectly!
Similar Idea: Red, Black and Ivory Wedding Colors
Black, White and Silver
Moving on to the next accent for our creative black and white wedding theme ideas, let's focus on a combination of Black, White and Silver. This elegant color palette will create an atmosphere of sophistication.
| Ideas | Details |
| --- | --- |
| White Cake Frosting & Silver Accents | Decorate your cake with white frosting in intricate designs and silver accents like pearls or edible glitter. |
| Silver Tablecloths & Candles | Use silver tablecloths as decor along with candles placed around the venue that are also in shades of silver. |
| Metallic Balloons & Swirls | Metallic balloons add some sparkle to your event along with swirl decorations made out of metallic paper hung from the ceiling or walls. |
For something truly unique, you can even incorporate a touch of fantasy into your special day by having fairy lights strung up across the room!
No matter how you choose to incorporate color into your black and white wedding theme, keep it soft and subtle so that the overall effect remains timelessly elegant. With just a few thoughtful touches here and there, you'll be able to take your vision from simple to stunning!
Unique Black and White Wedding Decor Ideas
Creating a black and white themed wedding is like painting with only two colors: the drama of high contrast. From sleek, modern decor to vintage-inspired touches, there are endless possibilities when it comes to crafting a beautiful celebration in just these hues.
Here's an inspiring list of unique ideas for bringing your big day vision to life:
Swap out traditional chairs for ghost chairs.
Hang ornate chandeliers throughout the venue that sparkle against the darkness of night.
Incorporate lace or patterned linens into table settings for added texture and depth.
The most unforgettable part of any event is always its decorations – every detail counts! And when it comes to making an impactful statement at your special day, few things can compare to stunning black and white floral arrangements that will wow your guests from the moment they enter until long after the party ends.
Black and White Wedding Floral Arrangements That Will Wow Your Guests
When it comes to your wedding flowers, don't forget that black and white is a beautiful combination! Floral arrangements in this classic palette add an elegant touch of sophistication to any ceremony or reception.
Whether you choose bold pops of color, delicate pastels, or something else entirely – make sure your floral arrangements reflect the unique style of your special day.
To help you plan for stunning blooms on your big day, here's a table outlining some great flower options:
| Flower | Color Variations | Special Qualities |
| --- | --- | --- |
| Roses | White, Cream, Ivory shades of pink & yellow | Long-lasting; romantic symbolism; fragrant |
| Gardenias | Pure white; slight tinge of green/yellow | Delicate petals; intense fragrance |
| Lily Of The Valley | Soft whites & pale yellows | Elegant blooms; sweet aroma |
| Orchids | Various hues including white & cream | |
From cascading centerpieces dripping with pearls to bouquets bedecked with sparkly crystals – there are so many ways you can incorporate these gorgeous florals into your event design!
With these fabulous ideas in mind, let's explore how to make a statement through creative black and white wedding stationery and signage.
Creative Black and White Wedding Stationery and Signage Ideas
When it comes to wedding stationery and signage, black and white themes offer a stunning contrast.
One of my favorite examples was at a recent wedding I attended where the bride used bold typography on sleek black boards for her signs throughout the venue. It made such an impact! Plus, you can't beat how elegant this timeless color combination is.
The possibilities are endless when it comes to making your own custom stationery and signage with these colors. From personalized calligraphy save-the-dates to chic photo booth props, there's something for everyone who wants to bring their classic vision to life.
Whether you're looking for items that make subtle statements or ones that really stand out, black and white design can be tailored to fit any style. And let's not forget about those essential details like place cards and menus – they don't have to be boring either!
From paper goods to physical decor pieces, this color palette provides plenty of scope for creativity while still keeping things classic and sophisticated. With so many options available, it's easy to craft a unique event experience without compromising on traditional elegance.
Jaw-Dropping Black and White Cake Ideas
When it comes to wedding cakes, there's no denying that black and white are a classic combination. After all, with these colors you have the perfect balance of contrast and elegance!
From sleek fondant designs to intricate hand-painted patterns, there are so many ways for couples to create jaw-dropping visuals with their cake design.
Whether you opt for an entirely monochromatic approach or choose to add pops of color into your confectionery masterpiece, your guests will be sure to be impressed by the artistry behind your cake creation.
In terms of flavor profiles, black and white cakes can range from traditional vanilla layers filled with buttercream frosting to more unique combinations like chocolate mousse paired with raspberry jam.
Additionally, if you want something truly special consider having two tiers in different flavors — one tier decorated in black and another decked out in white — or even four tiers featuring alternating hues.
No matter what route you decide on taking with your cake design, make sure that it matches the overall aesthetic of your big day!
Creative Ways to Incorporate Patterns Into Your Wedding Theme
When it comes to wedding themes, black and white is classic. But that doesn't mean you can't be creative! Incorporating patterns into your black and white themed event adds an interesting visual element that will make the occasion memorable for years to come.
To start with, take advantage of traditional motifs such as chevron, polka dots, or stripes. These timeless designs are perfect for a formal affair like a wedding reception.
You could incorporate them in subtle ways, like using striped napkins on tables or having guests wear monochrome bow ties with polka dot pocket squares. Or go all out by covering walls with geometric prints or creating a bold statement piece with a large-scale patterned backdrop behind the head table.
The possibilities are endless when it comes to adding fun patterns to your big day – don't be afraid to think outside the box!
Ideas for a Black and White Themed Black Tie Wedding
When it comes to planning a black and white wedding, the possibilities are endless. You can go all-out with a classic black tie affair or keep things modern with a minimalist theme. Either way, you'll find plenty of inspiration for creating your perfect day.
To start off, look for ways to use color blocking throughout the decor. Choose bold colors like red and gold alongside more muted tones like cream and gray to create an elegant contrast.
A monochrome cake is also sure to make a statement – have fun with creative designs that feature different textures in shades of black and white.
Incorporate subtle pops of metallic accents into your bouquets, table settings, and centerpieces too – think silver vases filled with simple arrangements of white flowers or crystal chandeliers hung over tables covered in crisp linens.
Finally, don't forget about attire! Encourage guests to dress up by featuring a chic black tuxedo on each invitation card so they know what's expected when it comes time to get dressed for the big day.
From there, you can explore ideas for modernizing this timeless combination even further through thoughtful details such as unique place cards written in calligraphy or geometric elements like hexagons used as part of the backdrop design.
Modern Black and White Wedding Minimalist Theme Ideas
If you're looking to make an impact with a modern yet timeless wedding theme, black and white is the way to go! It's classy, elegant, and always in style. To create your dream minimalist wedding day vibe, here are some creative ideas to help get you started:
Choose classic black dresses for the bridesmaids that they can wear again.
Incorporate geometric shapes or art deco elements into decor pieces like table numbers or centerpieces.
Create a stunning contrast by pairing black accents—like chairs and linens—with crisp white blooms.
The beauty of this color combination lies in its versatility; it works well for any season, from springtime garden parties to winter wonderland celebrations. You can also switch up the look by adding unexpected pops of metallic gold or silver details throughout.
Whether it's sleek and sophisticated or romantic and ethereal, there's no doubt that a modern black and white themed wedding will be unforgettable!
Conclusion
In conclusion, black and white is a timeless color combination for your wedding that offers endless possibilities. From the bridesmaids dresses to the cake design – there are so many ways to incorporate the classic colors into your big day.
With just a few carefully chosen accents, you can elevate your theme from stylishly sophisticated to jaw-dropping gorgeous! Whether you're looking for something traditional or modern, there's sure to be an option here that will fit with your vision of the perfect wedding day.
If you're feeling overwhelmed by all of these options, take heart: This is supposed to be fun! Start by exploring themes that speak to who you are as a couple, then let those ideas drive everything else.
Before long, you'll have a beautiful black and white themed celebration straight out of your dreams – one that's sure to leave guests talking about until kingdom come!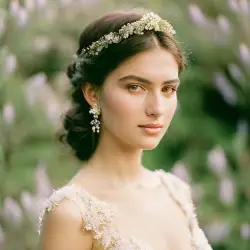 Latest posts by Rosie Liliy
(see all)