One of the most important decisions that you will have to make for your wedding day is the theme.
Some people choose a specific theme based around something that they love – for example, Star Wars, Disney, or traveling. However, most people will base the theme of their wedding around their color scheme.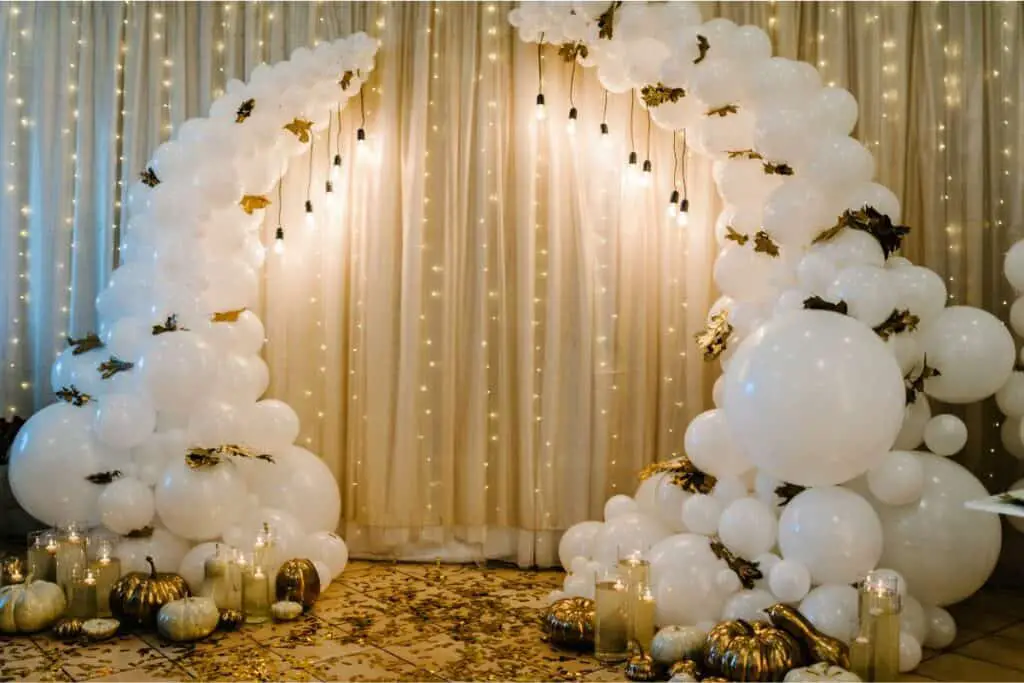 Your color scheme will run throughout your entire wedding, and really tie your special day together.
It will affect which flowers you choose, the color of your decorations, and the color of your bridesmaids dresses too.
There are all sorts of different color schemes that you might choose for your special day. In this guide, we'll be taking a look at the white and gold color scheme and how you can feature this theme throughout your big day.
Not the color scheme you want? Don't worry, we have more color options in store for you:
But, if you want to find out more, keep on reading! 
Often, when people choose a white and gold color scheme, they do not solely choose white and gold. Instead, they introduce a third color to the mix.
An excellent example of this is this timeless black, white and gold theme. In this theme, the black color scheme has been introduced in a very minimalistic way.
Instead of being a heavy feature in the theme, it has simply been introduced in extremely small amounts, just enough to add a third dimension to the color scheme. It is elegant, beautiful, and timeless – perfect for your wedding day!
Or, you could just stick with a white and gold theme. Some people feel uncertain about introducing 2 light colors to their wedding day, but you only need to look at this example to see just how elegant this theme can be. 
White and gold is like something straight out of a fairytale. Especially if you use gold as the main color in your theme.
Gold screams class and royalty, and it will have you feeling like a Disney Princess (or Prince) on your special day. There is nothing not to love in this color scheme.
This next one is a great example of how you can introduce your color scheme and theme into areas of your wedding day, outside of the seating plan.
This is a great example of how you can put your color scheme into something fun. 
In this example, the couple have designed a "his" cocktail and a "hers" cocktail, and the ingredients of this cocktail have been displayed on this stylish board.
By utilizing black, white and gold in this print, the colors of the theme have been tied together even further.
So you should use this as inspiration when it comes to carrying your theme into the little details of your special day. 
Another great color to introduce with a white and gold theme is navy. Navy is a lovely dark color, so it contrasts the lightness of the white and gold perfectly.
Contrasting colors can work incredibly well on your wedding day, and they can look sleek and stylish too. 
What we love about this theme is that the white and gold are used as features, rather than the main colors in the theme.
We love this, because it is totally different from the other themes that we have looked at. It really is perfect for your happily ever after.
Alternatively, you could complement the light color of the white and cold with an additional light color. In this color scheme, light pink is introduced to the mix, and we absolutely love it! 
There is no color that screams "love" quite like pink, and this light pink color is super sweet and beautiful. It is also introduced in such a subtle way that you barely even notice the difference from a distance.
But the addition of light pink flowers to the bouquets adds another dimension to the color scheme, making it even more beautiful.
Another great example of how a third color in the mix in small amounts can really work is this blue, white and gold theme.
Unlike the navy theme that we looked at earlier, the blue in this theme is introduced in a very small amount.
Through candleholders, napkins and glasses, the white and gold is completely transformed through the addition of the blue. 
We love this color scheme because it works for so many different styles of weddings.
No matter what time of the year you are getting married, or what venue you have chosen, this theme is timeless – so it will always work.
The great thing about a white and gold theme is that you can make it as bold or subtle as you want.
Some of the themes that we have looked at in this guide have been very minimalistic, and we love that. But we also love how extra this white and gold extravaganza theme is. 
White and gold works amazing for your enchanting fairytale wedding, and this theme is straight out of a movie.
So, this theme is great to use for inspiration if you want your guests to feel like they are walking into a Disney movie.
Speaking of Disney movies, we love the way that green is introduced into the white and gold theme in this example.
Nature always plays a big part in fairy tales, and in this wedding theme, nature is at the heart. 
No matter whether you are having an indoor or outdoor wedding, adding small bits of nature through centerpieces and flowers can really make you feel like you are in a movie. Perfect for your happily ever after. 
Or, you could throw nature aside and go for a real luxury theme. This white and gold theme will make you feel like a Princess in your own fairytale simply because it is so stylish and elegant. 
The flower arch in this photograph is perfect for your top table, and it is guaranteed to keep all eyes on you. That's what every Bride wants on her special day.
Another great theme that introduces pink to the white and gold theme is this one. Just like the gold, white and pink theme that we looked at earlier, this one is incredibly stylish and beautiful. 
Pink has so many beautiful connotations, and it is just amazing for your wedding day. You really cannot go wrong with a white, gold and pink theme. 
It is also possible to make your white and gold theme even more stylish by using sparkly variations of white and gold. Just look at this example.
The gold table clothes in this theme are designed to shimmer and sparkle, adding a whole new dimension to the theme without adding another color. A very stylish choice. 
Another royal color that is perfect for your wedding day is emerald green, and this theme shows just how well a white, gold and emerald color scheme can work. 
The great thing about introducing green to your wedding scheme is that it is already there in some aspect due to the flowers that you use.
So, the green will already be tying your wedding day together, before you even think about adding it as an additional color. We absolutely love it.
Related Article: Enchanting Gold And Emerald Wedding Ideas
But, nothing is quite as romantic as a pure white and gold theme. This source is excellent inspiration for how you can tie your wedding theme into your evening buffet.
You might think that white and gold alone could be a little bland, but this theme really proves you wrong. 
White and gold complement each other perfectly, and they are classic wedding colors. So if you want a classic enchanting fairytale theme, this works wonderfully. 
Finally, we have another outstanding example of how well the navy works with a white and gold theme. Navy is great because it is a darker color, but it is not quite as sharp and dark as black. 
There are lots of little ways that you can add navy to your big day to break up the light colors. In this example it is done through the chairs and the centerpieces, and you can see how well it works.
It doesn't take the focus away from the fairytale white and gold theme, it simply adds to it.
Summary
In this guide, we have taken a look at 14 beautiful examples of white and gold wedding themes for your special day(see also: 15 Best Rose Gold Wedding Dresses For Your Special Day).
So if you want to feel like a fairytale princess walking into your happily ever after, check out the guide above for inspiration.

Latest posts by Lisa Plaitt
(see all)