Fall is one of the most romantic seasons to say "I do" – with its golden light, crisp air and colorful leaves, it just begs for a beautiful celebration of love.
But when you're planning your fall wedding, how can you make sure the theme captures all that romance?
I'm here to help! From cozy bohemian vibes to rustic glamour, I've gathered 10 of my favorite romantic fall wedding themes so couples can find inspiration for their own unique story.
Whether you're looking for subtle elegance or something more dramatic, these ideas will get your creative juices flowing as you plan an unforgettable day full of love.
So let's dive in and find out what this season has in store for us!
Fall Foliage: Embracing Autumn's Natural Beauty
As the leaves begin to change, there's a certain romance in the air.
Capturing this special moment in your love story is easy with fall foliage as your backdrop. The natural beauty of autumn can be integrated into every aspect of your wedding day.
From invitations and decor to photos and favors, embracing fall foliage will make for an unforgettable celebration!
Begin by setting the tone with stationery that features warm colors and subtle leaf designs – like watercolor oranges and golds.
Incorporate these hues throughout your reception tablescape with candles, linens, and centerpieces made from gourds or pumpkins.
And when it comes time for portraits, take advantage of the stunning landscape around you; think orange-hued trees along winding paths or golden fields dotted with red apples.
When it comes to favors, give guests something they'll remember long after they've left: maple syrup bottles tied with twine or small bags filled with freshly harvested nuts are just some ideas that'll remind them of all the love shared on such a special day.
With so many ways to embrace the season through design choices and details, incorporating fall foliage into your romantic wedding theme will ensure that your love story is remembered forever.
Harvest Time: Celebrating The Season's Bounty
As the days get shorter and the air gets crisper, it's time to give thanks for the bountiful harvest.
From pumpkins and pears to apples and acorns, there are plenty of ways to celebrate autumn's bounty in your romantic fall wedding theme.
Whether you opt for a more traditional approach or a modern twist, incorporating elements from nature will make your love story truly shine.
Start by filling your venue with seasonal decorations like vases overflowing with colorful gourds and baskets of ripe fruit.
If you're looking for something special, try adding rustic touches like wooden crates filled with sunflowers or wheat stalks arranged around tall glass candles.
You can also use pieces of fabric—like burlap table runners or linen napkins—to add texture and warmth to any space.
To really bring home the spirit of the season, gather friends and family around an outdoor dining area featuring local produce such as squash, potatoes, cabbage, beets, carrots and onions. Create personalized menus that highlight each dish so guests know what they're about to enjoy!
And don't forget to top off dinner with a beautifully decorated pumpkin spice cake – perfect for celebrating fall's sweetest treats! With these ideas in mind, your harvest-inspired celebration is sure to capture all the beauty this season has to offer.
Rustic Charm: Cozying Up With Barn And Farmhouse Themes
Nothing says romance like a rustic wedding theme. From the moment you and your partner first set eyes on each other, it was love at first sight.
The beauty of fall is hard to beat—the crisp air, the changing leaves, and the warm glow of an autumn sunset all make for an enchanting backdrop in which to tell your story of love.
The barn or farm-style wedding theme can be both romantic and cozy. Think hay bales draped with tartan blankets; string lights overhead creating a twinkle effect; wooden tables topped with wildflowers, hand-painted signs pointing guests in the right direction; and delicate lace doilies decorating every surface.
These details will truly capture the essence of falling head over heels. For a special touch, incorporate vintage items such as antique typewriters, ladders, old trunks or suitcases that can act as additional displays for photographs or drinks stations—all of which create a wonderfully authentic atmosphere for your big day.
Rustic charm offers plenty of opportunities to express yourselves through DIY decorations too! Gather fallen branches from nearby forests to craft charming centerpieces, use mason jars filled with fairy lights as table accents or get creative with handmade paper flowers tied around chairs – these are just some ideas to help make your celebration really come alive. Your guests won't forget this experience anytime soon!
Now let's enter into an even more whimsical world – An enchanted forest: capturing the magic of fall…
Enchanted Forest: Capturing The Magic Of Fall
Fall weddings offer a special kind of enchantment, with the crisp air and beautiful fall foliage. If you're looking to capture that feeling in your wedding theme, then an enchanted forest is the perfect choice! Here are some tips for creating this enchanting atmosphere:
Incorporate natural elements into your decorations. Natural decor like twigs and branches, pine cones, leaves, mosses and other woodland creatures will help create an ambiance of mystery and wonder. You can also add fairy lights or candles to give it a magical glow.
Choose warm autumnal colors. Deep reds, oranges, yellows and browns all evoke the feeling of a cozy fall evening spent outdoors under the stars. Add touches of green to bring out the beauty of nature in your décor as well.
Play up the romance factor with subtle details throughout your venue such as stringed lights draped from tree branches above reception tables, rustic lanterns lining pathways or hanging from trees, and romantic floral arrangements full of seasonal blooms like mums, chrysanthemums and wildflowers in shades of orange, yellow and burgundy.
Top off your look with playful accessories like acorn boutonnieres for groomsmen or headpieces crafted from real foliage for bridesmaids—these small details will make your big day even more memorable!
Creating an enchanted forest feel at your wedding is sure to be a hit with guests who love both nature's beauty and romance! With thoughtful planning you can craft a unique experience that captures both aspects perfectly—just remember to have fun while doing so!
Vintage Glam: Channeling Old Hollywood Elegance
For some, the romantic fall wedding is a story of old Hollywood elegance. Like an old-time movie set, your wedding can be transformed into a glamorous affair filled with glitz and glamour.
Think of it as if you were stepping onto a black and white film studio backlot – the perfect backdrop for capturing your love story in all its classic style.
| Prop | Description |
| --- | --- |
| Vintage Cars | Rent or borrow vintage cars to transport guests to ceremony |
| Glamorous Attire | Dress up bridesmaids in gold sequined gowns & groom's party in tuxedos |
| String Quartet | Hire a string quartet to provide live entertainment during dinner |
To complete the vintage look, consider adding touches like champagne flutes, crystal vases full of fresh flowers, and hand-painted calligraphy place cards. The intricate details will help create an atmosphere that celebrates the beauty and romance of timeless Hollywood glamour.
The best part about creating this special theme? Your one-of-a-kind day will feel just as magical now as it would have felt then. From twinkling lights above to lush velvet table cloths below, with this theme you can craft an elegant celebration worthy of any silver screen starlet!
Boho Chic: Embracing The Bohemian Vibe
When it comes to capturing the spirit of bohemian romance, there's no better theme than boho chic. For couples who want a relaxed and effortless vibe for their special day, boho chic is an ideal choice that celebrates natural beauty and carefree style. Here are some ideas to bring this romantic look to life:
Incorporate plenty of lush greenery – vines winding around your ceremony arch or potted plants scattered throughout your reception space will give an ethereal feel that evokes nature-inspired romance.
Choose earthy colors like mustard yellow, deep green, sandstone browns, and dusty blues to set the tone. You can even opt to go with all neutrals if you'd prefer!
Embrace unique textures such as macramé hangings, wood accents, velvet fabrics, rattan chairs – anything that adds depth and coziness to your decor scheme.
To complete the dreamy aesthetic, don't forget about whimsical details like feathers in bouquets or flower crowns on bridesmaids!
Boho chic allows couples to showcase their creative side while still keeping things organized and stylishly minimalistic. With just a few touches here and there, you can easily create an unforgettable atmosphere full of happy vibes ready for celebrating your love story.
Mystical Romance: Adding A Touch Of Gothic Flair
Nothing could be more dreamy than a romantic fall wedding that captures the true essence of your love story.
To set the perfect mood for such an occasion, add a touch of gothic flair with mystical romance! This style will transport you and your guests to another realm filled with elegance and mystery.
Take inspiration from literature and film – think Jane Eyre or Wuthering Heights – to create a look that is darkly enchanting yet still warm and inviting.
Incorporate deep colors like midnight blue, purple, and black in your decorations and attire; choose lush fabrics such as velvet and lace; light candles instead of electric lights; use antique furniture pieces; hang tapestries on walls; place dried flowers throughout the space…these are all elements that enhance the atmosphere of mysticism.
| Element | Description |
| --- | --- |
| Colors | Midnight Blue, Purple, Black |
| Fabrics | Velvet & Lace |
| Lighting | Candles Instead Of Electric Lights |
| Furniture Pieces | Antique Furniture Pieces |
| Wall Decorations | Tapestries Hanging On Walls |
Adding these details makes it easier for you to evoke a sense of old-world charm without going overboard on the gothic theme. By introducing subtle hints here and there, you can achieve a look that feels timeless yet decidedly unique at the same time.
From beautiful floral arrangements to exquisite centerpieces to unexpected silhouettes – let your imagination run wild as you explore ways to capture this ethereal style!
Elegant Simplicity: Keeping It Classic And Timeless
When it comes to romantic fall weddings, keeping things classic and timeless is a great way to capture the love story between you and your partner.
A traditional color palette of forest green, blush pink, ivory, and goldenrod yellow looks beautiful against the backdrop of autumnal leaves.
Incorporating simple elements like burlap table runners or mason jar centerpieces will bring out the beauty of nature while still looking elegant.
And if you're feeling extra creative, add accents of glittering gold throughout your decorations for an added touch of sparkle!
In addition to pulling off an elegant look on your special day, why not take advantage of the season by adding some cozy touches?
Think chunky knits in muted colors draped over chairs or rustic wood signs with sweet messages hung around the venue. Even something as small as little pumpkins scattered along tables can instantly give your space that homey feel.
Whether you opt for subtle nods to fall or go all out with seasonal decor, these details are sure to create unforgettable memories for years to come.
As we transition into incorporating pumpkin spice into your wedding theme – don't worry about being too cliché!
With so many ways to incorporate this flavor into your big day without going overboard – from spiced lattes during cocktail hour to mini pies served as dessert – guests will surely be delighted at every turn.
Pumpkin Spice: Incorporating The Season's Favorite Flavor
Nothing says fall quite like pumpkin spice! This flavor is the perfect way to add a little seasonal flare to your romantic fall wedding. Here are some ways you can incorporate this classic flavor into your special day:
Serve up mini-pumpkin pies or cupcakes during cocktail hour for guests to enjoy.
Use mason jars filled with cinnamon sticks and cloves as table decorations – the scent will permeate the room, giving it an even more cozy feel!
Give out small favor bags of spiced nuts or caramel apples as parting gifts for your friends and family members who attended your big day.
These ideas are sure to bring in all of those comforting scents that make us think of autumn and help create a truly romantic atmosphere on your special day. Now let's focus on creating an intimate and romantic atmosphere by setting the mood with autumn nights…
Autumn Nights: Creating An Intimate And Romantic Atmosphere
Autumn nights provide the perfect opportunity to create an intimate and romantic atmosphere for your fall wedding. With a few simple touches, you can capture your love story in this magical season of falling leaves.
The crisp air and soft lighting of autumn evenings offer a truly cozy feel that will bring out the romance in any couple's special day.
Think dreamy twinkle lights hung above, candles flickering on tables, and warm blankets draped over chairs for guests to snuggle under as they watch you exchange vows.
It's all about creating a unique ambiance with subtle accents like these that set the tone for your big night – from sweetly scented diffusers to rustic mason jars full of wildflowers proudly standing tall against the backdrop of nature's majestic beauty.
These tiny details make all the difference when it comes to setting the stage for your romantic fall wedding theme. So go ahead and let yourself be inspired by what you know best – your own love story!
Create something totally unique that celebrates who you are as a couple while embracing everything beautiful about the season around you.
Frequently Asked Questions
What Types Of Decorations Should I Use For A Fall Themed Wedding?
When it comes to planning your fall themed wedding, there are so many unique ways you can decorate and capture the spirit of the season. From seasonal colors like oranges and reds to autumnal motifs like pumpkins, acorns and leaves, you'll want to find decorations that fit your love story perfectly. Here are some ideas for how to make all of these elements work together in a cohesive way.
To start off with, consider incorporating natural elements into your décor. You could use branches or pine cones covered in glittery gold paint as table centerpieces. If you're feeling especially creative, try using decorative gourds on each guest's place setting or hanging dried flowers from the ceiling. These touches will create an atmosphere that celebrates nature while still being romantic and elegant.
You should also think about adding subtle hints of fall foliage throughout your venue. Whether you hang paper lanterns outside or bring in artificial trees inside, having something that draws attention to the changing seasons is always a great idea. And don't forget candles! Not only do they look beautiful when lit up after dark – they'll also give off a warm glow that adds just the right amount of romance to any room.
So get creative and embrace the special beauty of this time of year. No matter what kind of decorations you choose for your fall-themed wedding, they're sure to be magical!
What Color Palette Should I Use For My Fall Wedding?
Related: 19 Romantic Fall Wedding Color Ideas You Haven't Seen Yet
When it comes to planning a fall wedding, one of the most important decisions you have to make is your color palette. After all, this will be the foundation for how everything else looks and feels, from decorations to bridesmaid dresses. Choosing colors that capture the essence of autumn can give your special day an elevated look while still keeping with the romantic feel of your love story.
If you want to go classic, try deep reds, oranges and golds that evoke those beautiful changing leaves outside. You could also choose subtle neutrals like cream and gray as a base, then use bold accent pieces in brighter shades like cranberry or cobalt blue. Or if you're feeling adventurous, pick something completely unexpected – think lavender or mint green! It's totally up to you and there are no rules – just find what speaks to both of you as a couple and lets your personalities shine through.
You don't have to stick solely with traditional fall hues either – mix things up by adding pops of bright yellows or sage greens that remind us of long summer days before they slip away into wintertime. Whatever combination you decide on should work together seamlessly throughout your entire event so it all looks cohesive and intentional when guests arrive at your reception venue. Get creative but keep it practical so it doesn't become too overwhelming; less really is more here!
Once you do settle on some colors that speak to you both come wedding time, coordinate them with each other across every element – invitations, centerpieces, favors…you name it! This way people know right off the bat that yours isn't just any ordinary fall wedding – it's yours!
What Type Of Music Should I Have At My Fall Wedding?
When it comes to your fall wedding, music is key for setting the atmosphere and capturing your love story. From soulful strings to classic crooning or contemporary tunes, there are plenty of options to choose from that will help create a romantic vibe on your big day.
As you plan out the perfect playlist for your special occasion, consider what kind of sound best reflects the two of you as a couple. Do you like classic ballads? Maybe something more upbeat? Or perhaps the sounds of nature fit your style better than traditional instruments. No matter what musical genre speaks to you both, having meaningful songs playing throughout the ceremony can be especially sentimental and memorable.
Choosing an instrumental score or some acoustic accompaniment can also provide subtle background noise during moments shared with friends and family while creating an elegant ambiance as guests mingle and celebrate. Whether you prefer rock n' roll or jazz standards, country hits or classical pieces – select tracks that bring joy and evoke emotion in order to truly capture that magical moment between two people in love.
What Kind Of Food Should I Serve At My Fall Wedding?
Related: Fall Wedding Food Ideas On A Budget
When it comes to planning a fall wedding, the food is an important part of setting the tone. After all, who doesn't love delicious food? I'm sure you want your guests to leave with their stomachs full and hearts contented! Here are some tips for choosing tasty eats that will make your romantic fall wedding stand out:
Start by looking at seasonal produce. This time of year has so much to offer – think apples, squash, pears, beets, sweet potatoes…the list goes on! These items can help create unique dishes that will add charm and warmth to any celebration. Plus, they're often cheaper than other ingredients during this season.
Consider going local. If you have access to a farmers' market in your area or if there's a restaurant nearby that sources locally-grown ingredients, these could be great options for creating memorable meals. Not only is this good for supporting local businesses but it can also add an extra special touch to your reception menu.
To really show off autumn flavors, try incorporating herbs such as sage, rosemary and thyme into signature dishes like roasted vegetables or savory pies. You could even roast up some pumpkin seeds with spices for a fun snack! And don't forget about drinks—warm apple cider or mulled wine would be perfect additions to accompany dinner. Whatever you choose for your wedding feast, taking advantage of the bounty of the season will ensure that everyone enjoys themselves and leaves feeling satisfied after celebrating your big day!
What Type Of Wedding Attire Would Be Most Appropriate For A Fall Themed Wedding?
When it comes to wedding attire for a fall themed wedding, embracing the season's natural beauty is key. Choosing clothing that works with the romantic autumnal vibe will help capture your love story perfectly! As they say – 'the devil is in the details' – so let's dive into what type of garments you should have on hand for your special day.
As temperatures dip and leaves change color, a great way to bring out the spirit of fall is by warming up everyone's look with rich hues like deep reds, oranges, and yellows. For bridesmaid dresses, these muted tones can be complemented by cozy textures such as velvet or corduroy; while groomsmen may wear classic navy suits with patterned ties. These subtle nods to the warmness of autumn are sure to make any group photo look extra stunning.
For outdoor ceremonies where gusts of wind could blow away anyone's hard-earned style points, consider providing shawls or wraps made from wool or cashmere fabrics – this way nobody has to worry about their outfit being ruined before reaching the altar! Since Mother Nature provides us with an array of beautiful colors during this time of year, don't forget accessories either; floral headpieces can add an ethereal touch to any bride's ensemble while boutonnieres provide just enough seasonal flair to get everyone ready for saying 'I do'.
No matter how you choose dress yourself and your guests, there are plenty of ways to create a unique celebration without sacrificing comfort or timeless elegance. So go ahead and plan those dreamy nuptials – after all you only get one chance at making a first impression when it comes to tying the knot!
Conclusion
As you plan your fall wedding, remember that it's all about capturing the unique love story between you and your spouse. From decorations to music to attire, there is no wrong way to create a romantic atmosphere for your special day. Each of these ideas will help set the tone for an unforgettable celebration!
It may be tempting to go overboard with decorating and planning, but keep in mind the old adage: "less is more". Sticking to a few well-thought out elements can make a big impact on your overall theme without feeling overwhelming or excessive. Choose subtle details like cozy blankets draped over chairs and rustic centerpieces filled with dried flowers—these little touches will give your space something special while still maintaining its minimalist charm.
At the end of the day, what matters most is that you are surrounded by family and friends who have come together to celebrate your union. Your guests will take away warm memories of the two of you sharing this momentous occasion regardless of how simple or elaborate everything else may be. As long as you both stay true to yourselves, your beautiful autumnal wedding is sure to be one that everyone remembers fondly for years to come!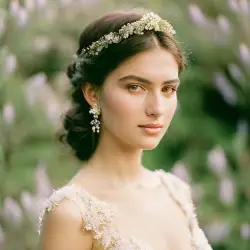 Latest posts by Rosie Liliy
(see all)