Hey there bride-to-be, are you looking for some fabulous fall wedding food ideas on a budget?
Well, we've got just the thing! Wedding planning can be stressful and expensive – but it doesn't have to be. In this article, I'm going to show you how to create an amazing menu without breaking the bank.
You'll learn which seasonal flavors are perfect for autumn weddings, along with cost-saving tips that will help keep your catering costs under control.
So grab yourself a cup of tea and let's start dreaming up a delicious fall feast that won't blow your budget!
Planning A Fall Wedding On A Budget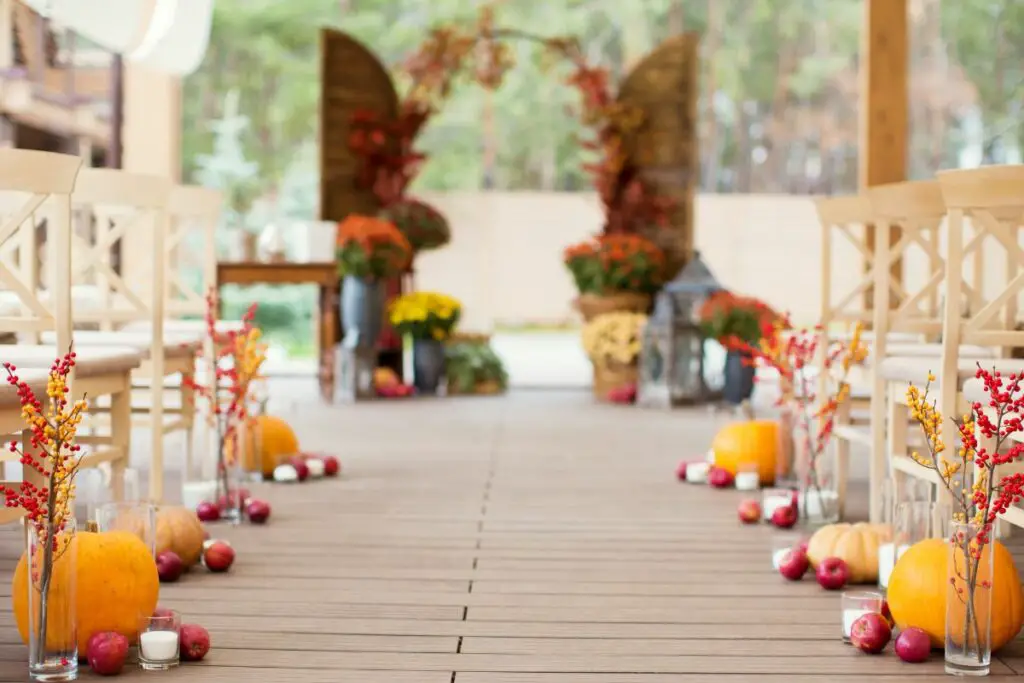 Have you ever dreamed of having a beautiful fall wedding, but worried how you'd stick to your budget? It's definitely possible! Planning the perfect autumn wedding on a limited budget requires some creativity and careful planning.
Start with what matters most: prioritize things like venue, photography, and other non-negotiables first. Then create an overall budget and determine where you can save money along the way.
Consider doing DIY decorations or enlisting friends and family members to help out with tasks such as catering and flower arrangements.
With proper research, determination, and resourcefulness, creating your dream fall wedding while staying within your financial limits is achievable.
Now that we've discussed the basics of planning an affordable wedding in the fall season, let's turn our attention to choosing a budget-friendly menu…
Choosing A Budget-Friendly Menu
When it comes to planning a wedding on a budget, the food is an important part of the equation.
You want your guests to have a great experience, but you don't want to break the bank in order to do so. Thankfully there are plenty of ways to create a delicious menu without spending too much!
The first step is understanding what kind of serving style will work best for your event and fit within your budget. If you're looking for something more upscale, then plated dinners or buffets may be right up your alley – just make sure that you've got enough kitchen staff and servers on hand to cover everything properly.
For a more laid-back feel, consider family-style or tapas service; they allow everyone to get involved in sharing dishes while keeping costs down. Just keep in mind that these types of meals tend not to fill people up as quickly as individual plates might, so plan accordingly!
No matter what type of meal you choose, look for creative ways to cut corners here and there — like offering fewer courses or opting for seasonal ingredients whenever possible — so that you can save money where it counts most.
With some careful planning and creativity, you can serve up an amazing feast at your wedding without going over budget. Now onto finding tasty ideas from the season…
Seasonal Fall Wedding Food Ideas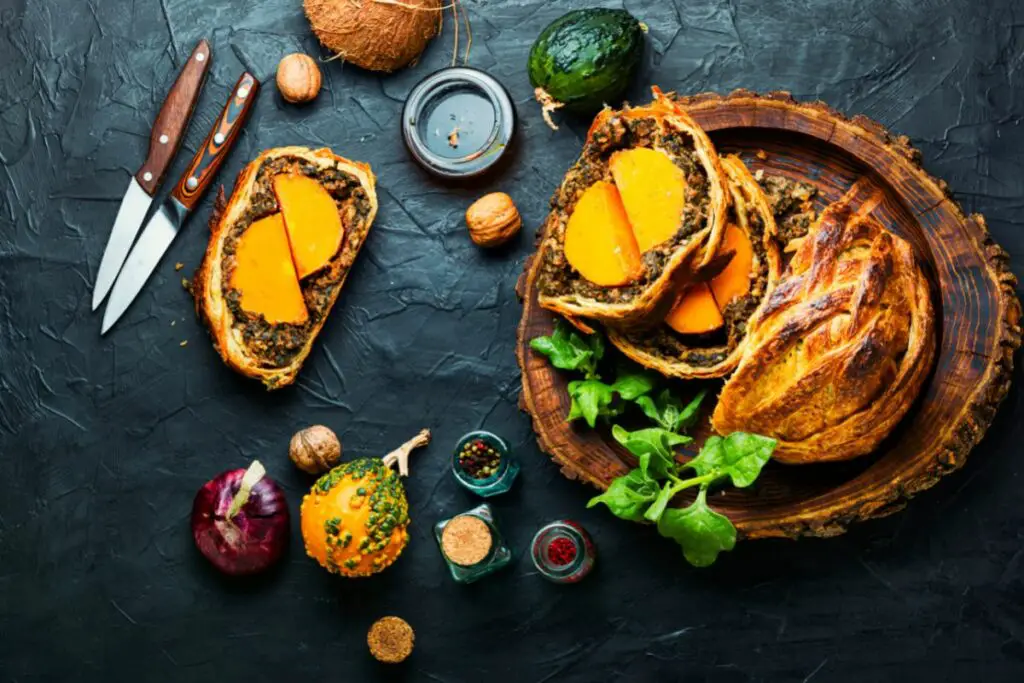 Fall weddings are beautiful and cozy, but they don't have to break the bank. Here are some cost-effective ideas to make your special day both delicious and affordable:
Roast a whole turkey – it's much cheaper than buying individual servings of poultry. Plus, you can use the leftovers for sandwiches or salads in later meals!
Select seasonal vegetables like squash, Brussels sprouts, sweet potatoes, and mushrooms as side dishes. They're usually lower priced during the fall months due to their abundance.
Make an autumnal salad featuring ingredients like apples, cranberries, pecans, pumpkin seeds, kale, quinoa, and feta cheese. It looks gorgeous on display tables and tastes great too!
Choose hearty soups such as vegetable chili or beef stew for an inexpensive main course that warms up guests on chilly nights.
Serve warm apple cider with cinnamon sticks instead of cocktails – it's wonderfully festive and budget friendly!
These simple yet meaningful touches will make your wedding feel extra special without breaking the bank. With just a few changes here and there you can create a unique menu that not only reflects the season but is also within your budget limits.
Appetizers And Hors D'oeuvres
When it comes to wedding food, appetizers and hors d'oeuvres can be a great way to provide guests with small snacks throughout the night. On a budget, you can create many delicious options that will keep your guests happy.
Here are some ideas for fall-inspired appetizers and hors d'oeuvres:
| Appetizer | Hors d'Oeuvres |
| --- | --- |
| Caramel Apple Bites | Cranberry Brie Tartlets |
| Pumpkin Spice Hummus | Roasted Beet Crostini |
| Cinnamon Sugar Donut Holes | Butternut Squash Bruschetta |
Caramel apple bites are an easy sweet treat made with crescent roll dough wrapped around sliced apples drizzled in caramel sauce.
Pumpkin spice hummus is a savory option that combines pumpkin puree with spices and chickpeas for dipping vegetables or pita chips.
Cinnamon sugar donut holes bring the classic autumnal flavor of cinnamon sugar to bite-sized portions that everyone loves!
For savory offerings, roasted beet crostini topped with goat cheese and walnuts makes for a colorful presentation.
Butternut squash bruschetta rounds out this list as an excellent seasonal offering – simply top baguette slices with cubes of butternut squash mixed with garlic and olive oil.
These flavorful appetizers and hors d'oeuvres will be sure to delight your guests on your special day. Now let's move onto creative main course ideas for a budget-friendly fall wedding menu!
Creative Main Course Ideas
When planning a fall wedding, there are so many delicious dishes to choose from. But how can you make sure your guests will be full and happy without breaking the bank? We've got some creative main course ideas that won't blow your budget!
For starters, consider serving something seasonal like roasted squash. It's inexpensive and infinitely customizable – just add in whatever herbs or spices suit your taste! Plus, it looks great on the plate.
Another idea is to serve a savory tart with an autumnal filling such as caramelized onions and mushrooms. Not only does it look attractive but also tastes amazing too.
And for those who prefer more traditional fare, why not try making an easy one-pot meal featuring warm root vegetables? This hearty dish is guaranteed to satisfy even the pickiest eaters.
No matter which option you go with, these delicious main courses will ensure that all of your guests have plenty of energy to dance the night away!
Dessert Options For Fall Weddings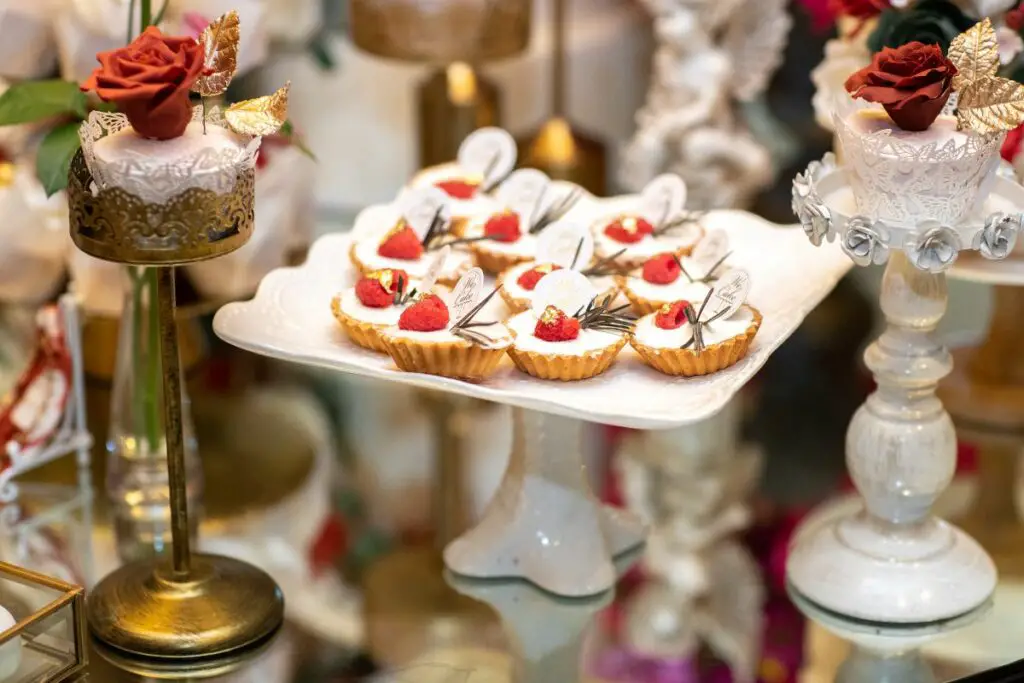 When it comes to budget-friendly dessert ideas for a fall wedding, there are plenty of delicious options. To start, why not go with something simple yet classic?
A pumpkin pie or apple crisp can both be made from fresh ingredients at an affordable cost and will leave your guests feeling satisfied. Plus they're easy to prepare ahead of time so you don't have to worry about last minute details.
For those looking to serve something more unique, why not try mini caramel apples? They look great when displayed on a platter as part of the dessert table and they're sure to satisfy everyone's sweet tooth! You could even add some festive sprinkles or chocolate drizzle if you wanted to jazz them up a bit.
Finally, if you really want to wow your guests without breaking the bank, consider making homemade doughnuts in seasonal flavors like maple walnut or cinnamon sugar. These tasty treats also make for fun photo ops – perfect for capturing all the memories from your special day!
With these desserts, your wedding is sure to be one that no guest will forget anytime soon.
Beverage Ideas For A Budget-Friendly Fall Wedding
When it comes to budget-friendly fall wedding drinks, you don't have to skimp on flavor. A great way to save money is to focus your drink menu around a few signature cocktails and then offer beer and wine as an alternative.
Signature cocktails are often cheaper than full bars since they only require one or two ingredients. For example, create a boozy cider with whiskey or rum for the adults and a nonalcoholic version made with fresh juice and seltzer for the kids. You can also pair the cocktail with local craft beers that won't break the bank.
To add some fun, look for seasonal flavors like pumpkin ale or hard apple cider. If you're feeling thrifty but still want something special, consider doing a wine tasting featuring varieties from nearby wineries at different price points.
This allows your guests to pick their favorite without having to commit to expensive bottles of vino! With these ideas in mind, presentation and display tips will help make your fall wedding food really stand out.
Presentation And Display Tips For Fall Wedding Food
Presentation and display are key to creating an inviting atmosphere at a wedding. When it comes to budgeting, there are plenty of ways you can spruce up your food presentation without spending too much money.
Here are some tips for making the most out of your fall wedding food presentation on a budget.
First off, use seasonal fruits and vegetables as table decorations or centerpieces. Pumpkins, squash, apples, and pears all make great decor that won't break the bank. Plus they double as edible snacks later in the evening!
You could also opt for dried flowers or corn stalks for a more rustic look. Get creative with how you arrange them around the tables and displays; it's sure to add an extra special touch to any reception space.
Secondly, consider using platters instead of individual plates when serving hors d'oeuvres or appetizers during cocktail hour. This is not only cost-effective but looks great too!
If you have enough time before the event starts, try making homemade appetizers like mini quiches or prosciutto wrapped figs – this will give guests something unique and show them that you put thought into planning their meal experience.
By following these two simple tips, you can create amazing presentations for any type of fall wedding food without breaking your budget. Now let's move onto catering tips for a budget-friendly fall wedding…
Catering Tips For A Budget-Friendly Fall Wedding
When it comes to planning a budget-friendly fall wedding, catering can be one of the most daunting tasks. But with some creative thinking and savvy shopping, you can save money while still providing delicious food for your guests.
Here are some tips on how to cater an amazing fall wedding without breaking the bank.
First, consider opting for a buffet over passed hors d'oeuvres or seated dinner service. This will allow guests to serve themselves and reduce costs associated with hiring servers or bartenders.
Plus, buffets offer plenty of variety and flexibility in menu options—think hearty stews alongside lighter salads and seasonal vegetables!
To make sure everyone is fed, plan enough servings so that each guest has at least two plates per person.
Next, look into local caterers who specialize in helping couples stay within their budgets. They may have access to discounted ingredients like locally sourced produce, which could mean big savings when feeding large groups of people.
Ask around for references from other brides and compare prices between different vendors before making your decision.
Finally, if DIY isn't your thing but you're willing to put in some work (and get help from family members!), consider hosting a potluck style reception instead of relying solely on a professional caterer.
You can provide main dishes and then ask guests to bring side dishes or desserts as part of their RSVPs – this way you'll know exactly how much food needs to be prepared ahead of time!
Frequently Asked Questions
How Much Does A Typical Fall Wedding Cost?
Figuring out how much a fall wedding will cost can give you an idea of what kind of budget you'll have for food. It's the first step in finding delicious, inexpensive options that fit within your spending plan.
When it comes to estimating costs, there are so many variables that affect the total price tag. The size and location of the venue, catering expenses, entertainment fees–it all adds up quickly! A typical fall wedding could range anywhere from $15,000-$30,000 depending on these factors and more.
If you're looking to save money with reasonable compromises (like having fewer guests or selecting a less expensive menu) then you may be able to get away with paying less than this average estimate. Just make sure to do your research and talk to vendors who understand your vision before committing to anything final.
With a little creative thinking and planning ahead of time, you should be able to craft an unforgettable event without breaking the bank!
Where Can I Find Affordable Decorations For My Fall Wedding?
Are you looking for affordable decorations to make your fall wedding special? Planning a wedding on a budget can be stressful, but there are plenty of places to look for great deals.
Firstly, consider getting creative with DIY projects. From centerpieces to table runners, it's easy to craft beautiful items that add an elegant touch without costing a fortune. Here's a list of ideas:
Use autumn leaves from outside or faux ones from the craft store as inexpensive place settings;
Collect mason jars and fill them with candles for romantic lighting;
Hang fabric off branches or tree trunks for a whimsical effect.
You can also shop secondhand stores and garage sales for unique finds – vintage teacups, mismatched plates, even old doilies all make fantastic decorations at low prices. With just a little bit of effort, you may be able to score some amazing pieces!
Shopping online is another great way to get fashionable decor while sticking to your budget. Sites like Etsy offer handmade products in many different styles so you're sure to find something that fits your vision perfectly.
Or if you're feeling extra thrifty, try searching through Facebook Marketplace where people post used goods at discounted rates!
Whether you're shopping online or hitting up local shops, investing time into hunting down good deals pays off in the end when it comes time to celebrate.
So don't let money limit what kind of atmosphere you have on your big day – take advantage of these resources and create something truly unforgettable! There are numerous ways to save money while still having an incredible event – now go out there and start sourcing those awesome decorations!
What Are Some Affordable Venues For My Fall Wedding?
Planning a wedding can be an exciting and overwhelming experience. Venue choice is often one of the biggest decisions you'll have to make, especially when considering budget constraints.
So if you're in the middle of planning your fall wedding on a tight budget, finding affordable venues may feel like a huge challenge!
Have no fear – there are plenty of ways to find venues that will fit within your budget without sacrificing quality or style. One option is to look for local establishments such as restaurants, breweries and wineries; they may offer rental space at a fraction of what more traditional venues cost.
Or consider having your ceremony outdoors — parks, beaches, and other scenic spots can create a beautiful backdrop at little-to-no cost.
You could also try reaching out to family members and friends who live nearby; many people are willing to open up their homes for special occasions so don't forget to ask around!
With some creative searching and lots of patience, you're sure to find the perfect place that suits both your vision and wallet size perfectly.
How Can I Make Sure That My Wedding Menu Is Both Delicious And Cost-Effective?
Here are some tips on how to ensure that your wedding food is as amazing as it is budget-friendly.
The first step in making sure your wedding menu fits within your budget is to prioritize what dishes are most important for you. Identify which foods you absolutely must have at your reception and then look into ways of incorporating those items while keeping costs down.
For example, if seafood is an absolute must, consider serving salmon or shrimp skewers instead of more expensive lobster tails. You could also opt for seasonal produce when possible which will help keep costs low while still providing fantastic flavors and presentation options.
Another great way to save money without sacrificing quality is by opting for family style dinners over individual plates. This allows guests to serve themselves directly from larger platters rather than having servers dish out each plate individually – resulting in significant savings on labor costs!
Additionally, appetizers are always a good choice as they're typically less expensive and easier to prepare too. Consider things like crostini with ricotta cheese, roasted vegetables, mini quiches, or even deviled eggs for a delicious yet affordable option.
Whatever direction you take with the menu for your big day, just remember that there are plenty of resources available online (and off!) to help you stay within your budget while creating a memorable experience for all involved!
Conclusion
As you plan your fall wedding, remember that it's possible to have a beautiful and memorable day without breaking the bank. With some creative budgeting strategies, smart shopping for decorations, and delicious yet cost-effective food choices, you can make sure your special day goes off without a hitch.
Whether you choose to splurge on an extravagant venue or opt for something smaller scale, don't forget what really matters: celebrating the love between two people with all of their family and friends in attendance! From comforting soups served in mini pumpkins to rustic pies baked fresh by local bakers, there are plenty of ways to serve up delectable dishes at an affordable price point.
Most importantly, take time to savor every moment of this special season – from romantic walks beneath fiery foliage to intimate dinners surrounded by flickering candles – so that when the big day comes around, all you need worry about is saying "I do!"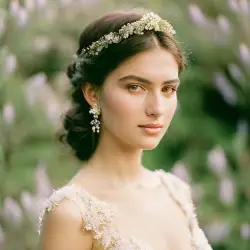 Latest posts by Rosie Liliy
(see all)