Fancy a glamorous wedding that echoes timeless elegance with a modern twist? Well, you're in luck because today we're talking all things red and gold!
Picture a warm, lavish ambiance filled with passion and love; that's precisely the vibe a red and gold themed wedding brings. Ideal for those winter weddings or lush gatherings, these colors never fail to create an aura of sophistication—especially when gently balanced with cool tones like white, cream, or even complementing greenery.
And then there's the showstopper moment when the bride sashays down the aisle in bold red or glittery gold; an ensemble crafted by designers-as-magicians who play with color like it's magic dust. Bridesmaids follow suit in matching hues while gentlemen add spiffy touches to their suit game.
So here it comes, sit back, scroll on as we dive deeper into those luxurious red and gold wedding ideas inspired by seasonal elegance!
The Timeless Appeal of Red and Gold Wedding Theme
The moment you opt for a red and gold wedding theme, you're signing up for an event jam-packed with passion, warmth, and above all, luxury.
It's like wrapping yourself up in a plush velvet blanket by the fireplace—cozy, yet oh-so-sophisticated. Perfectly fitting for those winter weddings or any extravagant celebration that calls for a grand gesture.
There's a reason why this rich duo is practically match-made in wedding heaven. Ever wonder why? Simply because both red and gold carry strong associations with luxury and opulence.
Red, being the ultimate symbol of love, coupled with glimmers of gold—it's like poetry in colors.
"But wouldn't it be too much?" I hear you ask. The trick lies in the balance. Pair these dominant hues with cooler tones such as pristine white, soft cream, or lush greenery—and voila; you've created a balance that doesn't undersell the drama of red and gold but also prevents it from becoming overwhelmingly radiant.
Remember the elegance of fall or the festive vibe of Christmas? That's what we aim for—unforgettable celebrations marked by these traditional color pairings that just never go out of style.
That said, daring couples have also been seen rocking this duo for spring weddings, adding their twist to these classics.
In short, a red and gold theme is all about creating that perfect romantic-luxe vibe. Sounds like your jam? Then get ready, as we take a close look at how you can make this dreamy tandem work wonders on your big day!
Stunning Floral Choices for a Red and Gold Palette
As we gallop into the realm of floral wonderland, let's lay bare an undeniable truth—flowers are at the crux of any wedding theme. It's like we're painting love with petals! Now, keeping in sync with our red and gold theme, the choice of blooms becomes even more pivotal.
Think crimson roses, ripe-for-the-picking carnations, burgundy dahlias… Add in a sprinkle of gold-leafed pomegranates and you've got yourself a bouquet straight out of a Renaissance painting.
But don't just take my word for it – throw in some plum branches too (Oh the drama!), and before you know it, you'll have a masterpiece.
The trick to creating lavish arrangements that scream 'luxury'? Variety in texture. Plush roses bundled into a clean cluster versus sparse arrangements—each brings its unique charm to the décor table. Your guests won't be able to resist admiring (or Instagramming) these show-stopping centerpieces.
To achieve this spectacular look, consider partnering with design studios that are culinary experts in flower cuisines—like Tictock Couture Florals. These extraordinary designers aren't just arranging flowers—they're crafting sensory experiences!
In essence, play with different bloom styles, experiment with attention-grabbing elements like gold-leafed fruits, and voila! You've got yourself a floral arrangement that not only matches your color scheme but also brings an opulent texture and visual interest to your wedding décor.
Creating a Luxurious Tablescape with Red and Gold
Dinner's served, folks. And what are we serving? A feast for the eyes in the form of a lavish tablescape! Picture glistening gold accessories shimmering under that warm, mellow light; the navy blue napkins folded just so; the golden flatware sparkling against each table setting…
Let's make magic happen, starting with the center of your universe (well, your wedding universe)—the banquet table. To be precise, it's all about those tiny accents that catch the eye—the glimmer of gold-rimmed glassware holding delectable wines, sophisticated marble chargers featuring a thin golden rim.
Transform your table into a work of art. Intermingle reds and golds judiciously—remember we're aiming for opulence without overdramatization. Too much red and gold can push you over into gaudy territory, but they said wisdom is in restraint, right? So keep it classy.
Visualize this: Velvet chairs in burgundy surrounding a table covered in pure white linen like new snowfall. Golden candelabras throwing dusky shadows on navy napkins rolling down onto cream-colored plates. Tiny, golden votive candle holders flickering with warm light amongst blooms of garnet roses.
Here's the secret sauce: contrast texture—plush velvet against cool marble; light-catching metallic gold against rich red; even luxe greenery against glimmering table accessories have their stories to tell.
It's about creating moments within a grand setting. How keen an eye for detail you have will undoubtedly reflect on your decor choices – and there's no better playground than your tablescape! So let's get rolling to create that luxurious feast fitting perfect for a red and gold spectacle!
Incorporating Red and Gold into Bridal Attire
Let's not forget about the stars of the show—the bride and groom! When every inch of the venue brims with splashes of red and gold, why should your outfits be any different? And trust me, there's nothing that makes your photos pop quite like a bride in a vibrant red or awe-inspiring gold gown!
For designers who know their stuff, blending this theme into bridal attire can be a work of wizardry. One walk down the aisle for a dress fitting at JLM Couture (courtesy of designers like Hayley Paige), and you're stepping out in pure sartorial genius.
Think luxurious gold sequined gowns that reflect the light with each step or a passionate red wedding dress—a surefire way to make an entrance!
Let's not forget footwear. What says elegance better than Christian Louboutin gold glitter flats, complete with those classic red bottoms? They're not just shoes; they're an attitude!
Flaunting these colors isn't just for the brides, though. Grooms aren't left behind when it comes to embodying this lush theme. Incorporate bold accents like gold cufflinks or a dapper red bowtie to keep the theme in sync.
Bridesmaids sport merlot-hued maxi dresses, while bouquets of ruby and topaz flowers elevate their charm. The men look classy with golden pins against deep burgundy tuxedos—sigh, what a sight to behold!
In essence: blend those roaring reds and shimmering gold hues into your wedding ensemble for an entrancing style journey that's sure to leave your guests impressed (and maybe a bit envious). Remember – on this day, let those colors do all the talking!
Signature Drinks: The Blush of Red and Gold in Your Glass
Now, let's pour ourselves into perhaps one of the most elegant elements of your wedding — the signature drink. Imagine holding a cocktail that matches the chic vibe of your soiree. Think 'Peartini', folks! As fancy as its name, this curated concoction is nothing short of exceptional.
It's not just the pop of colors that we're after: dashes of Absolut Pears, apple juice, with a hint of lemon delicately blended with simple syrup—that's what we call liquid luxury in a glass!
Not only is this indulgence a chic reinforcement of your theme, but it's an enchanting way to surprise and entertain your guests. Suddenly, every clink sends waves of positivity and celebration throughout the room.
Don't forget to elevate those creations! Serve these delicious works of art in golden-rimmed glasses for an extra touch—because style is all about detail. Plus, who doesn't appreciate sipping liquid sunshine while mingling with the crowd? Remember — guests are always floored by fine drinks expertise.
So for those eager on matching the beverage scene to their red and gold gala, here's your gem: Pour love into your cocktails (quite literally). It's an absolute must-do as it adds character and fetches brownie points for being exceptionally engaging!
So why not shake it up a little; after all, good drinks make better conversations! Cheers to a night full of elegance!
Wedding Cakes: A Decadent Display of Theme Colors
You know how they say the best things in life are sweet? Well, let's just say there's no wedding without a cake! But you're not just any couple, and this won't be just any cake. No, we're talking about a decadent masterpiece that almost echoes your theme colors—a frosted spectacle that has "Eat me" written all over it!
A naked wedding cake is as raw as it gets—no frills, just pure deliciousness. And with a light brush of gold and an extravagant show of red blooms ornamenting it—it's like marrying luxury with taste (pun intended!).
But why stop at cakes? When it comes to pastries, the more the merrier! Adorable cupcakes cloaked in gold foil with luscious toppings tinted red can be additional indulgence for your dessert table. Trust me when I say that these petite treats are sure to set some serious #dessertgoals.
Now, where can you find such luscious works of art? Companies like "The Cake & the Giraffe" are pure wizards when it comes to creating cakes for themed weddings—count them in!
In essence, if you're eloping down the red-gold path, make sure your wedding cake (and pastries) reflect that too because hey—an unforgettable feast needs an unforgettable dessert! After all, isn't love about sharing sweets with your sweet ones?
Red and Gold Wedding Styling: Professionals Behind the Scene
Everybody loves a good party, but what truly makes a wedding celebration a magical experience? Behind every flawless event, there's an army of experts crafting and curating each element—the unseen geniuses who pull the strings backstage to make your fairytale wedding come alive!
These aren't just any professionals; they're those maestros of designing events that make jaws drop. They're the tastemakers behind unforgettable color schemes, meticulous décor arrangements, and ever-so-fine details that guests can't help but gawk at.
So how do you create an unforgettable red and gold wedding? Step into the shoes of mavens like Details, Darling, Staghead Designs, Fantasy Frostings, and Good Gracious! Events.
From creative concepts to actual execution, these masters of design have orchestrated drool-worthy red-and-gold-themed weddings with aplomb.
Every fresco they paint with rich mosaics of red flowers and golden candlesticks; each tablescape they finesse with crimson table linens or gold-rimmed stemware—it's all part of the larger-than-life canvas they're working on.
Having a dream team like this by your side means they'll take care of everything—from grand visions to minute details—and you won't even have to break a sweat (unless it's on the dance floor!).
In essence: let these pros take the burden off your shoulders while amplifying your ideas into a wedding designed not just for Instagram likes but for creating lifelong memories. After all, your wedding should be nothing less than a dazzling masterpiece—where every fairytale moment sings harmonies of luxury in shades of passionate reds and glimmering golds! Just sit back and watch the magic unfold!
Frequently Asked Questions

1. Why pick a red and gold wedding theme?

Choosing a red and gold wedding theme adds a feel of timeless elegance to your special day. These luxurious hues of passion and opulence create an ambiance of warmth, romance, and grandeur that's perfect for any season.

2. What floral arrangements work best for a red and gold theme?

Creating a rich floral arrangement with red roses, carnations, burgundy dahlias, plum branches, and hints of golden eucalyptus can perfectly complement your red and gold theme.

3. How can I blend this color scheme into my tablescape?

Your tablescape can come alive with the addition of gold table accessories, navy napkins, golden rimmed chargers and glassware. Remember, balance is crucial to prevent the setup from becoming too dramatic.

4. Are there ways to incorporate the theme into bridal attire?

Absolutely! Think wedding dresses in bold red or glittering gold gowns along with accessories like Christian Louboutin's famous red-bottom shoes in glittering gold.

5. Do we need specialized cake designers for a red and gold wedding?

It's not a necessity but getting professional help ensures your dessert is as visually appealing as it is delicious. Pastry companies like "The Cake & the Giraffe" specialize in creating cakes that align with your color scheme.

6. Who orchestrates the overall look of the event?

From concept to execution, professionals like wedding planners, photographers and event designers work their magic behind-the-scenes to ensure every detail echoes your theme.
Wrapping Up
And there you have it! A tour through a dreamy, passion-drenched, and opulently golden wedding wonderland. As we've seen, it's not just about splashes of red and gold everywhere; it's about awakening a palette that brings warmth, love, and elegance to your special day.
Remember, no detail is too small when it comes to creating your unforgettable day. It starts with visualizing the grand scheme of things and trickles down to the tiniest baby's breath tucked in a bridal bun.
Plan carefully, choose wisely, savor every moment… It's a journey painted in red and gold—a story told by you! Your wedding day deserves nothing less. Happy planning!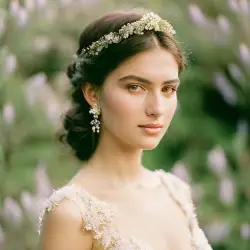 Latest posts by Rosie Liliy
(see all)