When it comes to planning your wedding, you want everything just right – and that includes the theme!
If you're looking for something unique and special, a winter wedding is the perfect way to make your day magical.
I've put together ten creative winter wedding theme ideas so you can have an unforgettable celebration. Whether you're going classic or modern, these themes will give your big day an extra touch of sparkle.
From cozy cabins in the snow to chic black-tie receptions, there are plenty of ways to bring some winter wonderland vibes into your ceremony and reception.
You could even incorporate natural elements like pine needles or fir branches into your décor for a rustic twist on traditional holiday decorations.
For those who love all things glittery and glam, a silver-and-white color palette adds luxe touches without taking away from the season's festive feel.
No matter what kind of look you're going for, one thing is certain: These ten winter wedding theme ideas will take your special day from ordinary to extraordinary! Read on to find out how you can transform any venue into a beautiful wintry setting with ease.
Winter Wonderland: Transforming Your Venue Into A Snowy Paradise
Transform your wedding venue into a sparkling winter wonderland with just the right touches! With some creativity and planning, you can make your big day truly magical.
Picture it: snow-dusted pine boughs, twinkling lights, and a cozy atmosphere that's perfect for celebrating love all year round. Let me share my top tips to help bring this vision to life – like turning an ordinary space into an enchanted one.
Start by bringing in natural elements like evergreen branches, holly berries, and Christmas trees accented with fairy lights or flameless candles. To add more of a wintry feel, hang white icicles from the ceiling over tables or along walls.
You don't have to go overboard – even just a few strategically placed decorations will do wonders in creating a festive atmosphere.
For extra sparkle and shine, use mercury glass votives filled with icy blue water alongside silver vases filled with glimmering snowflakes or snowballs. Lastly, dress up your aisle chairs in faux fur wraps and mix in velvet ribbons for added texture and warmth.
With these simple details and pieces working together, you can create the perfect backdrop for exchanging vows on the most special day of your lives. So get creative and start transforming your venue into an unforgettable wintery paradise!
Elegant Ice Palace: How To Add Crystal Elegance To Your Winter Wedding
If you're dreaming of a winter wedding that looks like it came straight out of a fairytale, there is no better way to make your dream come true than with an elegant ice palace theme.
Start by transforming your venue into an icy wonderland filled with crystal decorations and snowflakes floating through the air. With just a few simple touches, you can bring shimmering elegance to your special day.
To really bring the theme together, adorn white walls with sparkling icicles or crystals cascading from the ceiling. You could also hang up sheer fabric draped in silver and blue hues for a truly ethereal effect.
To complete this look, add some wintry centerpieces such as glass vases filled with frosted branches or illuminated trees adorned with fairy lights and snow-covered pinecones. Candles will give off a soft glow while adding more sparkle to the scene.
Finally, don't forget about those all-important finishing touches: delicate snowflake confetti scattered across tables and chairs, blankets thrown over guests' seats for extra warmth, and tiny ice sculptures strategically placed around the room — small details that will create a magical atmosphere on your big day!
From its glistening décor to its cozy accents, an ice palace is perfect for creating an unforgettable winter celebration. Now that we've explored how to add crystal elegance to your event, let's move on to our next section which explores rustic winter: creating a cozy, country-themed wedding.
Rustic Winter: Creating A Cozy, Country-Themed Wedding
Did you know that one of the most popular winter wedding themes is rustic? According to a recent survey, 25% of couples chose this style for their big day. If you're envisioning a cozy, country-themed celebration, then this could be the perfect theme for your nuptials!
You and your guests will feel like they've stepped into an enchanted forest as soon as they enter the ceremony. Fill up an aisle with evergreens, ortega trees, and twinkling fairy lights for a magical effect.
To really bring out the rustic vibes, add some burlap runners on each chair or wooden signs at various points in the venue. For extra warmth during the reception dinner, hang blankets over chairs and use fire pits around outdoor spaces if possible.
When it comes to decorating details for weddings with a rustic winter theme, think woodsy elements like pinecones and antlers mixed with natural textures such as wool throws and leather baskets.
Incorporate festive touches like wreaths hung from chandeliers or holly berry centerpieces to get everyone in a celebratory mood. As well as flowers (real or faux) including snowberries and white roses – these are all great ways to make sure that your special day has just the right amount of seasonal charm!
Snowflake Dreams: Adding Whimsy And Magic To Your Big Day
As the sun sets on your winter wedding day, you want to bring a touch of whimsy and magic. A snowflake-themed celebration can be just the thing!
Start by setting the tone with a snowy invitation suite that features delicate white flakes against an icy blue backdrop. Next, create elaborate centerpieces out of glittery icicles and crystal garlands for a hint of sparkle.
Finally, string up fairy lights in every corner for an absolutely magical atmosphere. Make it even more enchanting by adding soft blankets draped over chairs or twinkle lights around windowsills.
No matter how you choose to decorate, these touches will help set the scene for your special day.
Christmas Charm: Infusing Your Wedding With Festive Holiday Cheer
As the old saying goes, 'tis better to give than receive. And when it comes to planning a winter wedding, infusing your day with festive holiday cheer is an absolute must!
From subtle details like Christmas-inspired place cards and decorations to bigger statements such as incorporating caroling into your reception, there are plenty of ways to make sure your big day reflects all the joys of the season.
One easy way to get in the spirit? Let guests know they should dress up for the occasion – think velvet suits, chunky sweaters, plush faux fur coats and more.
Encourage them further by offering something special during cocktail hour that has a hint of Christmas magic – perhaps hot mulled cider or warm spiced nuts.
Place some greenery on tables or hang mistletoe from doorways and light fixtures; these small touches will help set the tone for even more wonderful memories ahead.
And don't forget about gifts! Whether you opt for favors or a white elephant gift exchange (or both!), be sure everyone leaves with something special that captures what makes this time of year so magical.
With just a few thoughtful additions here and there, you can turn any winter wedding into a truly unique celebration. Ready now to take things one step further by adding in some beautiful blooms?
Winter Blossom: Incorporating Florals Into Your Winter Wedding Theme
When you think of winter weddings, your first thought might not be flowers. But a little creative thinking can turn winter blooms into an essential part of your day!
Incorporate seasonal blooms like roses and poppies with evergreen foliage to create stunning centerpieces that evoke the beauty of the season. To really make them pop, add some fresh pine cones or succulents sprinkled among the florals for added texture and color.
At the ceremony site, hang branches dripping in snow-white blooms from the ceiling or walls to create a romantic backdrop for your vows. Or line the aisle with cabbage rose arrangements in vibrant jewel tones—which will look great against any fabric drapery you choose to use.
For something more subtle, try using baby's breath garlands as chair swags along either side of the altar space.
To top it off, give each guest a bouquet of sweet smelling paperwhites as they enter so they can join in on all those special moments during your wedding! With these ideas, you'll have plenty of ways to incorporate florals into your winter wedding theme for a truly magical day.
Vintage Ski Lodge: Celebrating The Great Outdoors With A Touch Of Nostalgia
For a truly unique winter wedding theme, look no further than the vintage ski lodge. It's perfect for couples who love to get out and explore nature, but also want something cozy and intimate.
Start by finding a rustic setting with plenty of natural elements like logs, evergreen trees, and snow-covered mountains in the background. Then add subtle touches of nostalgia—think classic skis and poles mounted on walls or retro alpine décor like knit blankets and mugs filled with hot cocoa mix.
For an extra special touch that can easily double as your guest favor, tie individualized tags onto little bottles of mulled wine garnished with cinnamon sticks and cranberries!
Now it's time to bring this idea together with some signature styling choices: wood tables topped with tartan tablecloths; light fixtures made from antlers; antique sleds turned into planter boxes; bundles of pine branches arranged in vases around the room; twinkle lights strung throughout the ceiling…the possibilities for creating a magical atmosphere are endless!
Plus you'll have fun getting creative by repurposing items such as old skis or snowshoes to use for hanging wreaths or displaying signs. With all these details coming together, your guests will be transported back in time to when life was simpler – what better way to start off married life?
The best part is that even if there isn't much snow come wintertime, you can still create an amazing vintage ski lodge ambiance – just make sure you keep those warm drinks flowing and maybe put on a few soft jazz tunes to evoke that cozy mountain cabin vibe. From there it's easy sailing – happy planning!
Nordic Romance: Simple And Elegant Scandi-Inspired Wedding Ideas
For those looking for a chic and modern wedding theme with timeless elegance, Nordic Romance is the way to go. This Scandi-inspired style combines clean lines and cozy textures for an effortlessly stylish look that your guests will love.
Start by setting the tone with muted colors like soft whites, blues, and grays as you create a winter wonderland of romantic décor. Opt for sleek white blooms arranged in glass vessels or accent pieces made from natural materials like wood or fur.
Add subtle twinkle lights around the venue to give it a touch of magical charm without going over the top – just enough to evoke the beauty of a starry night sky.
Plus, if you're feeling particularly adventurous, you can even incorporate traditional Scandinavian elements into your design such as classic embroidery patterns on linens or rustic wooden antlers hung above your reception area. With this simple but sophisticated aesthetic, your special day is sure to be unforgettable!
Winter Starry Night: Setting A Dreamy And Romantic Atmosphere For Your Wedding
For a winter wedding, setting the perfect atmosphere is key. Make your guests feel as if they are stepping into an enchanted and dreamy world with a starry night theme.
Achieving this look starts with incorporating twinkling lights everywhere you can think of! Hanging bistro lights in outdoor spaces or stringing them along walls indoors will give your venue that magical touch. For extra sparkle, hang silver and gold snowflakes from the ceiling or add shimmery fabrics to tablescapes.
To really bring out the stars on your special day, consider decorating with paper lanterns with battery operated tea light candles inside for subtle lighting throughout your space. Small details like star-shaped confetti sprinkled around centerpieces can create a whimsical effect too.
If you're feeling crafty, make DIY luminaries by cutting shapes out of vellum paper and placing over glass votives filled with tiny fairy lights – these look stunning lining pathways and walkways at night!
Your winter wonderland wouldn't be complete without some fog machines adding a bit of mystery to the evening. Adding smoke to photos taken outside during colder months helps produce breathtakingly romantic images that will last forever.
With all these creative ideas, your starry night wedding will be nothing short of spectacular!
Cozy Cabin: Creating An Intimate And Warm Winter Wedding Setting
Nestling away from the winter chill, a cabin setting for your special day can provide an intimate and cozy atmosphere. The rustic charm of a cabin is perfect for making memories that will last a lifetime.
You'll want to choose one with character – think exposed beams, stone fireplaces and wood floors – as these will all add warm texture to the space.
When it comes to decorating, opt for natural elements like pinecones and twigs along with touches of festive cheer in holly, ivy, cranberries or mistletoe. Firelight flickers across the room creating a dreamy ambiance while flickering candles bring out the beauty of wooden furniture and fabrics like velvet or wool.
Place fur throws around seating areas so guests can get comfortable during the evening celebrations; plus you could even hang tapestries against walls painted deep shades such as terracotta or ochre.
A cozy cabin wedding allows you to create something truly unique – whether it be a classic Christmas affair surrounded by snow-dusted windowsills or a romantic woodland celebration filled with rustic garlands and homemade decorations.
No matter what your vision may be, this enchanting venue will certainly weave its own kind of magic into your big day!
Frequently Asked Questions
What Are The Best Food And Beverage Options For A Winter Wedding?
Food and drink can be an important part of any gathering, so it makes sense to consider all your choices carefully. Here's how to think through this big decision for your special day.
The first step is getting clear on your budget. This will help dictate which foods and drinks make sense in terms of cost. Then determine whether you want to serve either or both — maybe just light snacks if it's an afternoon affair; perhaps cascading platters of hot hors d'oeuvres before dinner. You could also choose to provide full meal service with multiple courses, depending on the style of event you're having.
When selecting beverages, beer, wine, champagne and specialty cocktails can all work well at a winter wedding. Consider seasonal flavors like spiked cider or eggnog as well as classic mixes like the Manhattan or Negroni. Signature drinks with unique names can add another layer of fun (and whimsy!) to the occasion. Hot cocoa bars provide something warm and comforting during those chilly months too!
No matter what kind of cuisine or libations you end up serving at your celebration, strive to ensure every detail fits perfectly into the overall experience that you envision for yourself and your guests on that special day.
How Can I Incorporate My Winter Wedding Theme Into My Wedding Stationery?
When pairing your winter wedding theme with your stationery, there are some things that should definitely be taken into consideration. First off, consider colors – cool blues and whites often pair well for a wintry vibe but don't shy away from adding in pops of reds or yellows too! You can also incorporate design elements such as snowflakes or Christmas trees if you want to get really festive. The possibilities are endless here!
Finally, think about texture and materials. For example, thick cardstock is always a great option for invitations since they feel more luxurious than thin paper stock – plus they won't easily tear apart in guests' hands either. Adding ribbons or wax seals can add extra flair while still remaining classic and timeless at the same time. With these small details added on top of an already-beautiful invitation suite, you'll have something truly magical that's perfect for any winter wedding celebration.
What Are Some Cost-Effective Ways To Decorate A Winter Wedding Venue?
There's plenty you can do on the cheap! Consider using natural elements like evergreen branches or pinecones as centerpieces; they're easy to find in nature and look beautiful when arranged nicely. You could even try making your own DIY decorations with craft paper and string lights – this adds an extra special touch without breaking the bank.
For added coziness, why not rent items like fur rugs or blankets that guests can use when taking photos outside? This will keep them warm while adding texture, color and design to any outdoor area. Alternatively, if you're having an indoor reception, consider renting cozy chairs such as velvet armchairs or beanbags for a fun lounge vibe. And don't forget about the little details – light up trees, festive balloons or garlands of greenery all add character to your space without costing too much.
So whatever theme you go for – from romantic snowflakes to Christmas cheer – there are lots of creative (and budget-friendly!) ways to bring your dream day alive.
Is It Possible To Have An Outdoor Winter Wedding?
Yes! An outdoor winter wedding can be just as breathtaking and magical, if you plan it carefully.
When considering an outdoor winter wedding, think of yourself as a snowshoe trekker – prepared for any unexpected weather changes or obstacles that may arise on your journey. You'll need proper supplies such as warm blankets and heaters; hot cocoa stations; and additional shelter options, like tents or marquees should the temperature drop too low. With these measures in place, you can welcome guests to enjoy an unforgettable experience surrounded by nature's beauty.
But there are also practical considerations when planning an outdoor winter wedding: will your venue have adequate lighting? Is there enough space indoors to accommodate all your guests in case the festivities move inside? Have you considered how much time and money you'll need to invest in order to make sure everyone stays comfortable? When done right though, with careful preparation and attention to detail, an outdoor winter wedding can create lasting memories for both you and your guests.
So let go of those indoor-only misconceptions – embrace the outdoors! Winter weddings bring a unique charm that only Mother Nature can provide. Whether it's standing beneath twinkling string lights illuminated against flurries of snowflakes or gathering around crackling fire pits under starry night skies – whatever vision comes true for yours will no doubt be filled with romance and joyous moments shared with loved ones.
What Are The Best Winter Wedding Favors To Give My Guests?
When it comes to Winter Weddings, there are so many details that need to be considered. One of the most important details is what kind of favors you should give your guests. Not only do your wedding favors need to reflect the theme and atmosphere of your magical day, but they also need to fit into the winter season.
There are so many creative ideas for winter wedding favors that will make a lasting impression with your guests. You could put together little bundles of festive treats like hot cocoa mix or peppermint bark in small jars or bags as an edible favor. If you're looking for something more traditional, consider giving out personalized Christmas ornaments that feature a special message from you and your partner on them. An especially meaningful option would be mini snow globes featuring photos of you both inside – those are sure to bring back fond memories every time someone looks at them!
No matter which favor you decide on, just remember that the gesture should come from the heart and mean something special to each guest who receives one. Making these small tokens personal will ensure that everyone feels included and appreciated during this momentous occasion.
Conclusion
The winter wedding season is full of possibilities for a magical day. With the right decorations, food and beverage options, stationery, and favors, you can create an unforgettable event that your guests will remember forever.
The key to success lies in finding the perfect balance between luxury and affordability while still staying true to your vision and theme. By using some creative ideas like outdoor venues or cost-effective decorating methods, you can make sure that your special day is both beautiful and budget-friendly.
Above all else, don't forget to have fun – it's your big day after all! Here we wish you a happily ever after with these 10 creative winter wedding theme ideas for a magical day.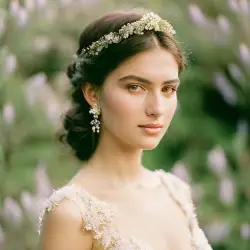 Latest posts by Rosie Liliy
(see all)