Putting together a bridal shower is one of the most important roles of the maid of honor. And it is an event that you should take seriously.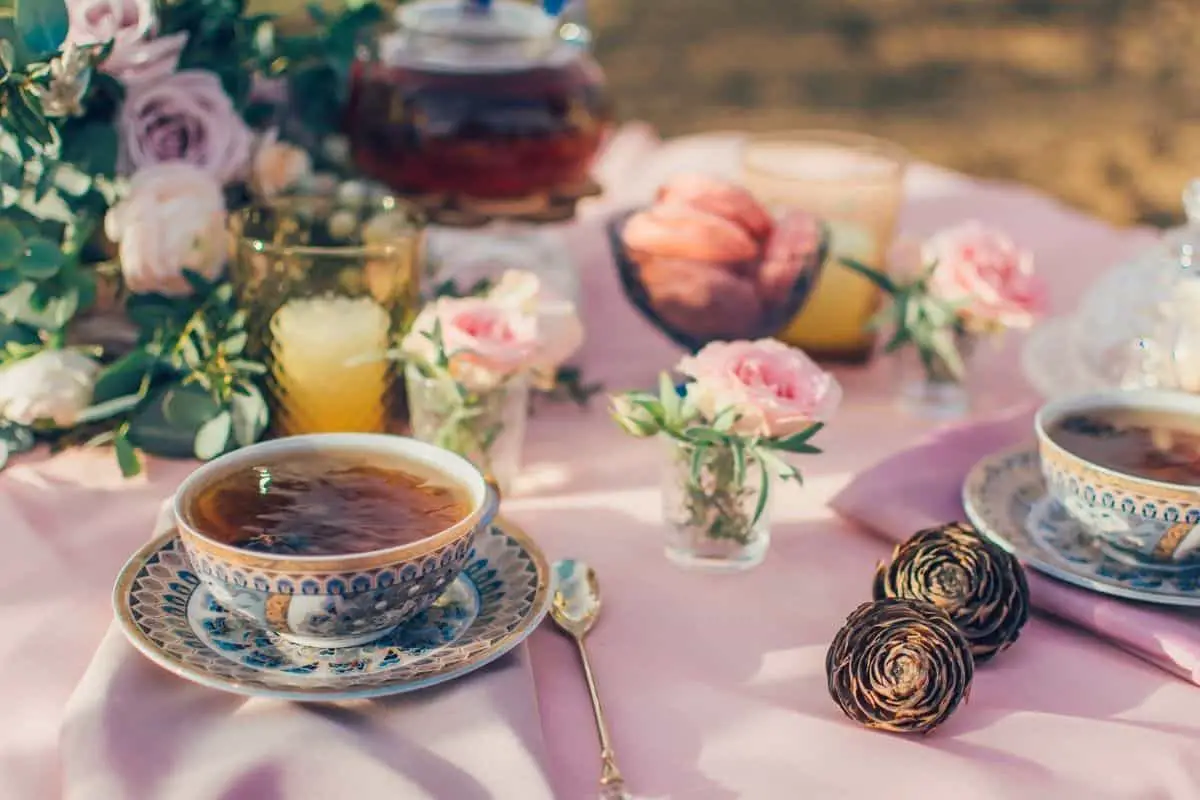 You may find yourself wondering, how are you going to run an event that is suitable for all the people in the bride's life – from their grandmother to their work friends, to their friends from college. 
The answer to that question is to throw a tea party. 
Everyone will say yes to a tea party because they are full of good food, lovely drinks, and are an opportunity to have some civilized fun. 
Bridal Shower Tea Party Top Themes 
There are many different types of tea parties that you can throw for your bride.  If you are struggling to come up with ideas, don't worry, we have you covered. 
High Tea (English) 
If you have watched any Bridgerton (or any other period drama set in Regency England) then you will be familiar with the idea of high tea. 
High tea is typically served with black tea, small cakes, scones, finger sandwiches, and sometimes Champagne. 
If you want to throw a very classy bridal shower then high tea is the one to pick. 
You can ask everyone to come dressed for high tea, or if you think it is something the bride would enjoy, you could ask everyone to attend in costume. 
If you are going to serve high tea then it is best to serve finger food that is a mixture of sweet and savory. Finger sandwiches and small cakes are typically a big hit at high tea events. 
Alice In Wonderland 
When many people think of tea parties, they think of the Mad Hatter's Tea Party from Alice In Wonderland. While this scene was inspired by high tea, there are a few differences. 
The most obvious difference is that the event in the book is very surreal and over the top.
You will want to serve dishes that are a little unexpected – perhaps tiny cakes that say "eat me" and bottles of ice tea that say "drink me". 
An Alice In Wonderland themed tea party will require a little more in the way of decoration. You will want to have a few clocks, playing cards, and maybe even a rabbit or two at the event.  
Vintage 
If you go for a vintage theme then you have pretty much free reign to do whatever you want at the party. The most important thing for you to do is to nail the visuals and aesthetics. 
You will want to be on the lookout for vintage crockery, mismatched but vintage seating, and you may even want to make it a fancy dress party. 
You will want to pick an era to base the event around, or the planning may become too overwhelming – the 1950s and 1920s are popular time periods. 
Other Themes 
Here is a list of other themes for a bridal shower tea party: 
Spring 
Bridgerton
Elegant
Autumnal 
Cherry Blossom 
Winter 
Japanese 
Fairytale 
Summer 
Roses 
China 
French 
Strawberries 
Paris 
Beauty and the Beast 
Jane Austen 
Books 
Alice In Wonderland 
Downton Abbey 
Disney 
Coastal 
Types Of Tea To Serve At A Bridal Shower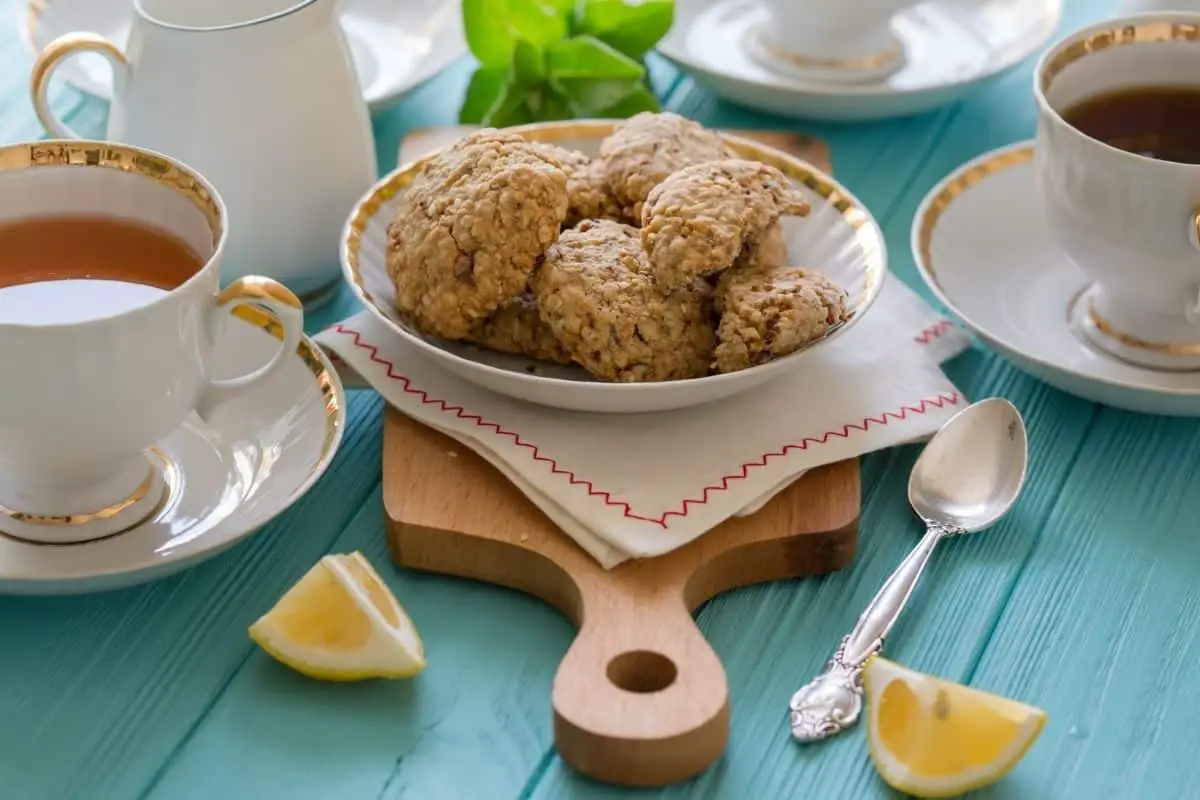 Aside from the bride, the most important thing at a bridal shower tea party will be the tea. Here is a quick guide to getting the right tea and brewing it correctly. 
Black Tea 
With or without milk 
180 fahrenheit 
Black tea is the most common type of tea in the world. All tea is made from the same type of leaf, the type of tea it becomes depends on how it is processed. 
Black tea is the most processed and has the most caffeine in it. Plain black tea is typically served with milk – but more expensive types of black tea are mellower and can be drunk without it. 
Chai tea and Earl Grey are types of flavored black tea. They contain the tea leaf as well as other flavors, oils, or spices. 
To Brew – Steep in boiling water for 2:30 mins (no milk) to 4:00 mins (add milk). 
Green Tea 
Without milk 
155 Fahrenheit 
Green tea is the second most processed type of tea and has half the amount of caffeine in it as black tea. 
Green tea is not oxidized when it is processed, this means the leaves are more delicate and you can burn the leaves if you put them in boiling water.
If you have had green tea that has a bitter and slightly sickly aftertaste then it has been burned. 
Green tea can be plain or come with florals, fruit, or popped rice. 
To Brew – Steep in 155 Fahrenheit for 2:30 mins 
White Tea 
Without milk 
155 Fahrenheit 
White tea is the least processed type of tea and contains half the caffeine of green tea. White tea is incredibly delicate and is served without milk, or its flavors would be lost. 
White tea is often served on its own but can be mixed with delicate flavors like rose, jasmine, and cocoa. 
White tea can either be made from the buds of the tea bush or by using parts of the leaves and the stem of the bush. This second type of white tea has more flavor. 
To Brew – Steep in 155 Fahrenheit for 2:30 mins to 5 mins  
Oolong Tea 
Without milk 
155 Fahrenheit 
Oolong is a little different from the other types of tea. Oolong is semi-oxidized and semi-fermented.
It sits halfway between black tea and green tea on the scale of taste. Some Oolongs lean more one way than the other. 
Because Oolong is semi-fermented is good for the gut and the leaves can be reused multiple times. Typically the three rebrews are the best. 
Oolong is typically served plain, but the leaves themselves can naturally develop interesting tastes. One of the most famous types of Oolong is Milk Oolong, which has a natural vanilla taste. 
To Brew – Steep in 155 Fahrenheit water for 3 mines. Add an extra minute each time you rebrew. 
Tisanes 
With or without milk 
180 Fahrenheit 
Tisane is the word used in the world of tea to describe any blend that does not have any tea leaves in it. 
This covers fruit and herbal teas, as well as tea substitutes like Rooibos. Most of these teas are caffeine-free (anything with yerba mate or cocoa in it is not). 
Tea Blendings At Bridal Shower 
If you are looking for a fun activity to do at a bridal shower, why not host a tea blending event. 
You can bulk buy tea leaves and other ingredients (like Chia spices, rose buds, orange peel, chocolate chips, mint leaves, etc) and ask each guest to blend a tea that is inspired by the bride. 
They should mix the tea and name it. 
After everyone is done, the bride should try a little bit of each tea and share which one is her favorite. 
Tea bending is typically an activity that most people haven't done before. This will put all the guests on an equal footing and help them to get to know each other better. 
At the end of it, everyone can share a cup of the winning tea together and toast to the bride. 
Food To Serve At A Bridal Showers 
Another important element of the tea party is the food. If you are having a breakfast event then you will want to serve different types of food to an afternoon tea event. 
Here are some ideas for the food you can serve at your tea party. 
Savory 
Most of us think of sweet foods when we think of tea parties, but it is important to serve both for a more balanced experience for your guests. 
Finger sandwiches are traditionally served at a tea party and make up most of the savory foods that are served. 
Here are some ideas for finger sandwiches to serve at the party: 
Cucumber sandwiches 
Prawn cocktail sandwiches 
Smoked salmon and cream cheese sandwiches 
Cheese sandwiches 
Ham sandwiches 
BLT sandwiches 
Tuna sandwiches 
Turkey sandwiches 
Egg and cress sandwiches 
Cheese and chive sandwiches 
Sweet 
That being said, sweet treats are very important at tea parties and you want to make sure that you serve a good variety of them.
You want some of the sweet treats to be very light and others to be more filling. 
Make sure to include lots of treats that the bride likes. 
Chocolate cake 
Macarons 
Coffee and walnut cake 
Madeleines
Milk chocolate tea cakes 
Victoria Sponge cake 
Cupcakes 
Red Velvet cake 
Donuts 
Croissants 
Fruit 
Chocolate dipped strawberries 
Candied fruit 
Mints 
Lemon cake 
Rose Jujarats 
Turkish Delight 
Baklava 
Cheesecake 
Cookies 
Rocky road
Truffles 
Meringue
Eton Mess 
Lemon tarts 
Brownies 
Scones 
Scones are often served at tea parties because they are denser and more filling than cake but are just as delicious. 
Here are some types of scones that you can serve at your party: 
Traditional with cream and jam 
Cheese scones with chili jam 
Walnut scones 
Cherry and almond scones 
Raspberry and white chocolate scones 
Schedule For A Bridal Shower Tea Party 
If you are throwing a tea party then you will need to decide if you are going to throw a breakfast, brunch, lunch, or afternoon tea party. 
Knowing this will help you to nail down a schedule. It is important you make a schedule so that you can keep the whole event on track. 
A schedule for an afternoon tea event may look like this: 
11:30 –  Guests arrive, canapes 
11:45 – 12:30  – Serve tea 
12:30 – 12:40  – Thank guests for coming, toast the bride
12:40 – 1:30  – Start the blending event 
1:30 – 1:45  – Cut and serve cake
1:45 – 2:45  – Start opening presents
2:45  – Groom arrives, mingles with guests
3:00  – Hand out favors to departing guests
Planning out the day will give everyone enough time to talk and enjoy the food without getting too bored. 
Tea Party Decorations 
Now, let's look at the decorations you will need to host a bridal shower tea party.
Even if you have no overall theme, there are a few items that you will need to keep your tea party looking good and running smoothly. 
There is nothing better than sipping tea from a fine bone china mug. You can lookout for the right set of vintage teacups for the party or you can hire out a selection from a local company. 
The right set of teacups does an excellent job at setting the right tone for your party. 
As well as picking out the perfect set of teacups, you are going to want to get a lovely set of side plates. 
You want to make sure that they complement the teacups and that they are big enough to fit a good amount of food on. 
Beautiful Teapots 
There are some really beautiful teapots out there and you will probably struggle to narrow them down to just one. 
If you are going for a vintage theme, you could use multiple different teapots and theme the cups of each table around those teapots. 
Floral Centerpieces 
Centerpieces are just as important at a bridal shower as they are at a wedding. You can use them to bring a little more beauty into the room and you can pick out flowers that you think represent the bride well. 
People often give flowers to wish people good luck, good health and to celebrate love. 
If you are going for a slightly more kitsch theme then you are going to want to invest in some tea cozies that are going to make the bride laugh. 
Tea cozies will help to keep the tea warmer in the pots for longer. 
Cake Stand 
A towering collection of finger foods is the iconic image that most of us associate with tea parties. So it is important you pick out the right cake stand to allow you to do this. 
You want to make sure that it has multiple layers and room to fit a lot of cake on it. 
Iced Tea Jugs 
If you are serving ice tea or cocktails at your tea party, then you are going to want to make sure that they are displayed beautifully. 
When you serve ice tea, you want to make sure that you use heat-treated glass that won't shatter if the temperature of the drink changes too quickly. 
Don't forget to serve the ice tea in cute glasses too. 
Summary 
The tea party is a universal theme that can fit nearly every bride. 
If you are a maid of honor and wondering how to throw a party that every woman the bride knows will enjoy then you can't go wrong with a tea party. 
When you are planning a tea party, you need to make sure that you serve a good range of teas and have a nice mix of savory and sweet foods. 
You should also think of some games that the guest can play that will help them to get to know each other better. 

Latest posts by Lisa Plaitt
(see all)