Classical Disney fairytales shaped many of our childhoods. Growing up with timeless tales such as Cinderella, Snow White, and Sleeping Beauty, many of today's brides and grooms dreamed of having magical fairytales themselves. 
Today Disney princesses are loved by both the young and the old. Many theme their engagements, weddings, and attires after their beloved Disney characters so they can enliven their dreams of experiencing those magical feelings. 
Not only do princess-themed engagement rings and wedding bands make for great proposals and memories, but also they can be kept forever as a reminder of the 'happily ever after' and how it all started. So they are a fantastic way to keep that little magical moment on your finger for a lifetime. 
As Disney's third official princess, Aurora (Sleeping Beauty) is a favorite Disney princess among many with her shy and innocent yet playful and courageous personality. 
If you are a fan of princess Aurora and want to hint your loved one on what to get you for an engagement ring, or if you're the one popping the question and your girl is into princess-themed rings, this post can help inspire you to make a choice. 
Princess Aurora's Color Palette
There are a few color themes for princess Aurora, and they make for lovely themed rings. 
Out of all Disney princesses, she is the most famous for her long, wavy, golden hair. Because of this, yellow gold is a great option. 
Princess Aurora has two well-known gown colors, blue and pink. So, different shades of blue and pink gemstones and rose gold work well too. 
Below is a list of a few dazzling rings in different shades and designs to inspire you.
If you're looking for the best way to tell the whole world you're engaged, this very special ring will do just that. 
A beautiful depiction of the brilliant princess Aurora at the hands of Maleficent, this ring incorporates black diamonds and rose gold to tell a story. The stunning design is both captivating and distinctive. This piece comes in 14k white gold.
One of Disney's own collections, this ring sits among the luxury options with a 4+ k price tag, which is well-worth the intricately sophisticated design.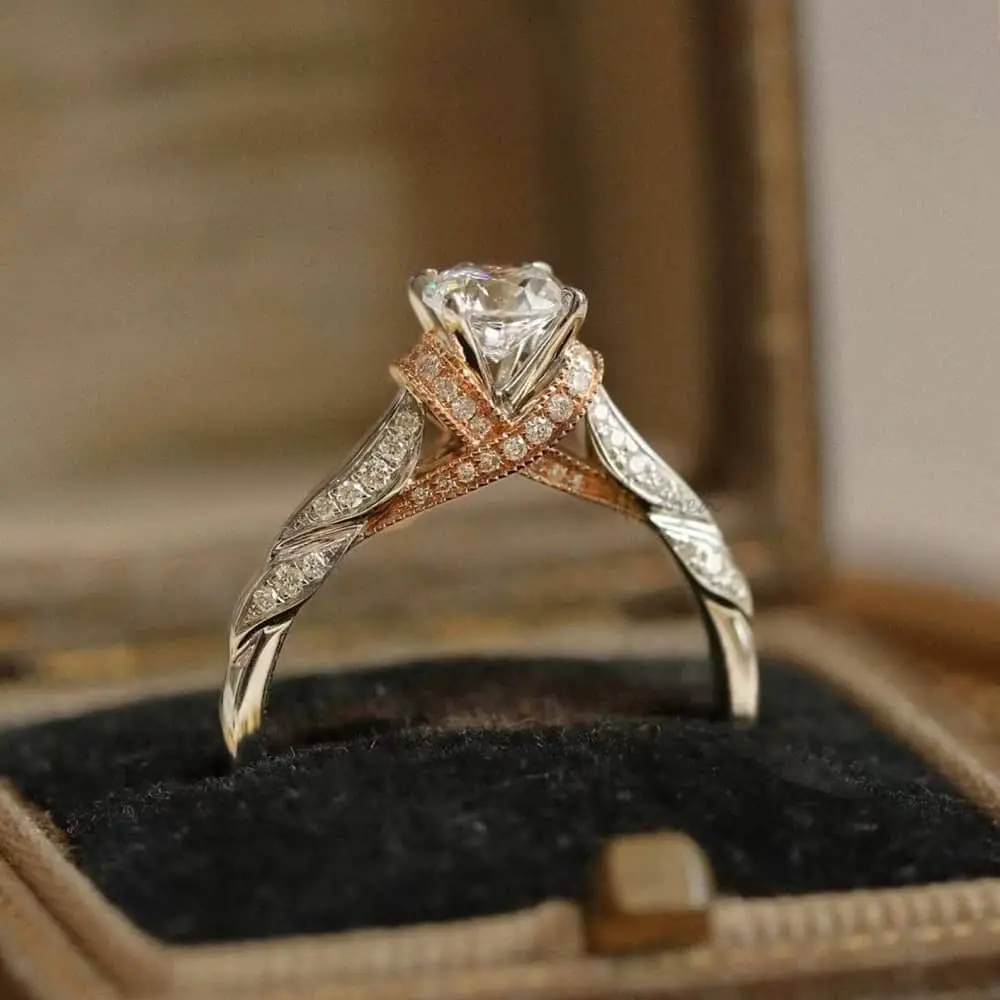 Sophistication and sparkle of an elegant diamond ring without the cost of one? This Victorian-style moissanite ring is surely a charmer. 
Moissanite is a long-lasting alternative to diamonds with a very similar look. As a naturally occurring gemstone, the American Gemological Society recognises moissanite as fine jewelry.  
This ring features a brilliant cut centerstone flanked by semi- twisting pavé diamonds on the shoulders. Another row of diamonds in rose gold gives that extra lovely detail to this floral design.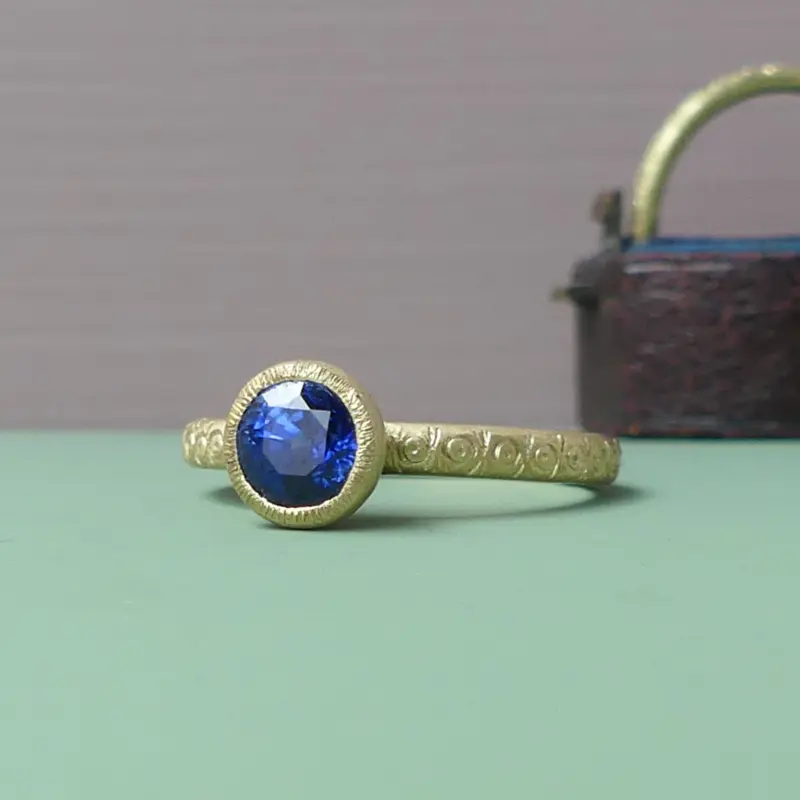 Dainty, adorable, and ethically sourced? Look no further. This lovely ring matches well with princess Aurora's colors featuring a gorgeous royal blue sapphire in bezel setting on an 18k yellow gold shank. 
We love the designer's signature hand-stamped detailing on the yellow gold shank, which is synonymous with Aurora's magical golden hair. 
The gold is fairtrade and the stone is sourced sustainably for a low environmental footprint, which makes this a clean, guilt-free engagement ring.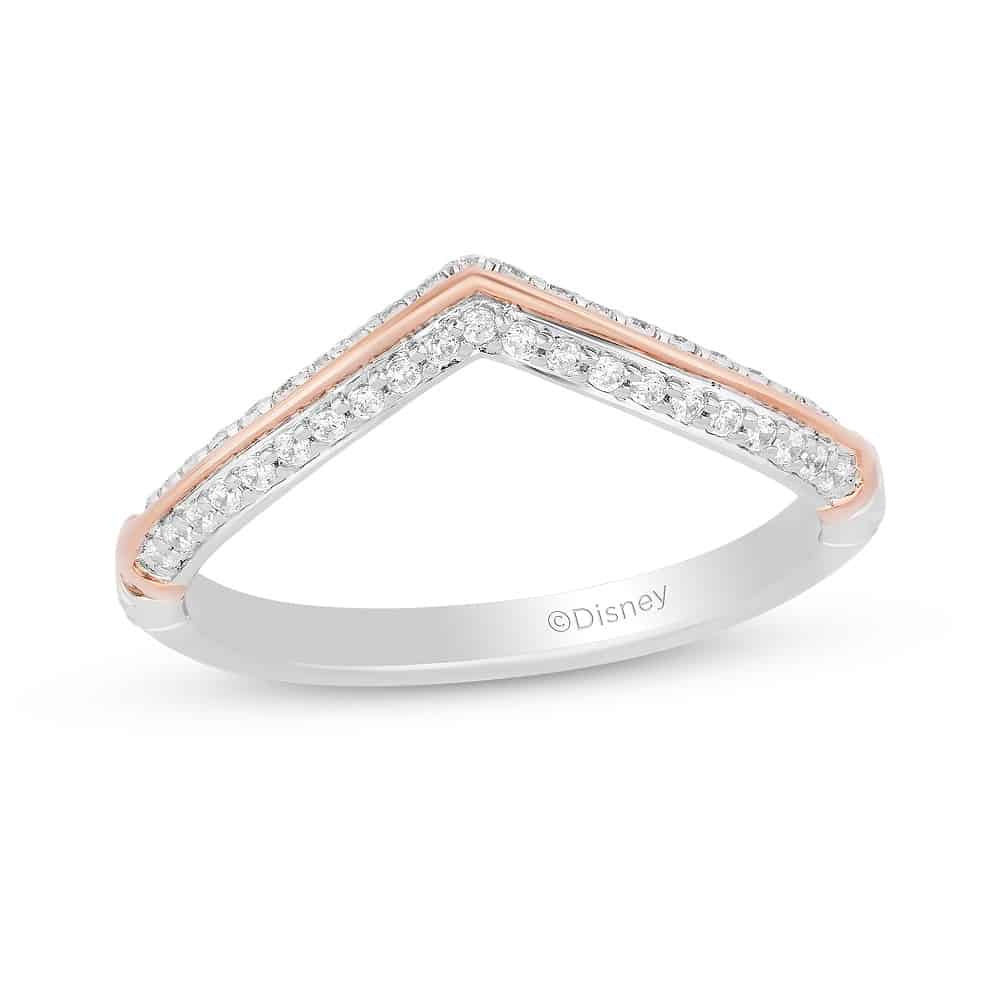 If you're looking for a minimalist yet magical Disney wedding band inspired by Aurora, check out this semi-double pavé band with a rose gold ribbon.
A more practical yet classy Disney-themed wedding band, this is suitable for the bride who likes a twist to the traditional wedding band.
The v-shape of this band can symbolize a simple yet elegant crown. This ring would be a great addition to the bride's white and rose-colored engagement ring.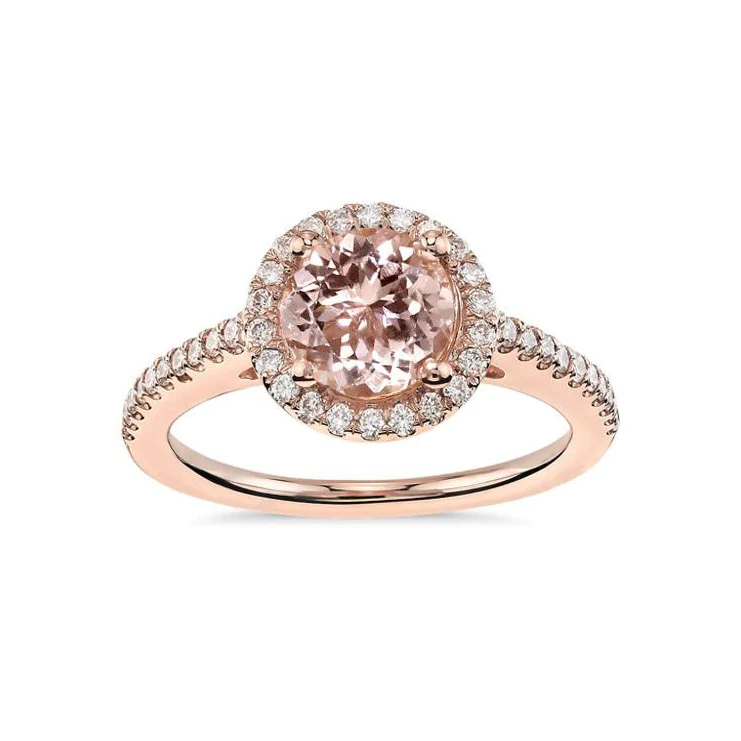 A classical ring choice with princess Aurora's color theme. Halo diamonds encircling a splendid brilliant-cut morganite in light pink. 
This 18k rose gold is a great option for bride-to-be's who want to make a statement.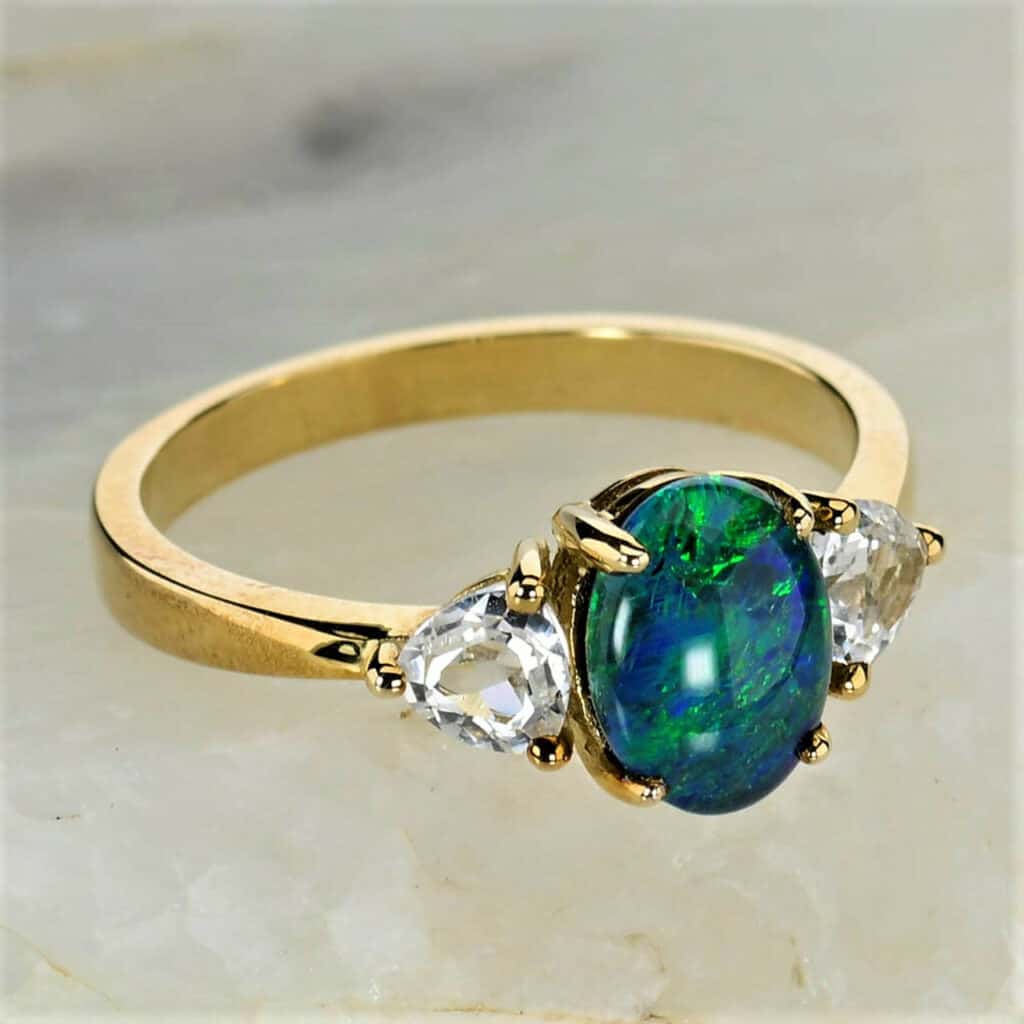 While opal is not traditionally used for engagement rings, it is a great option for adventurous bride-to-be's who want to be unparalleled. 
This ethereal greenish blue opal ring not only matches princess Aurora's personality and colors, but also her name. Synonymous with her angelic personality, blue opal represents innocence and confidence.  
The oval shaped centerpiece is accompanied by trillion white topaz stones on each side, held by strong prongs on a 9k yellow gold shank.
This stunning pink sapphire surely stands out. It features a purplish pink emerald-cut centerpiece on a split silver shank. If you're wanting detail, this ring is for you with a touch of rose gold and a diamond frame. 
The stronger tone of pink is princess Aurora's playful nature ready to be set free. If you're into a large stone and a strong pink color tone, this is a great fairytale engagement ring that won't break the bank.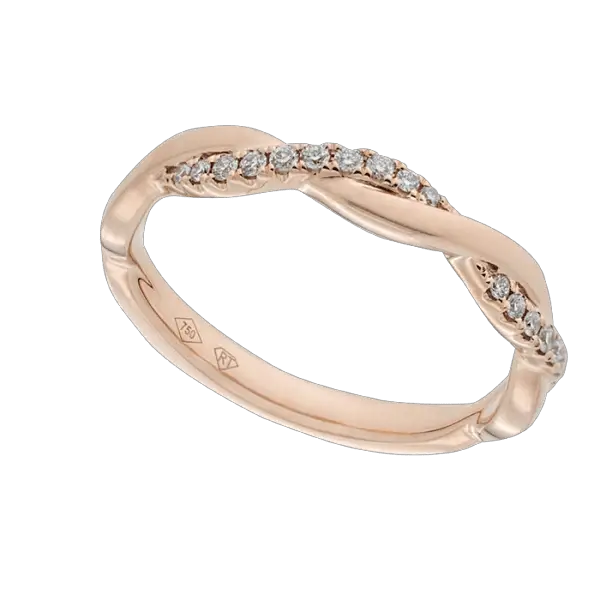 If you're looking for a fancy ring without a stone centerpiece, this lovely delicate double-twisted wedding band is an inspiration. 
Delicate and sophisticated, it's made in 18k rose gold and diamonds.  
Fancy a whimsical princess Aurora themed ring that would mark your very own fairy tale? This might be the ring you're after with all that sparkle and shine that we can't resist.  
This ring has a classic round centerpiece with a halo of diamonds in a marquise shape. Did you know that round diamonds are the most sparkly diamond shape as a result of their many facets?
A rose gold ribbon frames baguette shaped diamonds on each side of the centerpiece. The split shank boasts four rows of diamonds followed by a tiny crown on each shoulder. If you or your lover is searching for the most sparkling ring out there, this will surely wow.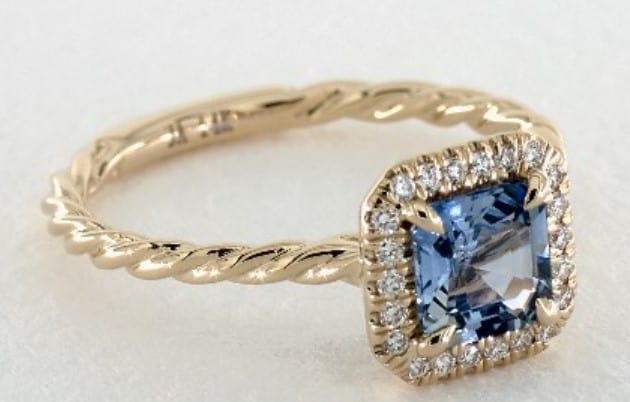 This is a ring to showcase elegance, class, and distinction. Featuring a blue sapphire framed in a diamond pavé set on a 14k gold shank, this is surely a stunner.
If you're looking for a ring matching Princess Aurora's long wavy blond hair, you can opt for twisted yellow gold ring shanks like this fabulous ring. The blue sapphire represents Aurora's blue gown. 
Summary
If you're interested in engagement rings or wedding bands with princess Aurora's theme colors, remember you have more than one option: rose gold, yellow gold, and different shades of blue and pink.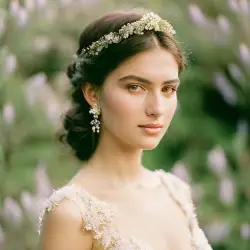 Latest posts by Rosie Liliy
(see all)