If you're planning a wedding with an enchanting fairytale theme, you want to ensure that all the details of your wedding are theme appropriate, and the last thing you want is a clash in color or look.
You might overlook the fact that your wedding ring can also be a part of this theme as you could go for a truly exceptional look that is long going to define your wedding long after it's over.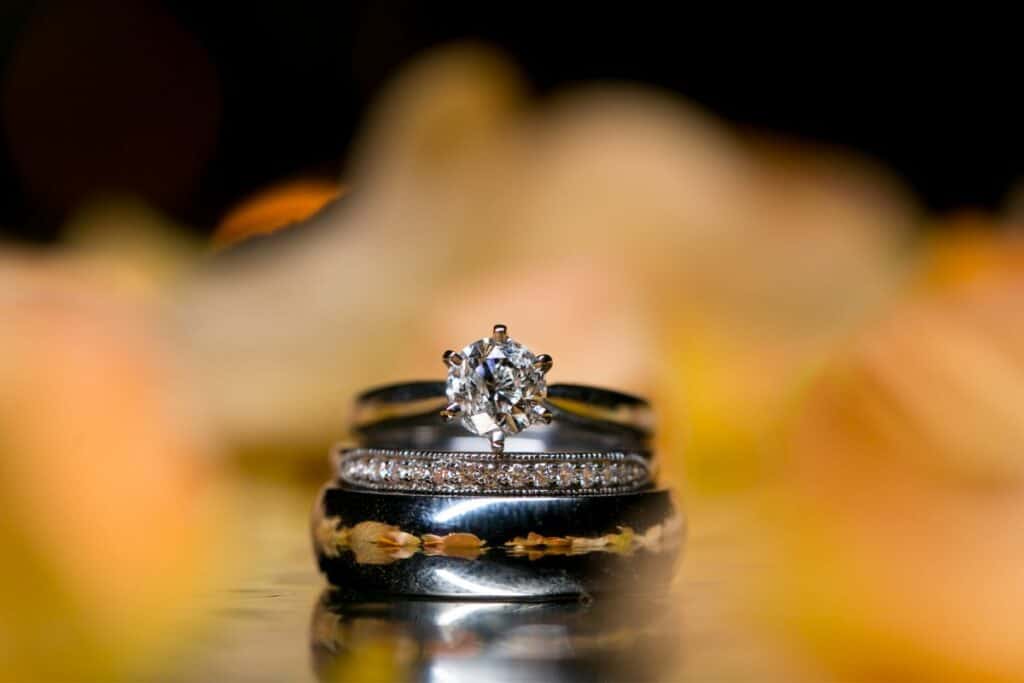 In this article, we'll give you some wedding band designs that encapsulate the enchanting look and fits into your theme, if you have one.
Or it could be a subtle design that means something special to you and your partner. Read on to find some extraordinary wedding ring designs that are truly eye-catching.
For Her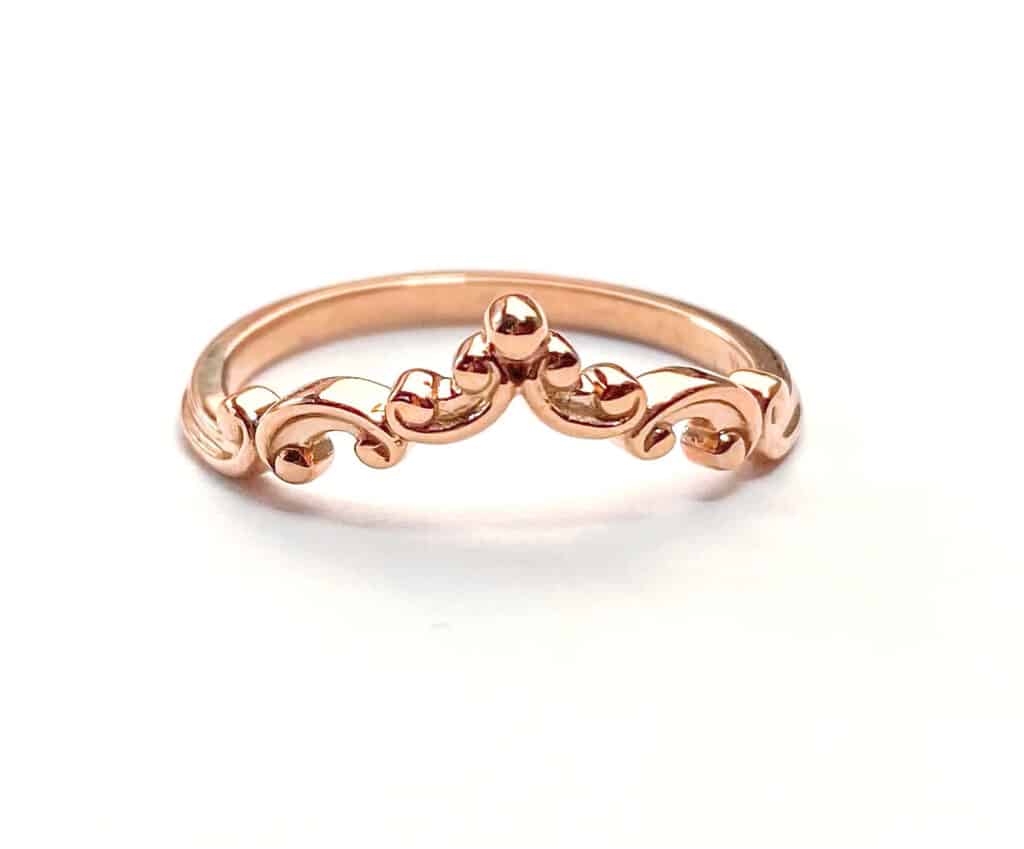 Here is a ring that might look small but has a vintage design that can be fitted with the gem of your choice for something extraordinary.
You could look at different metal options like sterling silver, rose gold, or even white gold that gives an old forestry feeling with a fantastical fantasy setting all placed into one ring.
We like the dual purpose of this ring as it sings elegance but has a merry charm associated with imaginings of classic fairytales.
If you're looking for something more simple, you could try out this floral band as It doesn't have the shine and polish of a regular band but has a woodland feel to it that could certainly take someone's mind to a fairytale setting.
It can also work for those who are going for an alternative fairytale theme.
Go one step further and add an engraving with a date, or maybe a short quote from your favorite tales, to make it something you will treasure forever.
Here we have a ring that has elegance and enchantment all rolled into one, as this one has an elven theme that is bound to bring thoughts of fantasy or the alternative worlds depicted in classic fairytales.
The dumortierite quartz on the ring is supposed to bring the wearer calm, relaxation, and harmony, so this might offer some unique benefits.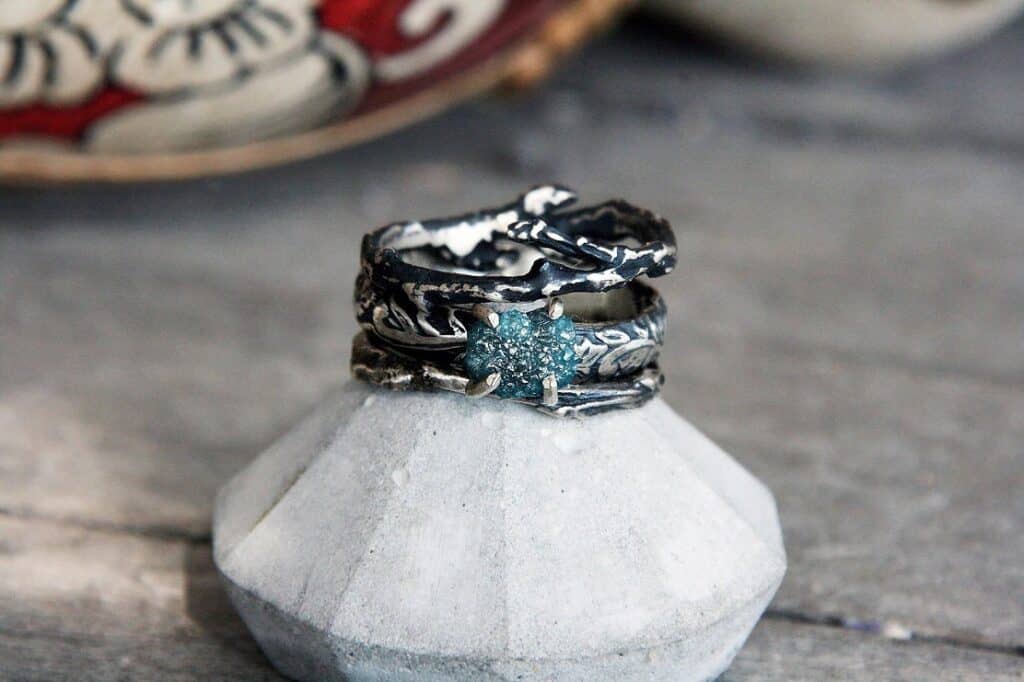 Here is a medieval ring that has a nice set diamond in the middle that has elegance and a mystical charm associated with it.
You could look into different raw diamond options such as gray, white, grey, black, or blue to reflect some of your own personality, and looks brilliant if you were to stack it on top of an enagement ring, for example.
We didn't just choose this because of its name, but we thought that the shimmering gold strands that run across this ring are a unique design in what we've listed so far
This band is perfect for those who may have a metal allergy and want a design that stacks up well compared to traditional wedding rings.
It has a nice glint when it catches any light, so you get an ethereal look, but it has all the enchanting glamour as well.
We have another ring that follows a woodland theme but has more definition with a bigger clear gem in the middle and many smaller ones that branch off on the leaves.
Perhaps this reminds you of a classic tale like rapunzel or jack in the beanstalk. You could look at different metals to be as subtle or as glamorous as you like and brings a certain serenity to them.
We know we're bending the rules a little here, but this Maleficent-inspired ring would work well with those who are looking for a more dark fantasy theme for their celebrations.
You have a detailed blackthorn that twists around the ring but has small cubic zirconias on its front.
This can show an elegance to a design that can resemble chaos, as who said that this theme had to be reserved for fairytales?
For Him
We start off the options for men's rings with a design that has a classic fantasy look, which can combine this interest alongside lovely detailed dragons and has a nice polished finish as well.
You could go for an all-silver ring, black with silver edges, or yellow gold to create something that is definitely going to get compliments from onlookers.
This could be down to the realization that this ring stands out from more conservative ring designs.
Perhaps you have a love of both the extraordinary and fancy yourselves fans of series such as Game Of Thrones?
If this is the case, you could get a matching pair for the both of you to show off your interests and look stylish at the same time.
This ring isn't going to be for everyone, but it's incredible just how one ring can represent both passion and the connection between two people so well.
This malachite ring is a simple design but shows an inner style of enchantment that comes from wizards and witches.
Of course, you may want it to mean something more unique to you, so nothing is stopping you from looking at rings such as these with different stones in them.
You could get it engraved or customized to suit your own personality, which can shine through even better with this ring.
If you're an outdoors person or a lover of nature, why not mix this in with your love for the fantastical with this design that has a rustic but charming spirit to it?
You could go for a matte or shiny finish if you decide you want some texture to the ring.
This would be a perfect fit with the leaf and vines bridal ring that both complement and live in harmony with each other, as we're sure you and your partner will also.
This ring goes hard into the enchanting category, as you have a ring that has the colors of gold and opal that present different colors in different lights and have a glowing look to it.
This is perfect for those who want a simple smoked rose wooden ring that shows off glimmers of shine, just like your partner, as this ring is a surely definable feature on first looks.
This ring might look on the whimsical side, but we can assure you that the solid blue color from the sapphires presents a cool and reassuring feel to it that is going to look especially grand when exposed to any light.
We cannot move on before mentioning that this design is glow in the dark, which can seem gimmicky, but is handy if you happen to lose it. 
This ring has a majestic Celtic feel to it that can be worn by either or both partners. The ring has a half Celtic half tree bark design that will undoubtedly get people's attention during your themed reception.
You could explore the possibility of having an oxidized or shiny finish with something personal engraved on the inside of the ring.
This could be a name, personal message, or even the date of your special day, which is a lifesaver when coming to remembering your anniversary.
How Does Ring Sizing Work?
In general, ring sizes can range from a 3 all the way up to a 12, and a good way to measure this is to go into a jeweler who would be able to measure your finger and find you bands that are not too tight and are easy to take off when you need to.
Another way you can measure is by taking some string and wrapping it around the base of your finger.
Then you want to mark where the two ends meet, measure the distance, then pick the closest measurement on the ring size chart.
Conclusion
With these wedding ring ideas, you're bound to find something that speaks to you, and remember that more expensive doesn't mean a worthier ring, as your budget might not allow for some ideas.
You can still choose a design that is significant to you and your partner and might be inspired by your favorite fantasy series or fairytale story.
Whatever it is, you can cement your relationship with your partner and even go for a matching set if you find this to be more convenient for you.
Alongside this ring, you can have the fairytale wedding of your dreams with your guests, that are likely to be enchanted by the beauty and uniqueness of it all.
Enjoy your special day, and thank you for reading.

Latest posts by Lisa Plaitt
(see all)