Suppose you want to celebrate your love of all things star wars, you've agreed on this theme with your partner, and you get to the preliminary stages of planning.
So, where do you start, and what aspects of your day should incorporate this theme?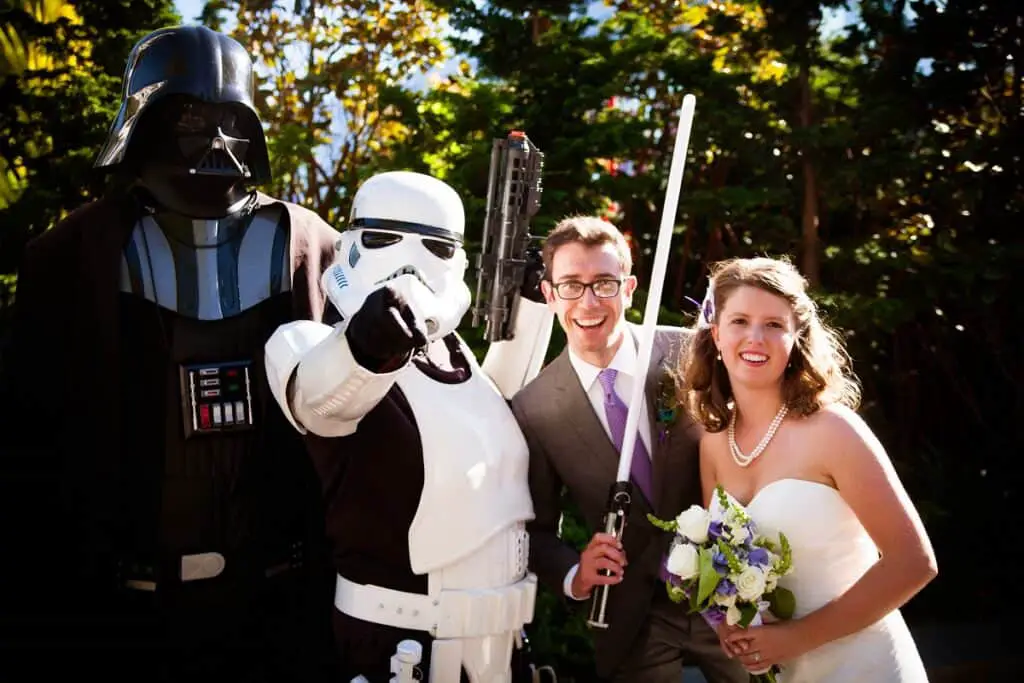 How do you know when you overdo it on the detail and is there even a way to have a subtle nod to the franchise?
In this article, we'll outline 16 ideas from guestbooks and cake toppers, all the way to ring bearers, to show you what could be possible for your special day.
If you want a wedding out of this world, read on to find out more.
We start with something simple, where all you need to do is take a few lightsaber toys and remove the lightsaber bit, then you can add your bouquets.
We think this is a nice touch that can have multiple designs, so there are a lot of possibilities here.
You could even incorporate this design into a centerpiece and makes your reception shine a little more.
Speaking of centerpieces, we think this idea is too good not to be on this list, as using the power of lego, you can recreate your favorite star wars scenes and have each one marked to help guests find their seats.
Go one step further by adding some candles on the side so that the centerpiece can be seen even in the evening.
Related article: 16 Star Wars Wedding Centerpiece Ideas You'll Love
This is another nice touch that shows your love for the franchise before anyone has stepped into your reception.
You can design the guest book to be more like a board where guests can easily write on differently shaped inserts that fit onto the board.
Ditch the traditional yet straightforward guestbook and make it truly unique, and it will give you something you can cherish for years to come. 
We get that not everyone wants to go this far, but imagine having rings designed as C-3PO and R2-D2, the most iconic duo in cinema history.
You'll find that you could go as straightforward or as striking as you like, so the only issue you're going to have is who is going to wear who.
You could get a custom design that reflects both of your personalities, and you could use embedded gems to get a result you didn't know was possible.
We like these because they're so adorable, but if you are not a fan of this topping, you could try a Han solo and Princess Leia that you could make from funko pops or the rebranded vintage figures inspired by the 80s designs.
Or you could go for something perhaps simpler with a cutout cake topper that you could make from icing or from a cut board to make something that feels personal to you, so it might be a good idea to get some input from your partner. 
You could give these out during or after the main reception to the best men, maid of honor, or perhaps the happy couple could have them.
You can get creative and use them in your wedding photos or stage scenes from your favorite installment in the franchise.
You could have each one engraved for the recipient that adds a touch that avoids them feeling like children's party favors instead. 
We have these simple favors that you can give out before your wedding or have some commemorating the day by having them scattered around the tables at your reception.
Not only does this give a classy touch, but you also have another way to show your appreciation for star wars in a unique way.
Either couple could incorporate shoes that have the classic characters emblazoned on them, or you could switch into them at the reception for something more casual and comfortable.
When looking at this idea, know that there isn't any definitive way to style these, but it's likely you could have these shoes designed to your liking.
With the suits, you can ditch a bit of tradition and use cufflinks with a grownup look about them, and it is a nice touch that doesn't need to be as pronounced to be effective.
You can have different characters or ships, and you could even mix them up a little to show off your eccentric side. 
Some would say too much, but we think this one sets the tone for your ceremony, as the opening text designed rug can be worded however you want.
It's a great way to mark the next exciting stage of your life and is going to be the standout feature of your wedding that guests are going to remember for a while afterward.
Here's an excellent way to get your guests involved in the action, as you could have lego figures placed on the boutonnieres, and with the huge amount of lego devoted to this series, you have many options.
You could have one side of the wedding party have characters from the dark side or from the new films. There's really no limit to what you can do here.
We like these because they make great wedding souvenirs that can make for some engaging scenarios and the only limit is your imagination.
You could also have some of these framed afterward to mark the extra special occasion in a way that is unique, and you can choose from many different styles and templates.
This one will add a lot of extravagance to your ceremony, as you could be thinking about this idea in your head but worry about the end result, so why not go for it and have a photo album afterward that's really going to stand out?
You don't have to use R2-D2 to hold the rings, but it could signify the arrival of either partner and adds a sense of procession that is classy and stays in line with any additional themes you're looking for.
For example, this feature would look great at a rustic or Tatooine-styled wedding ceremony, so you have many options in how you can use your favorite droid.
We love how this confetti holder looks both refined and has a little flair to it that is bound to surprise either partner that could be deployed as both arrive at the reception.
We wouldn't blame you if you wanted to keep it unopened, but the lightsaber gifts from this list make your ceremony abundant with them, so the only question here is who is going to duel who?
These ties are more subtle as they hide the theme under the lapel, but that doesn't make them ineffective in setting the tone for your ceremony.
It's really up to you where you stand with the ties, but the main thing is that your partner is somewhat comfortable wearing the tie.
You might want to consider the possibility of having alternates for the reception, which you could make even more pronounced to make the photo album that little bit more interesting.
We've saved the best idea for last, as we can't think of a better wedding officiant than the iconic Obi-Wan, which is definitely going to add some shine to proceedings.
However, if this doesn't get you all excited, you could try a different character and style them in a way that fits with your theme in specific ways.
Perhaps you're a fan of the dark side and would prefer the Emperor or Darth Vader to conduct your service, which might sound bold, but it's really down to how much you want to embrace the theme.
Conclusion
With these ideas, you can use them as a springboard to create some of your own, but there is sometimes a risk that the theme can be a bit overwhelming or juvenile, so it might be best to consult with a wedding planner about your ideas.
They could have some insights that could embrace the theme in ways that are special to you, but if you'd rather go solo, you could perhaps run some of these ideas by your partner and gauge how they feel about your ideas.
You want a wedding that is more elegant than spectacle as you want all the individual components to highlight a consistent tone, but this can be down to personal taste and the budget that is available to you.
This way, you have a wedding that shows off aspects of you and your partner's personality in a special and unique way. Thank you for reading. 

Latest posts by Jodie Messines
(see all)