Sunflowers symbolize adoration, loyalty, and longevity—all of which are perfect sentiments on your special day! If you're looking to infuse a sunflower theme into your wedding, There are a few ways you can match the style in your wedding dress or gown. There are plenty of ways to incorporate sunflowers into your wedding look without sacrificing style. 
For those brides that want just a hint of sunflowers in their outfit without going overboard, consider incorporating the floral design into other parts of the dress. For those looking for something bolder and more dramatic, you can opt for a full-on garden glamour style dress! A gown with large yellow blooms cascading off the neckline and down the skirt is sure to take everyone's breath away!
Below are some dress ideas that might help you in making your choice.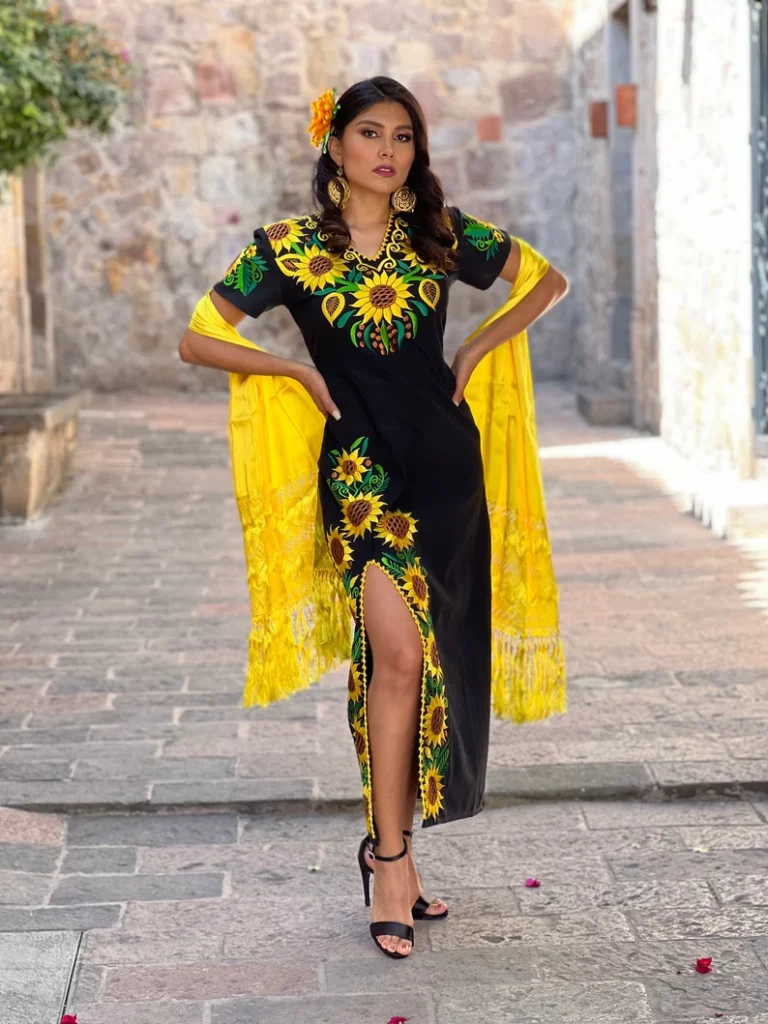 Adorned with exquisite artisanal machine embroidery and crocheted details, this one-of-a-kind black Mexican sunflower wedding dress is sure to mesmerize all. Large bright sunflowers adorn the dress throughout. The dress has a slit on one side, making it a truly feminine long dress that is sure to make you stand out.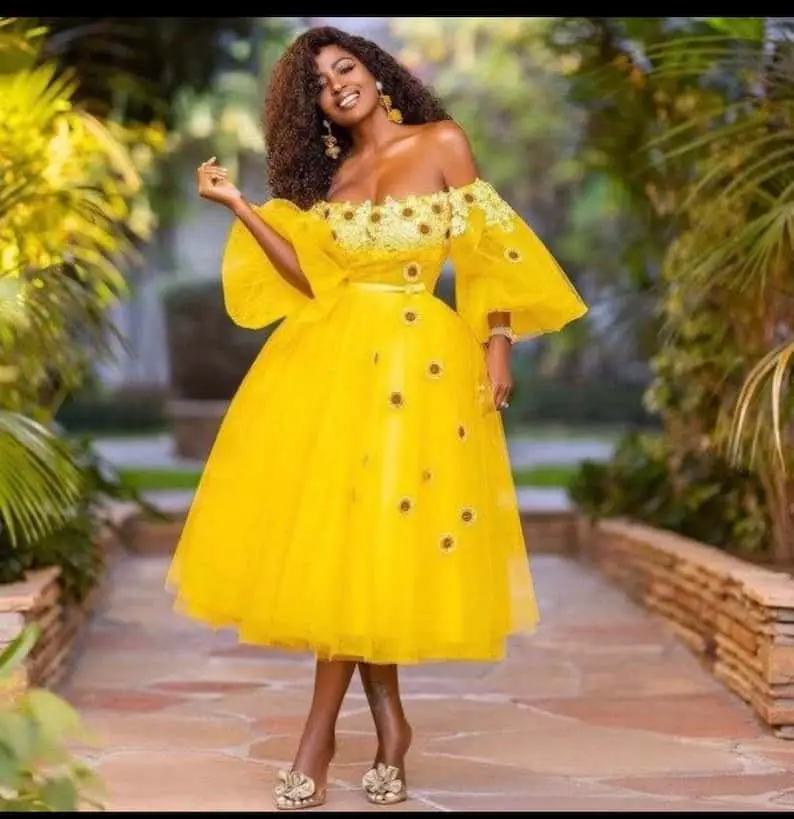 This beautiful A-line dress is an inspiring piece for brides who want a truly sunflower dress. Its flattering ankle length cut features off-the-shoulder flare sleeves, while an elegant sunflower pattern runs up the skirt adding an irresistible charm.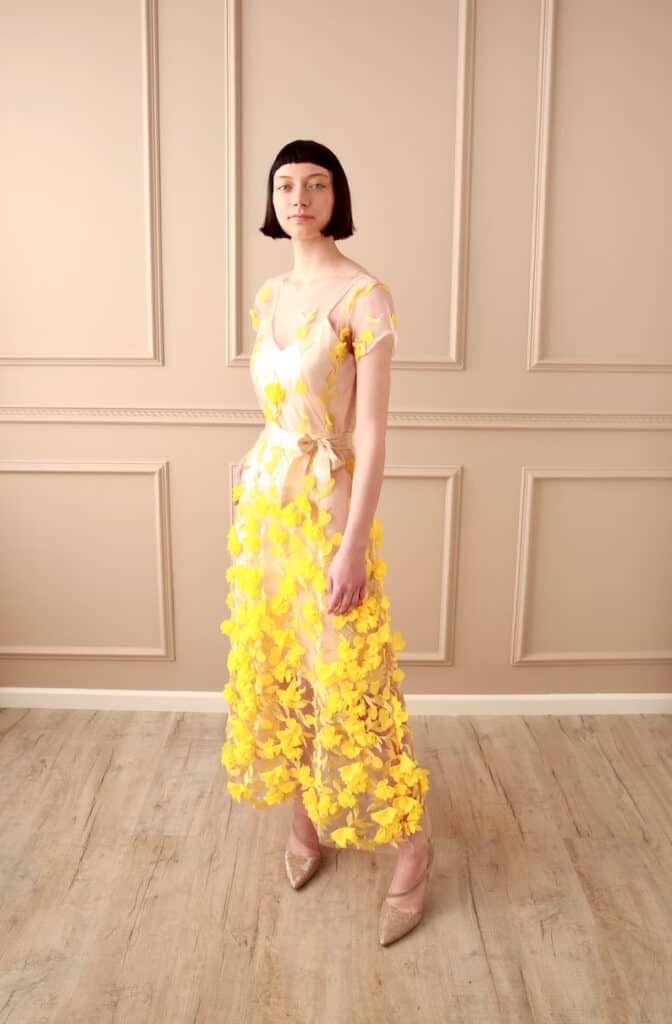 Looking for a modern and timeless bridal look? This exquisite white and yellow dress, graced with 3D petal detailing, is the perfect choice. The light-weight sash creates an A-line silhouette that's both stylishly attractive and figure flattering.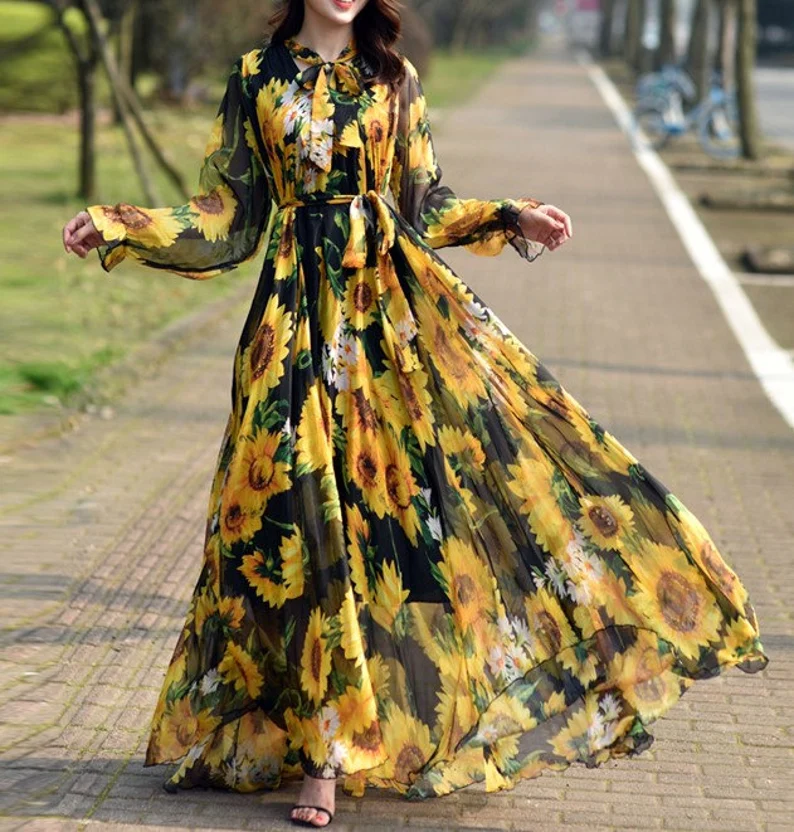 Look dazzling and chic with this long sunflower dress. Tailored from chiffon with a breathable feel, this maxi dress is designed with long sleeves, a very wide and loose fit and comes adorned with a delicate sunflower print. The optional tie-on belt emphasizes your silhouette, or you can wear this gorgeous dress without the belt if that suits your figure better.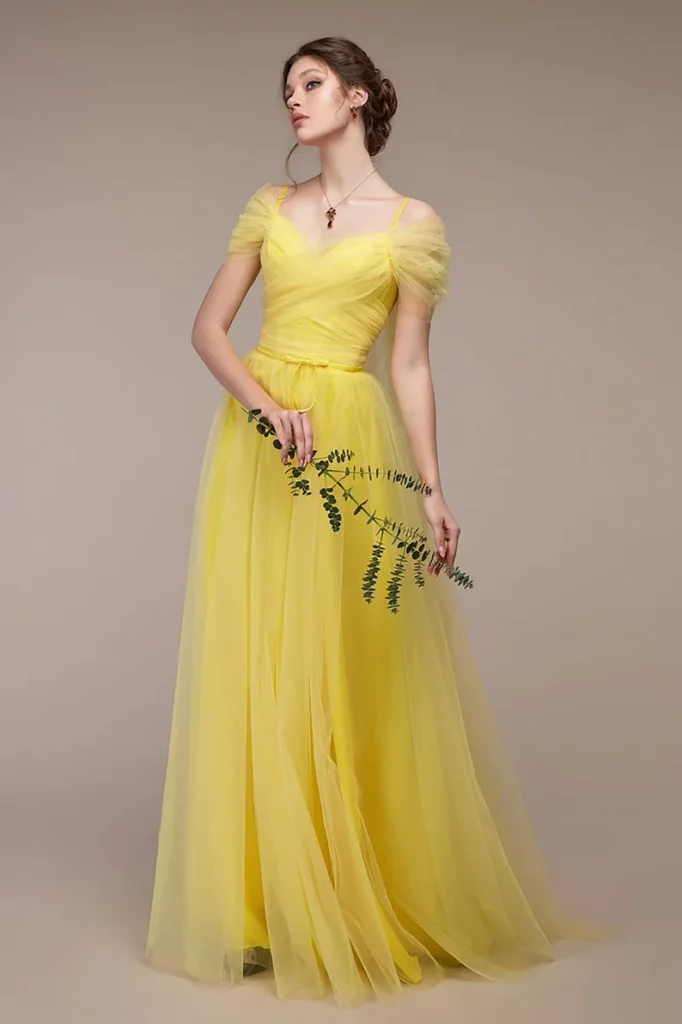 Look like a blooming sunflower in this flatteringly feminine dress featuring a charming sweetheart neckline, soft yellow straps, and off-the-shoulder tulle details. The elegant A line silhouette ensures you look fabulous on your special day.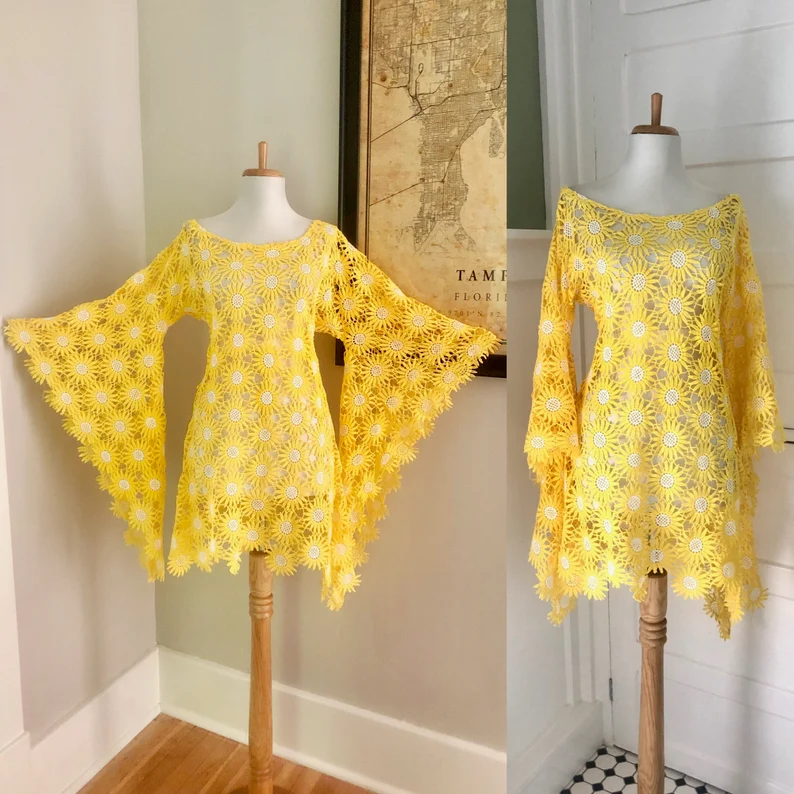 Crafted with vintage yellow sunflower cut-out crochet guipure lace, this short nonconventional wedding dress is an inspiration for weddings during summer or beach weddings with a sunflower theme. The dramatic kimono sleeves make this a glamorous look, great for those who want glamour in a short wedding dress.
If you're finding it difficult to find a sunflower wedding dress that you love, an alternative is to mix and match pieces to create a desired dreamy look. For example this unique and eye-catching maxi skirt features a multicolored tie-dye sunflower pattern. If matched with a white or yellow lace top, this could make a great wedding "dress".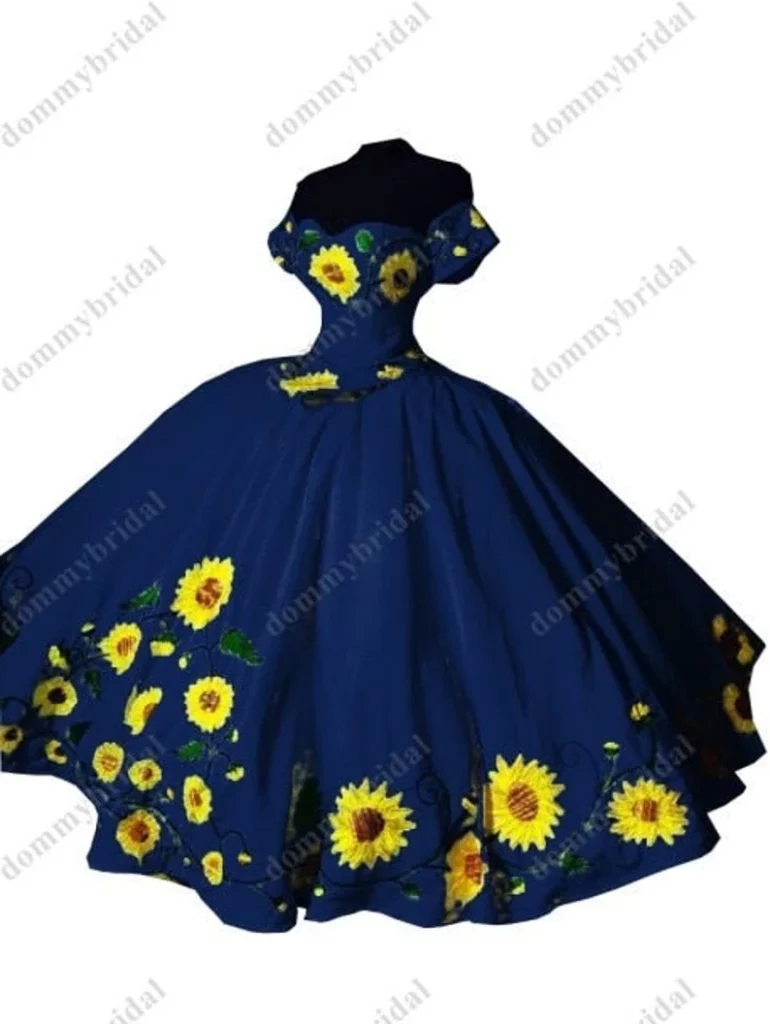 If you're dreaming of a romantic, vintage-inspired wedding dress featuring sunflowers as the motif, this A-line dress is an idea! Fluffy and timelessly beautiful, it's available in an array of dreamy hues such as deep blue, red or pink. You'll look like your own fairy tale princess in this stunning gown.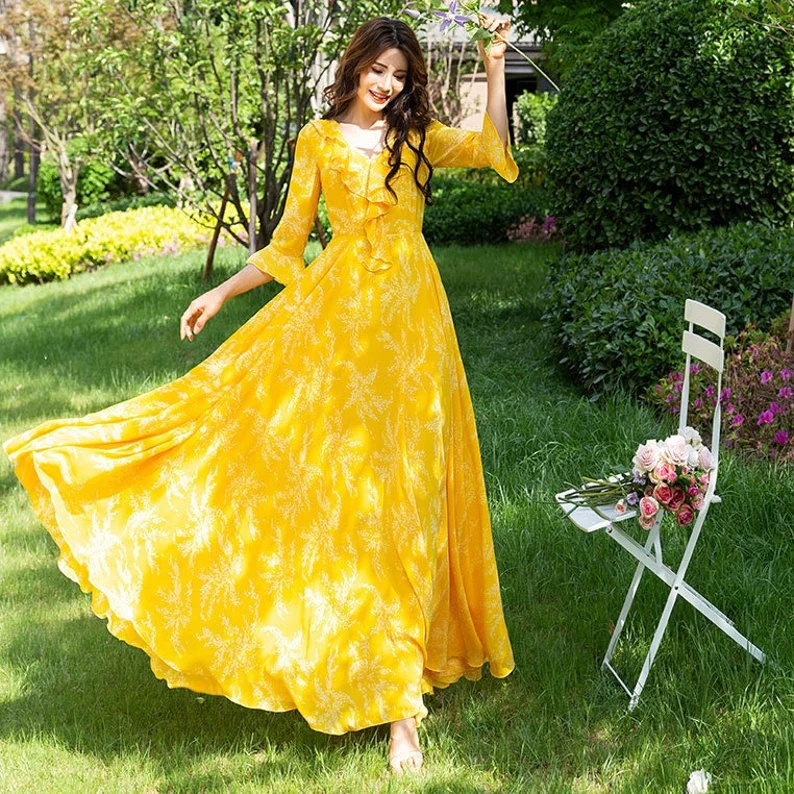 If you're a bride searching for an eye-catching dress that's form-fitting yet loose and offers more coverage, then this maxi is definitely your go-to! Its fabric flows gracefully as you walk down the aisle while its vibrant color and 3/4 length sleeves adds to its dreamy light feel. With a fitted waistline, full length design, it promises to turn heads in no time at all!
Look lovely and exceptional in this dress! Crafted from chiffon fabric, this lovely dress features graceful pleats, beautiful butterfly sleeves, a flattering V-neck, and a bold thigh-high slit.
This elegant sleeveless sheath dress is embellished with exquisite beading and rhinestones that form chevron patterns to accentuate the curves. The beautiful design features a scalloped V-neckline, thin beaded straps, cutouts at the waist, a high slit in the skirt, and an open back. 
Glamour, sophistication, and grace all rolled into one dress. This luxurious long column dress boasts a plunging neckline and an eye-catching open crossed strap back, and is surely a showstopper.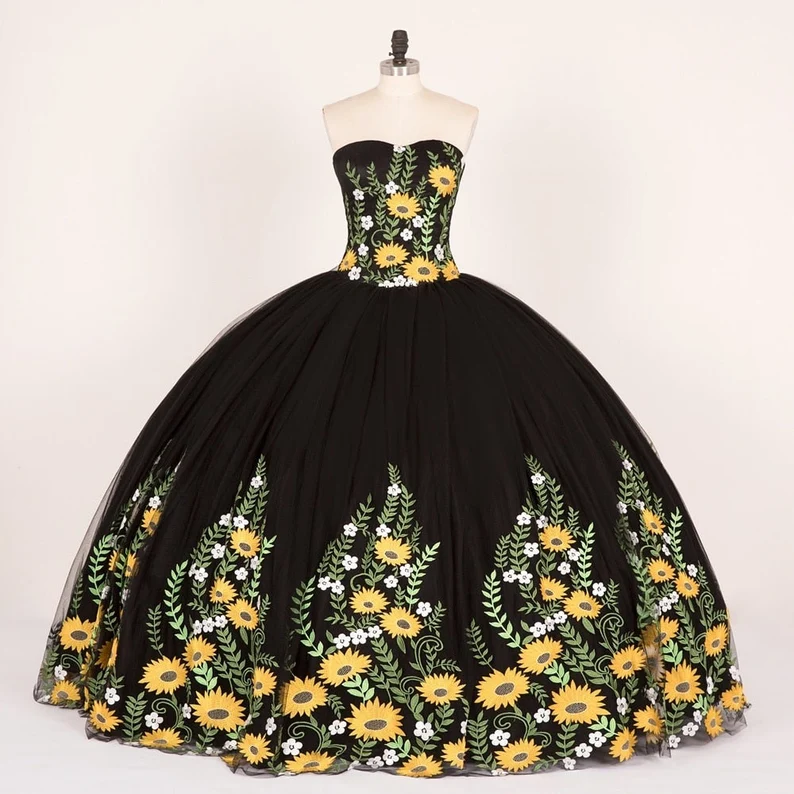 Get ready to be the belle of the ball with this dreamy sunflower wedding gown! Boasting a classic sweetheart neckline lavishly decorated with exquisite sunflower embroidery, its timeless silhouette is made for a princess. As you gracefully enter your special event in this dress, all eyes will be on you as they behold your confident and classy look.
In summary
Sunflowers are the perfect choice for a unique, memorable wedding look! From intricately embroidered 3D floral dresses to the subtle elegance of simple yellow designs, sunflower wedding dresses are great for non-traditional brides looking for a floral twist. With some creativity and finesse you can pull off an absolutely stunning sunflower themed dress that will make heads turn at your special day.
While darker shades of yellow and black are key in a sunflower wedding dress, you can try a mixture of more colours if you're wanting a very unique dress. Also, don't forget, it doesn't have to be just your dress, but all the potential sunflower accessories you can add on such as a hair piece, a head piece, real sunflowers in your bouquet, sunflower themed shoes or even earrings – because why not, it's your wedding dress and you get to choose!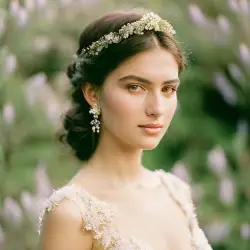 Latest posts by Rosie Liliy
(see all)