As a lover of all things colorful and vibrant, attending my first Pakistani wedding was like stepping into a kaleidoscope of rich traditions, intricate patterns, and exquisite fabrics. The air was filled with laughter and the scent of mouth-watering delicacies as guests mingled in their stunning attires.
If you've been invited to a Pakistani wedding, consider yourself fortunate! These joyous celebrations are truly a feast for the senses.
However, if you're unfamiliar with Pakistani culture and customs, deciding what to wear can feel like an overwhelming task. Fret not; I'm here to guide you through the world of Pakistani wedding attire so that you can look your best while respecting the cultural traditions.
From traditional outfits for men and women to dressing appropriately as a Western guest, we'll explore everything you need to know about what to wear to a Pakistani wedding. So let's dive in and get ready to embrace the colors, textures, and styles that make these events so unforgettable!
Understanding Pakistani Wedding Traditions
Before we delve into the world of stunning attire, let's take a moment to appreciate the rich tapestry of Pakistani wedding traditions that make these events so special.
A typical Pakistani wedding spans several days, each filled with its own unique customs and rituals. From the colorful Mehndi ceremony where guests dance and sing while the bride gets her hands and feet adorned with intricate henna designs, to the emotional Rukhsati when the bride bids farewell to her family as she leaves with her husband – every event is a beautiful blend of joy, love, and culture.
Now, imagine attending your first Pakistani wedding without any knowledge about these traditions. You might feel overwhelmed or out of place in your regular cocktail dress among a sea of vibrant colors and dazzling patterns. This is why understanding the cultural context is key to selecting an outfit that allows you to both fit in and stand out for all the right reasons.
For instance, knowing that Mehndi ceremonies are usually more casual and full of dancing can help you choose an outfit that's comfortable yet stylish enough for a festive occasion. On the other hand, being aware that Walima receptions are more formal events will guide you towards choosing an elegant ensemble that reflects the sophistication of this grand celebration.
So whether you're attending a daytime Nikkah ceremony or an evening Walima reception, having insights into what each event entails will help you choose attire that complements both your personal style and respects local customs. Ready for some wardrobe inspiration? Let's explore traditional outfits for women and men guests at Pakistani weddings!
Traditional Outfits for Women Guests
Ladies, prepare to be mesmerized by the exquisite array of traditional Pakistani outfits that await you! From the elegant Shalwar Kameez to the regal Lehenga Choli, these ensembles are nothing short of breathtaking. Let's explore some popular choices that will make you feel like a queen at any Pakistani wedding:
Shalwar Kameez
This classic ensemble consists of a long tunic (kameez) paired with loose pants (shalwar). The beauty lies in the intricate embroidery, sequins, and beadwork adorning these garments.
Opt for luxurious fabrics like silk or chiffon in vibrant colors, and don't forget to accessorize with statement jewelry. As you twirl on the dance floor during the Mehndi ceremony wearing a stunning emerald green Shalwar Kameez with gold embroidery, you'll feel both elegant and enchanting.
Another showstopper is the Lehenga Choli, which features a long skirt (lehenga), blouse (choli), and an embellished scarf (dupatta). This outfit allows for more freedom of movement while still looking fabulous – perfect for those energetic dance routines!
Attending a Barat event wearing a royal blue Lehenga Choli adorned with silver zari work and sparkling sequins will leave an unforgettable impression on fellow guests.
Sharara & Gharara
These two traditional outfits consist of wide-legged pants worn under a shorter tunic or peplum top. The difference between them lies in how they're cut; shararas are flared from the waist down while ghararas have a distinct joint at the knee.
Both styles are heavily embellished and make for striking silhouettes. As you enter the Walima reception in a dazzling golden Sharara set with intricate mirror work, all eyes will be on you.
Traditional Outfits for Men Guests
Gentlemen, fear not – there's an equally impressive selection of traditional Pakistani outfits for you to choose from. These ensembles are a perfect blend of sophistication and style, ensuring that you look dashing at any wedding event:
Sherwani
This long coat is worn over a kurta (tunic) and paired with either churidar pants or a shalwar. Made from luxurious fabrics like silk or brocade, sherwanis are adorned with intricate embroidery and other embellishments.
With a deep maroon sherwani with gold detailing, you'll escort your partner to the Nikkah ceremony in the epitome of elegance.
Waistcoat & Shalwar Kameez
A well-fitted Shalwar Kameez paired with an embroidered waistcoat is another popular choice for men attending Pakistani weddings. This ensemble strikes the perfect balance between comfort and style, making it ideal for both daytime and evening events.
Sporting a crisp white Shalwar Kameez complemented by a navy blue waistcoat with exquisite gold embroidery during the Mehndi festivities will make you look truly dapper.
Suit & Tie
For those who prefer a more Western look, a tailored suit in dark neutral colors like gray, blue or charcoal is always appropriate. Pair it with a tie that complements your outfit's color palette for added flair.
At the Walima reception, wearing a sleek black suit with a vibrant pocket square that matches your partner's outfit will showcase your coordination goals.
Western Guests: How to Dress Appropriately for a Pakistani Wedding
As a Western guest attending your first Pakistani wedding, you might be wondering how to strike the right balance between respecting local customs while staying true to your personal style.
The good news is that there are plenty of ways to achieve this! Here are some tips on how to dress appropriately while still looking fabulous:
Modesty is Key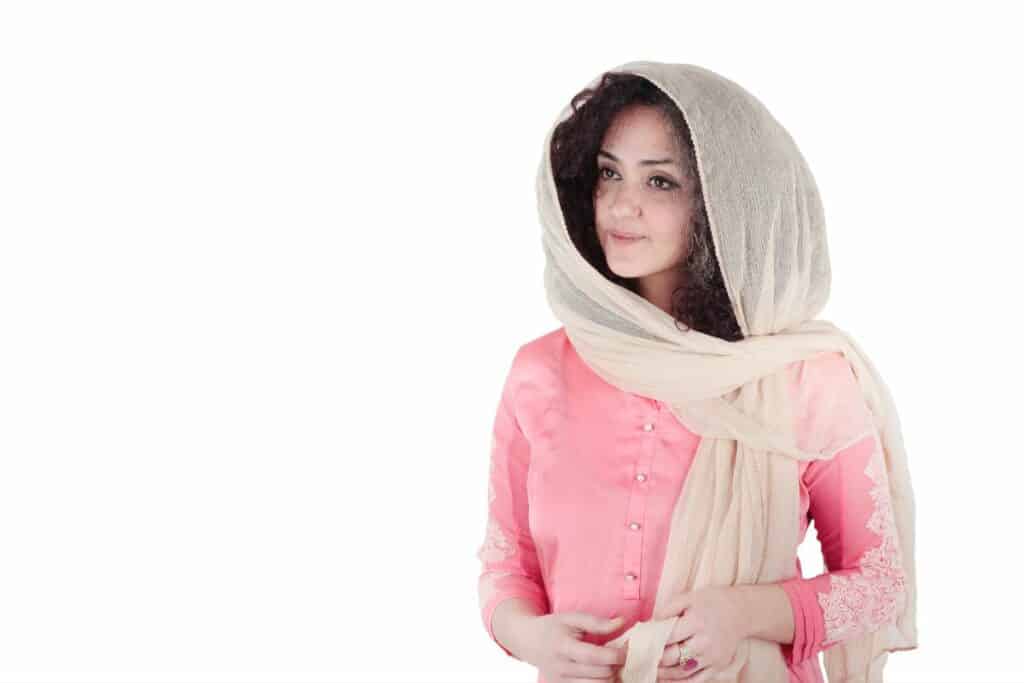 Pakistani weddings are often segregated by gender, so it's important to dress modestly and respectfully. For women, this means avoiding revealing necklines, short hemlines, and sleeveless tops.
Opt for outfits that cover your shoulders and knees, or consider incorporating a shawl or scarf for added coverage. A knee-length dress with cap sleeves and a colorful scarf draped over your shoulders strikes the perfect balance between stylish and respectful.
Embrace Color
One of the most striking aspects of Pakistani weddings is their vibrant color palette. As a Western guest, feel free to embrace this by choosing outfits in bold hues like fuchsia, turquoise or tangerine. Just remember to avoid red (traditionally reserved for the bride) and black (associated with mourning).
Consider Fusion Fashion
If you're keen on incorporating traditional elements into your attire without going all-out, consider fusion fashion options. This could include wearing an embellished tunic with tailored pants or pairing a flowing skirt with a beaded blouse.
Attending the Mehndi ceremony in a flowy maxi dress featuring intricate embroidery inspired by traditional Pakistani motifs creates the perfect blend of East meets West.
Accessorize Thoughtfully
The right accessories can elevate any outfit while paying homage to local customs. For women, consider adding statement jewelry like jhumkas (earrings) or churiyan (Pakistani bangles). Men can enhance their look with cufflinks featuring traditional motifs or even add a pocket square in a vibrant pattern.
In short, dressing appropriately for a Pakistani wedding doesn't mean sacrificing style – it's all about finding that perfect balance between respecting cultural traditions and showcasing your unique fashion sense.
Dressing for Daytime vs Evening Weddings
Pakistani weddings are full of events spread across different times of the day, which means you'll need to consider the formality and setting when choosing your outfit. Let's take a look at how to dress for daytime and evening weddings:
Daytime Weddings:
– Lighter fabrics: Opt for breathable materials like cotton, linen or chiffon to stay comfortable during daytime celebrations.
– Festive colors: Embrace the vibrant spirit of Pakistani weddings by donning bright hues like coral, turquoise or lime green.
– Less-formal attire: Keep it classy yet casual with outfits such as a floral midi dress, tailored jumpsuit or a simple shalwar kameez.
Picture yourself attending a sunlit Nikkah ceremony in a pastel-colored shalwar kameez adorned with delicate embroidery – effortlessly chic!
Evening Weddings:
– Richer fabrics: Luxurious materials like silk, velvet or brocade are perfect for evening affairs.
– Deeper colors: Choose jewel tones like emerald green, sapphire blue or ruby red to make a statement after sunset.
– Formal styles: Elevate your look with elegant ensembles like floor-length gowns, heavily embellished lehengas or sophisticated sherwanis.
Envision yourself stepping into a candlelit Walima reception wearing an opulent navy blue lehenga choli with gold zardozi work – truly captivating!
Popular Colors and Styles for Pakistani Wedding Guest Dresses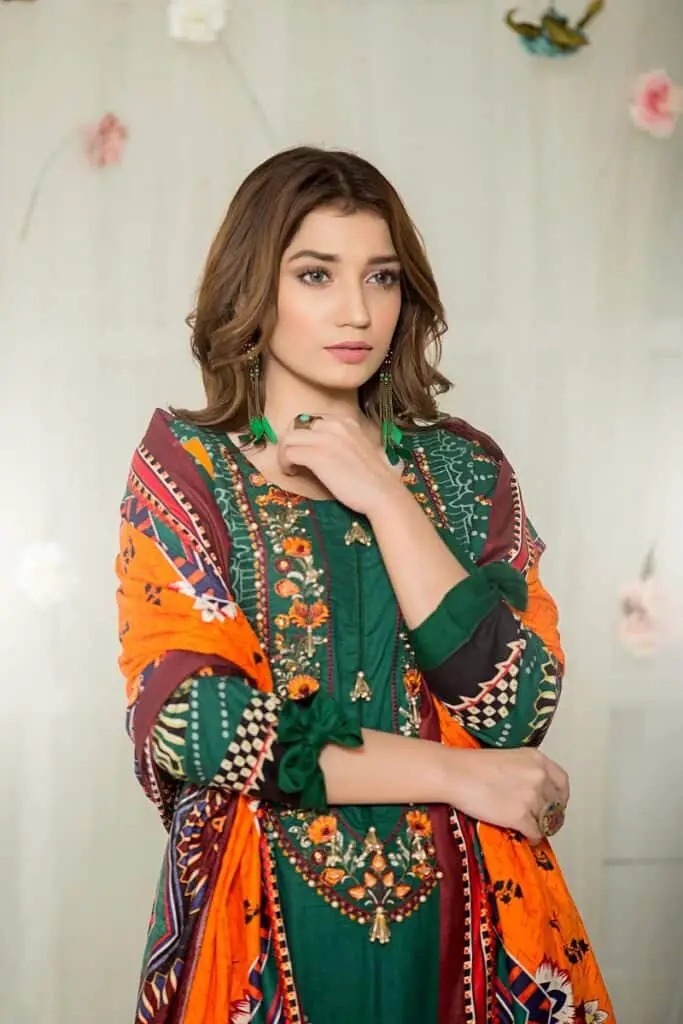 When it comes to Pakistani wedding guest attire, the possibilities are endless! With so many colors and styles to choose from, you can create an unforgettable ensemble that reflects both your personality and cultural appreciation. Here are some popular color choices and styles to inspire your outfit selection:
Colors:
– Vibrant shades: Shocking pink, emerald green, orange and maroon are among the most popular colors for Pakistani wedding guest dresses.
– Pastel hues: For a softer look, consider pastel shades like baby blue, blush pink or lavender.
– Metallic accents: Gold and silver details add an extra touch of glamour to any outfit.
Styles:
– Anarkali lehenga: This Indo-western fusion features a floor-length Anarkali choli with a front slit, perfect for showcasing your dance moves at the Mehndi ceremony.
– Beige and golden lehenga: A timeless combination that exudes elegance – ideal for the Barat event or Walima reception.
– Traditional sharara: Embrace classic Pakistani fashion with a pastel-colored sharara adorned with intricate embroidery.
What Not to Wear: Colors and Styles to Avoid
While Pakistani weddings are a celebration of colors and styles, there are certain things you should avoid wearing as a guest. Here's a list of colors and styles that might not be appropriate for these joyous occasions:
a) Red: As mentioned earlier, red is traditionally reserved for the bride in Pakistani, Indian, and other South Asian cultures. Wearing red could unintentionally upstage the bride or cause confusion among guests.
b) Black: In many cultures, including Pakistani culture, black is associated with mourning and sadness. It's best to steer clear of this color when attending a wedding to avoid sending the wrong message.
c) Overly revealing outfits: Modesty is an important aspect of Pakistani culture, so it's essential to avoid wearing clothing that reveals too much skin. This includes plunging necklines, short skirts or dresses, and sleeveless tops. Opt for more conservative options that still showcase your personal style.
d) Casual attire: While some wedding events may be more relaxed than others, it's always better to err on the side of formality when choosing your outfit. Avoid casual clothing like jeans, t-shirts, or sneakers that might make you appear underdressed for the occasion.
Accessorizing Your Outfit: Jewelry and Finishing Touches
The right accessories can elevate your outfit from ordinary to extraordinary! Here are some tips on how to add those perfect finishing touches while keeping cultural considerations in mind:
a) Statement jewelry: Pakistani weddings are all about opulence and grandeur – so don't shy away from bold jewelry pieces like jhumkas (earrings), churiyan (Pakistani bangles), or statement necklaces. These accessories not only enhance your look but also pay homage to local customs.
b) Dupatta or shawl: A beautifully draped dupatta (scarf) or shawl can add an extra layer of elegance to your outfit. This versatile accessory can also provide modest coverage if needed during religious ceremonies.
c) Shoes: Choose footwear that complements your outfit and is comfortable enough for dancing and mingling. For women, embellished sandals or heels work well with traditional attire, while men can opt for dress shoes or embroidered mojaris (traditional Indian footwear).
d) Bags and clutches: A stylish clutch or handbag can tie your entire look together. Opt for one in a color that complements your outfit or choose a metallic finish to match your jewelry.
Tips for Choosing the Perfect Outfit for a Pakistani Wedding
With so many options available, selecting the perfect outfit for a Pakistani wedding might seem daunting. Here are some tips to help you make the right choice:
a) Consider the event's formality: From casual Mehndi ceremonies to grand Walima receptions, Pakistani weddings encompass various levels of formality. Make sure your outfit aligns with the specific event you're attending.
b) Keep cultural customs in mind: Dress modestly and avoid colors traditionally reserved for the bride (red) or associated with mourning (black). When in doubt, consult with the couple or their family members for guidance on appropriate attire.
c) Embrace color and patterns: Pakistani weddings are known for their vibrant colors and intricate designs – don't be afraid to stand out by choosing bold hues and eye-catching patterns.
d) Balance comfort and style: While looking fabulous is important, remember that weddings involve long hours of standing, dancing, and socializing. Choose outfits that allow you to move comfortably while still looking your best.
e) Consult the invitation: The wedding invitation may provide clues about the dress code or theme – use this information as a starting point when selecting your attire.
By following these tips and embracing the rich traditions of Pakistani wedding fashion, you'll not only look stunning but also feel confident and comfortable throughout the festivities.
Frequently Asked Questions
Can I wear a Western dress to a Pakistani wedding?
A: Absolutely! You can definitely rock a Western dress at a Pakistani wedding, as long as you keep it modest and in tune with local customs. Go for dresses with longer hemlines, higher necklines, and sleeves, and don't be afraid to embrace the vibrant colors that are synonymous with these joyous events.
Can I wear white to a Pakistani wedding?
A: Wearing white to a Pakistani wedding isn't strictly forbidden, but it's always best to be mindful of the couple's preferences and cultural context. Sometimes, the bride may choose to wear white during the Nikkah ceremony, so you might want to avoid wearing white so as not to upstage her or cause confusion among guests. If you're uncertain about wearing white or any other color, don't hesitate to consult the couple or their family members for guidance on suitable attire for their specific celebrations.
Should I wear a scarf as a western female guest at a Pakistani wedding?
A: While it's not mandatory for western female guests to wear a scarf or dupatta at Pakistani weddings, doing so can be seen as a thoughtful gesture that demonstrates respect for local customs. A scarf can also offer an extra layer of modesty if needed during religious ceremonies like the Nikkah. When choosing your scarf, pick one in a color or pattern that complements your outfit and adds an elegant touch to your overall look.
How do I know if my outfit is appropriate for the specific event within the wedding festivities?
A: To ensure your outfit is suitable for each unique event within the wedding celebrations, take into account factors such as formality level, time of day, and cultural customs. If ever in doubt, reach out to the couple or their family members who will gladly provide guidance on what attire would be most appropriate.
Conclusion
In conclusion, dressing for a Pakistani wedding can be an exciting journey filled with vibrant colors, intricate patterns, and rich cultural traditions. As you navigate your way through the dazzling world of Pakistani wedding fashion, remember to keep modesty and cultural considerations in mind while also showcasing your unique personal style.
Don't hesitate to consult with the couple or their family members if you're unsure about any aspect of your attire – they'll be more than happy to guide you. With these tips and insights in hand, you're all set to make a lasting impression at any Pakistani wedding event. So go ahead, embrace the kaleidoscope of colors and styles that await you, and most importantly – have fun celebrating love and unity!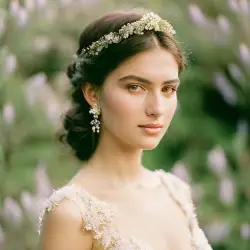 Latest posts by Rosie Liliy
(see all)