Well, the big day is finally coming up and there are some extremely crucial things to get right.
You've planned the day's itinerary thoroughly, and you've sorted all the major things out – but there's one thing you haven't done – written your vows.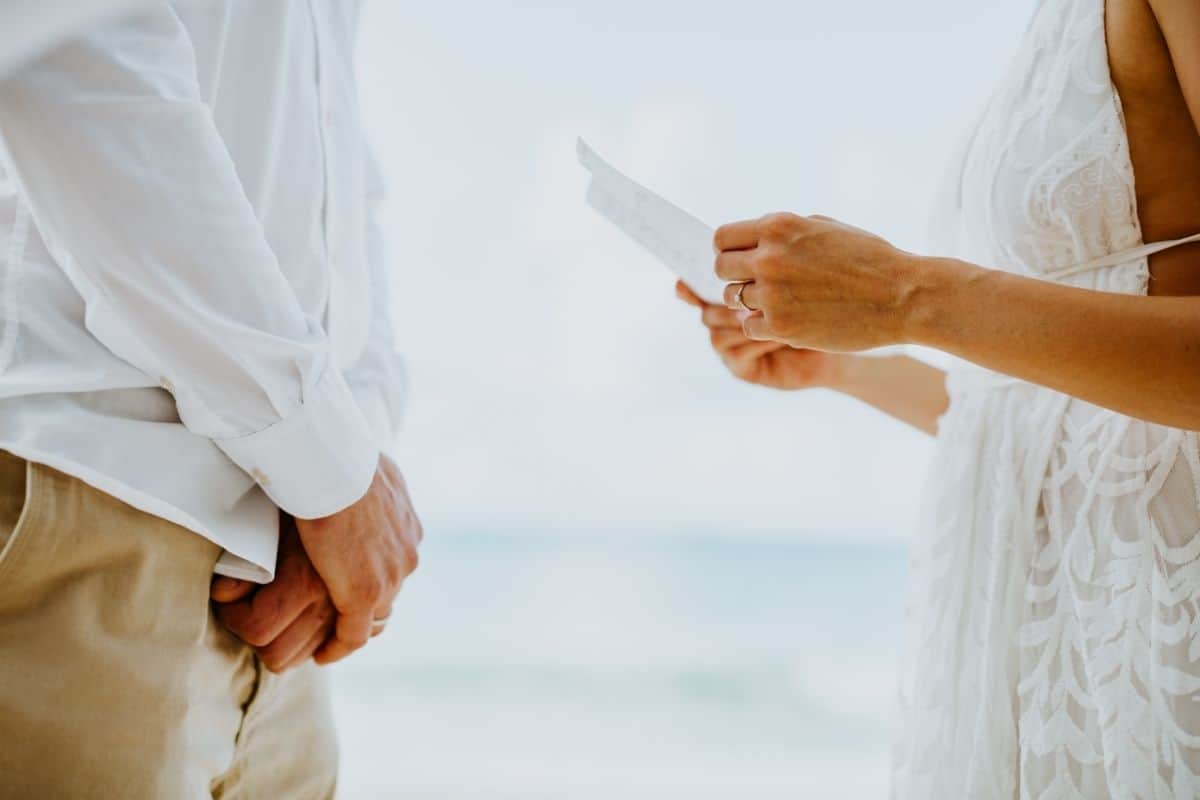 Vows are so important. They are promises from you to your partner to set your life out together, and getting them just right can mean the difference between a wedding and a special wedding. 
Sometimes, it can be difficult for the groom to come up with some vows to put into words, and we totally understand that. So, we thought we'd lend a helping hand. 
We've written a handy guide to the groom – here's some wedding vow ideas and information for the groom to be in 2022. 
What Exactly Is A Vow, And Why Are They Important?
Before we give you some ideas, it's a good idea to note exactly what vows are and why you should make them.
A wedding vow is an agreement between two people to commit to each other forever. It's something that you promise to do or not do, and it's made at the start of your marriage. 
It's usually said by both parties during the ceremony, and it's often repeated as part of the couple's commitment to each other. 
It's also something that you'll have to keep throughout your marriage, and if you don't follow through on your vow then you could find yourself having to pay back your partner. 
So, whether you're writing your own vows or someone else has written them for you, they're very important. Here are a few examples of how they work… 
Examples Of Wedding Vows
There are various different types of wedding vows. There's the KISS model, traditional vows, non-traditional vows and romantic vows. 
We'll go through each kind and give you some great examples. 
The KISS Model
The KISS model is a very common style of wedding vow. It stands for "keep it short and sweet" and involves reciting a very short vow, but one that still has plenty of meaning. 
Here are some examples:
I promise to love you always, no matter what
I promise to stand beside you, even when I'm wrong
I promise to listen to you, and to respect your opinions
I love you and I will love you always 
I vow to be the most faithful husband and never falter 
I will forever be there to catch you if you fall 
I am yours, from now and forever 
You give me happiness, hope and faith – I'll stand by you forever and always 
The easiest decision I've ever made is to say I do and that will never change 
I promise to care and love you, come whatever may
Traditional Wedding Vows 
Now, here are some examples of traditional wedding vows. They're often longer, and you've probably heard some of these before: 
I take thee, my beloved, to be my wedded wife, to live together in this world, and in the next, and for better, for worse, for richer, for poorer, in sickness and health, until death us depart
As long as we both shall live, I will cherish and protect you, and defend your name against all who would harm you
I will love you, honor you, and cherish you, and treat you like the queen you are
I love you with all my heart. You are my best friend, my lover, my soul mate – and now my wife. I will always love you unconditionally and never leave you
I promise to always be true to you – you are my rock, and I am yours
In the presence of God and our family – I pledge that I will always and forever love you with all my heart. I will never hurt you. I will be there for you, I will look after you and care for you
I take you as my wife, my partner, my beauty – forever I will be yours, and I can't wait to spend the rest of our lives together as one 
God has brought us together, and now under God's presence – I can promise that I will always be your lover and look after you until the day I die. I love you and always will 
I promise to be your husband, but also your rock. I will be there for you during the tough times and the happy times. I will be your safety net, your shoulder to cry on and your best friend. You are my wife and I love you 
You were once a stranger, a dream. Now, I gaze upon my beautiful wife and know this is destiny. I will never forget my destiny – I will love you for the rest of our lives as we forge our paths together 
Non-Traditional Wedding Vows
Traditional wedding vows typically have a religious aspect to them, but they don't have to.
They're usually the vows you've heard before in a church. However, there are plenty of other ways to vow pledges to your bride-to-be. 
Here's some non-traditional wedding vow ideas:
I vow to love you with all my might, through thick and thin
I vow to be your greatest supporter, your biggest fan and your number one cheerleader
I vow not to let anything or anyone get between us
I vow to make you smile every single day
I vow to keep you safe and protect you
I vow to be honest with you, no matter what happens
I vow to love and respect you and be faithful to you
I vow to support you and help you achieve everything you want to accomplish
I vow to always be there for you when you need me most
I vow to be there for you whenever you call on me
Romantic Wedding Vow Ideas
We all know that weddings are a very romantic time anyway, but here are some wedding vows that are so romantic, there won't be a dry eye in the room! 
One of these romantic wedding vows will surely melt her heart!:
I vow to stand by your side, even if it means standing alone
I vow to be strong enough to carry you when you fall down, but gentle enough to pick you back up again
I promise to hold you close, to kiss away your tears, to comfort you when you're sad, to laugh at your jokes, and to share your dreams
I want to give you the world, because you deserve nothing less than the best – and you'll get that from me, I promise you that
I vow to show you how much I love you every single day. I swear to cherish you, honor you, and treat you like a princess. I will forever be loyal to you, fight for you, and put your needs first
Today, two hearts have become one. But we were always one heart, because you've always had mine. I love you so much, and I will love you forever in the same way
Since the moment I saw you, I've dreamed of this day. I can call you my wife. My beautiful wife. I will always love you and remind you of how beautiful you are to me, for the rest of our lives together 
By saying yes to marrying me, you have made me the happiest man in the world. There is no man on earth that can be as happy as me, because there's only one you. I will always remember the gift you gave me by saying yes to marrying me. I love you 
I'm going to spend the rest of my life loving you, cherishing you, protecting you, and making sure you feel loved and cared for. I will be your husband forever, and I'm so happy we get to spend our lives together 
I vow to love, honor, and cherish you until death do us part. I promise to take care of you and never leave you. You are my soul mate and the person who completes me. I will love you forever and always
What Type Of Wedding Vow Should I Pick?
Choosing the right wedding vow can be difficult, particularly if you're planning to write your own. Here are some things to remember. 
Traditional Wedding Vows 
Traditional wedding vows by their very nature are… traditional. These types of wedding vows are perfect if your wedding is going to be a traditional one. This is typically at a church with many guests, a classic color scheme etc. 
Traditional wedding vows are great for this sort of occasion, and they certainly do provide the right type of promise for your wife to be, but they always have some drawbacks. 
First, they can be a little dry. We've all heard them before, and it makes the vows seem forced. If you want your vows to really mean something extra special, it's a good idea to create your own wedding vow. 
Second, it depends on the type of promise you want to vow to your wife. Sometimes, traditional wedding vows do not have the right vow you want to pledge towards your lover, so you'll need to write your own. 
Non-Traditional Wedding Vows
Non-traditional wedding vows are promises that are typically tailored to your specificity.
These are wedding vows that may not be commonplace to hear at a wedding – and that's normally because you've written them yourself and made it about your wife specifically. 
Non-traditional wedding vows have many advantages over traditional wedding vows. First, because you can tailor them to your personal relationship, it makes the vow more special and means a little more. 
Second, there is little restraint over what you want to write. If you want to vow something, you can vow it, and you do not need to restrict yourself to a traditional promise.
The drawback however is that some non-traditional wedding vows aren't appropriate for traditional wedding settings.
So, if you are having a traditional wedding – it's probably a better idea to stick with a traditional wedding vow.
However, if you are having a tailored wedding and there are no limitations, you should probably consider a non-traditional wedding vow. 
KISS Method Wedding Vows
Short and sweet wedding vows are very popular. Keeping vows short means they are much easier to remember, so you will not need a prompt card or notes when promising things to your wife. 
It always means that the vows are easy to remember in the coming months and years – and if they're more memorable, your guests will remember them too! 
Keeping vows short always allows you to extra time for your wedding day overall!
So, if you're looking to extend your wedding festivities, making your vows memorable and promising something that you specifically want to promise to your wife – KISS is a great method to choose.
However, there are some things to remember as potential drawbacks. The KISS method can often seem as if you're rushing through your vows, and vows are meant to be a staple of your wedding promises. Make it too short, and it doesn't look good! 
The key to getting it right is to create memorable vows which are short and sweet but delivered in a way that does not seem rushed.
Romantic Wedding Vows
Romantic wedding vows are some of the most loved wedding vows among brides-to-be and definitely among guests. 
Creating a romantic wedding vow can make your wedding ceremony that bit extra special, and it can move your guests to tears of joy, along with your wife! 
Romantic wedding vows aim to promise vows to your wife using loving and romantic phrases and terminologies.
The best way to write these types of vows is to ensure you're linking your feelings with romantic language and always speak from the heart. 
Romantic wedding vows are very popular, and they are ideal for the groom-to-be who wants to promise something extra special and delivered memorably.
They'll forever be memorized by your guests and certainly your wife. 
However, sometimes romantic wedding vows are not suitable for traditional weddings, but this is subject to the vow itself and to the wedding overall. 
How To Write Your Own Wedding Vows 
The first thing you have to do is to know what your setting is going to be. If you're going to a traditional wedding setting, writing your own vows will not be required as you can use one of the classic templates. 
However, if you've decided to choose to write your own vows – you can decide to use the KISS method or go for a non-traditional or romantic wedding vow. 
You'll need to remember these things:
Speak from the heart – write what you feel inside 
Bring in real life examples to your writing 
Get some help from a family member if needed 
Why are you writing vows? Remembering why can bolster your writing 
The Bottom Line
Wedding vows are so important, and you'll need to get them right. You can pick from one of the above, or you can use the methods to write your own. 
Whatever you decide, we hope you enjoy your big day! Congratulations!

Latest posts by Lisa Plaitt
(see all)