Choosing the right photography package for your special day may seem difficult at first. Chances are that your photographer has presented you with a whole host of different options, all of which have varying prices. 
It can be incredibly tempting to just go ahead and choose the standard package, but you can actually get so much more out of the experience if you customize your package. 
If you're wondering what some of the typical features of photography packages typically look like, then keep reading, as we take a look below. 
1. The Length Spent At The Wedding 
Firstly, let's take a look at one of the most obvious aspects of a wedding photography package, the length the photographer spends at the wedding.
The wedding package should lay all of this out for you, down to the last number. 
You'll be able to figure out how much time you have for you and your party to pose for photographs based on the amount of hours the photographer will spend at the wedding.
Another thing it should tell you is where exactly those hours will be spent. 
For example, perhaps your photographer intends to do the majority of the work before or during the ceremony.
Some photographers do the majority of their work during the reception. In order to figure out when you should prepare yourself, check when they intend on taking the photographs. 
Based on the amount of people who are attending the wedding, this will also influence the number of photographers at the wedding.
If you have a particularly large number of people in attendance, you may need more than one photographer, or a photographer with an assistant. 
Another thing to consider is the cost of travel for the photographer attending the venue. Will they be driving there themselves and have you cover the cost, or will you be responsible for their transportation? 
2. The Equipment 
The next thing that will be added into the cost of your wedding photography package, is the cost of operating the equipment that the photographer brings along.
Depending on the lighting that you want to achieve for your wedding photos, they may need to bring along special lamps and equipment. 
The hassle involved with setting these up will be factored into the cost of your wedding photography package.
As well as this, the cost of your wedding package will also be determined by the type of camera that the photographer is using. 
The style of camera that they will be using will affect the cost of the package, as well as if they decide to bring along a spare camera in case the former is compromised in any way. 
3. The Photography Style 
The next thing that you should take into consideration in terms of wedding photography packages and their cost, is what kind of style of photos they include. 
When you first take a look at your photography package in detail, you'll notice that they'll have a set number of photos dedicated to photographing you and your partner, as well as for capturing your wider wedding party. 
From this you'll be able to determine whether this will be enough, or if you'll need to extend the package to include more photographs.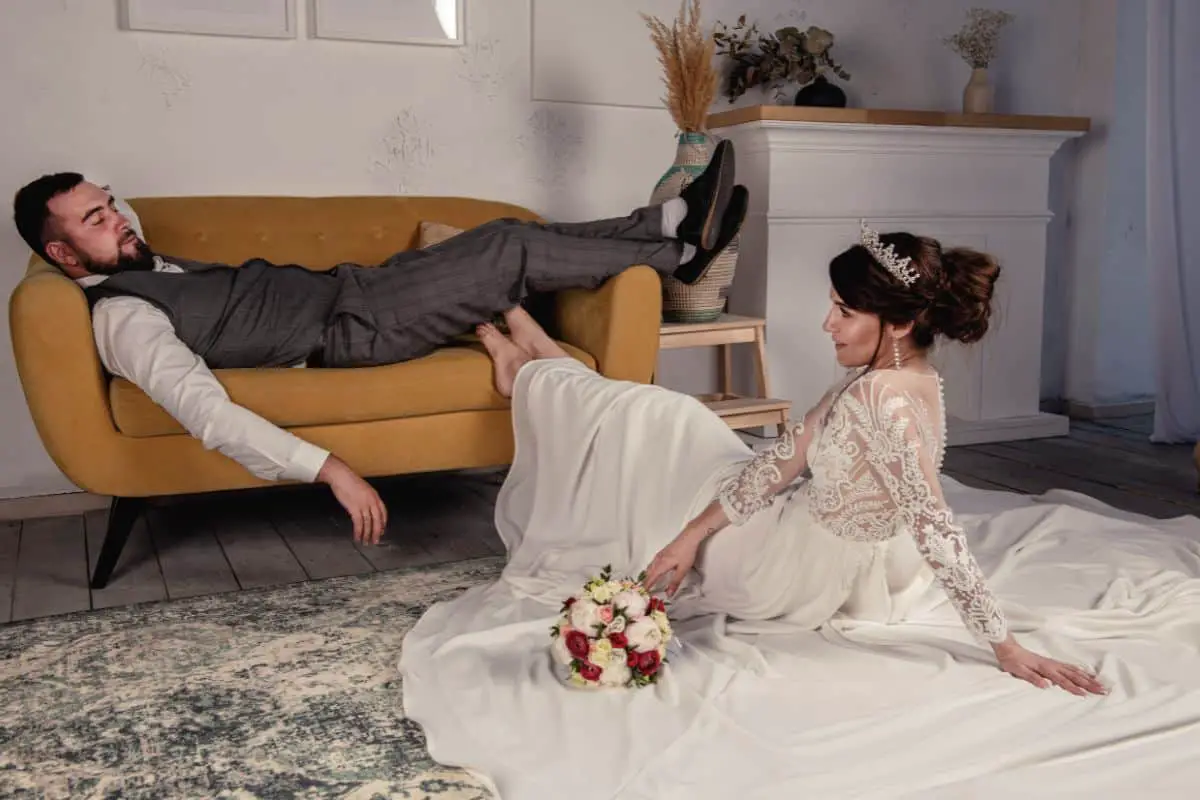 You can also take a look at the style of photography that your photographer specializes in.
Some are great at capturing spontaneous moments shared between the bride and groom, whilst others are more adept at taking more formal, posed photos. 
You can also check out if your photographer offers different filters in their photos, such as black and white, in case this is something that you're interested in.
4. Editing 
Another thing that you should consider in terms of cost surrounding your photography package, is the time that the photographer spends editing the photos afterwards. 
Some photographers choose not to edit their photos at all, and will present them to you in the same way they were taken.
Most photographers, on the other hand, will enhance their photos, as well as editing smaller aspects such as pigmentation. 
They can also edit your photos to make them look brighter, by enhancing the colors, creating a more vivid setting.
The package will state how many of the photos taken will be edited afterward, along with the costing. 
5. Extras 
This is your chance to customize your package. If you're concerned that one photographer won't be enough to capture the entirety of your wedding, you can request an additional photographer to attend too. 
As well as this, you can also check what the price might be if you chose to opt for additional photographs. Perhaps the number in the package doesn't seem enough to adequately capture your special day.
In this case, most photographers will offer to take additional photos at an extra cost. 
6. The Final Touches
The next thing that will be incurred into the cost of your wedding photography package is the end product. 
There are many options nowadays for what kind of binding you would like for your wedding photographs. Perhaps this doesn't apply to you, as you only care to have your photos received digitally.
For many of us though, we enjoy having a physical copy. 
If you want an old fashioned wedding binder that's leatherbound to remember your special day, your photographer will be able to supply you with this.
If, on the other hand, you want a coffee table style book, where the photos are printed directly on the page, you can choose this too. 
There are a whole host of things that you'll need to take into consideration when choosing your binding, including the type of paper and the edges that you choose. All of these will vary in cost. 
Most photography packages also offer some stand alone prints too. You can use these to frame yourself, or hand them out to family members as a reminder of your special day. 
7. The Deposit 
The wedding photography package that you receive will also contain a lump sum which will be the deposit that you need to pay.
All photographers require a deposit beforehand, and the package will state how much is needed in order to ensure your booking is secure. 
As well as this, it will also let you know the time frame in which you need to pay them the full amount for their services.
Usually, this is paid around 2 months before the actual wedding, but it varies from state to state, so make sure that you pay attention to your specific photographer's requirements. 
Final Thoughts 
It can be tricky to account for all of the different elements provided in a wedding photography package, but once you break it down, you'll be able to analyze all of the different costs. 
Photography packages are highly malleable, and you can change some of the features depending on your specific needs.
This includes the amount of photographs you'd like, and how many photographers you plan to have in attendance. 

Latest posts by Jodie Messines
(see all)