If you're planning your special day as we speak, one of the questions you might have regarding your is when you can expect to receive your wedding photos after they've been taken.
Although this might seem premature if you haven't even had them taken yet, we totally understand. 
The thought of having the most beautiful and special day of your life captured on camera to hold forever is an amazing prospect. 
If you want to know more about wedding photography timelines, including how long they take to capture during the day, and how long you'll need to wait to receive them after, we've got you covered.
Simply keep reading to find out more about wedding photography timelines. 
How Long Will Photographs Take On The Day? 
Before we move on to discuss how long the wedding photos will take to receive after they've been captured, first let's take a look at how long wedding photography takes on the actual day. 
Typically the photographer will arrive ten minutes before the guests at the venue, to capture some photos of it whilst it's still empty.
After this, they'll take around an hour capturing you as you get ready in your room. These photos will include capturing you and your bridesmaids having your hair and makeup applied. 
This is also a good opportunity for the photographer to capture more minute details, such as the embellishing or finer details of your dress.
Things that you won't have as much time for later on after the wedding party is in full swing. 
There is then an optional opportunity for photographs which not all couples want.
Before the ceremony, you can choose to have a 'first look', which consists of photos of you and your groom in your wedding outfits before the ceremony. 
If you do opt to go for a 'first look' photography session, this will typically take around 30 minutes.
There are positives and negatives to this, as many don't want their spouse to see them until they're walking down the aisle.
On the other hand, it's a good chance to get some photos taken whilst your hair and makeup are still fresh. 
Photography After The Ceremony 
The main photographs that you'll have from the day will typically be taken after the ceremony has ended, and you can stand with all of your loved ones. 
The photographer will normally ask for you to pose with your wedding party first, so the bridesmaids and groomsmen. This will typically take around 45 minutes to 1 hour. 
After this, you'll have the chance to have your photographs taken with your family members, which will take around the same length of time.
It's a good idea to make a list beforehand of some pairings that you'd like to see together in photos. Then the photographer can easily run through them all on the day without having to fuss around. 
Now that you've had your photos taken with your bridal party and your family, you will move on to have the couples session. This includes photos specifically dedicated to you and your significant other. 
Because it's only the two of you, it will take less time than the group session. You're probably looking at around 35 minutes of photography time. 
Finally, once you've entered the reception, the photographer will spend an additional 20 minutes capturing the party.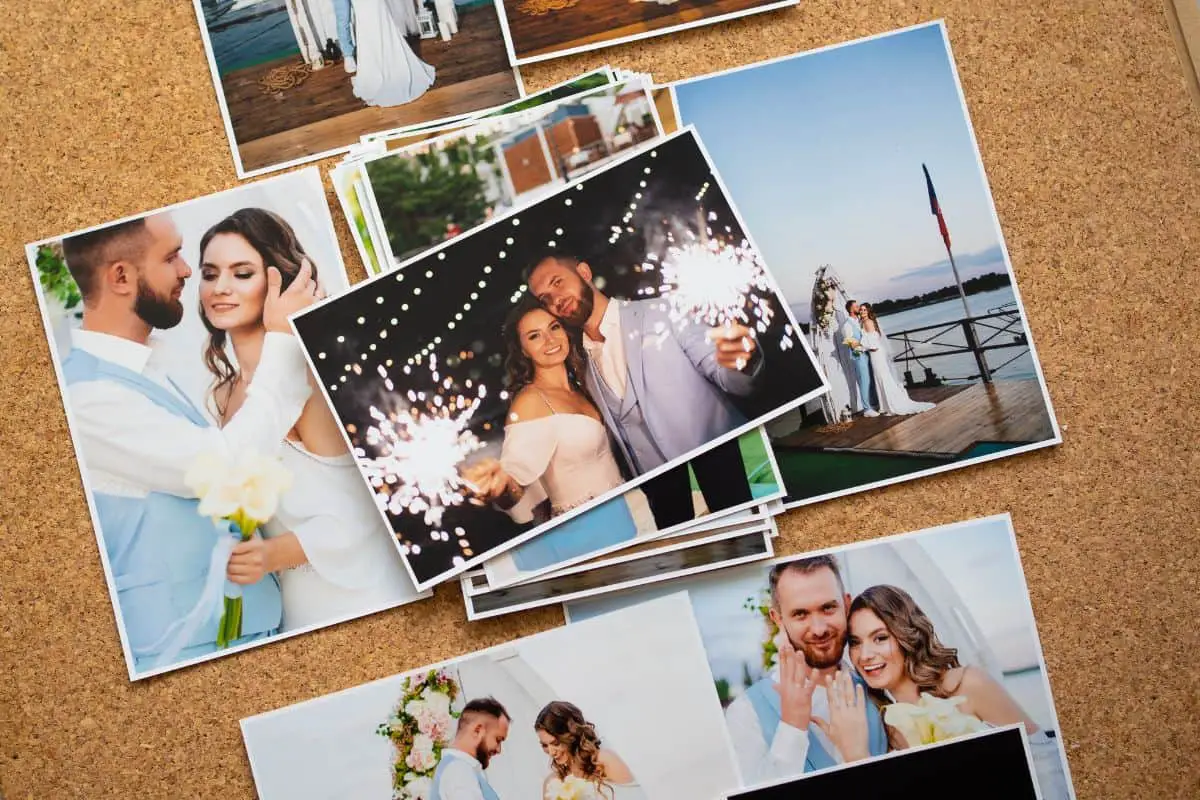 How Will I Receive My Wedding Photos? 
Now that we've discussed how long the photography session itself will take, we can move on to discuss how your photographer will send the photos to you. 
One of the main ways that photographers send over photos is photo hosting sites. These are special websites that allow you to view your photos in gallery mode.
You'll be able to scroll through them all on your computer and they're lined up with one another, making it easy for you to view. 
Another way they might send you your photos is through cloud services. Some of these include Google and Dropbox.
Because so many people today rely on the cloud, it's a fast and easy way to get the photos sent through to you. 
Another way that they might send the photos to you is via a custom flash drive. They can download all of the photos onto a USB stick, then simply send it to you so you can plug it in to your computer to view. 
The way in which your photos are sent to you will be completely based on the photographer and their routine.
Don't worry though, this will all be outlined in the photography package that you choose at the start. You can discuss it with your photographer to see what the best option is for you. 
When Will I Receive My Wedding Photos? 
Now we can move on to discuss the most important question, when exactly will you receive your wedding photos after they are taken?
According to a poll taken that featured a hundred different couples, the average time that it took them to receive their wedding photos was 6 – 8 weeks after they were taken. 
Despite this, the majority of the couples who were polled got to see a few select samples of their wedding photos before this timeframe, around two weeks after the wedding.
If this is something you are interested in, contact your wedding photographer to see if they can provide you with some sneak peeks. 
Why Does It Take So Long To Receive Wedding Photos Back? 
Some of you may feel dismayed that it can take up to two months to receive your wedding photos back, but there is a reason why it takes so long. 
Firstly, most wedding photographers will spend time editing every single photo they've taken from your special day to make it look as amazing as possible. This can be incredibly time consuming. 
Remember that this will be after they've spent hours looking through them all and choosing the very best. 
As well as this, they'll probably be dedicating a big portion of their time editing other people's wedding photos too.
People don't realize how much of the job is spent editing and sifting through photos on the computer, it's not a purely practical based job. 
Finally, most photographers will have to spend a good deal of time doing admin work, such as responding to emails and calls from potential clients. This will also take up a heavy chunk of the day. 
Final Thoughts 
The way in which your photographer sends you your pictures will be based entirely on their specific methods.
This will likely be stated in your wedding photography package when you first hire them. If you're not sure, you can simply give them a call. 
Because the photographer needs to sift through and edit so many photos from the day, it will typically take 6 weeks for you to receive them. 

Latest posts by Jodie Messines
(see all)