Your wedding day is one of the most significant days of your life, and capturing the perfect wedding photos is a priority for any bride – but how do you know which style is the best fit for you? 
The type of photography style you choose will depend on a variety of factors including budget, personal preference, and location, but can have a significant impact on your final results, and the overall look, feel and vibe of your wedding photographs.
The following guide will help you decide which wedding photography style is best for your big day and ensure that you have incredible photographs that can truly stand the test of time.
Classic 
This classic style of wedding photography is often associated with traditional weddings in churches or other traditional buildings and settings.
It is also used to describe the style of wedding photography where the photographer stands at the back of the room capturing candid shots as well as posed portraits of the couple throughout the ceremony and during evening celebrations and events.
This style of wedding photography is ideal if you are looking for timeless images that will last forever without appearing dated.
A classic wedding photograph is one that captures the essence of the day without being too unique or trying to do anything too different.
As a rule, classic wedding photography tends to be more about the people than the setting, so it's important that you find someone who has an eye for detail and can capture all the little moments that make up your special day.
Modern 
Modern wedding photography is a popular choice amongst couples who want their photos to reflect their individual personalities and styles.
Modern wedding photography involves using modern equipment such as digital cameras, lenses, lighting, and editing software to create unique and artistic images, and some photographers may also use phone cameras to create an ultra-modern vibe.
Photographers skilled in this type of image tend to use natural light and creative angles to produce stunning images that are full of emotion and personality.
If you are planning a modern wedding, then this style of wedding photography is perfect for you.
You can include props and accessories in your shoot to give your photographs a unique twist, and you can even incorporate elements from your theme into your pictures.
Vintage 
Vintage-style weddings have seen a huge rise in popularity in recent years, and this includes elements such as vintage dresses, cars, and furniture, as well as old-fashioned props and decorations, and even vintage music and food.
This style of photography is becoming increasingly popular for weddings, largely because it allows couples to recreate a sense of nostalgia and romance that fits perfectly with the happiest day of their lives.
Vintage wedding photography is very much like classic wedding photography in that it focuses on the people rather than the setting, however, vintage wedding photography will also usually focus on the details of the venue and surroundings, and uses props and accessories to add a touch of authenticity to the images.
Vintage photographs may also be colored to reflect the theme; black and white and sepia-toned images are common, but there are many ways to achieve this effect, and this can vary depending on the preferences of the couple and the style of the wedding.
Candid
Candid wedding photography is another great way to capture artistic images that show off the true emotions and personalities of your guests. This is perfect if you are looking for a more casual, relaxed vibe in your wedding photographs.
Candid snaps are generally captured by the photographer as they move around the venue throughout the course of the day, and this can capture some incredible shots of your nearest and dearest.
The best thing about candids is that they are completely unplanned and spontaneous, which means that you won't need to worry about getting everyone's attention or taking them out of the moment – and the shots captured therefore tend to be more natural.
The downside to candid wedding photography is that it is difficult to control the surrounding environment, and therefore, it is harder to ensure that all of your guests are included in the shot.
However, this does mean that you can take advantage of any opportunities that arise during the day, and these moments can make for some truly memorable images.
Drone And Aerial Photography
Drones are small aircraft that are controlled remotely from the ground, allowing the photographer to take stunning photos and videos from high up in the sky.
They come with different camera options, including HD video cameras and still photo cameras, and allow photographers to fly above the crowds at weddings, capturing incredible views of the ceremony and reception areas.
This type of photography is ideal for couples who don't want to miss out on any of the action, and it allows them to capture the most beautiful and romantic parts of their big day in a unique manner.
You can also use drones to capture some fantastic time lapses of your wedding day, and these can then be edited into one seamless video to be enjoyed and cherished forever.
Always double-check whether a permit is required before you start using a drone to capture your shots, and remember that they should only be used in clear weather conditions, and never in windy or stormy weather.
How To Get The Best Wedding Photos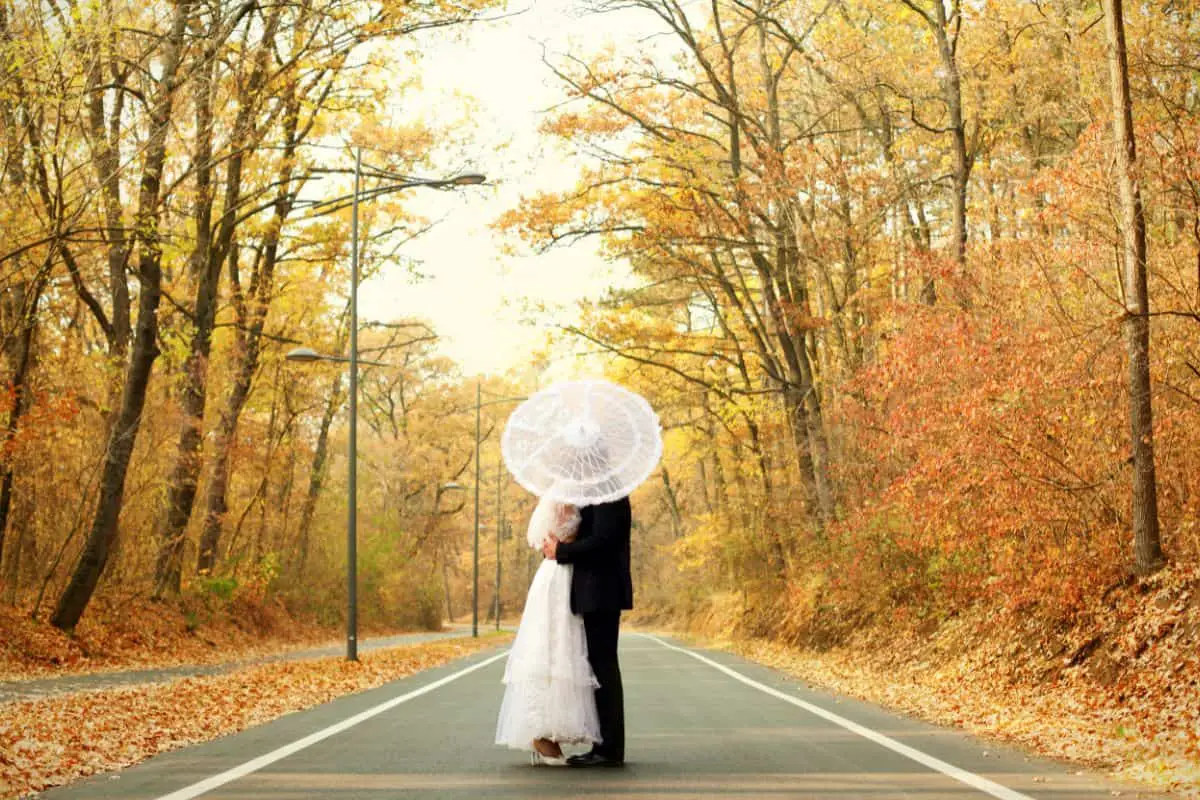 Now that we have taken a closer look at some of the most popular wedding styles, it is time to turn our attention to the tips and tricks that you can use to ensure that your wedding photos are absolutely stunning.
Choose Your Photographer Carefully
Choosing a good wedding photographer is just as important as choosing a good wedding dress! You will spend hours talking to potential photographers, but it is vital that you opt for someone who is a match for your personality and style.
It is crucial to find a photographer who will work well with your family and friends, and who will understand your vision for your wedding.
Make sure that they are easy to get along with, and that you feel comfortable working with them – the more comfortable you feel, the better your shots will turn out.
If possible, try to meet with several photographers before making your final decision, and ask them about their experience and how long they've been shooting weddings. If you're not happy with the answers you receive, move on to the next person.
It's also worth checking online reviews of wedding photographers, as this will give you an idea of what other people think of the service they received.
Make Sure That You Have Enough Time To Take Great Shots
If there are specific shots that you would like, it is important to make sure these are scheduled into the day – weddings are hectic, and it is easy to get distracted by things such as food, drinks, and dancing.
Arrange with your photographer to schedule specific times for photographs, and if you need to change anything during the day, let them know so that they can adjust plans accordingly.
Don't Forget About Lighting
Lighting plays a huge role when taking great wedding photos, and it is essential that you consider lighting carefully. It is best to avoid having bright lights shining directly onto your face, and instead opt for soft light that highlights your features without being too harsh.
A good photographer will know just how to light your shots and will be able to create bewitching images even under difficult circumstances.
Keep Your Makeup Artist Close
Your makeup artist will play a crucial part in ensuring that your wedding photos come across as flawless, and it is a good idea to keep them close by throughout the entire process.
They will be able to offer a quick touch-up prior to the photographs, ensuring that you look and feel your best in every image.
Final Thoughts
The photographs are a key element of any wedding – these will be the souvenirs that you display, and a chance to capture your most precious memories forever.
By planning ahead, and having a good idea of what you want to achieve, you maximize your chances of getting the perfect shots, and capturing photos you can enjoy for the rest of your life.

Latest posts by Lisa Plaitt
(see all)