If you're planning a barn wedding, you want it to be perfect. You want the decor and ambiance to reflect your rustic celebration, while still feeling romantic and special for such an important day.
Luckily, there are plenty of charming barn wedding ideas out there that can help create just that! From centerpieces to lighting fixtures, we are here to share 10 ways to make sure your big day is as beautiful as possible.
Embrace The Rustic Charm Of A Barn Wedding Venue
Looking for a charming rustic celebration for your big day? A barn wedding venue could be the perfect fit! Embrace the rustic charm and create a unique and unforgettable experience. But where do you start in finding the perfect barn wedding venue? Here are some tips to help you out.
First things first, start your search early! Barn wedding venues are in high demand and often book up quickly. Look for venues that offer the amenities you need such as catering, tables, chairs, and parking.
When touring a barn venue, pay attention to the details. Is the space big enough to accommodate your guests? Is there enough natural lighting and ventilation? What is the restroom situation like? Is there a backup plan for inclement weather?
Consider the location of the barn wedding venue. Is it easily accessible for your guests? Will it be convenient for them to find accommodations nearby? Is it located in a picturesque setting that will add to the overall ambiance?
Lastly, don't forget to ask about any restrictions or rules that come with the venue. Some barns may have noise ordinances or curfews that you need to abide by. Make sure you are aware of any restrictions before signing a contract.
Finding the perfect barn wedding venue may take some time and effort, but with these tips, you can find the one that fits your vision for the perfect rustic celebration.
Get Creative With Barn Wedding Decorations
Some may think that DIY wedding decorations are a hassle, but with so many creative options out there it can actually be quite fun!
Barn weddings have always been all about rustic charm, and the right decorations will help create an atmosphere of your own unique style.
From barn wedding backdrops to mason jars full of wildflowers for centerpieces, there are plenty of ways to get creative with your barn wedding decorations.
Think outside the box—for example, use twinkling lights or hay bales instead of chairs. Or hang mini lanterns from tree branches for a romantic touch.
You don't necessarily need expensive pieces either: try upcycling items like old crates and barrels into charming decor elements.
With a little bit of creativity you can transform any space into your perfect rustic celebration. Now let's turn our attention to creating the perfect lighting ideas for your barn wedding reception.
Perfect Lighting Ideas For Your Barn Wedding Reception
Creating the perfect lighting scheme in your barn wedding venue will help set a cozy and romantic atmosphere. Whether you prefer bold, bright lights, or subtle, dim lighting, there are plenty of ways to incorporate beautiful illumination into your rustic celebration.
Here are some great barn wedding reception lighting ideas for you to consider:
Edison bulbs strung up around the ceiling beams
Candles placed along tables or on shelves
Lanterns hung from trees outside
Fairy lights draped across walls or wrapped around pillars
These lovely touches can make a huge difference to the ambiance of your barn wedding reception. With these simple yet effective lighting solutions, you can create an enchanting atmosphere that is full of warmth and romance. Plus, they'll look stunning when captured in photos!
To really complete this warm and inviting look, why not add some rustic floral arrangements to add a touch of nature to your wedding?
Rustic Floral Arrangements To Add A Touch Of Nature To Your Wedding
When it comes to creating a rustic atmosphere at your barn wedding, nothing adds more of an earthy feel than gorgeous floral arrangements. Whether you're opting for greenery only or adding vibrant pops of color with blooms, a nature-inspired touch will have your guests feeling like they stepped into the countryside.
Weave in wildflowers and natural elements like branches, berries, and feathers to create truly unique arrangements that will set a romantic tone. If you're looking for something extra special, try using vintage vessels as centerpieces – think old mason jars, tea tins, or wooden boxes filled with beautiful flowers in season.
For a real rustic look, choose some locally sourced plants such as lavender or poppies to tie everything together. With these ideas in mind, you'll be sure to craft charming rustic floral arrangements that bring out the beauty of your barn celebration!
Stylish Table Settings For Your Barn Wedding Reception
Creating stylish table settings for your barn wedding reception is one of the best ways to capture that rustic charm. You can start off by finding wooden tableware and farmhouse style decor which will bring a touch of rustic elegance to every table.
Here are four ideas for how you can create a stunning setting:
Opt for stoneware plates with wood-carved accents
Use mason jars or burlap wrapped vases as centerpieces
Incorporate natural elements like pine cones, feathers, or dried wheat sprigs
Add in fresh flowers with neutral colors such as white, beige, or light pink
These simple touches will help make your tables look truly special! To tie everything together and add an extra layer of warmth, consider adding some string lights around each table. This will give it just enough sparkle without taking away from the other details at the tables.
Ideas For A Rustic Barn Wedding Ceremony
When it comes to a rustic barn wedding ceremony, you have tons of options. From wooden archways draped in eucalyptus garlands to vintage furniture and DIY decor projects, there's no limit when it comes to creating the perfect setting for your ceremony.
Whether you are going for an intimate elopement or a full-blown celebration with hundreds of guests, here are some ideas and inspiration for planning your dreamy barn wedding ceremony.
For starters, use natural elements like hay bales or logs as seating around the aisle and add potted plants or flower arrangements alongside them. If possible, hang twinkling string lights overhead to create a romantic atmosphere.
Create your own custom altar using old doors, windows, lace curtains or any other salvaged materials from thrift stores. Place large lanterns on either side of the aisle and fill mason jars with wildflowers along the walkway leading up to your altar for added charm.
Finally, don't forget about the entrance! A big floral wreath is always beautiful—or if you want something more unique consider having someone paint a mural on one of the walls near where your guests will be entering.
With these simple yet stunning ideas, you'll be able to design an unforgettable rustic barn wedding ceremony that celebrates love and life in all its glory!
Fun And Creative Barn Wedding Photo Booth Ideas
We all know that a wedding isn't complete without some fun photo booth pics! A barn wedding is no exception and there are so many creative ways to make your barn wedding photo booth stand out.
To get started, you'll want to gather some rustic-inspired props like old mason jars, wooden signs, buckets of flowers, or hay bales for guests to pose with in their photos. You can also hang up strings of lights or burlap curtains as backdrops for the perfect Instagrammable pic.
Go beyond traditional poses too – create games where couples have to hold hands around a post or kiss through a hole cut in an old piece of wood for truly unique shots. And don't forget about your furry friends either; set up a special area just for pets dressed in bow ties and tutus!
With these ideas, you'll be sure to capture every moment of your beautiful day at the barn. Now let's move on to thinking about some unique and delicious food and drink ideas for your barn wedding!
Unique And Delicious Food And Drink Ideas For Your Barn Wedding
Planning a barn wedding means you get to have some fun with the food and drink. Get creative by serving up rustic dishes like mac & cheese, BBQ pulled pork sandwiches, or even tacos! You can also keep things classic with a delicious steak dinner.
And don't forget about drinks! Whether it's beer and wine for an open bar or signature cocktails for each table, there are plenty of ways to make your reception unique.
For something extra special, consider hiring a local caterer who specializes in rustic wedding catering. They'll be able to provide you with unique options that will delight your guests while still staying true to the charm of your barn wedding venue.
When it comes to beverages, think beyond just beer and wine. There are tons of delicious options like sangria or refreshing summer spritzers made with seasonal fruits and herbs (like our favorite Watermelon-Basil Spritzer).
If you're feeling really adventurous, create a full craft cocktail menu featuring custom creations inspired by your love story! No matter what you decide, having tasty treats and drinks at your barn wedding is sure to add an unforgettable touch of flavor to your celebration.
Rustic Wedding Favor Ideas To Delight Your Guests
Your guests will be delighted by rustic wedding favors that capture the charm of your barn wedding. From sweet treats, to memorable keepsakes, there are plenty of ideas for unique and meaningful rustic wedding gifts.
Consider giving small potted plants or succulents as a gift they can take home with them and remember your special day. For an extra personal touch, you could add tags with each guest's name on it.
Or choose something homemade like delicious jams, jellies, preserves or even honey from local beekeepers in mason jars tied up with twine and a tag; these make great rustic wedding favors!
If you want to give out something more substantial than edible goodies, why not donate to charity in honor of your guests? This is sure to leave a lasting impression while also helping those in need.
Whatever kind of favor you decide on, make sure it reflects the spirit of your barn celebration and leaves everyone feeling appreciated.
Music And Entertainment Ideas For A Memorable Barn Wedding Celebration.
When it comes to creating the perfect atmosphere for a rustic barn wedding celebration, music and entertainment are key. From live bands playing country tunes to DJs spinning modern hits in a more relaxed setting, there's no shortage of options when it comes to choosing the soundscape that will make your big day memorable.
If you're looking for an old-fashioned feel with a hint of nostalgia, consider hiring a local bluegrass or folk band to provide some traditional tunes during dinner and dancing.
For those celebrating their love on a larger scale, renting out a stage for an acoustic artist or string quartet is sure to have your guests swooning over your special day!
If you want something more upbeat, having a DJ spin classic rock 'n' roll or Top 40s dance tracks can really get people up and moving. Or why not combine both worlds by mixing recorded songs with live performances?
Whatever type of music you choose, don't forget the outdoor games like bocce ball and horseshoes – they're great fun for all ages.
No matter what kind of barn wedding ideas you decide on, adding in thoughtful touches like personalized playlists or themed photo booths are sure to create lasting memories at your special event. And who knows – with the right selection of music and entertainment, maybe even Grandma will be bustin' moves on the dance floor!
Conclusion
Your barn wedding is bound to be the most memorable event of your lives! With these 10 charming ideas, you can create a rustic celebration that will make all your family and friends feel right at home. Every detail – from rustic floral arrangements to creative lighting and unique food and drink options – will come together in perfect harmony to create an unforgettable atmosphere.
A barn wedding offers a truly magical experience that won't soon be forgotten by anyone who attends. As guests leave, they'll take with them memories of love, laughter, friendship, and good times – just like the twinkling stars in the night sky above your venue.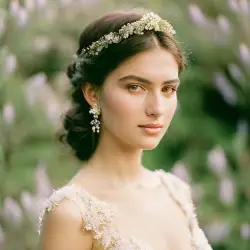 Latest posts by Rosie Liliy
(see all)