Your wedding day is one of the most exciting and memorable days of your life. This is why you spend months if not years planning this event.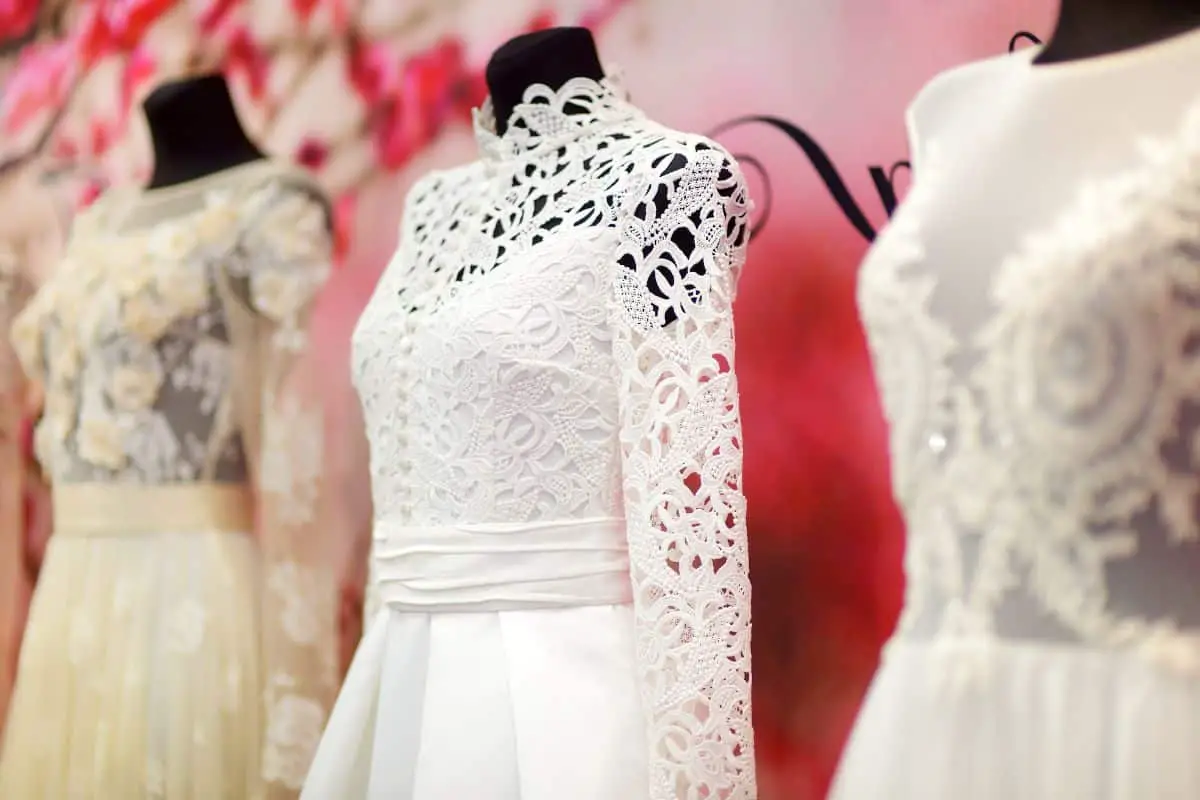 Every detail will be double-checked by you to make sure it's perfect. So when it comes to your dress of course you want it to be right.
So we are looking at ivory versus white wedding dresses and asking which one should you choose?
As the bride you will be the center of attention and subject to hundreds of photographs.
So you want to know that your choice of wedding gown color is going to look fantastic.
Difference Between Ivory & White
Before we look at which shade you should choose for your wedding dress we need to establish the difference between ivory and white.
Ivory
Technically ivory is a shade of white, but it is a different hue to a natural white.
This is because of its yellow undertones which give it a richness of color. Ivory looks less stark on some skin tones.
Some brides worry that ivory is not a true bridal color and are reluctant to consider it.
But the truth is many people would not know the difference between an ivory and a white dress unless it was pointed out to them. Ivory just looks like a warm white.
The best way to determine the real difference between ivory and white is to try both colors on and see how they look against your skin tone.
It is much easier to determine the difference between ivory and white by trying on the dress rather than trying to compare them on the hanger.
White
White is the traditional color of a bridal gown and for this reason most brides want to stick with this for their wedding day.
It also has the benefit of being completely neutral with no hues or shades in it to consider.
However, white is not as straightforward as you may think. There are two types of white that frequently present in wedding dresses, stark white and natural white.
Stark white is often seen in synthetic fabrics such as polyester, satin and mikado.
It can present problems for those with very light or fair skin and when photographed can show a blue tinge.
Natural white is a softer color and often found in natural fabrics. It is also called diamond white and is flattering to a wider range of skin tones.
Which Shade Should You Choose For Your Wedding Dress?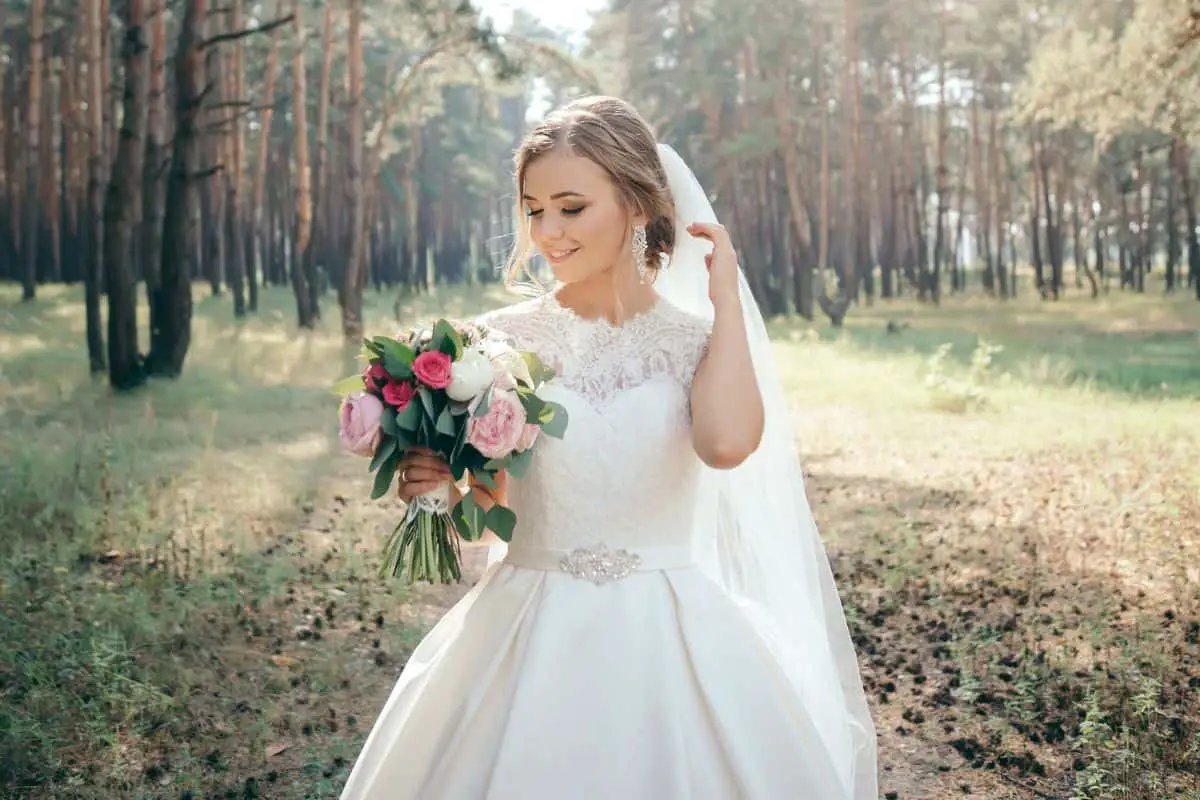 When choosing a wedding dress many brides will look at the style first and while this is important it is not the only consideration.
Body shape and finding a flattering fit is important to making sure that you look your best on your big day.
But skin tone and a color that flatters is key to looking beautiful in wedding photographs.
The last thing you want when you get your photos is to find that your dress has washed out your complexion.
So making sure that your style and your color choice look good is going to be a priority.
Stark White
Stark white is usually used in synthetic fabric and held up against an ivory dress you will see how bright it is.
Many brides may like the idea of this bright white, but it can pick up the hues of its surroundings.
Stark white is also more likely to show as blue in photographs.
It is a shade that is becoming less popular with brides in favor of softer white wedding gowns.
One reason why this brilliant white color is falling out of favor is because of the advent of HD photography. This can make your white wedding dress look blue.
Natural White
This shade of white is much less bright and more flattering for the majority of skin tones.
It also photographs well. Natural white is also known as diamond white.
A natural white wedding gown falls somewhere between a stark white and an ivory shade. It has slightly less warmth than ivory.
However, natural white is much more likely to photograph as white without the electric shade of blue that you get with stark white.
It won't wash out the complexion of fair and light skin toned brides either.
Natural or diamond white is much more flattering for a wide range of skin complexions particularly those with yellow undertones.
Ivory
This shade is becoming one of the most popular for brides and is sometimes referred to as eggshell.
Ivory flatters many different skin tones and complexions and photographs as white.
Wedding gowns in ivory have a sense of luxury that other lighter shades don't always have.
Ivory has warm yellow undertones rather than just looking like a toned down white.
Some brides are nervous about choosing ivory for their wedding dress. While it does have yellow undertones it doesn't look yellowy at all.
Ivory often photographs better as white than a stark white which will pick up blue tones.
To the naked eye ivory will often look like natural white and not what brides may visualize as ivory at all.
Against the skin, ivory will have a warmer cast and will look different to a natural white.
Picking The Right Color For Your Skin Tone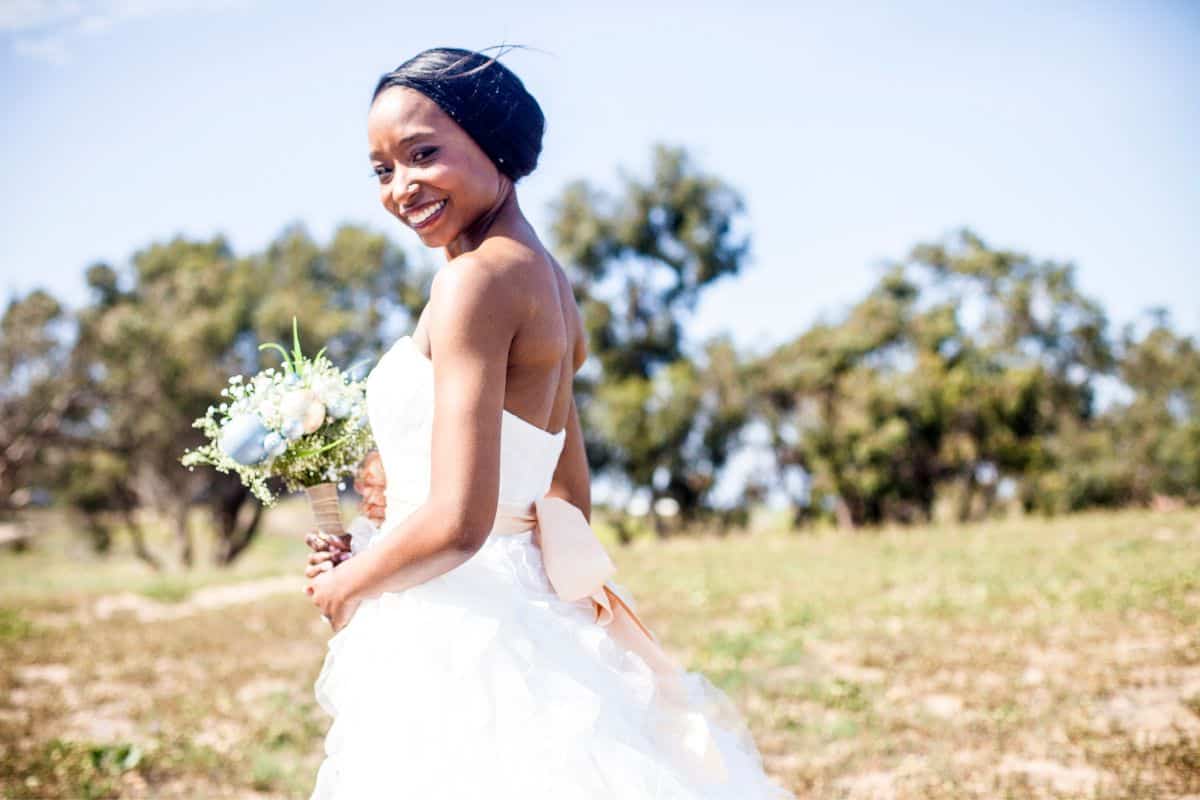 So now that you know the difference between white and ivory it's time to take a look at the different skin tones that women have.
There are five or six types of skin tone and each one will have a shade that best suits it.
Light Skin Tone
A light skin tone describes someone who is quite pale and has blue undertones.
White wedding dresses will likely wash out these paler skin tones as there is not enough contrast between the two.
As we have seen, bright white has blue hues when photographed and these are similar to the undertones in the skin of light skinned and pale women.
This is where the term 'washed out' comes from. The white of the dress will blend into the white of your skin when there is nothing to contrast them.
Ivory or antique white will look much better on light skin tones.
Not all pale skinned brides will have cool undertones. You can check your undertone by looking at the color of your veins either on your face or on your wrists.
If you have blue veins you have cool undertones, if your veins are more green then you have warm undertones.
Those with warm undertones can wear white and can look better in white than in ivory.
Women who cannot detect their vein color have neutral undertones, and they are able to wear any shade of wedding dress.
Fair Skin Tone
Brides with fair skin tone will look good in ivory as it flatters against light colored skin.
The exception to this are women who have a lot of pink in their cheeks, they may be able to wear a starker whiter.
Rosy cheeks offer a contrast to the white of the dress, and they will not look as washed out as pale skinned brides.
However, it can depend on makeup, if you get it right a fair skin tone with pink cheeks can look glowing in a white or natural white dress.
To be confident in your choice, it is a good idea to try on both white and ivory dress to see which one flatters you most.
You should try on your dresses in natural light as much as possible as artificial lighting can give you a false impression.
Olive Skin Tone
Olive skin tones have yellow undertones and brides with this skin type should avoid white or stark white wedding gowns.
They will experience the same washed out look in photographs that fair and light skin toned women will.
The best shade for you if you have olive skin is ivory. This will show up the golden undertones in your skin against the warmth and richness of the ivory fabric and make you glow.
However, those with darker olive skin will look wonderful in diamond white which is a less brilliant white.
This is because diamond or natural white doesn't have as many blue undertones as a pure white dress.
Medium Skin Tone
Women with medium or neutral skin tones can wear almost any shade and still look stunning. This is possible as they have neither cool nor warm undertones.
This skin type has enough contrast to white dresses to be able to pull them off.
They can also wear ivory successfully because they don't have any yellow undertones in their skin.
If you have a medium skin tone you shouldn't be able to see if your veins are blue or green.
But if you can see that your veins are more green than blue you have warm undertones. You can then wear the same shades as brides with olive skin tone.
Dark Skin Tone
If you have a dark skin tone then a lot of different shades of wedding dress will look good on you.
Dark skin can be caramel color to espresso color and depending on where you fall in this spectrum will determine the best shade of gown for you.
Having said that dark skin tones look incredible against stark white, natural white and equally great in ivory.
Although some dark skin tones can have blue undertones and these brides would look better in the warmth of an ivory gown.
Wedding Dresses For Different Skin Tones
The best way for you to find the perfect dress for your wedding day is to go to some bridal boutiques.
Try on the different shades of gowns and see what looks right with your skin tone.
Speak to the advisors in the stores, they will have experience of advising brides on the pros and cons of each style and color of dresses.
Dresses For Less Than $100
Finding a beautiful wedding gown for less than $100 may not be as difficult as you think.
With some savvy shopping you can look like a princess on your wedding day without breaking the bank.
A bright white dress on warm skin tones looks stunning and gives the bride's skin a beautiful glow.
This dress is a cream color and contrasts beautifully with the model's warm skin tone.
This white flowing kimono style dress is a wonderful foil for this model's dark skin tone.
With this stark white wedding dress you can see the blue undertones when it is photographed.
Dresses For Less Than $200
There are plenty of stunning bridal gowns for the budget conscious bride under $200.
You can still make a fantastic entrance in a beautiful gown without spending a fortune.
A white wedding gown looks amazing on this bride's fair but tanned skin tone.
This natural white A line dress is the perfect contrast for the model's warm skin tone.
A stark white wedding dress makes this bride look radiant against her medium skin tone.
With blonde hair a natural or diamond white gown is a beautiful foil for fair skin.
Dresses For Less Than $500
A dress for less than $500 doesn't mean you can't look like a million dollars on your wedding day.
These examples should give you an idea of what you can have for your big day.
The model's olive skin tone is the perfect contrast for this ivory dress which photographs as white.
A chic wedding dress in ivory for warm olive skin tones.
Dark skin tones look fabulous against a white bridal dress.
Fair skinned brides will look much better in a natural or diamond white gown such as this.
Dresses For Less Than $1000
There are now a lot more designer style dresses for under $1000, let's take a look at what you can have with this budget.
A natural white dress on medium skin tone plays well against the model's dark hair.
White looks stunning against dark skin tones.
Ivory is a perfect contrast for fair skin with cool undertones.
A white gown with medium skin tone makes a glowing bride.
Dresses For Less Than $1,500
An average budget for a wedding dress is around $1,600, so this is a good benchmark for you to aim for. You will have a lot of choice in this price range.
For a bride with fair skin and cool undertones an ivory dress is the perfect choice.
An ivory wedding dress on medium skin tone.
This model is fair skinned, but this ivory dress with red accessories looks fabulous.
A beautiful figure hugging dress in ivory for warm skin tones.
Dresses For Less Than $2,000
With a healthy budget you can choose from a wide range of wedding dresses and find the perfect one for you.
Medium skin tones will look beautiful in this elegant ivory gown.
The model's light skin is a beautiful foil to this ivory princess dress.
A stunning white wedding gown on dark skin is the perfect contrast.
This incredible ivory dress looks wonderful on fair skin.
An ivory and champagne bridal gown looks good on all skin tones.
Final Thoughts
Every bride wants to look beautiful on their wedding day. We hope this look at the difference between white and ivory dresses has helped make your decision easier.
Ultimately, if you have found a dress you adore, but it's not quite the right shade you can always accommodate it by using makeup and accessories.
As long as you feel beautiful on your big day you will definitely look beautiful.

Latest posts by Lisa Plaitt
(see all)