A wedding anniversary is a great opportunity to let your wife know exactly how you feel about her. It doesn't matter if you've been married for only a year or if it's already been decades. A wedding anniversary is worth celebrating each and every year.
Send your wife an adorable wedding anniversary wish by letting her know just how much you love her. Tell her what you like best about her, how much you value everything she does, and how excited you are about spending the rest of your life with her. Add some humor to elicit those giggles and smiles.
This article will feature heartfelt, funny, and witty wedding anniversary wishes for your wife. I will also give some tips and insights on how you can make this day extra special for her. Let's get started!
Related: 80+ Most Beautiful Wedding Anniversary Wishes for Your Husband
Heart Touching Anniversary Wishes for Wife — Tips & Examples
"You are the kindest, most caring person I know. I'm lucky that I get to call you mine. Happy Anniversary, my wife!"
Let your wife know just how special she is by highlighting the traits you love best about her. She'll certainly feel giddy knowing that she is appreciated and loved. Throw in a bouquet of her favorite blooms for good measure. 
"I can't imagine waking up without you by my side. After all, it's been 10 years of sweet moments and cherished memories from sunrise to sunset. Happy Anniversary to the love of my life!"
Telling your wife that you cherish each and every morning spent with her will make her feel appreciated. Be sure to express your wedding anniversary wish on the morning of the big day. Pair it with breakfast in bed, and you can be sure that the rest of the day will go smoothly as silk. 
"You're the reason I wake up with a smile each day. Thank you for loving me the way you do. Happy Anniversary!"
Breakfast in bed, anyone? This is another wedding anniversary message best paired with a sumptuous meal enjoyed in a romantic setting. Preparing the meal yourself would be the icing on the cake.  
"It's been 10 years since you said 'I do,' but not a day goes by that I feel so lucky you chose me to be your husband. I must've done something good to deserve you. Happy Anniversary, honey!"
Let your wife know you feel like the luckiest man on Earth for having a wife like her. And to show her just how much you appreciate her, treat her like a queen on this special day. Take her shopping, have dinner at her favorite restaurant, or simply stay home and watch her favorite movies together. 
"You're kinder, more thoughtful, smarter, and definitely a lot more gorgeous than me. So I guess that makes me luckier than you. Happy Anniversary to my better half!"
What better way to make your wife smile on your special day than by flattering her? Inject some humor into your greeting, and it is a recipe for success. Your wife will undoubtedly love the hilariously charming combination. 
"Despite all the ups and downs, you're still here, right by my side. Thank you for putting up with me, babe — quirks, mood swings, and all. Cheers to forever! Happy Anniversary, my love!"
Your anniversary is the perfect opportunity to thank your wife for accepting you for who you really are. Tell her you appreciate it when she tolerates your mood swings or lets it slide when you forget to flush the toilet. 
"I can still remember the first time I laid eyes on you — you were walking out of a coffee shop wearing sunglasses and a yellow dress. Right then and there, I knew what I was supposed to do — tell you that you're the most beautiful thing I ever laid eyes on. Do you remember? Happy Anniversary, my sweetheart!"
Start your day by taking a trip down memory lane together. It's always amusing to reminisce about the first time you met, and your wife will certainly appreciate it more if you mention specific details about that special day. Remembering what she wore, for instance, might even make her blush.
"They say that first love never dies … and I couldn't agree more. How lucky am I to spend a lifetime with the only woman who has ever made my heart beat fast? Happy Anniversary to my one true love!"
If you haven't yet — and only if you truly mean it — let your wife know that she's the only woman you ever truly loved. Other women may have come and gone in your life, but tell her that she's the only one who truly matters. It might come as a surprise to her, but it will be a pleasant revelation, for sure. 
"I love you for the wonderful daughter you always have been to your parents, the amazing wife you are to me, and the devoted mother you will be to our future kids. Happy First Anniversary, my wife!" 
All of us play different roles in life. Give your wife a pat on the back for always being the best version of herself in each of her roles. If you're expecting your first child, boost her confidence about being a mother soon by telling her how great she will undoubtedly be at this new role. 
"I really think the universe conspired to make me decide to walk by the park the day we met.  How else will I get to share a lifetime with the most amazing woman on Earth? Happy Anniversary, my sweetheart!"
Travel through time together. Tell her how lucky you are that the stars aligned at the exact moment you met. Let your wife know that you see this seemingly inconspicuous instant as the beginning of an amazing life together. 
"I thank my lucky stars for that night you decided to give an old chap like me a second chance. That was the moment I vowed to protect, treasure, and love you for the rest of my life. Happy Anniversary, my love!"
Harking back to the good ol' days may not always bring back great memories. Heartache is often an unavoidable aspect we cannot escape. However, you can turn these negative emotions into something positive by telling your wife how lucky you feel that she still chose to be with you despite all that has happened. 
"No return, no exchange. I'm sorry, honey, but you're definitely stuck with me. Cheers to a lifetime of loving, teasing, and annoying each other! Happy Anniversary!"
Get playful and tell your wife she's stuck with you for all eternity — and there's nothing she can do about it! I'm sure you'll both get a laugh out of such a funny wedding anniversary greeting. Hugs, laughter, and love will definitely go around.  
"Everyone says I'm lucky to have such a patient, thoughtful wife who's a great cook and gifted artist to boot. But I think you're luckier because I'm the best husband in the world — you said so yourself in your anniversary card last year! Happy Anniversary, babe!" 
Putting words into someone's mouth may not always be a good thing, but in this case, it is plain hilarious. Hark back to last year's anniversary when your wife decided to flatter you by telling you you're the best husband on Earth. She'll definitely get a kick out of this!
"You're the only person I'd ever pretend to know how to ice skate with. I love you, sweetheart. Happy Anniversary!"
If you've recently done something hilariously fun together, don't forget to bring it up on your special day. It's always nice to reminisce about these funny moments spent together. A recent ice skating escapade, with all the slips and falls experienced together, will undoubtedly be rib-tickling!
"I deserve a round of applause for landing the most beautiful and talented girl in town. I also deserve a standing ovation for remembering our anniversary this year. So get clapping. Happy Anniversary, babe!"
If you tend to forget special occasions, make a big deal about the fact that you remembered your wedding anniversary this year. Send your wife into fits of giggles by forcing her to applaud your efforts — literally!
"Thanks for not turning your back on me even if I always breathe too loud … and leave our kitchen cupboards open. Happy Anniversary to the most patient woman on the planet!"
Mention the things your wife is frequently nitpicking about, such as your apparent inability to take the trash out without being told, place dirty clothes inside the hamper, or how you seem to constantly chew too loud. I leave it up to you if you want to follow up on your greeting with a promise to avoid doing these things from here on. 
"Cheers to you for another successful journey around the sun as my wife. Who would've thought you'd last this long? Happy Anniversary, honey! Never get tired of me, please?" 
Applaud your wife for putting up with all your oddities, whims, and faults. Let her know you appreciate her patience and understanding. Follow it up with a plea to never leave you, and you can be sure to elicit laughter and hugs from her.
Happy Anniversary Wishes For Wife
Falling in love with you was the best decision I've ever made, and renewing our vows every year is making it even more exciting! Happy anniversary, my love.
Babe, I knew it was true love when our hearts first beat in sync… and they've been doing it ever since! Happy Anniversary!
Crazy may not be the right word, but it certainly describes our marriage perfectly! Here's to another year of our endless adventures!
Honey, it's been another year and our love is still as sweet as a bouquet of freshly picked daisies! Happy anniversary!
This is the perfect day to remind you that I wouldn't want to spend it with anyone else but you! Happy Anniversary my love. Let's make some more beautiful memories together!
Happy anniversary, darling! You mean the world to me and I love you more than words can say. May each day be filled with all the love we've shared and all the happiness we've ever wished for.
A year ago we promised to love each other no matter what and I'm so glad we kept that promise! Cheers to the craziest, funniest, and most outrageous year of our lives, and to more adventures and surprises in the next one. Love you always!
Wishing you a wonderful Wedding Anniversary for giving me an instant of love, a day of tribulations, a week of strife and a month of squabbles. Regardless, you remain my dearest companion in spite – or perhaps because – of it all!
Got a special anniversary wish for ya, darling – Let's make this the year of "yes"! Let's say yes to more spontaneous trips and adventures together, yes to finding new restaurants for date night, and most importantly, yes to a whole lot more cuddles. Happy Anniversary!
Riddle me this, my beloved wife: What is the one thing that will never change throughout time and make our love last an eternity? The answer is simple; it's you. Happy anniversary!
My loveliest wife, words could never truly express how much I love and appreciate you. I am so grateful to have you as my wife – may our bond only grow stronger with time.
May this year bring us even more hikes, beers, and intellectual stimulation than ever before. Here's to building an unbreakable bond that continues to make life brighter with every passing day. Cheers!
Funny Anniversary Wishes For Wife
Lucky me, I get to keep you around for another year – no returns accepted!
Oprah Winfrey once said, "You get a car, you get a car, you get a car!" To my beautiful wife on our anniversary day, I too have something special to offer: you get many more years with me! Happy Anniversary!
Darling, it's been a whole year since I first fell in love with you… and nothing's changed! (Except maybe my waistline!) Happy Anniversary!
Glad we made it another year – now I just need to survive the next 364 days! (insert winking face emoji) Happy Anniversary!
Nope, sorry – I already used up all my 'Happy Anniversaries' for this year. Guess you're stuck with my undying love and affection instead! 😉
Yay for us! One year of marriage down and many more to go – unless you want to call it quits, then I'll keep the house. Just kidding… sort of. Happy Anniversary!
Naive me thought marriage was a 50/50 split, turns out I was wrong — happy anniversary to the 90%!
Roses are red, violets are blue, let's celebrate our anniversary like we always do – with lots of love and a sprinkle of goofiness too!
Marrying you was the best decision I ever made – except for that time I bought those chocolate-covered potato chips. Happy Anniversary!
Every anniversary we celebrate is another reminder that our love is growing stronger day by day! Happy anniversary, my one and only cake-eating partner.
Coincidentally, this day marks the exact moment one year ago when I decided you're too good for me and yet still chose to stay! Happy Anniversary!
Romantic Anniversary Wishes For Wife
Journeying together, you have lit a spark of happiness that will never cease to shine. Happy Anniversary!
Gazing into your eyes, I see the sunsets of a thousand days, and celebrate the beauty of our enduring love. Happy anniversary!
Darling, it's our anniversary—a day for us to celebrate the moments that brought us together and set our hearts aglow.
Juicy anniversaries like ours don't come around every day, so let's make sure we celebrate this one in style! Here's to another year of your amazingness and my awesomeness – may we continue to merge our superpowers for many more years to come. Cheers!
Take a look around and you'll find, life with you is one of a kind! Happy Anniversary my Darling Wife! I'm luckier than the toss of a coin – winning the grand prize that is your heart and soul! Love you always.
I may not bring you roses or diamonds, but I do come with lots of love, plenty of laughter and some pretty amazing dad jokes! Here's to many more years filled with fun adventures, loving moments and lots of snacks. I love you!
I think, therefore I love. It is an apt phrase to describe the way that I feel about you on our anniversary. Deep in my heart, there's a never-ending source of admiration for the woman you are and all that we have accomplished together. Here's to many more years of unlimited joy!
So grateful for the moments we share,
For all of the unspoken promises that we have made in the air.
An entire universe stands between us, yet it's only our love that survives.
Happy anniversary my dearest one, to us may this day thrive!
May the sun shine its brightest rays on us today, reflecting all of our beautiful memories in every single way.
Let's take a moment to appreciate the gift that is life, smiling as we embark on this wonderful journey side by side.
Happy anniversary my love, always and forever.
To us may this day remain a fun and cherished endeavor!
Kneeling before you, I make this solemn vow: You are my sweetheart and best friend, now and forever more. Each passing day brings us closer, our journey together we'll never ignore. Our love will grow deeper with each year that passes by; today marks the anniversary of a bond too strong to defy. With every beat of my heart I feel your love so true, and I'm blessed for one more year with my wife—the beautiful you.
Short Anniversary Wishes For Wife
A year down, and a lifetime of adventures together still to come! Happy Anniversary!
Wishing you a happy anniversary with all the cakes, chatting, and cuddles you can handle!
A year with you is like a day in paradise – I'd stay forever if I could!
Let's make this anniversary the start of a new era – one where you always have the last word!
Sending you a big anniversary hug, cause I know you don't want the same old gifts!
Took me a while to find you, but now that I did, I'm never letting go! Happy Anniversary!
May our love ever be like a beautiful flower, never wilting and always blooming!
Vow to never stop surprising you for our anniversaries – and that's no empty promise!
Kisses and cuddles for the rest of eternity? Let's make it official! Happy Anniversary, my love!
Nope, not getting any older this year – just celebrating another eternity together!
A vibrant bouquet of love, just for you on this special day. Happy Anniversary, my darling!
Hoping you have a happy anniversary – and I promise to never make it our last!
A year of wedded bliss – and I still want more kisses!
Fifteen years may have gone by, but I still love you like it's our first anniversary!
Happy anniversary to my one true love—so looking forward to more years of talking about nothing and everything!
5th Anniversary Wishes For Wife
Happy anniversary, my wife! I cannot believe another year has gone by in the blink of an eye. Time flies when you're having fun and with you, life is nothing short of a blast! You are the yin to my yang; together we create a balance that keeps us both grounded and happy.
Eternally grateful for all the love, kindness and support you have blessed me with over the years. Happy anniversary my darling! May our beautiful marriage continue to blossom in strength and joy for many years to come.
Today marks the most amazing day of my life, as I relinquished my autonomy to bond with you and our young ones. Not only have I mastered sleeping in late at night and waking up early each morning, but also how to take care of them – something that would not be possible without your help! Here's to celebrating another year together.
Happy 5th anniversary! I love you so much and am grateful every day for your presence in my life. You make everything brighter and better. I can't wait to see what the next year has in store for us!
Cuddling up next to you as we watched the stars twinkle together, I was reminded of how lucky and blessed I am to have you in my life. Today marks another year of an incredible journey together and I can't wait to see what the next one holds. With love, appreciation, admiration and respect, happy 5th anniversary my darling!
Lady luck graced me with your presence the day you entered my life, and since then blessings have filled up every corner of a once dismal existence. As we mark another year together I am ever so grateful for all that you bring to my world. Happy anniversary love!
Took me a few years but I finally figured out the perfect 5th anniversary gift for you: me! 😉 After all, I'm the one who puts a smile on your face and makes life worth living. Best of all, you don't need to buy batteries or wind me up – my love for you does it all. Happy Anniversary!
What can I say? We're a match made in heaven – I'm sure that's why it feels like time just flies by when we're together! Here's to a lifetime of laughing at our silly jokes and making sweet memories. Happy 5th Anniversary my darling!
10th Anniversary Wishes For Wife
Happy 10th Anniversary, my dear. Today marks the continuation of our most precious journey – one that is filled with joy and love. Even though time has fleetingly passed us by, our bond remains strong and unyielding. I am so grateful to have you in my life, and I look forward to even more wonderful years together! Love always.
Let us both rejoice in the splendid accomplishments of our 10 year anniversary together! Our deep and unfaltering bond is beyond description. On this day, I want you to know that my love for you will never fade away – never diminishing until eternity. May we be graced with perpetual blessings throughout all our years ahead!
I can't thank you enough for being my companion as I traverse the ups and downs of life. Your unwavering presence has enabled me to pause and savor each enjoyable moment, making them all that much more memorable. Happy 10th anniversary! Here's to many more years of adventuring together!
No matter how many anniversaries we celebrate together, the feeling of joy and admiration I get when you enter a room still leaves me with goosebumps. You are so beautiful; my heart swells at the thought of our love over all these years. Happy Anniversary to my one-and-only!
Funny as it is, I still can't believe how fast this year has gone! To celebrate our anniversary, I thought we could revisit all the funny and crazy moments we've had together. Maybe some of them weren't so good at the time but they sure made us laugh afterwards! Happy 10th Anniversary my love! Let's keep those funny moments coming!
Cracking one year of marriage anniversary must have felt like months! I'm so proud of us for surviving it all and making it to the other side: together, with smiles on our faces. Cheers to many more years of smiling through the ups and downs. Happy Anniversary my love!
Do you remember when we first met? You had me at hello and I've been in love with you ever since. On this special day, I want to thank the universe for blessing our lives with one another. Here's to many more years of making memories together! Love you forever and always.
Wrapping up
And there you have it, folks! 60+ adorable wedding anniversary wishes for your wife that will make her swoon. Whether you're looking for something sweet, romantic, or just a little bit cheesy, we've got you covered.
We hope you found the perfect message to make your wife feel loved and appreciated on your special day. So go ahead, take your pick and make her feel like the queen she is. Happy anniversary to all the lovebirds out there! Let's raise a glass to many more years of love and happiness. Cheers!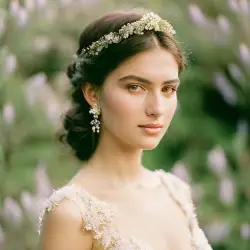 Latest posts by Rosie Liliy
(see all)