Churches continue to be a popular option for wedding locations. The majority of churches are stunning.
However, since your wedding is a special occasion, it makes sense that you would want to decorate the church, cathedral, temple, chapel, or other religious location in keeping with your wedding theme.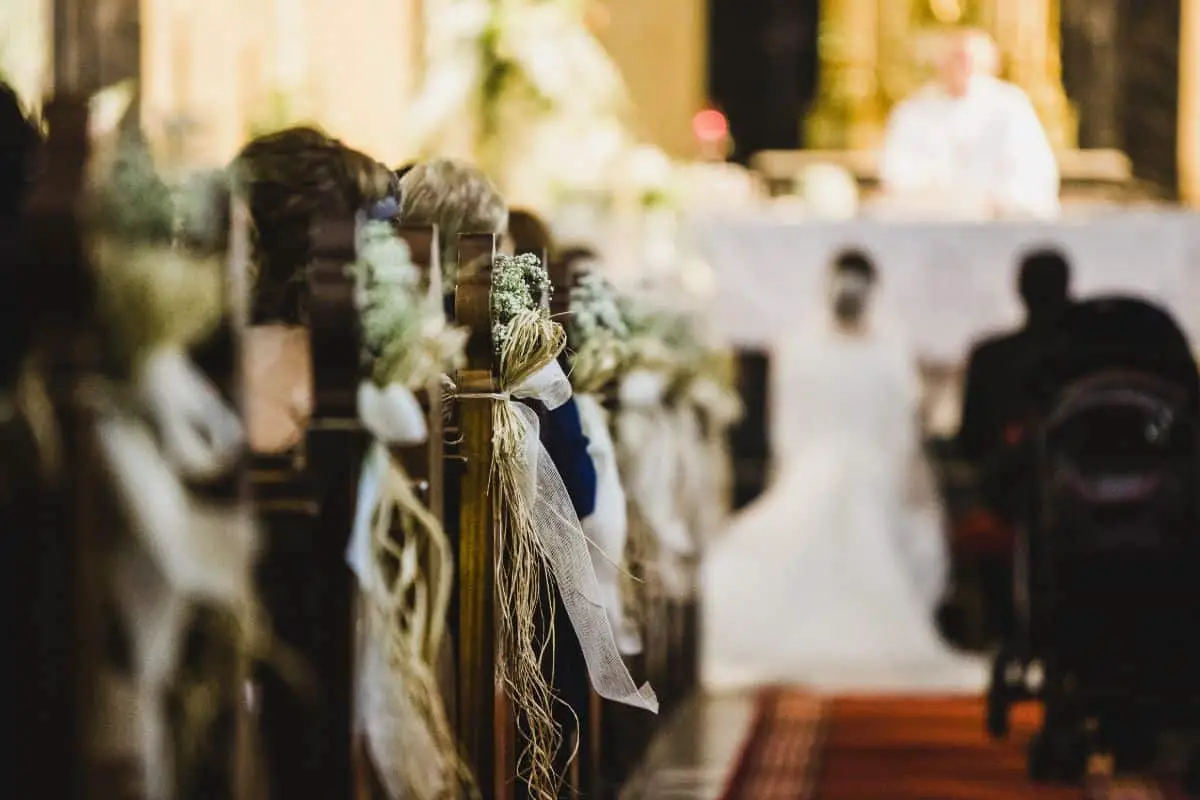 While many churches are beautiful on their own.
There are many easy additions that may elevate your ceremony setting to create your dream wedding venue.
You don't have to go mad, but by adding small elements, you can make your wedding venue feel much more magical.
 In this article, we have put together 10 enchanting fairy tale wedding ideas that we know you will fall in love with. 
Related Readings:
10 Enchanting Fairytale Castle Wedding Ideas
14 Enchanting Fairytale Wedding Venue
Beautiful, old structures like churches might not require much decoration. However, if you want to, you can still add striking blossoms.
This is the opportunity for the statement entry you've always wanted. For the most beautiful church entrance, combine large flowers with wispy blooms.
The flower used can be the same as in your bouquet, or they are similar colors that match your wedding's color palette. 
Everyone will know where the entrance is and add your own touch to the front of the church.
In addition to this, it makes a great place to take pictures after the ceremony as well.
Everyone will want to have their picture taken by this, and makes a great focus point.
Would you like to add something special to your church's aisles?
Floral installations may not be ideal, particularly for those of you who are embracing a rural or rustic vibe. For a highly attractive element, think of elegant lanterns.
The lanterns can be any color you wish such as old, silver or black.
However, you don't want just plain lanterns, you need to light them up.  A church wedding requires proper lighting.
The possibilities for church lighting are endless and include candles and fairy lights. Of course, it is essential that you follow fire safety regulations.
Remember that a secure and perfect option for church lighting is flameless candles and LED lights. 
Therefore, inside the lanterns you can add these candles or fairy lights which makes the aisle look like a fairy tale, but still remains safe.
Church pews occasionally could appear a little dull, but not once you add some flowers.
For the cutest finishing touch, create smaller arrangements of your bouquet that can then be tied to the end of each pew.
This will help tie the whole church together and make those boring pews a little more interesting. 
Alongside that, you could add ribbon with these flowers or some kind of material to hide how the flowers are tied up.
This will then produce a thought through look, that looks romantic and stylish. 
If the interior of the church features a lot of wood or wooden tones, then you may want to add some life and color.
For your decor, don't be hesitant to incorporate a lot of eucalyptuses.
As opposed to buying lots more flowers, eucalyptus is fairly affordable, thus it will let you stretch your budget further.
The vivid green tones of this foliage works really well against the dark brown tones of the wood.
Therefore, you can make your wedding feel more rustic and natural. Decorate the pews, aisle or alter with this plant.
There are lots of possibilities of what you can do to decorate your wooden church with this plant.  
Hence, this is a great option for anyone who wants a more natural or rustic look. 
Sometimes instead of adding loads of little bits to the church, create bigger arrangements and have less of them.
Consider having two large floral arrangements on both sides of the altar, to create a really big impression for your guests.
Or you can have a few of these arrangements spread out around the church. 
If you are after impact, then these bigger arrangements are the answer.
You can choose the types and colors of flowers that go into them. In addition to that, don't forget about the vase that they will be placed in.
That too is your choice as well, and you can try to match the theme of your wedding. 
Don't forget to extend a warm greeting to your ceremony's visitors! Including a lovely sign with a few blossoms on it will definitely work.
Furthermore, this sign can also offer instructions to your guests.
This is really important if you don't want anyone on their phone or taking photographs during the ceremony.
Or if you don't mind where everyone sits, your sign can explain this. 
Either way, place this sign outside the church or in the entranceway.
The flowers help to make the sign look attractive, and something you can keep after the big day is over as well. 
Make walking down the aisle as special and magical as possible by scattering rose petals on the aisle.
Either scatter rose petals all over the aisle or scatter them on the sides of the aisle.
The rose petals can add a small hint of color to the aisle that you will see as you walk down it to the person of your dreams.
It is such a simple touch that can make walking down the aisle look and feel like a fairy tale moment. 
In addition to that, there are various colors of petals that you can choose from today.
Therefore, you will easily be able to find a color that matches the color palette of your wedding. 
This is a great idea for anyone who doesn't want to go mad with the decorations but still want to add their style to the church.
You can add a wreath to the doors or walls of any church. What so many couples like about adding wreaths is that they look interesting.
You can add any kind of green foliage that you like and then flowers of your choosing for a pop of color. 
Usually, you will see wrath during winter and Christmastime, yet you can create a wrath anytime of year.
With that being said, Christmas wreaths for a Christmas wedding are really special. Yet, it is up to you what your wedding wrath would look like.
Also, you may want to use wreaths instead of having flowers. 
Weddings are a time for a celebration, but churches are also places where we say goodbye to people as well.
Therefore, why not at your church wedding incorporate the two and have images hung on the sides of the pews of the people that you wish were there on your big day.
Then as you walk down the aisle, you can see the faces of the people that you want there on your big day.
In addition to that, it is a great way to add a more personal touch to the touch, so it is full of faces that you know.
It is also a good thing to do in case you don't want to spend more money on flowers, to decorate the ends of the pews with. 
Why not get married in your perfect venue and under the most breathtaking floral archway.
If you are someone who loves flowers, or want the moment you say 'I do' as romantic as possible, then consider a floral archway on the altar. 
You can create this floral arch yourself or hire someone else to do it. Additionally, you can customize the arch to incorporate the flowers and foliage that you desire.
Usually, these archways look stunning and really draw your eye to the altar. 
In addition to that, they are also another great place to have your images taken before and after the ceremony. Thus creating beautiful images for you to look back on your big day. 
Conclusion 
Church weddings are still as popular as ever, however, there are ways that you can add your own personal touch to make the church more personal to you and your partner.
We have given you 10 ideas that you can use yourself to help you create the enchanting and fairy tale church wedding of your dreams. 
You are lucky that churches are already beautiful by themselves, but by adding floral arrangements, petals or images around the church can help make your day feel even more special. 
We hope you have enjoyed this article, and we have given you some inspiration to help you create your own fairytale church wedding(see also: Church Weddings: What You Should And Should Not Wear, With Examples). 

Latest posts by Lisa Plaitt
(see all)