Your wedding cake-cutting moment is the sweetest, most romantic part of your ceremony; it's a time for you and your partner to share an intimate smile, whisper shared jokes to each other, and even sneak in a gentle kiss or two.
But what could make this moment extra special? The perfect song — something that sets just the right mood for your chosen celebration of love.
To help you on this musical mission we've compiled 113 songs specifically designed to be memorable during your cake-cutting ceremony. Put aside "Silver Bells" and all those old jingles about sugar plums…it's time to welcome some contemporary classics into the mix!
Read on for fun tunes new and old guaranteed to bring charm, laughter, romance — and (of course) sweetness —guaranteed!
See also: 200+ Wedding Dinner Music
Pop Wedding Cake Cutting Songs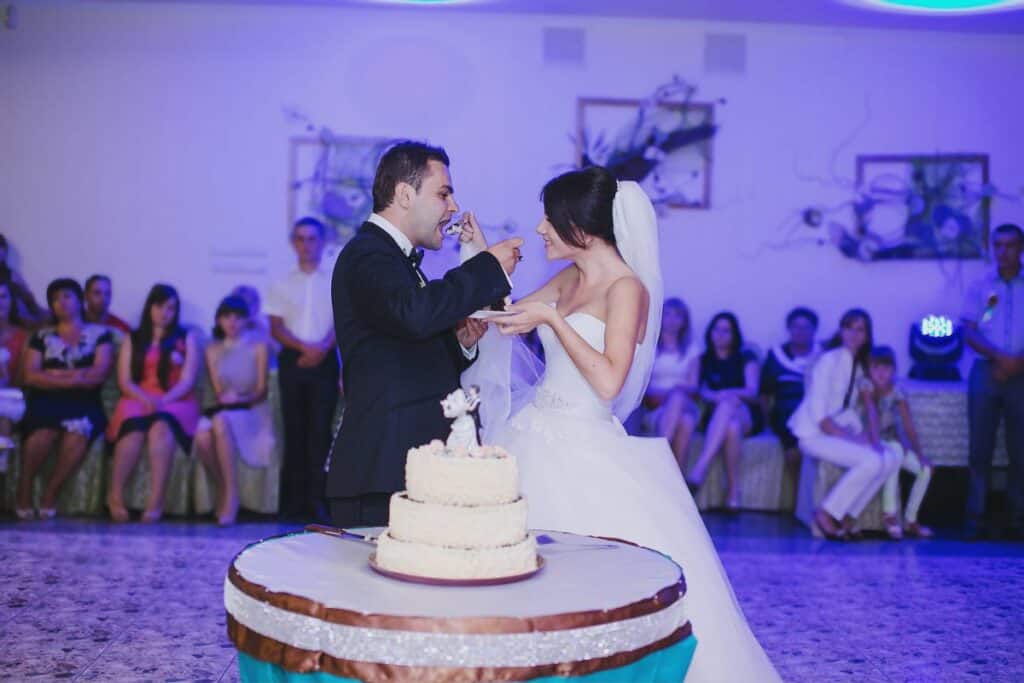 Ladies and gentlemen, the moment has finally arrived! It's time for the famous cake-cutting ceremony at this pop-tastic wedding.
But hold on, we can't just play any old song for this special event. We need something that screams fun, love, and a little bit of weirdness.
So, we've compiled a list of Pop Wedding Cake Cutting Songs that will have you and your guests feeling like you're in your very own music video. From Ed Sheeran's "Perfect" to Flo Rida's "Cake," these songs will make you the perfect cake! Just kidding! Let's get this party started and cut some cake to the beat!
Rock Wedding Cake Cutting Songs
Ready to rock your wedding cake-cutting ceremony? Well, you've come to the right place, my friend! We've compiled a list of rockin' tunes that'll have you headbanging instead of just slicing and dicing.
From classic rock anthems to modern hits, there's something for every type of rock-lovin' couple out there. So grab your air guitar and let's dive right in! But first, make sure your cake is sturdy enough to withstand your wild moves – we don't want any icing mishaps now, do we? Let's rock and roll, baby!
Nostalgia Wedding Cake Cutting Songs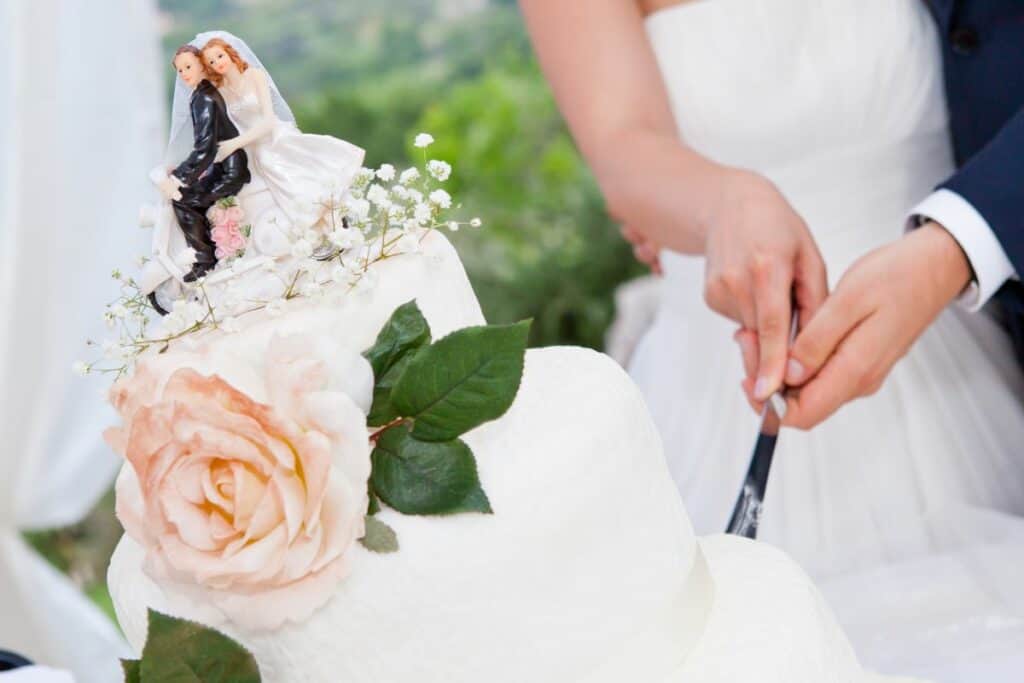 Are you ready to cut the cake and dance your way down memory lane? Nostalgia wedding cake cutting songs are the perfect way to add a touch of whimsy to your big day.
Get ready to party like it's 1999 (or 1985, or 1970… it's your choice!) with classic hits from your favorite artists. Whether you're a fan of the Beatles, Louis Armstrong, or Michael Bublé, there's a song that will transport you back in time and put a smile on your face.
So break out the tissues (for happy tears, of course) and get ready to dance the night away with your loved ones. It's time to make some memories that will last a lifetime!
Country Wedding Cake Cutting Songs
Get ready to cut the cake and groove to some boot-tapping tunes with these Country Wedding Cake Cutting Songs! We've got a selection that'll make any honky-tonk lover hoot and holler.
Whether you're two-stepping with your partner or just want to sway to a slow ballad, we've got you covered. These songs are sure to make your guests grab their cowboy boots and head to the dance floor.
Soul Wedding Cake Cutting Songs
The traditional cake-cutting moment at a wedding is a time for love, laughter, and lots of sugar! And what better way to set the tone for this sweet moment than with a soulful song that will have you both swaying and smiling?
We've compiled a list of soulful tunes that will have your guests singing along and swaying their hips. You'll want to choose a song that not only reflects your personality, but also captures the essence of your love.
Unique Wedding Cake Cutting Songs
Wedding cake cutting songs can be a tricky business. There's the old standby, "Cut the Cake" by Average White Band, but everyone and their uncle has already danced to that one.
So why not shake things up with some unexpected genre choices? Want to go Fairytale? Throw on some Disney songs and cut that cake in "A Whole New World". Feeling Hawaiian? Fly "Over The Rainbow" with Israel Kamakawiwoʻole's iconic rendition.
The possibilities are endless, so why settle for boring? Let's make the cake-cutting ceremony one to remember!
Conclusion
You've officially reached the sweet end of your search for the perfect wedding cake-cutting song! We hope you find something that resonates with you and that helps make your special moment even sweeter.
And if none of these songs fit the bill, perhaps inspirational advice from Leslie Knope can help get the creative juices flowing: "Sometimes you gotta work a little, so you can ball a lot."
So, let the cake-cutting inspire creativity—not just in how to customize your slice, but also in finding a memorable melody that makes your big day just a little more special. Now go ahead and go live happily ever after!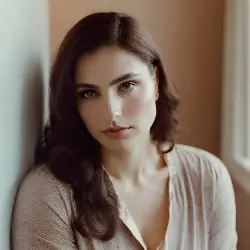 Latest posts by Ana Medea
(see all)